35.971138330774, -78.902456868442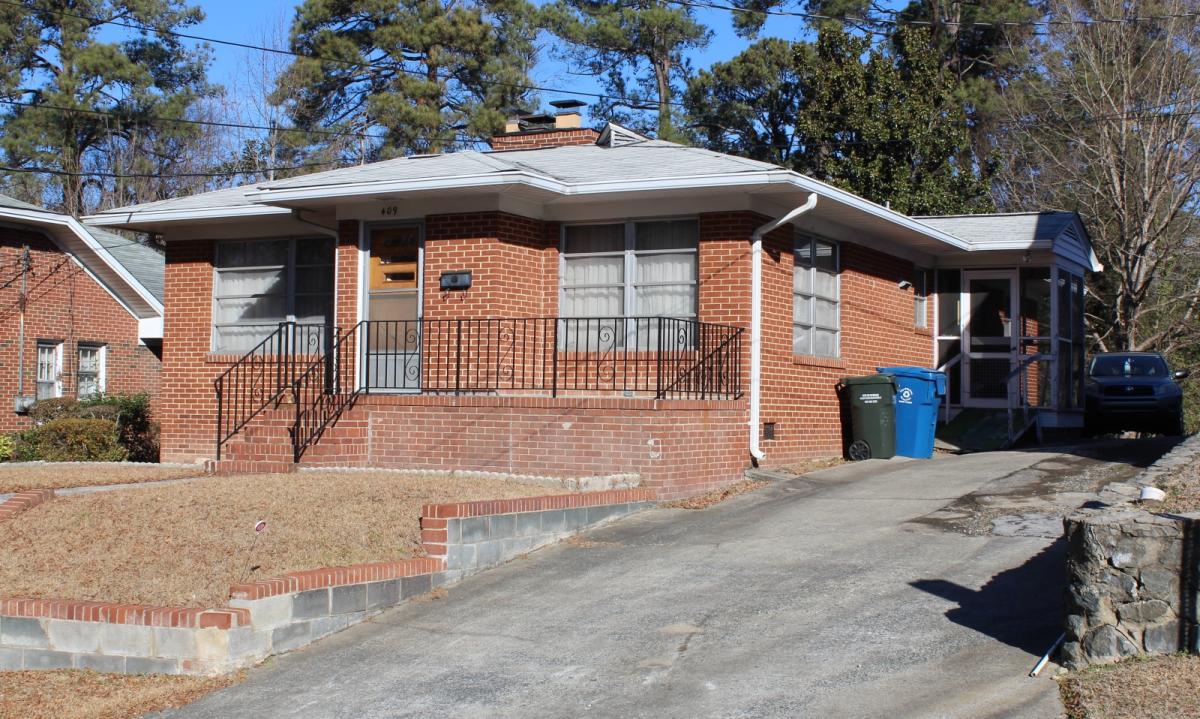 Photograph taken by Cheri Szcodronski, National Historic District Submission, January 2018
Modern details on this one-story, hip-roofed Ranch include a low-pitched roof with deep eaves and stacked, metal-framed awning windows. The house is three bays wide with a projecting, hip-roofed entrance bay centered on the façade. The solid wood door with three horizontal lights is accessed by an uncovered brick terrace with a decorative metal railing that extends across the right (east) two bays of the façade. Windows on the façade are paired, awning windows, each four sashes high. There is a gabled ell at the right rear (northeast) with a prowed eave that extends above the main roofline. A gabled wing projects from the left (west) side of the rear ell and there is an interior brick chimney near the intersection of these wings. A gabled screened porch projects from the right elevation of the rear ell, supported by square posts with vinyl siding in the gable. A concrete block wall extends across the front of the property and there is a prefabricated metal shed behind the house. The earliest known occupant is W. M. Gilliam, an administrative assistant at NC Mutual Life Insurance Company, in 1962. 
On December 1939, Jennie Hayes,widow, conveyed this lot to Andrew Hayes.  Andrew Hayes and his wife, Martha Hayes sold the lot to Lottie Cohen on  May 8, 1940.  On April 2, 1941, Lottie Cohen sold the lot to W.M. Gilliam and wife, Naomi Gilliam.  It was years before the Gilliams built their home.  According to property search records, the house was built in 1959.  The city directory does now them occupying the home until 1962.
On July 22, 1986, Naomi Gilliam sold the property to Mack White and James B. White.  On January 23, 2002, Mack White, administrator, and the James Boyd White Estate conveyed the property to Mack White.
Mack White is the current owner and occupant of this house.