406 EAST MARKHAM AVENUE
Built in
1940
/ Modified in
2007
In tours
Last updated
Thu, 01/19/2012 - 9:47am by gary
Comments
Built in
1940
/ Modified in
2007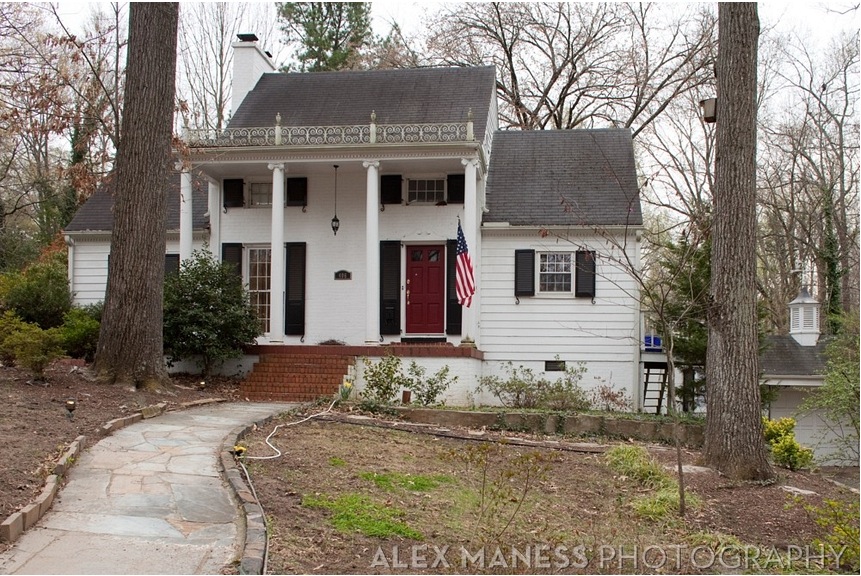 406 E. Markham Ave., 2011
(Courtesy Alex Maness)
T. W. Wilkinson House, 1940
406 East Markham Avenue
Thomas Wray Wilkinson was a well-known Durham building contractor and developer who built the house at 406 East Markham Avenue for his family in 1940. It was the first of two main houses he constructed for himself and his wife and children, but just one of more than a hundred houses he built in Durham. Additionally, it was Wilkinson who developed much of the southeastern portion of the Duke Park neighborhood from the 1930s through the 1960s. He named Anita Street for his daughter.
Born to John Walker Wilkinson and Mary Pearl Wray Wilkinson in Durham in 1913, T. W. grew up in East Durham on Angier Avenue and was primarily a self-taught carpenter and designer, studying and reading architectural books on his own, with a primary interest in the architecture of Colonial Williamsburg. He learned much about building materials from his father, who owned Wilkinson Lumber Company. In fact, T.W. and all three of his brothers became involved in the building trade in Durham. T.W. earned his contractor's license when he was only 17 years old and designed and helped build a one-and-a-half story bungalow on North Driver Street in East Durham for himself and his father and brothers soon thereafter.
In 1938, T.W. married Frances Horn. They settled into their first home together at 406 East Markham Avenue in 1940. Designed by Wilkinson himself, this Colonial Revival-inspired house exhibits a tripartite configuration with a monumental two-story portico with Ionic columns across the main brick-veneered block, and wood-sheathed wings flanking either side.
In the early 1950s, Wilkinson built a larger Colonial Revival home farther north on Roxboro Road and moved his young family there. (This 6,000 square foot house was later donated to Northern High School who saw fit to tear it down to put in a baseball field.) The Wilkinsons sold the Markham Avenue house in 1953 to Norman Flinton Carden, Jr., and his wife Hattie Lee Carden. Flinton Carden, a native of Durham, was one of the original staff members of Duke Hospital, where he was the director of the printing department. He and his wife also ran Carden Printing Company on Roxboro Road, which is still in business today. After Flinton Carden's death in 1962, his wife married Charles H. Jones, and they continued to live in the house on Markham Avenue. They sold it in 1968, and after that time it went through a series of short ownerships. It was purchased by the current owners as a rental property in 1984.
After making minor renovations to the home over the years, the current owners decided four years ago to incorporate the lower level and backyard into the home itself. The laundry room, for example, had a five-and-a-half foot ceiling, which proved to be problematic, especially for one-time tenant, Duke and NBA star Danny Ferry who is 6'10". More than eight tons of dirt and concrete were removed to make this room spacious and inviting for everyone.
In the re-landscaped backyard, two koi ponds holding more than nine hundred gallons of water are connected by a brook and tumbling waterfall. Thirteen tons of rocks were brought in to sculpt the ponds, brook, and six-foot waterfall. The owners call their home Fallingwaters, with a nod to Frank Lloyd Wright.
Featured in the Duke Park Newsletter in 2006 and the recipient of a George and Mary Pyne Preservation Award from Preservation Durham in 2007, this fine home with its distinctive architecture and solidly crafted quality materials is one of the many Wilkinson homes that will be admired and livable for many years to come.
Find this spot on a Google Map.
36.009963,-78.888185