35.971164379729, -78.902886021885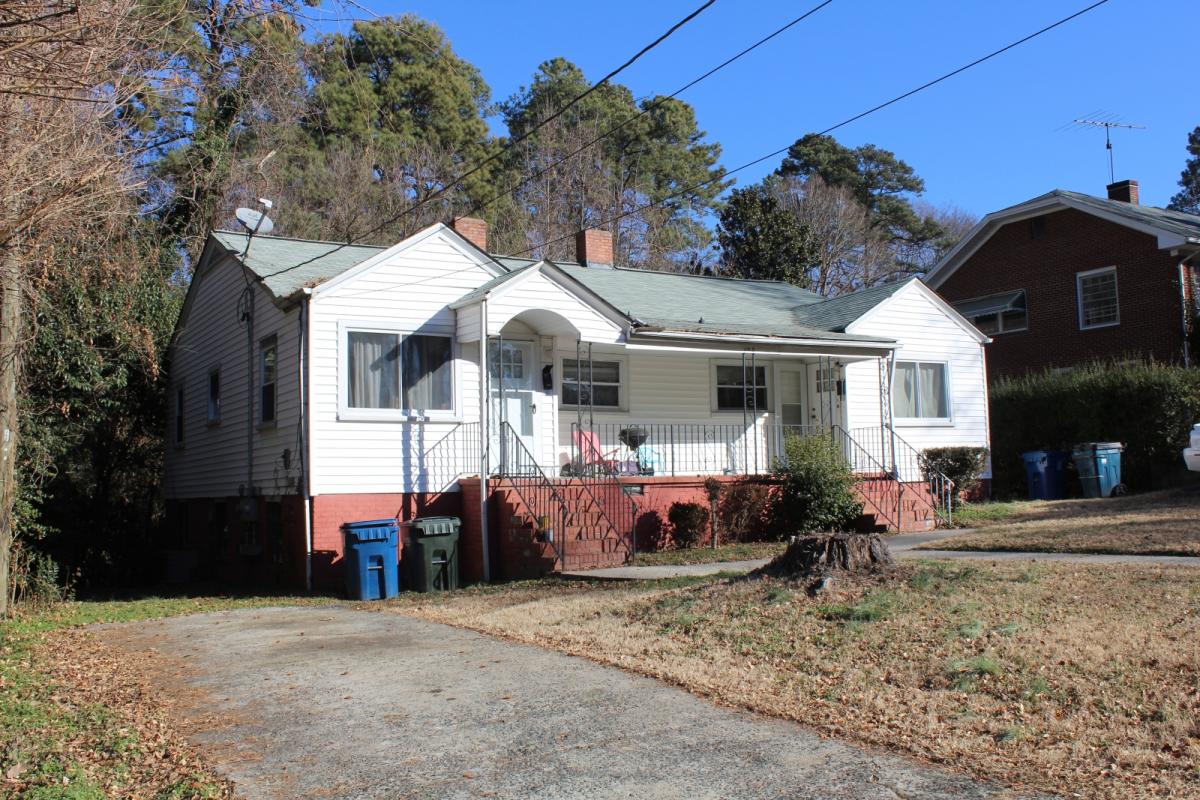 Photograph taken by Cheri Szcodronski for National Historic District Submission, January 2018
One of a small number of buildings in the district that were constructed as multi-family housing, this one-story, side-gabled duplex is six bays wide and triple-pile with projecting front-gabled wings on each end of the façade. The building has vinyl siding, vinyl windows, flush eaves, triangular louvered vents in the side gables, and two interior brick chimneys. The entrance to the left (west) unit is located in the front-gabled wing, a six-light-over-two-panel door sheltered by a front-gabled porch on decorative metal posts. A shed-roofed porch extends between the two front-gabled wings and shelters the entrance to the right (east) unit, a six-light-over-two-panel door on the left elevation of the front-gable wing. Basement-level windows on the left elevation are metal-frame windows. The earliest known occupant is W. Luther Watson Jr., a laborer at NC Mutual Life Insurance Company, in 1949. The building appears to have been constructed as a duplex and beginning in 1955 consistently had multiple unrelated occupants.
On April 20, 1949, Jennie Hayes, widow of Joseph Hayes, sold one lot to Elvin Eings and his wife, Magnolia Eings.  Two months later on June 14, 1949, she sold the lot next door to the Eings as well.  W. Luther Watson, Jr. was a tenant at the property.  In the 1950s, the tenant in the other unit was Clark Edgerton, who was the band director at Whitted Junior High School and later, Hillside High School.  He lived in this unit until he married.  He then built a home for his family in the 600 block of Cecil Street, which is on the other side of Fayetteville Street and not a part of College Heights.
On March 24, 1994, Magnolia Eings, widow of Elvin Eings sold the house to I. Jarvis Martin and his wife Norma Martin.  In January 24, 2018, the Martins sold the property to Mey Investment Group LLC.  This duplex remain rental property.