403 N. QUEEN ST.
Built in
1930-1935
/ Modified in
2009
Comments
Built in
1930-1935
/ Modified in
2009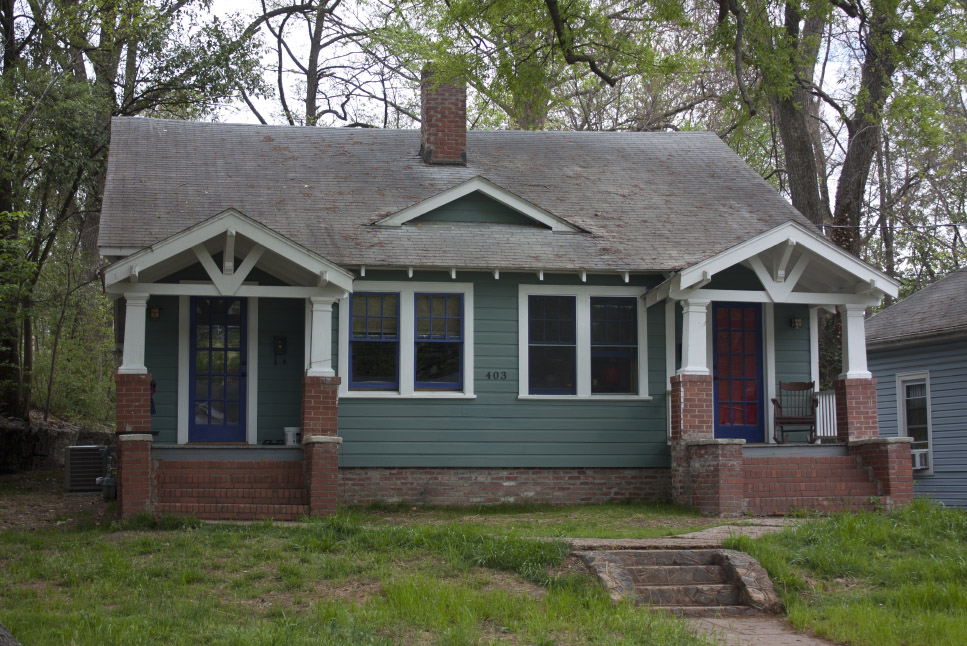 04.05.12
Per the Preservation Durham 2012 Neighborhood Conversation Award Nomination:
In the spring of 2008, a bulldozer sat waiting to demolish a small duplex on North Queen Street in the Cleveland-Holloway Neighborhood.  The 1930's structure was in a state in severe neglect: an add-on porch was not properly fastened to the house, allowing water to run directly into the sub-floor. Termites had consumed the rear third of the frame building.  The entire front band joist, piers and skirt would require replacement. In a neighborhood witness to many similar neglect stories, yet also to a growing number of successful preservation projects, it was hard to imagine how such a small house in such an advanced state of decay could be saved.
That is when Cleveland-Holloway resident and experienced renovator, Ken Gasch, stepped in and convinced the owners to sell him the building rather than tear it down.
A typical example of Depression-era, multi-family housing constructed across Durham, Mr. Gasch restored the Craftsman-style duplex by rebuilding much of the foundation, framing, and deteriorated woodwork.  He removed the add-on porch, and repaired and repainted the two symmetrical entrances and porches.  Keeping the original six-over-one wood windows, nine-light exterior doors, bracketed eaves, gable vents, and German siding, Mr. Gasch rehabilitated the nearly mirror image duplex floor plan with a double sided, shared brick chimney and mantle on either side.  Each of the 750 square foot, one bedroom units received completely new kitchens and bathrooms while retaining the original arched openings and millwork, as well as the overall footprint of the building.
During this extraordinary transformation, realtor Tim Hock sold the home to Michael and Emily Fee who supported the remaining renovations.   Currently the Fees occupy one side of the duplex, while renting out the other side.
403 North Queen Street provides a precedent for the preservation of modest rental housing within revitalizing neighborhoods.  Too often, small duplexes are converted to single-family homes before considering whether retaining two units may also be a financially and socially beneficial option for investors and the neighborhood at large.  Preserving this duplex has not only increased owner-occupancy, but also provided an affordable rental in the Cleveland-Holloway neighborhood.