36.011690484519, -78.898028548545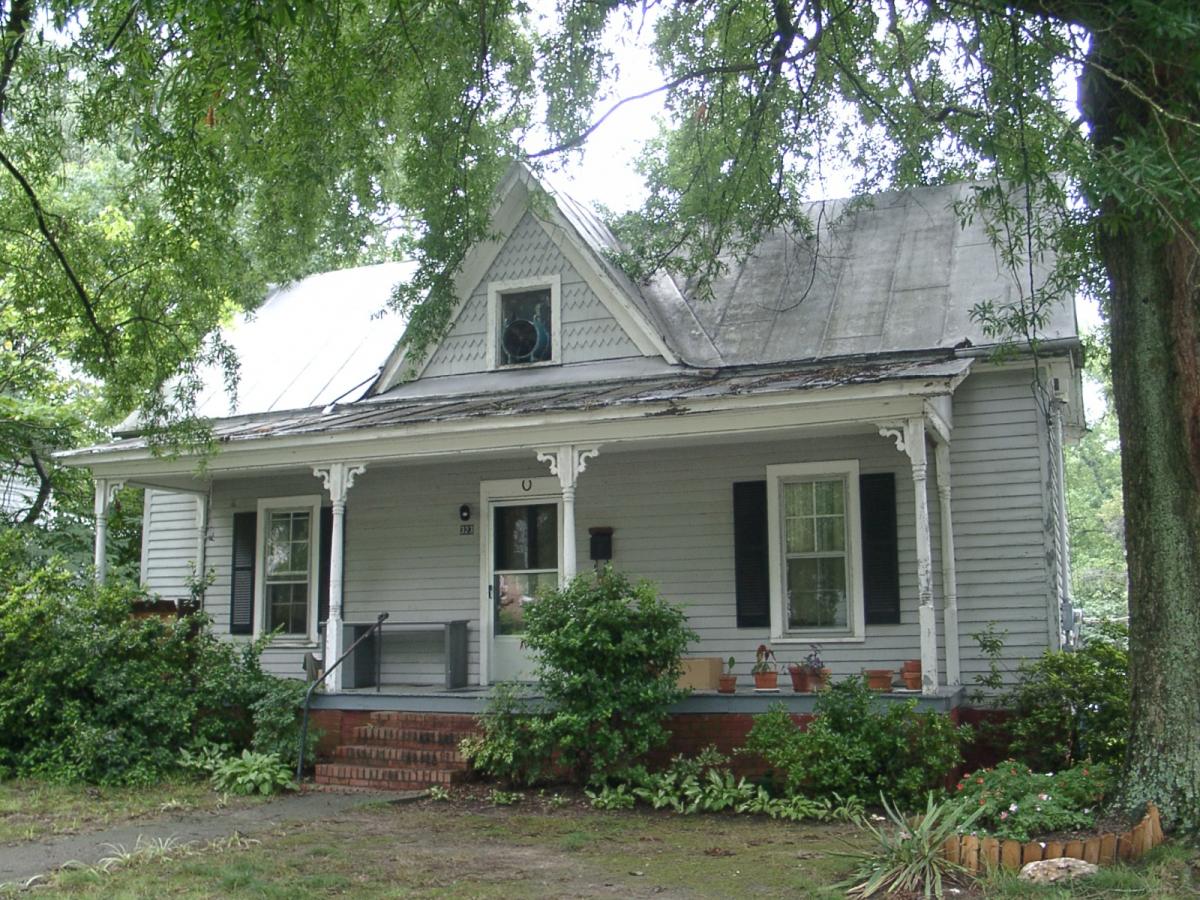 Photograph taken by Preservation Durham volunteers, August 2002.
According to Durham County property records, this home predates many of the others on the block, having been built around 1920.  More precise dating is made difficult by the absence of street names in this part of town - essentially still farms at the northern edge of early Durham.  In 1906, James L. Clark - who farmed a sizable piece of surrounding land - sold this parcel to a man named George Washington Lewis.  A carpenter, Lewis may have built this home himself.  The 1910 Census lists him and his wife Julia - said to be employed tagging sacks, a frequent form of take-home labor in the tobacco industry - living adjacent to Clark and several of his offspring.  When Clark's heirs subdivided his remaining land in 1921, the propery G. W. and his wife Julia Lewis lived on can be seen as a strip running south from the newly named street.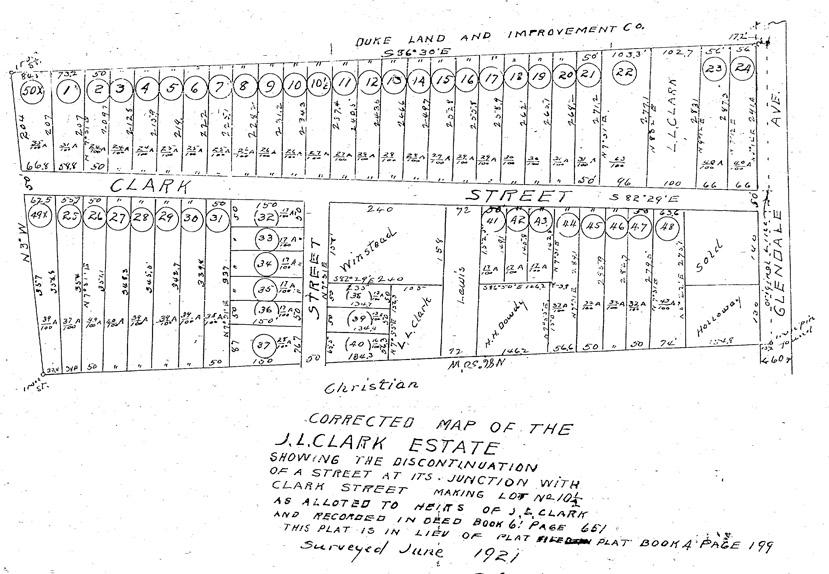 1921 plat map for the J. L. Clark Estate - note the name Lewis near the middle running south from the start of the word "Street."  (Durham County Register of Deeds).
That December, however, Julia passed away from tuberculosis, leaving G. W. Lewis a widower without children.  Perhaps slowed by this loss, the effects of age, or his own health, Lewis left little trace in the available record prior to his death at the County Home in 1929.  Neither, it seems, did he leave a will or heirs, as the property at 323 Clark appeared under his name in listings for unpaid tax bills into the mid-1930s.  Subsequent owners likely obtained the house at public auction, though no deed for that transaction has been located.
Melvin and Lottie Delionback acquired the property in 1936.  He was a World War One veteran originally from Granville County, moving to Durham and marrying Lottie Cole a few years after his return from Europe.  Melvin worked in hosiery mills - first at Golden Belt (and Hillcrest when that company spun off their hosiery operation), later at Durham Hosiery Mills.  They had two children by the time they moved to Clark Street and welcome another two shortly in the years that followed.  In the late 1930s, their house would have been at the end of the short, unpaved road which reached only from Glendale to their neighbors at 327 Clark.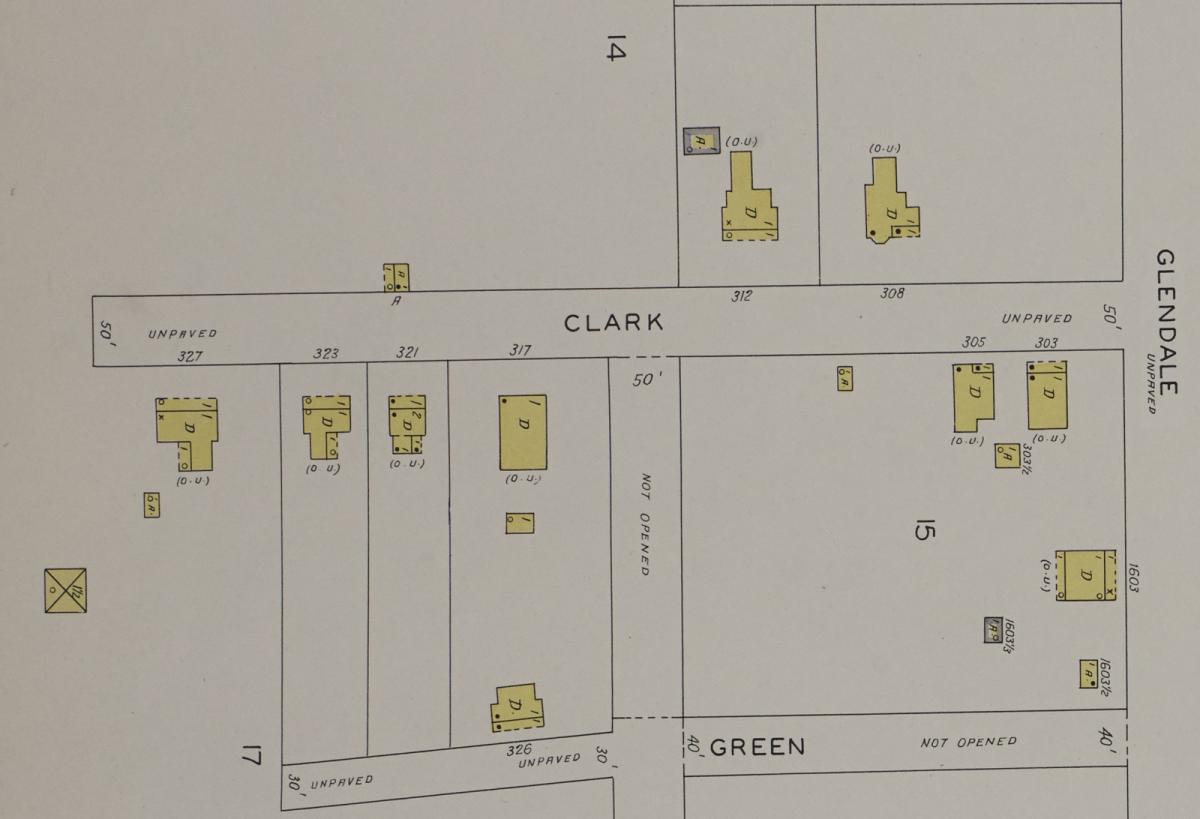 Fragment of 1937 Sanborn Fire Insurance Map (digitized via Library of Congress).  Of the houses constructed on Clark Street by this point, 303, 305, 312, 317, 321, and this one survived into the 21st century.
The Delionback children all grew up here, the older sons going off and returning from the Second World War.  One of them, Leon Melvin Delionback, would go to Duke on the G.I. Bill and follow passion for mechanical engineering to a PhD and a career at the NASA space center in Huntsville, Alabama.  Particularly in the postwar period, this western section of the Duke Park neighborhood would begin to fill in around them, creating the contrast between architectural styles that makes Clark Street such a unique corner of Durham.  The hilly course of Washington Street to the west was finally connected south towards downtown and north to Club in the 1950s, ending the earlier isolation of the short street.  The elder Melvin Delionback would live on here after his wife passed in 1960, eventually selling the house in 1971.  Members of the Hosner family that purchased it would maintain it largely as a rental property for the nearly five decades that followed.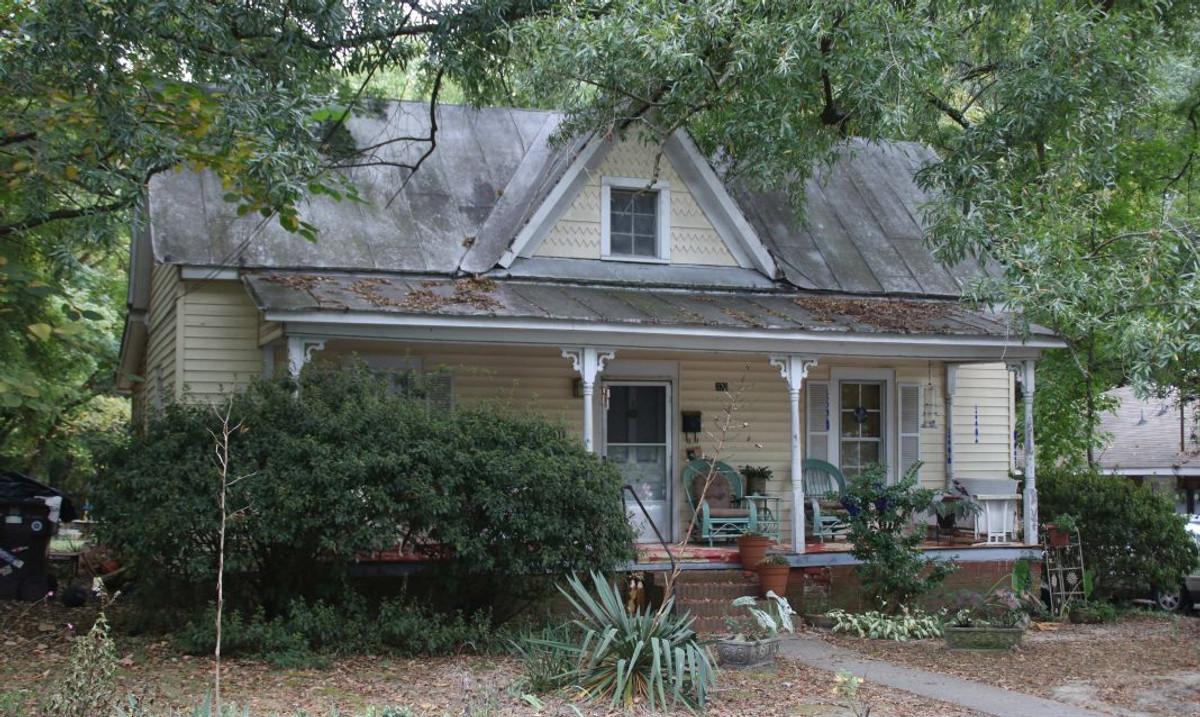 323 Clark Street, September 2017 (Durham County Tax Administration photograph).
In mid-2021, a development group acquired the property and applied for a demolition permit that fall.  By early 2022, the home was history.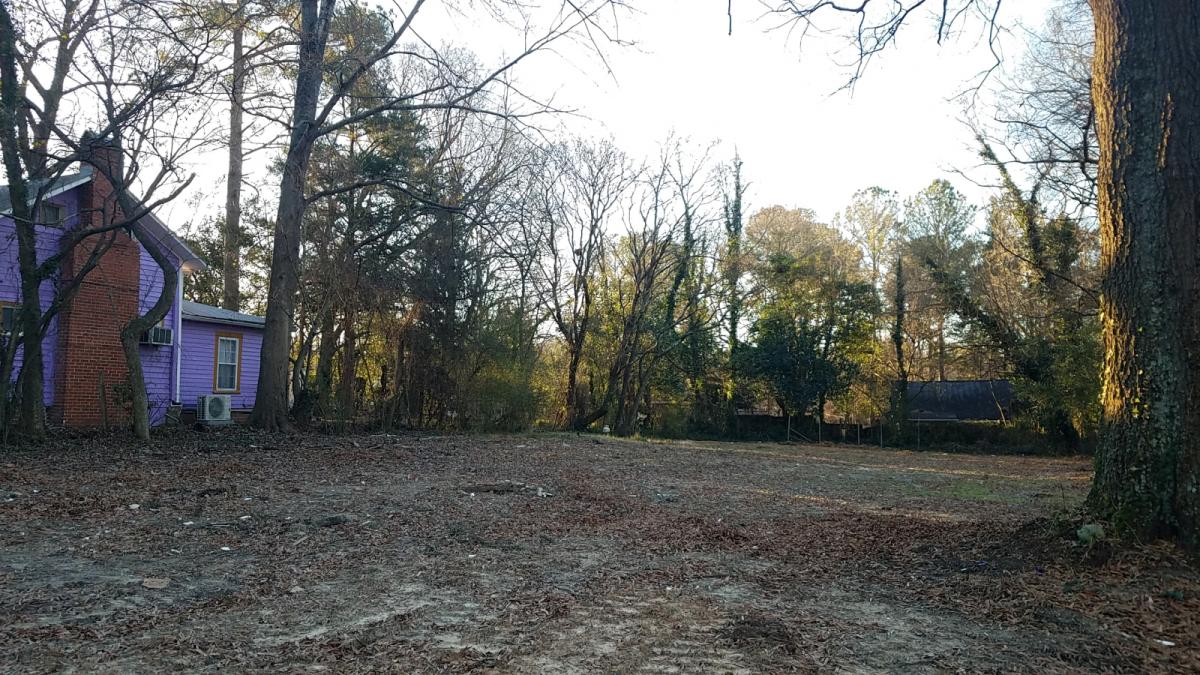 1.12.2022 (N. Levy).