In tours
This building does not appear in any tours yet.
Last updated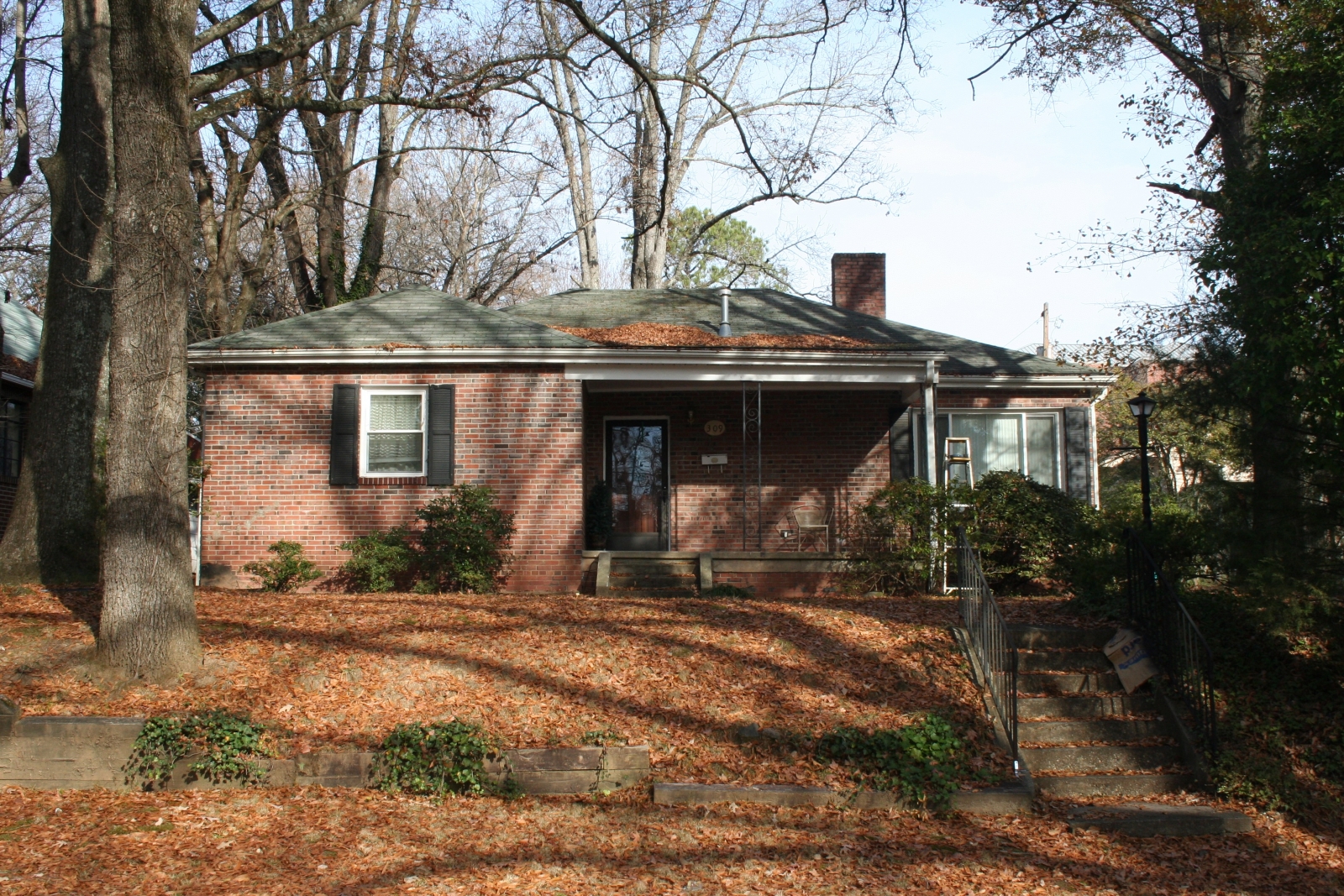 Photograph taken by Heather Slane. National Register of Historic District Submission, December 2017
Located at the northwest corner of Pekoe and Concord streets, this one-story, hip-roofed Ranch house is three bays wide and double-pile with a projecting, hip-roofed wing on the left (west) end of the façade. The house has a brick veneer, an interior brick chimney, and replacement vinyl windows, including a picture window flanked by casement windows on the far right (east) end of the façade, which together with paired windows on the right elevation wrap the southeast corner of the house. A replacement door centered on the façade is sheltered by a shed-roofed porch supported by decorative metal posts and accessed by a brick stair with concrete curbs. A gabled wing on the rear (north) elevation is three bays deep and has vinyl siding and windows. A hip-roofed carport is attached to the north end of the wing, accessed from Concord Street, and is supported by diagonal metal posts on brick knee walls. A prefabricated shed stands northwest of the house. County tax records date the house to 1947 and the earliest known occupants are Yarnell J. Grigsby, one of Durham's first licensed African American plumbers, and his wife, Nannie P. Grisgby, a teacher at Lyon Park School, in 1950.
Mr. Grigsby owned Ace Plumbing Company and operated his business out of his home.  He was one of the founders of the Berry Company.  Mrs. Bernice Walker and Mr. Earl C. Walker, who lived at 2109 Duncan Street, were his bookkeeper and master plumber, respectively, for a few years.  On August 25.1949, Mr. and Mrs. Grigsby hired the Berry Company, owned by Llewellyn Berry, a neighbor, to construct the basement into a beauty salon.  According to deed records, Mrs. Grigsby purchased all beauty equipment and furniture from Henrietta T. Moon, owner of Moon's Beauty Salon at 1131 Broad Street in Durham to start her business.  She had a successful business for several years.
On March 10, 1972, the house was sold to Joseph Martin and his wife, Joan.  They had one son.  Joseph Martin was an employee at Duke Hospital and his wife, Joan, was a professor in the School of Nursing at North Carolina Central University.  In November 20, 1985, Mrs. Martin sold the house to Thomas E. Sanford and Diane D. Sanford.  They are the current owners and residents of this property.