35.973491379158, -78.903915982952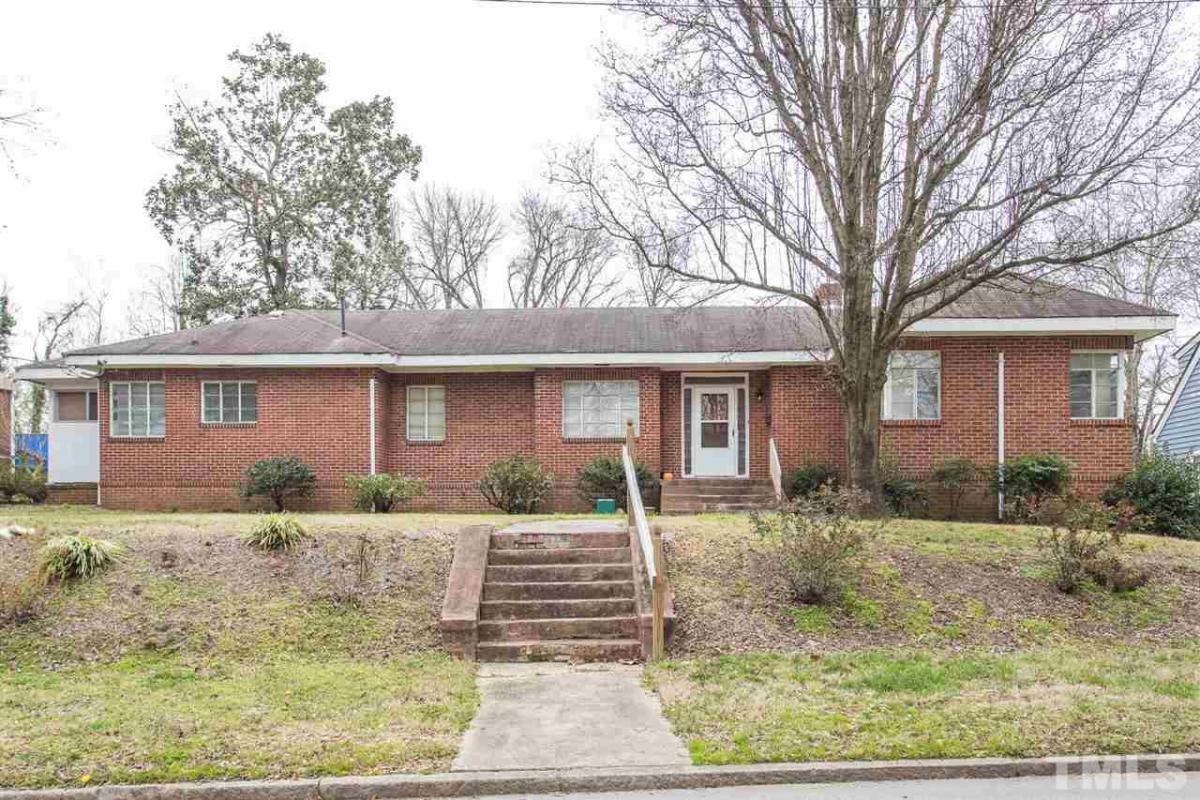 Photo from spring 2020 TMLS listing
Located on a slight rise on the south side of Pekoe Avenue, this one-story, hip-roofed Ranch house is seven bays wide with a projecting, hip-roofed wing on the right (northwest) end of the façade and a shallow, projecting hip-roofed bay on the left (southeast) end of the façade. The house has a brick veneer, original metal-framed windows and an interior brick chimney. Windows wrap around the front and rear corners of the projecting wing. The entrance, located just left of the wing, is a solid wood door with glass-block sidelights and transom. The bay to its immediate left projects slightly, sheltered by the deep eaves of the house. A hip-roofed porch on the left elevation is enclosed with vertical plywood sheathing and has aluminum-framed windows near the top of the walls. County tax records date the house to 1948 and the earliest known occupants are M. Hugh Thompson, an attorney-at-law, and his wife, Grayce L. Thompson, a mathematics teacher at Hillside High School, in 1950.  They had purchased the lot from W.M. Rich and Josie Rich on February 7, 1946, according to deed records.
The Thompsons did not have any children; but were very cordial to the children in the neighborhood.  Mrs. Thompson taught several of the children at Hillside High School.  They also had an active social life as well.  They were known for having parties and other social gatherings at their home for adults and families.
Attorney Thompson was the first civil rights attorney to practice in Durham after being admitted to the North Carolina Bar in 1923.  He was one of the founders of the North Carolina Lawyers Association in 1952.  African American lawyers had established other black lawyer associations, such as the Negro State Bar Association, after being denied by the American Bar Association and other voluntary bar associations in the state.  More information can be found about this period in the  UNC School of Law, North Carolina Law Review, Volume 92, Number 6, North Carolina Issue, written by Amos N. Jones, September 1, 2014.
There were at least four prominent attorneys in College Heights and they collaborated quite often in civil rights and criminal cases.  Mr. Thompson was either the lead attorney or a member of the legal team on several notable cases, i.e. McKissick v  Durham City Board of Education, Wheeler v Durham City Board of Education, as well as, Page v United States et al and Frasier v the UNC Board of Trustees just to name a few cases.  He had a long and successful legal career in fighting segregation and black injustices.  He was part of the legal team that argued before the United States Supreme Court and won for UNC to admit blacks to their undergraduate program.
Attorney Thompson died on March 18, 1974 and received a House Joint Resolution from the North Carolina Assembly, after his death, on March 24, 1974, acknowledging his distinguished life.
On April 30, 1984, Mrs. Thompson sold the house to Clarence Faucette, his wife, Margaret B. Faucette, and their son, Clarence III.  Mrs. Faucette died in 2006 which was a few years after her husband's death.  On June 27, 2006, Clarence Faucette III and Margaret B. Faucette became owners as joint tenants with right of survivorship and not as tenants in common.  
On April 20, 2020, Clarence III sold the property to Courtney Woods.  Currently, the house is vacant; renovating and updating are being done to the interior.
From second left:  M. Hugh Thompson, Floyd McKIssick, W.G. Marsh and John H. Wheeler
N.C. Collection, Durham County Library, Durham Historic Photographic Archives