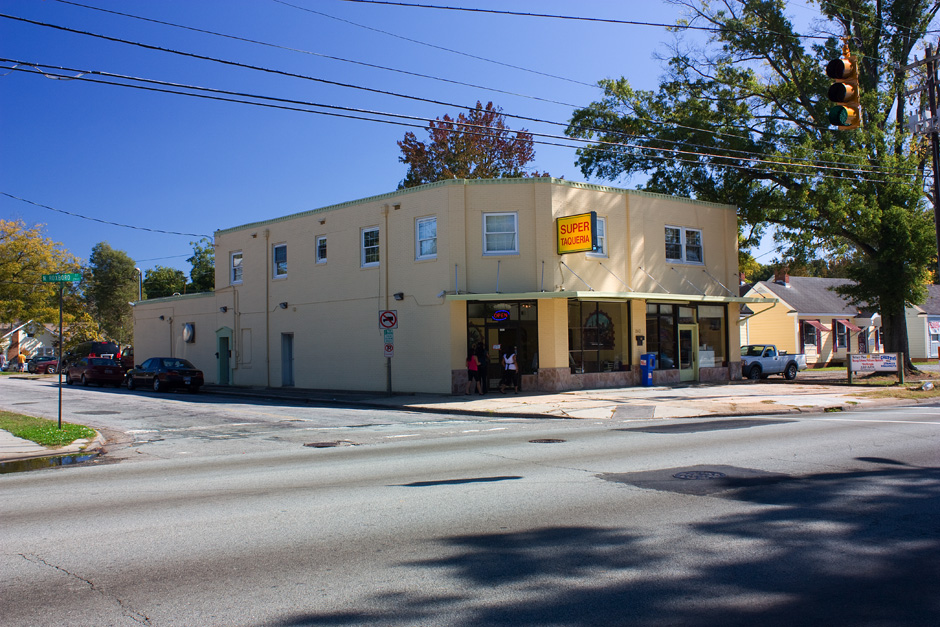 2842 N. Roxboro Road, looking southeast, 10.26.08
2842 N. Roxboro was, in the mid-20th century, the Center Drug Store. "Wren" writes:
I don't remember when it ceased being a drug store, but definitely before 1975. It had a second-hand store in it for a while.
Upstairs were two large apartments with high ceilings, hardwood floors, large rooms. I don't want to guess when they were built, but the plumbing fistures and kitchen cabinets appeared to be circa late 1940s. The windows are new. Maybe they finally air conditioned the place. Looks like the bottom floor has been divided.
And per "Lynn":
The drug store next door had revolving comic book racks in the back, and my sister and I spent an awful lot of birthday money from our grandparents in there, buying comics for 12 cents each. Archie & Jughead were favorites! 
Dr. Gore has his offices upstairs. Rik wrote on the original Bragtown post:
The first door on the side led upstairs to Dr. Gore's office. Gore was also the county coroner. There were a lot of colorful stories about him. He flew his own airplane. I loved his wife's little mid-fifties Thunderbird two seater.
Later, the building housed Clayton's Vacuums and Sweet Dreams Waterbeds. Since ~2007, it has housed Super Taqueria.