35.972709970529, -78.902687581524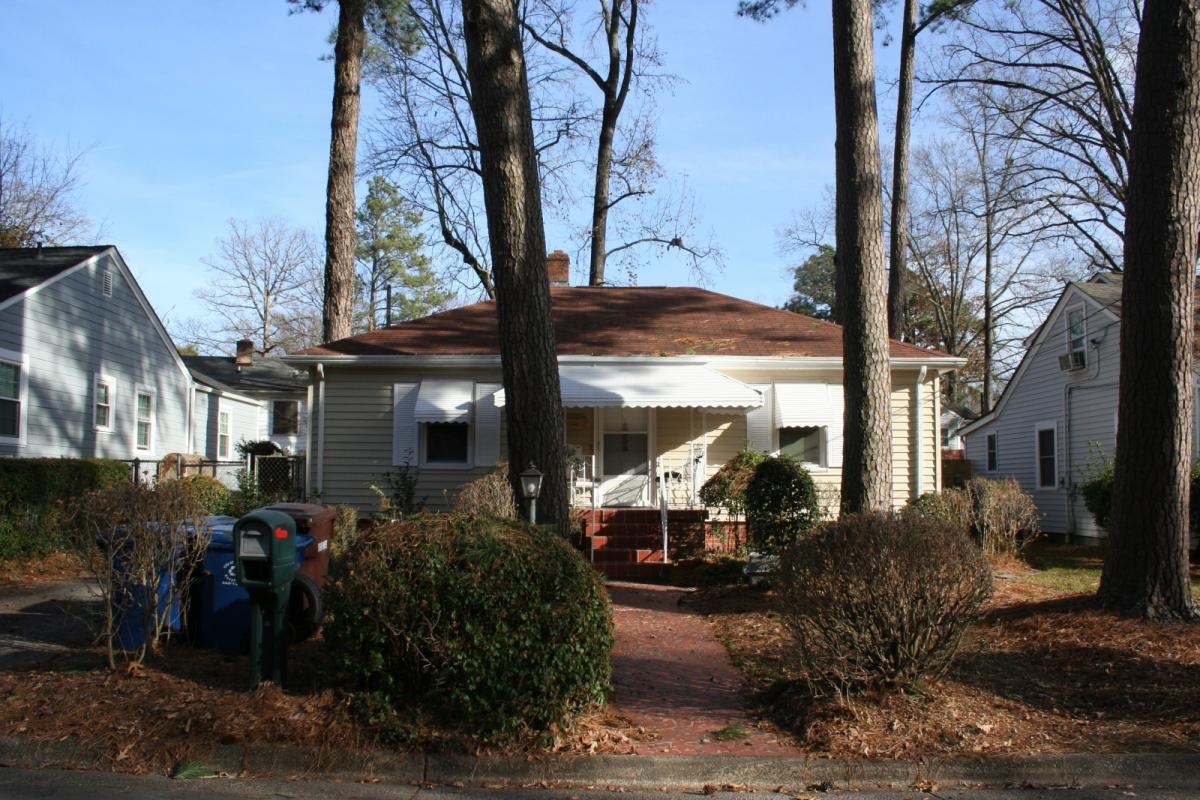 December 2017, photograph by Heather Slane -
hmwPreservation
According to county tax records, the house at 2111 Concord was built in 1943. The following information was included in the 2019 National Register Historic District application for College Heights: 
Milton R. and Mary Grant House – c. 1950
Contributing Building
This one-story, hip-roofed house is three bays wide and double-pile with a near-full-width, gabled rear wing. The house has vinyl siding, six-over-six wood-sash windows, replacement vinyl windows on the facade only, and an interior brick chimney. The six-panel front door is sheltered by an aluminum awning supported by decorative metal posts. The rear wing has wide asbestos siding and two-over-two horizontal-pane wood-sash windows. The earliest known occupants are Milton R. Grant, an agent at Dunbar Realty and Insurance, and his wife, Mary C. Grant, employed at Bull City Electrical Appliance and later as a school teacher at Lyon Park School, in 1950.
The 1955 City Directory shows Mary C. Grant  listed as a widow and teacher at Lyon Park School.  Her husband had died in 1954.  They were the parents of three children.  Mrs, Grant never remarried and focused on raising her children to be very productive adults--a banker, a certified public accountant and a school teacher.  Mrs. Grant died in 2008.
The Grant's backyard served as a playground area for all of the neighborhood children, even though all of the children had play equipment in their own yards .  Mrs. Grant also organized airplane trips each year for the children, at their parents' expense, to fly on Piedmont Airlines and Eastern Airlines, over the southeast and teaching the children about different cities and cultures.  She spearheaded this endeavor for approximately four years.  This was a unique experience, because in the late 1950s and early 1960s, only a few African Americans flew on airplanes. 
The home remains in posession of the Grant family as of 2020.