35.972862150253, -78.902215462445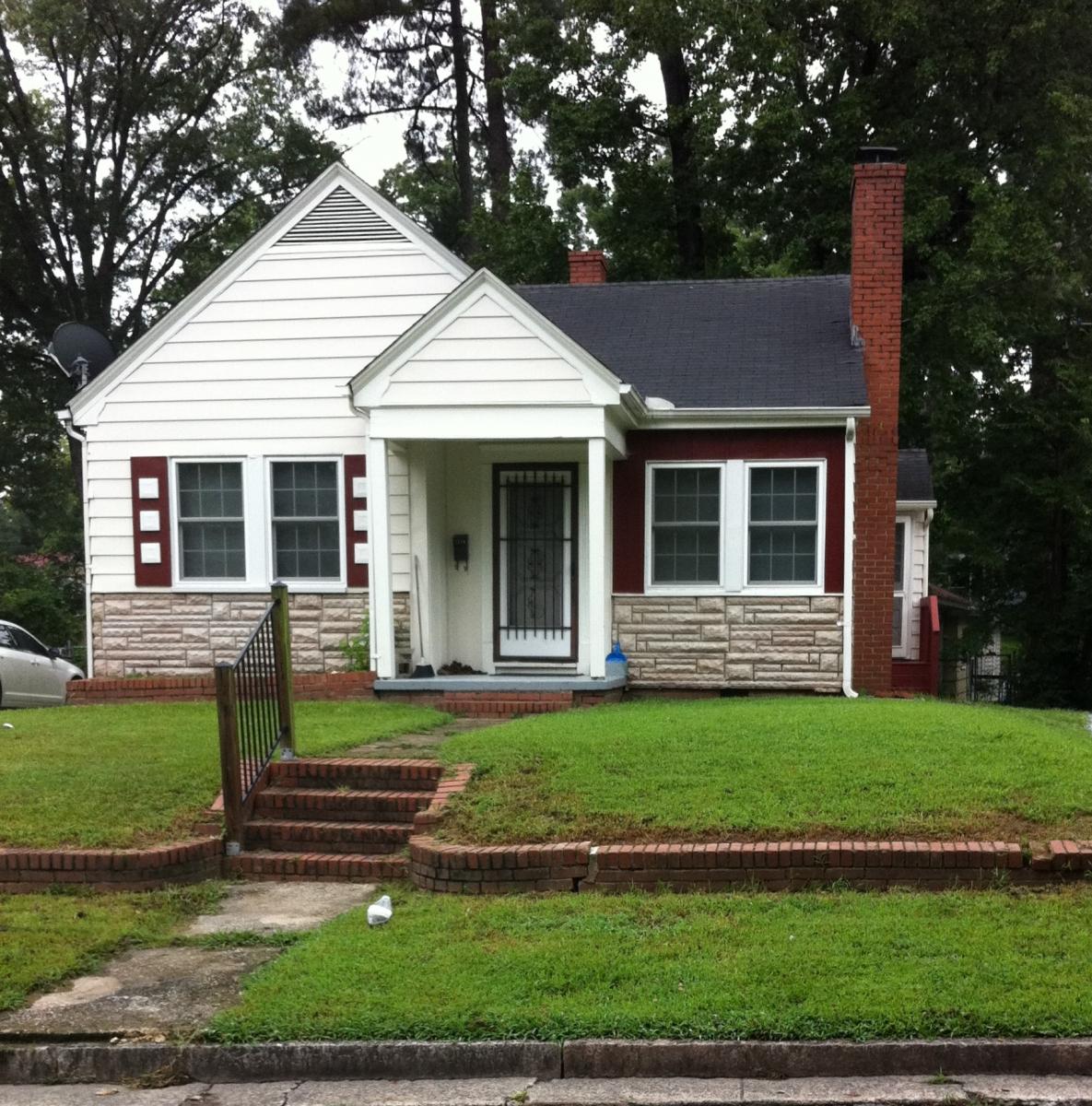 Photo taken by Melva Rigel, August 2020
2110 Duncan – John and Lillian Thomas House – c. 1945
Contributing Building
Distinctive for the cast stone on the lower one-third of the façade, this one-story, side-gabled Minimal Traditional-style house is three bays wide and triple pile with a two-bay-wide, projecting front gabled wing on the left (south) end of the façade. The house has aluminum siding, vinyl windows, an interior brick chimney, and an exterior brick chimney on the right (north) elevation. The entrance, centered on the façade, is a solid door with three faux panels. It is sheltered by a front-gabled porch on square posts. There is board and batten on the upper one-third of the right bay above the cast stone and a side-gabled bay on the right elevation has a three-light-over-three-panel door on its façade. A prefabricated shed is located southwest of the house. The earliest known occupants are John Thomas, a laborer, and his wife, Lillian Thomas, a service employee at Duke Hospital, in 1945.
They did not have any children.  Mr. Thomas also worked for George Painting and Plastering, the owner being his neighbor, as a general laborer at times.  Mrs. Thomas was a church pianist as well.  Mr. Thomas, born in Rock Hill, SC, used his farming skills by renting a few acres of land in Durham County, raising pigs and vegetables, to sell to neighborhood residents.  Mrs Thomas died in the early 1970s and Mr. Thomas lived there until the late 1970s when his health declined.
A young couple purchased the house in the mid-1980s and lived there until approximately 1997.  In 1997, Carolyn Grant, a neighbor at 2111 Concord Street, purchased the home and rented the property to different families until 2017.  Ms. Grant sold the property to Ayanna Moore in 2017.  Ms. Moore bought the property as an investment and rents it as a private single-family residence.