35.97472866976, -78.905074711628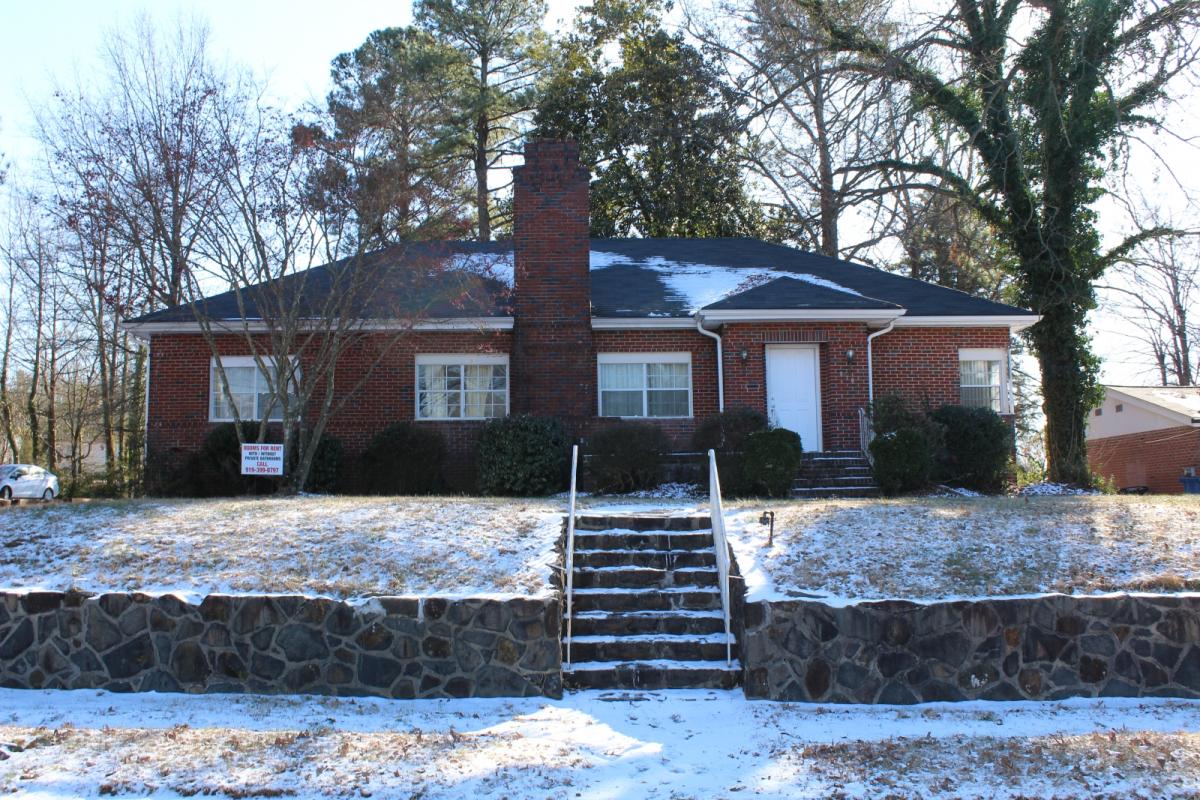 Photograph taken by Heather Slane, National Historic Register Submission, January 2018
This one-story, hip-roofed Ranch house has been significantly altered with paired vinyl windows that are smaller than the original openings. It is five bays wide and double-pile with a brick veneer with soldier-course watertable and soldier-course belt courses that form continuous bands at the header and windowsill levels and windows on the right (west) end of the façade that wrap the northwest corner of the house. There is a stepped front-facing, brick chimney near the center of the façade and a projecting hip-roofed entrance bay near the west end of the façade. The entrance features a four-panel door recessed slightly within the entrance bay and accessed by a two-bay-wide, uncovered brick terrace. A stone wall extends along the front of the property and on the both sides of the driveway. County tax records date the house to 1941 and the earliest known occupants are William H. Robinson, a physics professor at North Carolina College (later North Carolina Central University), and his wife, Fannie Robinson, in 1945.  North Carolina Life Insurance Company sold the lot to the Robinsons on March 5, 1941 and they built their house and began living there in 1945.
Dr. Robinson was very skilled at drawing blueprints and used his knowledge to draw blueprints for several homes in College Heights.  The William H. Robinson Sciene Building on the campus of North Carolina Central University is named in his honor.  After his death in 1969, Mrs. Robinson sold the house to Leroy R. Taylor and his wife, Lula T. Taylor on October 29, 1970.  According to deed records, Leroy R. Taylor and Gloria J. Taylor Said sold the house to Sylvia Smith Prescott on May 22, 1987.
Ms Prescott (Sylvia Smith) is a Durham native and graduated from Hillside High School in 1965.  She attended North Carolina Central University as well.  In 1968, she was a contestant in the first Miss Black America pageant in Atlantic City, NJ.  The pageant was held a few hours after and blocks away from the Miss America pageant due to its exclusionary practices.  She owned and lived in this house until 2014, when she sold it to Christopher M. Clapciak and his wife, Lauren Ann Clapciak on February 3, 2014 according to deed records.
On February 3, 2014, the Clapciaks sold the house to DJ Warm Home Realty LLC. as rental property.  On March 31, 2015, DJ Warm Home Realty LLC sold the house to Chidinma Joy Nweke who maintains it as rental property.  On August 23, 2019, Ms. Nweka transferred the title of the property to the Nweke Living Trust.  .