35.974637490861, -78.904988866558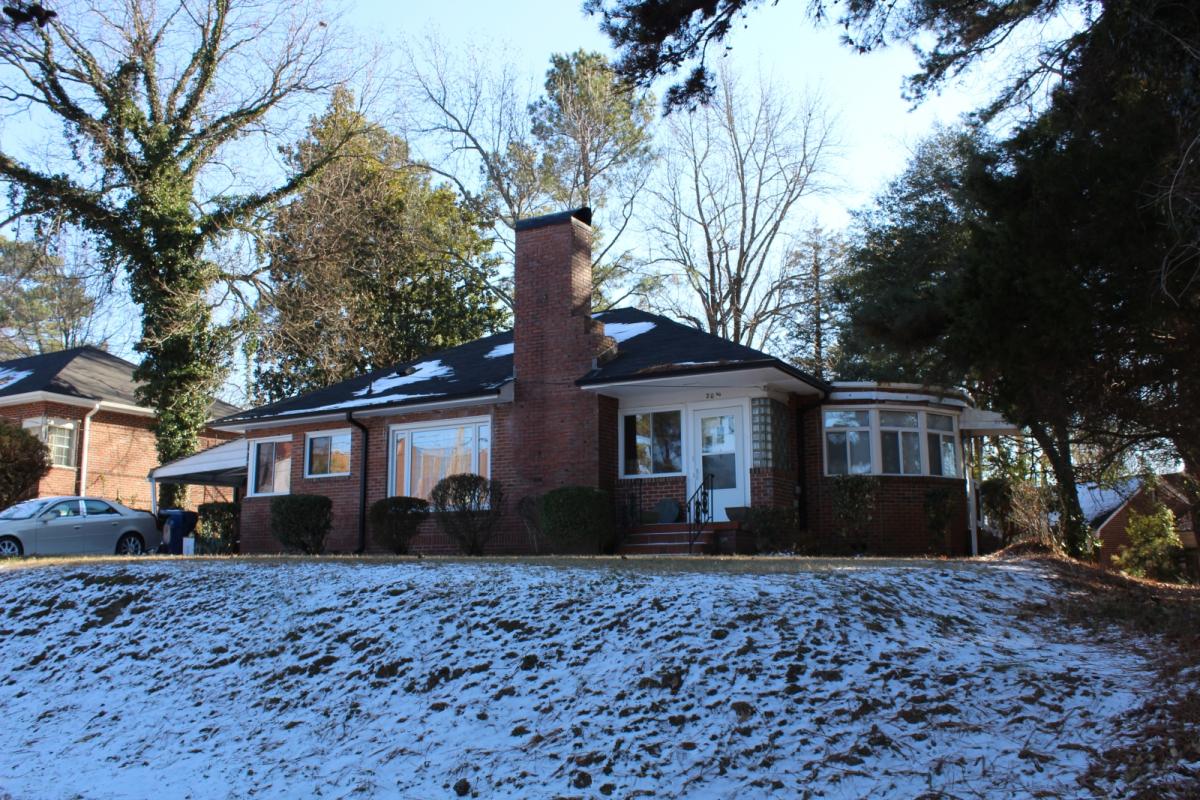 Photograph taken by Heather Slane, National Historic Register Submission, January 2018
This one-story, hip-roofed Ranch is four bays wide with a brick veneer with soldier-course brick watertable and replacement vinyl slider windows that wrap around the corners of the building, likely replacing original metal-framed windows. Near the center of the façade is a large picture window with vinyl casement windows to the left (east). To its right (west) is a stepped front-facing, brick chimney and at the right corner is an entrance bay with paired slider windows on its left side, a solid door with three lights in the middle, and a glass-block window on the right that wraps around the right corner of the house. The entrance is accessed by an uncovered brick stoop with decorative metal railing. There is a gabled wing near the rear of the left (east) elevation with plywood in the gable and a metal garage door on its front elevation. In front of the wing, sheltering the garage opening is a shed-roofed carport supported by metal posts. A half-round, flat-roofed brick wing on the right elevation has a continuous band of paired vinyl casement windows with fixed transoms on a brick half-wall. An entrance on the right elevation of this wing is sheltered by an aluminum awning.
According to tax records, the house was built in 1950.  The 1951 City Directory shows the owner and occupant as Walter M. Grandy and his wife, Earlie S. Grandy.  On February 11, 1943, North Carolina Mutual Life Insurance Company sold the lot to Mr. and Mrs. Grandy.  After having their house built, the Grandys resided there beginning in 1950.  On February 26, 1955, J. Neal Hughley and his wife, Sadie, who lived at 203 Pekoe Avenue, sold part of their back lot to Mr. and Mrs. Grandy.  Mr. Grandy died in 1997.  Mrs. Grandy died in 2000.  
On January14, 1997, Leonard Harshaw was granted power of attorney to handle all affairs related to the Grandys.  Deed record show, on December 29, 2000, the house was sold to Ralph A. Hunt, Sr. and his wife, Rebecca.  Mr. Hunt was a teacher at Hillside High School.  On the same day, the house was transferred to Reginald Hunt.who lived in the house.  On June 23, 2006, Reginald Hunt sold the house to Caesar Jackson, owner of Blacque Enterprises.  Mr. Jackson purchased the house as a rental property investment.  The house has been lived in by various tenants since the latest sale of the property.