35.974203359598, -78.905654054395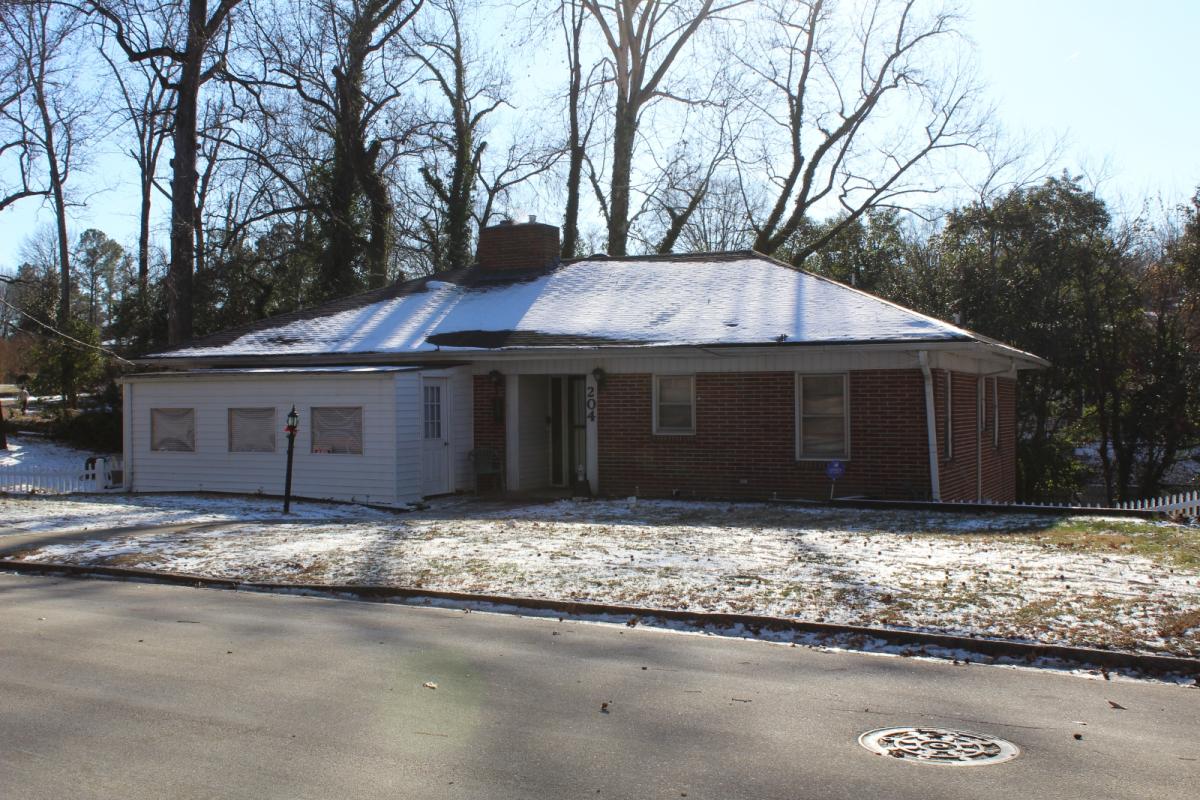 Photograph taken by Heather Slane, National Register Historic District Submission, January 2018
Significantly altered with the construction of a shed-roofed frame wing on the left (southeast) end of the façade, this one-story, hip-roofed Ranch is five bays wide and double-pile. It has a brick veneer, two-over-two horizontal-pane wood-sash windows, and an interior brick chimney. An inset entrance, centered on the façade, has a replacement door with textured-glass sidelight in an inset bay sheathed with weatherboards. The site slopes to the rear to reveal a basement-level entrance on the right (northwest) elevation. The frame wing on the façade has vinyl siding and fixed vinyl windows. The left elevation features an inset porch at the rear that has been enclosed with stacked aluminum awning windows. The earliest known occupants are Robert G. Duncan, a ground superintendent at North Carolina College (later North Carolina Central University), and his wife, Anne M. Duncan, a librarian at North Carolina College, in 1960.
According to county deed records, on May 26, 1952, B.B. Booker and his wife, Lula Lyles Booker sold this lot to Robert G. Duncan and his wife, Anne McKay Duncan.  The house was built in 1953.  They were the parents of one daughter.  On October 6, 1992, Mrs. Duncan transferred ownership of the property to her daughter, Allyson Kay Duncan.  Mrs. Duncan died in 1995; her husband died years earlier. 
Allyson Duncan has had a very distinguished legal career.  She was an associate professor at the North Carolina Central University School of Law from 1986 until 1990.  Allyson was the first African American president of the North Carolina Bar Association in 2003.  She was also the first African Amerian appointed to the North Carolina Court of Appeals. In 2003, President George W. Bush appointed her as United States Circuit Judge of the United States Court of Appeals for the Fourth Circuit, making her the first African American female to hold this position.  She retired in 2019.
Since the early 1990s, several tenants have lived and are still living in this house.  Ownership of the property has remained in the Duncan family.