35.972744661068, -78.905782800426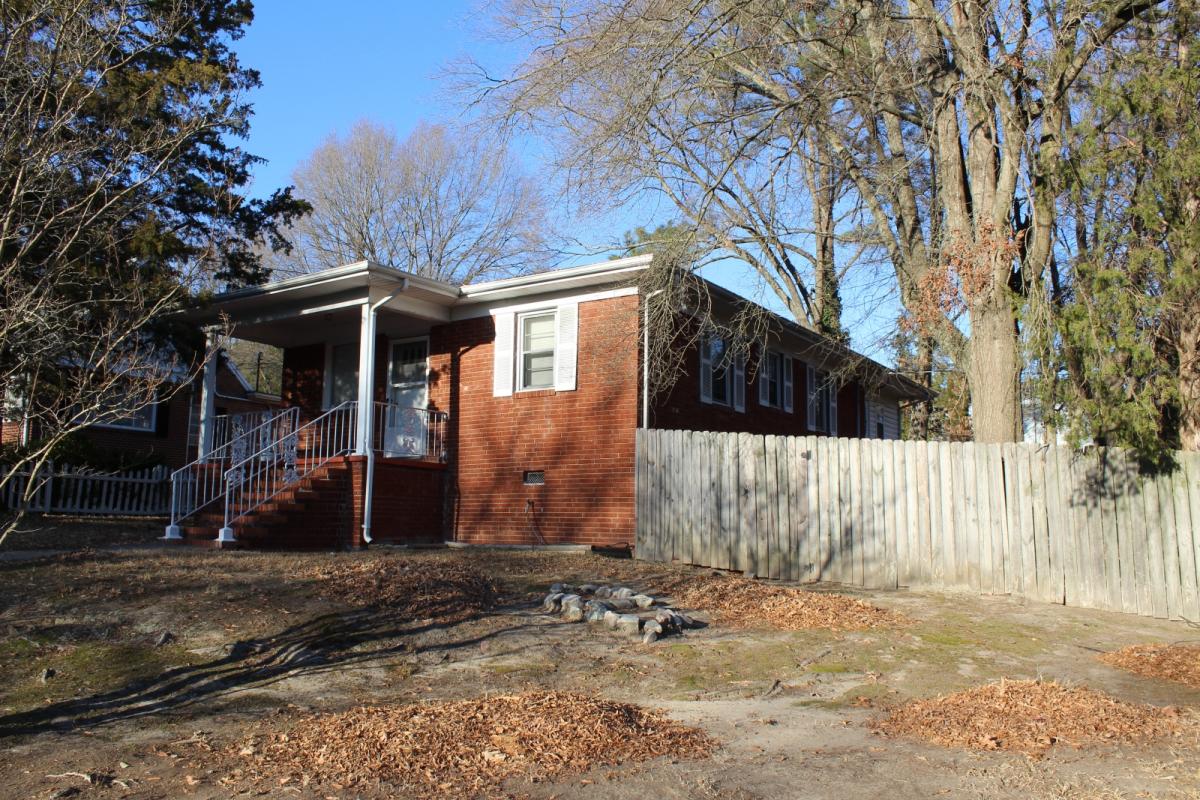 Photograph taken by Cheri Szcondronski, National Historic District Submission, January 2018
Located on a slight rise at the northwest corner of Cecil and Otis streets, this one-story, hip-roofed Ranch house is three bays wide and four-pile. It has a Roman brick veneer, low-sloped roof with deep eaves, and two-over-two, horizontal-pane wood-sash windows throughout. A four-light-over-four-panel door is located near the center of the façade with a fixed one-light window to its left (northwest). Both are sheltered by a hip-roofed porch supported by square columns with a decorative metal railing. An inset porch at the right rear (east) has been enclosed with vinyl siding and has small vinyl windows and a door with exterior concrete stair on its right (northeast) elevation. County tax records date the house to 1956 and the earliest known occupants are John Williams, a janitor at East End School, and his wife, Roselle W. Williams, a domestic worker, in 1958.
According to county deed records, John F. Williams and his wife, Isadora Gray Williams, sold the lot fo John Henry Williams and his wife, Roselle Williams.  The house was not built for several years after the purchase and changed ownership of the lot a few times and returning to John and Roselle Williams.  On November 21, 1953, Oscar R. Taylor and his wife, Sandra R. Taylor sold the lot to E.D. Barnes and his wife, Isabella Barnes.  The Barnes couple sold the house back to John Henry Williams and Roselle Williams.on October 14, 1955.  Mr. and Mrs. Williams sold the house to Bertha Williams and Charles D. Williams, Jr. with life rights for them  on January 12, 1960.  On May 15, 1961, Charles and Bertha sold the house back to John and Roselle Williams.
On December 18, 1986, after the Williams' deaths, Mildred W. Fields and William Fields sold the house to Larry E. Johnson.  Mr. Johnson sold the house to Community Home Builders on April 18, 2001.  On July 13, 2001, Community Home Builders sold the property to Marcia M. Gibson.
Ms. Gibson remains the owner and occupant of this property.