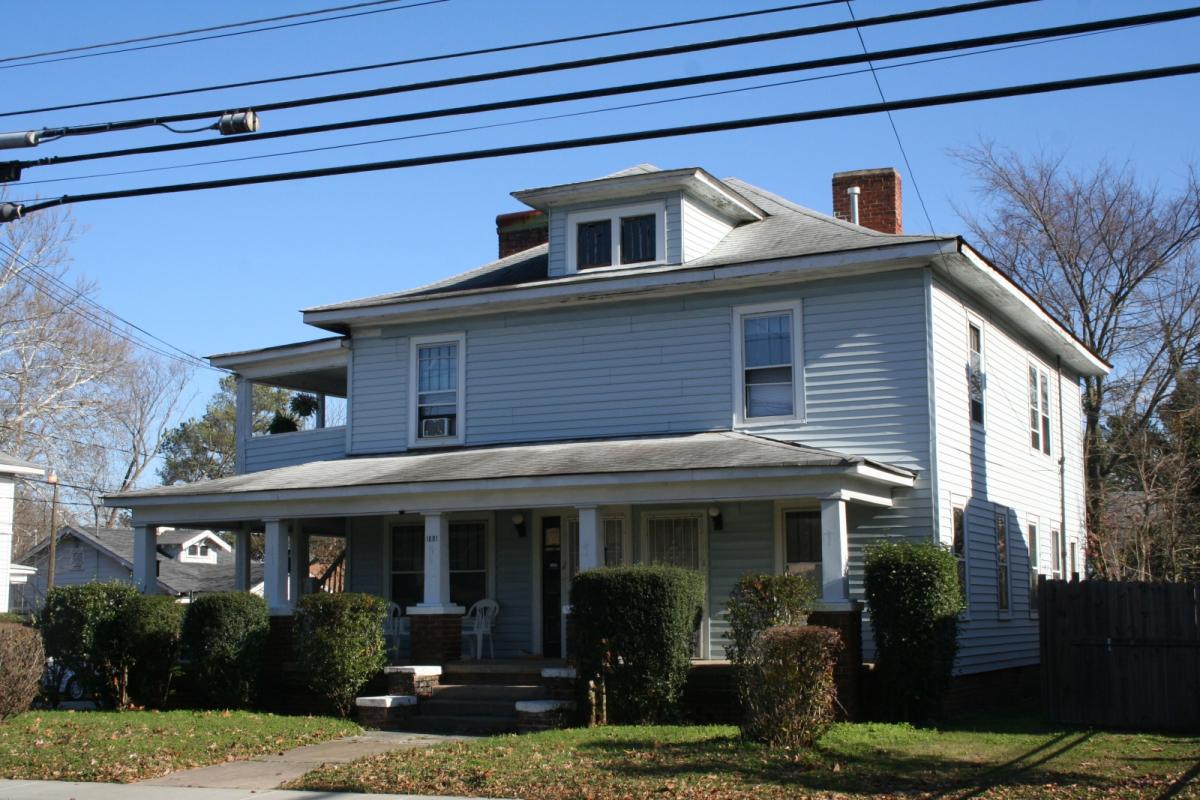 Photograph by Heather Slane (hmwPreservation) - December 2009.
From the 2010 National Register Historic District application for Stokesdale:
This two-story, hip-roofed, Craftsman house is four bays wide and five bays deep with a projecting, two-story, gabled bay on the north elevation and a two-story, shed-roofed, full-width rear ell. The house has a brick foundation, vinyl siding, two interior brick chimneys, and a flared roofline. It retains four-over-one, double-hung, Craftsman-style windows throughout and has a pair of four-light, Craftsman-style casement windows in the hip-roofed front dormer. An original fifteen-light French front door remains with matching sidelight. The hip-roofed porch extends across the facade and wraps around the north elevation, terminating in the projecting bay; it is supported by tapered wood posts on brick piers and is accessed by a brick stair with brick knee walls. An exterior stair constructed on the north elevation leads to a second-floor, hip-roofed porch that accesses a second-floor apartment. The earliest known occupant is Marcellus Allen (fireman) in 1925; it is currently four or five units.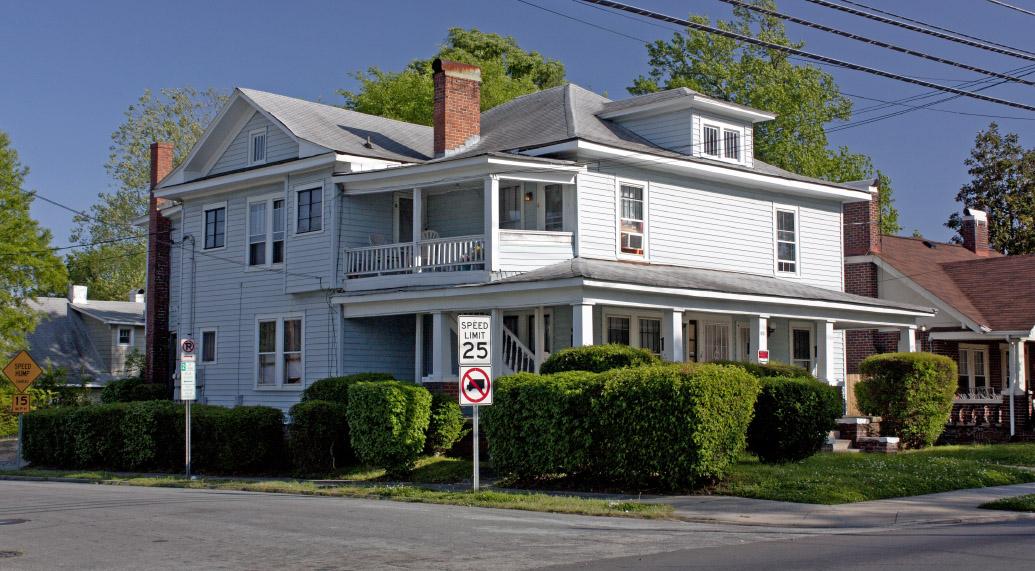 04.08.12 - looking southeast at intersection of Fayetteville and Dunbar (Gary Kueber for Open Durham)
In February 2021, the Friends of Geer Cemetery referenced this home in a Day of Honor post about two daughters of the Allen family that lived here for years, accompanied by images of their headstones which stand side-by-side to this day:
According to her grave marker, Virginia P. Allen was born on this day [February 25th] in 1911; she was just over 15 months old when she died of unknown causes. Virginia's sister Mabel, who died before she was six months old in 1915, is buried next to her. Virginia and Mabel are among the 478 people known to be buried at Geer Cemetery who died before the age of 10, a figure representing about 31 percent of the total known burials (73 percent of these children died in infancy). These figures are consistent with other statistics we have for infant mortality in African American families at the time, where Black children died at a rate almost 2/3 higher than that for white children.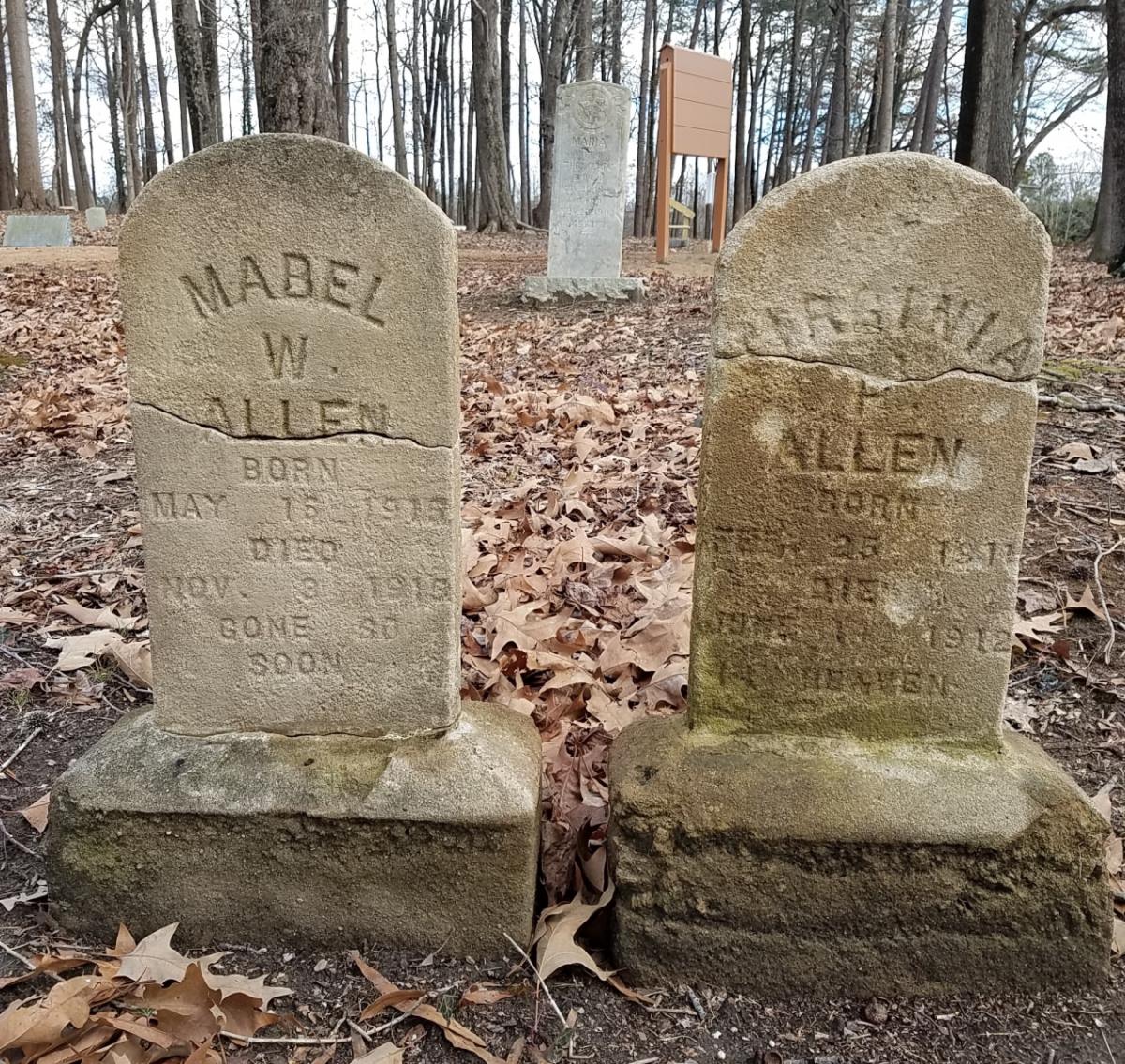 02.07.2021 (N. Levy)  
Had she lived longer, Virginia would have joined five daughters born to Marcellus and Nola Mitchell Allen who survived to adulthood. In 1930, the Allen family was living in a home they owned in the Stokesdale neighborhood at 1601 Fayetteville Street, two blocks south of Lincoln Hospital. The house must have bustled with the activity of railroad fireman Marcellus, homemaker Nola, sisters Gladys (a registrar at Lincoln Hospital), Burna, Doris, Ethel, and Lois, and Nola's mother Ada V. Mitchell. After the 1937 deaths of Marcellus and Doris (who worked as a stenographer at the State Education Department), Nola worked as a seamstress, and she, Ethel, and Lois hosted lodgers at 1601 Fayetteville. The house still stands today, in fitting memory of a big family that could have been larger still.
It seems the house at 1601 Fayetteville remained the property of this family until Nola M. Allen - by then a widow - sold it in 1957.