1401 HUMPHREY STREET/GLENN ALLEY
Built in
1900-1917
/ Demolished in
1994
Fred and Mary Henderson owned a grocery store at this address for over 4 decades. 
In tours
Last updated
Wed, 11/21/2012 - 7:51am by Karen
Comments
Built in
1900-1917
/ Demolished in
1994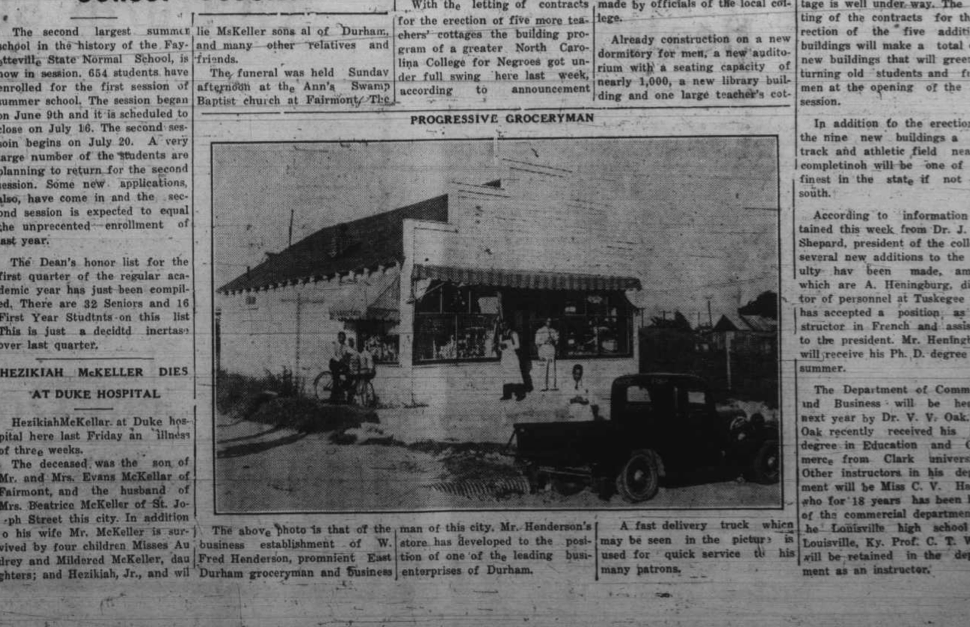 W. Fred Henderson ran at grocery store out of this address for many decades, becoming one of the area's leading businessmen, according to this Carolina Times caption, by offering delivery service for his grocery store.  In earlier records the business is listed as a confecction shop, so I imagine they gradually added other items to sell. 
Walker Frederick Henderson ran this store with his wife Mary and his sister Roxie. They lived behind the store at 309 Henderson Alley (aka Amber Place), seen in this Sanborn map:
According to Mary's obituary, she and her husband were members of White Rock Baptist Church. They owned the grocery store for more than 4 decades, but moved to a different nearby address in the late 1940s. 
With both the grocery store and the home since demolished, there is now a large vacant lot left, which has become an area of contention among residents, an extension if you will of the problems that had already arisen from the pedestrian bridge. Read more about the EPAs project to beautify this lot in the article  here.