35.975549164561, -78.905648697169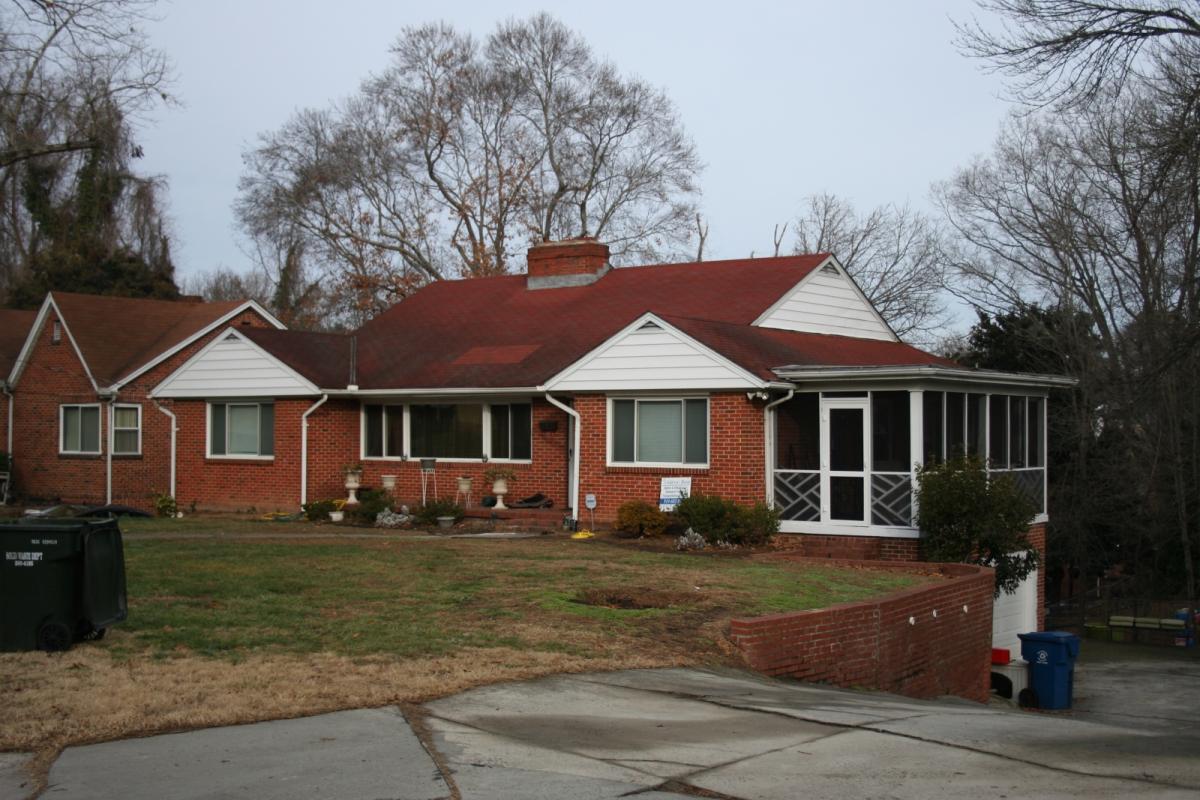 Photograph taken by Heather Slane, National Historic Register Submission, January 2018
This one-story, U-shaped house features a center, side-gabled form flanked by shorter, front-gabled wings. The house has a brick veneer, vinyl slider windows on the façade, double-hung windows on the side elevations, aluminum siding in the gables, and an interior brick chimney. The front-gabled wings each have a fixed picture window flanked by slider windows and a wide picture window on the façade is flanked by two slider windows on each side, resulting in a window that occupies most of the width of the façade. A paneled door on the right (east) end of the façade is accessed by an uncovered brick terrace that extends the full width between the front-gabled wings. A one-story, flat-roofed screened porch on the right elevation is supported by square posts covered with aluminum. There is a brick wall on the left side of the driveway, which extends along the right side of the house to a basement-level garage on the right elevation. Basement-level windows are visible on the left elevation as well. County tax records date the house to 1953 and the earliest known occupants are Wauna L. Dooms, owner of a haberdashery shop, and his wife, Martha S. Dooms, a biology teacher at Hillside High School, in 1955.  They were the parents to one son.
According to county deed records, North Carolina Mutual Life Insurance Company sold four lots to W.L. Dooms and his wife, Martha S. Dooms on August 2, 1943.  On August 18, 1948, The Dooms sold one of the lots to the City of Durham Board of Education.  Next to their house were two lot, with one behind the area that served as an athletic field for Hillside High School before the field was demolished, along with the school, to make room for a North Carolina Central University building and parking lot.
Mr. Dooms died in 1978 and Mrs. Dooms died in 1992.  She was a life member os the Harriett Tubman YWCA.  Martha V. Spaulding Dooms was the sister of Otelia J. Spaulding Stewart, who lived across the street at 128 Masondale Avenue.
Deed records show that on March 16, 1996, David Earl McQueen bought the property from Wauna L. Dooms, Jr., trustee of Martha S. Dooms Trust, Mark A. Doms, and Monica L. Dooms.  The McQueens still own this house.
.