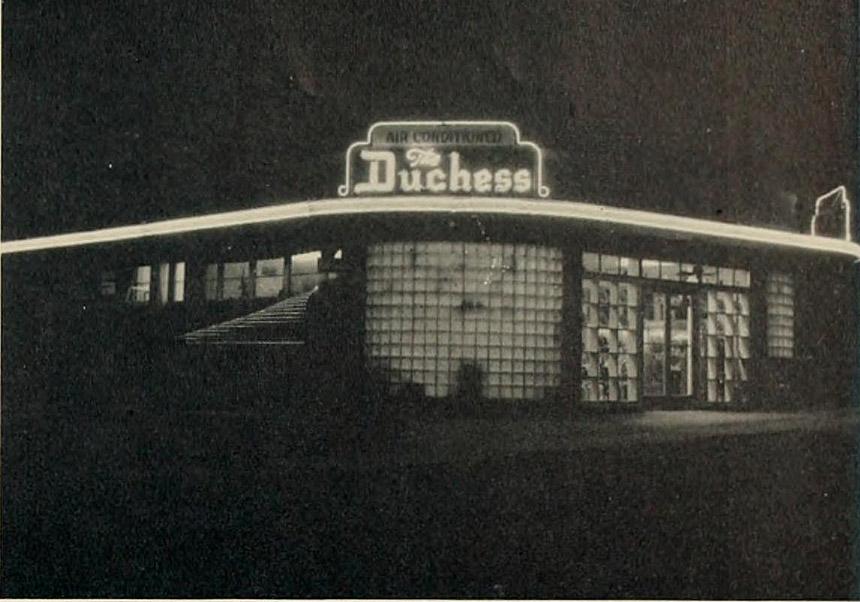 (Duke Chanticleer)
This stylish little example of the Moderne architectural style was built in 1949, with a curving glass block front facade being the most striking feature. The front entrance was originally centered in the building, two glass doors being framed with glass blocks larger than on the corners. The streamlined effect was emphasized by a chrome trimmed overhang that followed the curve of the facade.
The original occupant of this cool building was The Duchess cafe, which catered to Duke students and advertised two neon signs above each curving corner. An ad in the 1950 Duke Chanticleer (the yearbook), touts the air conditioning, "Mother's Homemade Pies, Cakes and Biscuits," and "Broiled Steaks a Speciality." It also advertises The Blue Cellar (a bar?) and "Box Lunches for Fraternity and Cabin Parties." The intrepid researcher Gary Kueber of Open Durham notes, "Cabin Parties, as far as I can tell, consisted of chaperoned outings to the various houses that remained in Duke Forest after Duke acquired the land. They gained enough popularity to be featured in multiple Duke yearbooks through the 1940s and 1950s, young men and women lounging around on rough floors in plaid and denim. The pictures all appear to have been taken at night." Sadly, by 1958 The Duchess had gone out of business, and the building was vacant.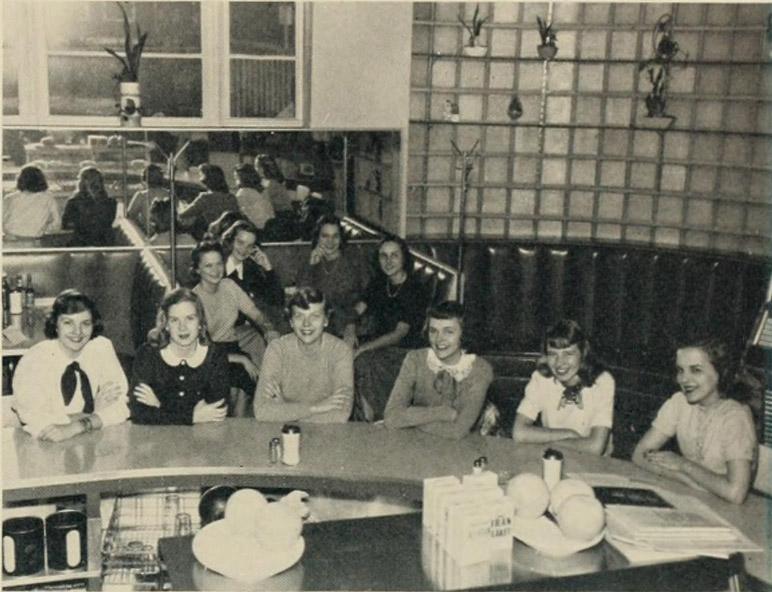 (Duke Chanticleer)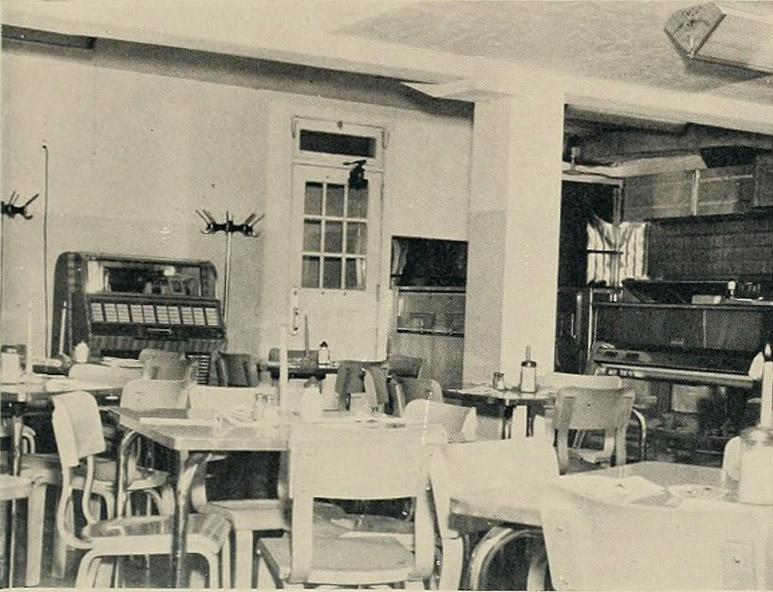 (Duke Chanticleer)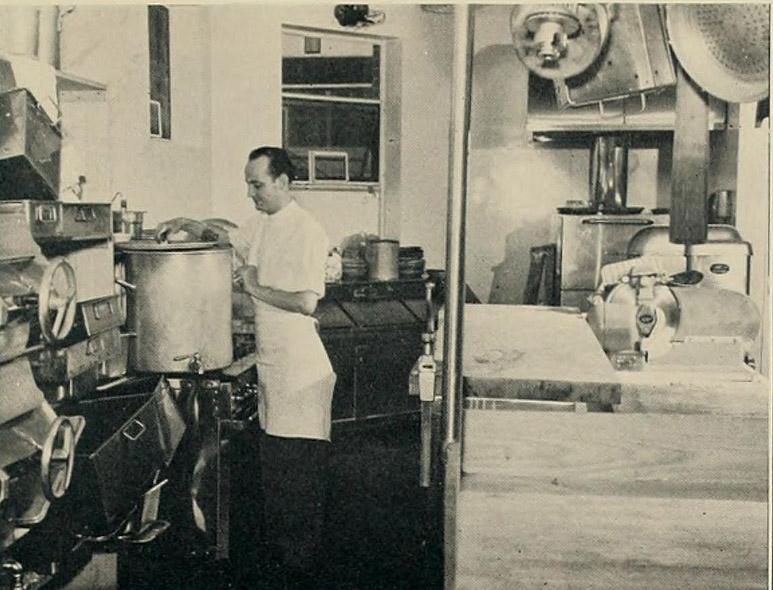 (Duke Chanticleer)
Sometime in the 1960s James O. Cobb and Company moved their offices to the building. Cobb was the developer of the Forest Hills neighborhood in the 1920s, among other projects.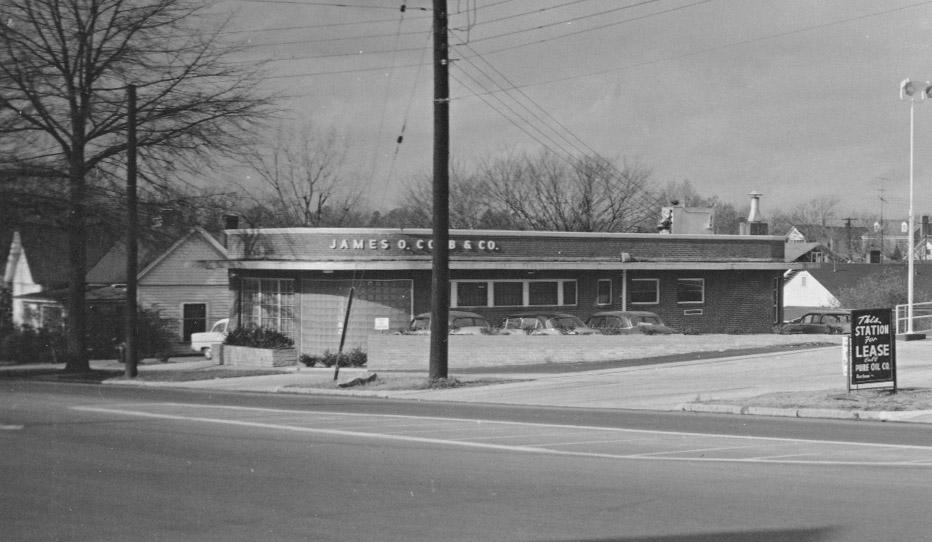 ~1960 - (Wayne Henderson)
The Emerald Garden Florist occupied the building in the 1990s. When it was acquired by the Durham Community Land Trust in 2002, it had been sitting vacant for several years and was in somewhat desperate condition, with a foot of water in the basement and leaks everywhere. DCLT fully renovated the building, including reconfiguring the interior spaces, adding the skylight and tile roof, and opening up the center stair to better use the basement space.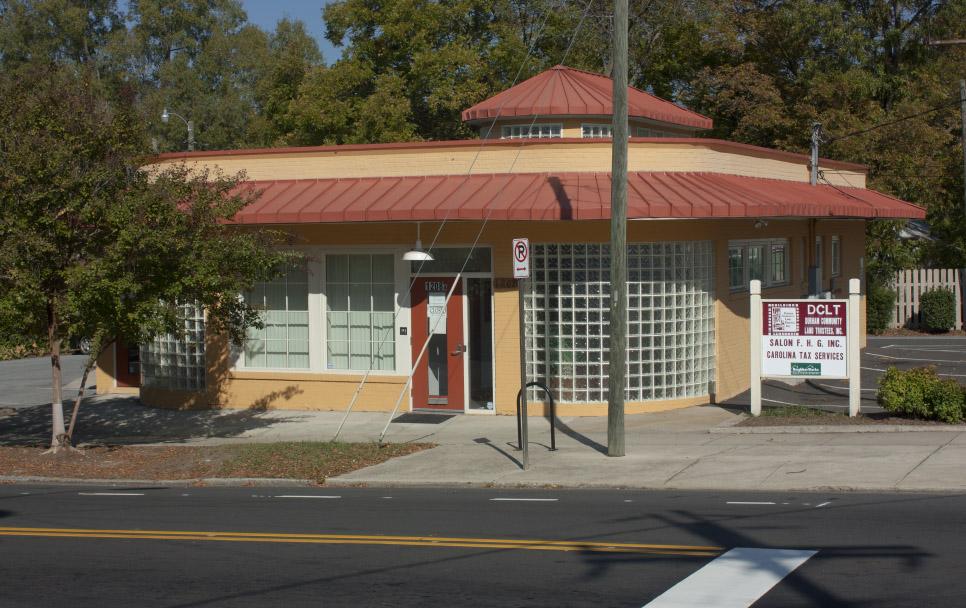 10.13.11 (G. Kueber)
Note: The first building on this site was a small frame house built sometime in the 1910s. In a photograph of this intersection from the 1920s, it is seen to be a typical vernacular Victorian cottage – a side gable roof, white painted wood siding, a full width porch at street level with columns set on brick piers. The first resident listed in city directories is W Norman Pendergrass, a clerk at the Southern Feed & Grocery Co. Subsequent listings show that residents did not stay longer than a year or two.