112 SOUTH CORCORAN STREET
Built in
1890s
/ Demolished in
1940s
Comments
Built in
1890s
/ Demolished in
1940s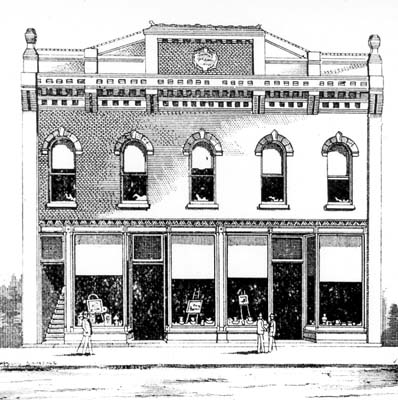 (Courtesy Duke Archives)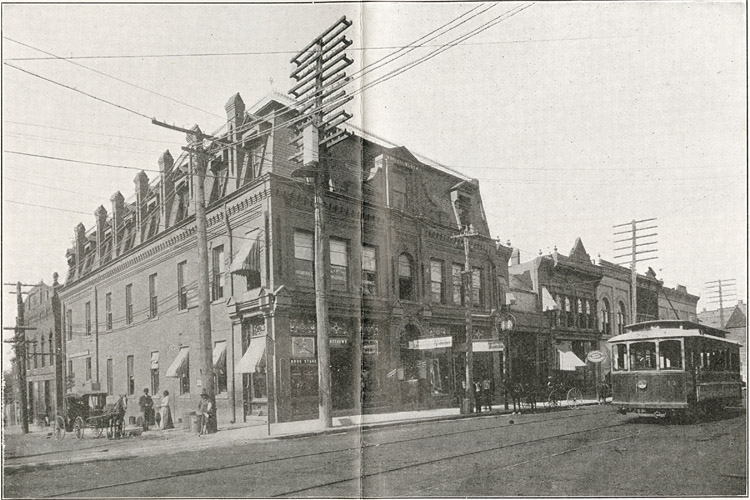 The picture above shows the Wright Corner, looking southwest from Main and Corcoran. One of the two buildings on Corcoran behind this building can be seen from this angle, 112 South Corcoran, which housed the Royall Borden Furniture Company until it moved to 313 East Chapel Hill St. during the 1920s. In the 1910s, it also housed the Seeman Printery.
(Courtesy Durham County Library)
Below, an etching of this building from "The Handbook of Durham" - 1895.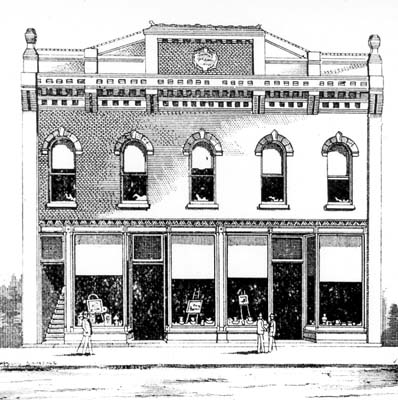 (Courtesy Duke Archives)
The shot below shows Corcoran St. looking north from the railroad tracks towards Main St. On the right side are the Hosiery Mills building, the First National Bank building, and the Geer Building (at the focal point). The two buildings on the west side of Corcoran can be seen on the left - the second building moving north was the Royall Borden Furniture Company.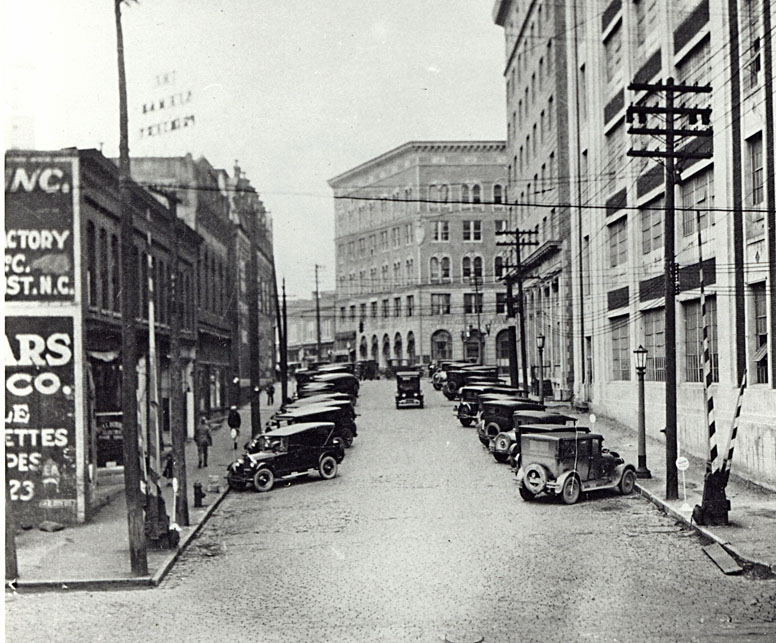 One of the oddities of the way downtown Durham evolved during the late 19th century was the lack of a complete frontage road on the north side of the railroad tracks. These buildings came all the way south to very near the railroad tracks, and there was no roadway extending west from here to West Chapel Hill St. Peabody St., much like it does now, stopped and started at various points - extending east from here and terminating at Union Station (located at the southern terminus of Church St., at the railroad tracks. There were other sections of Peabody west of the Duke Factory (where it exists still) and in East Durham (also still in existence.)
In the 1940s, 112 S. Corcoran St. was demolished.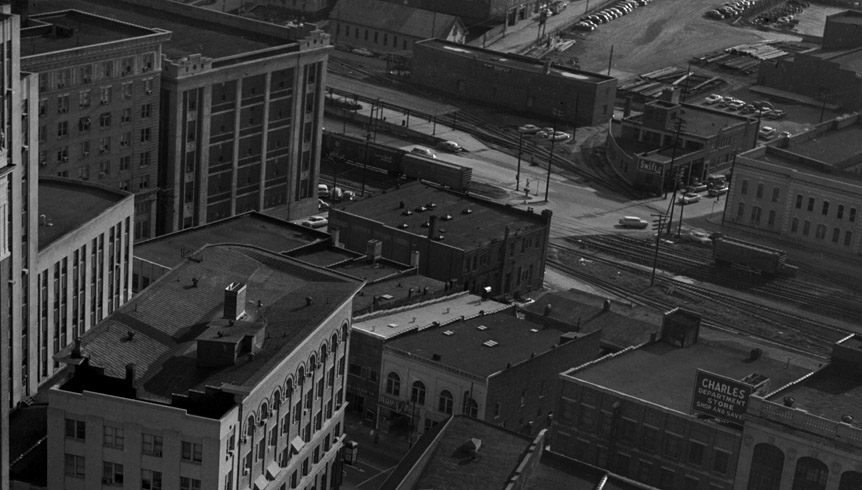 Aerial, looking southeast, 1950s. The rear of the 120 S. Corcoran building is visible across from the Durham Silk Hosiery Mill - the gap between it and the Wright Corner is where 112 S. Corcoran stood.
In the 1950s, the remainder of the buildings between the West Main St. frontage structures and West Peabody were demolished for a parking lot, later a parking deck.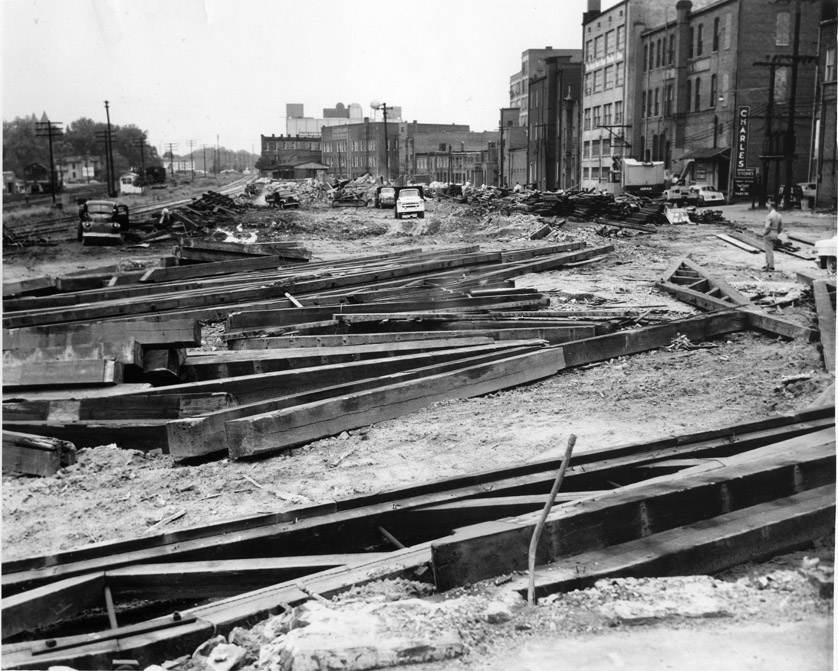 Fully Demolished SAL depot and 100 block of South Corcoran.
(Courtesy Duke Archives)
This area was transformed into surface parking (where the multiple rail spurs used to come off of the main tracks) and into what would become the Ramseur St. part of the Loop, although the Loop would not be completed for another 10 years or so.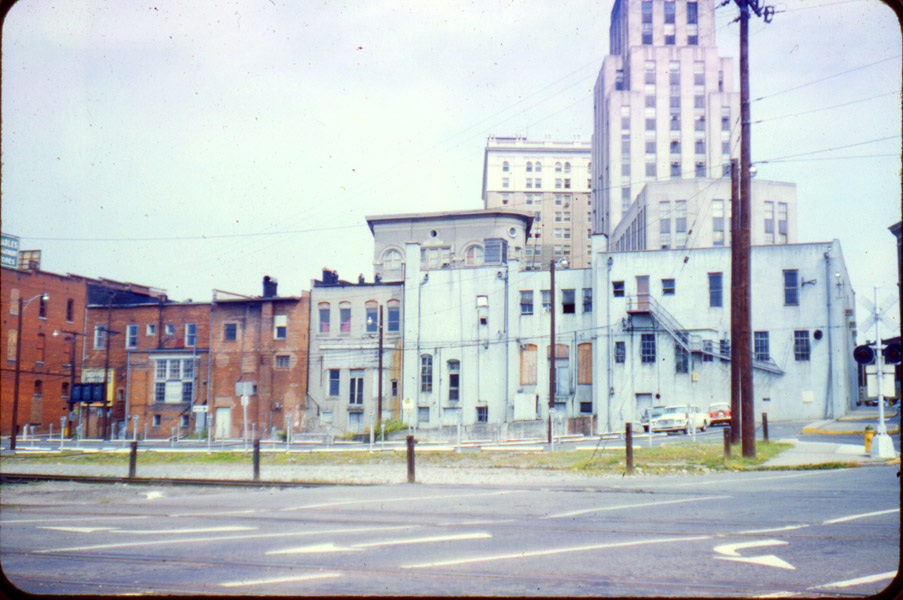 Looking north from Corcoran and the railroad tracks.
(Courtesy Durham County Library)
By the mid to late 1960s, this seemed like a prime spot for a fancy new parking deck.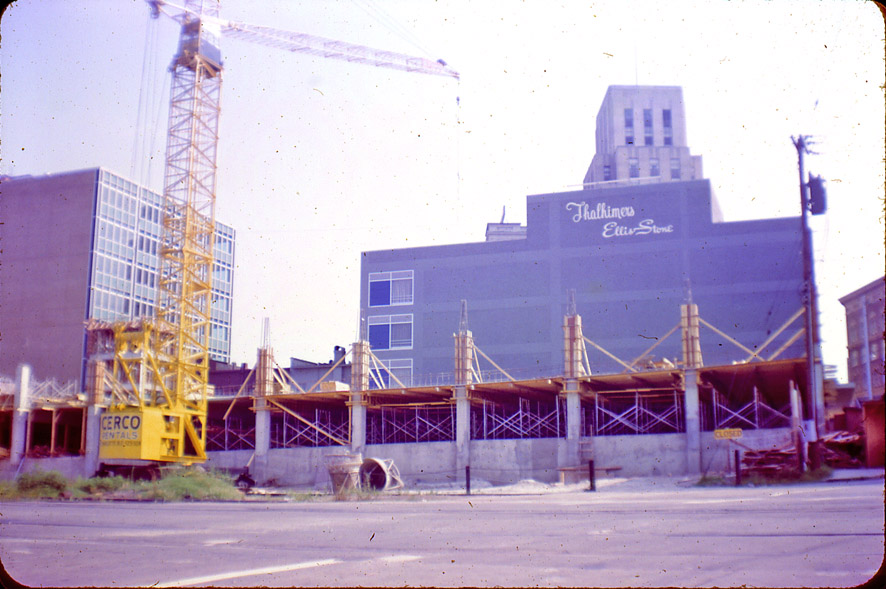 Looking north from Corcoran and the railroad tracks.
(Courtesy Durham County Library)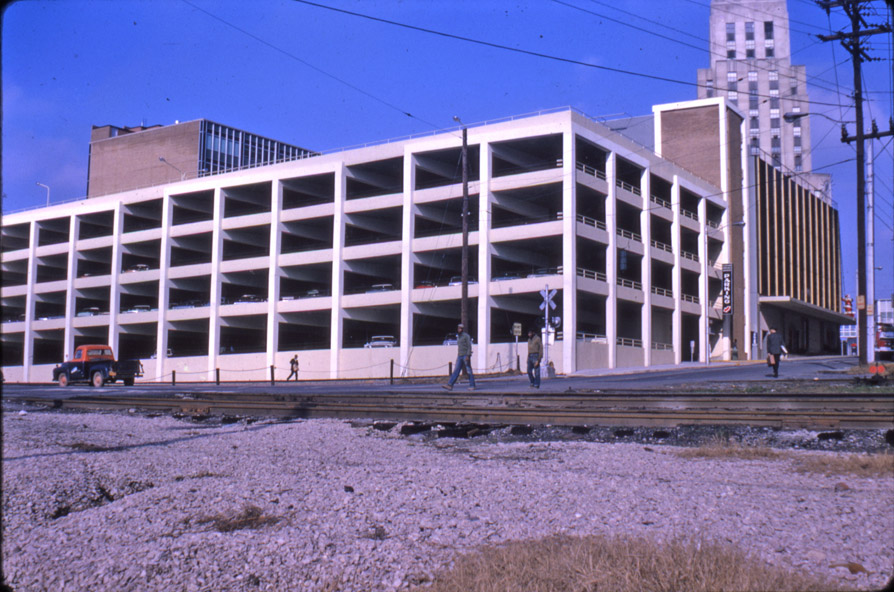 The completed product, looking northwest from the railroad tracks.
(Courtesy Durham County Library)
It hasn't changed much today.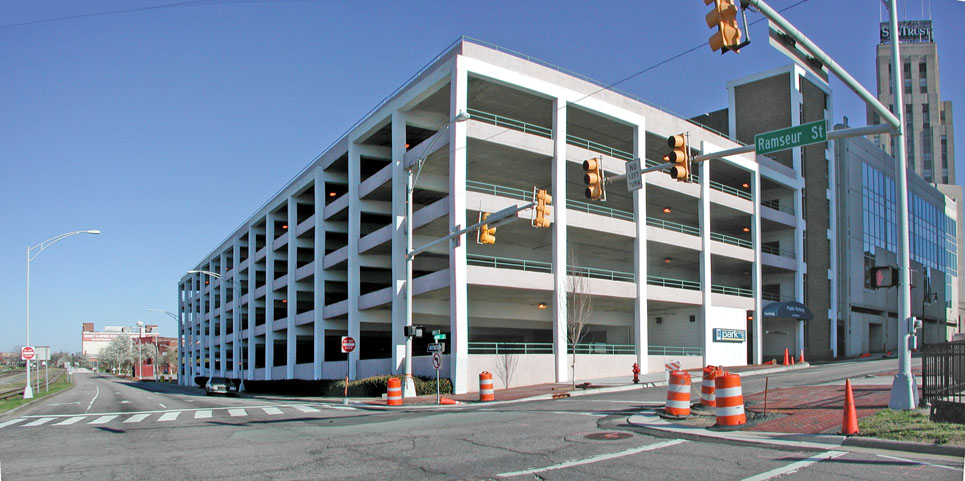 Looking northeast from Corcoran and Ramseur, 2007.
Since it seems that our redevelopment focus is concentrated on Corcoran St., this parking deck will need to be addressed if the powers-that-be are interested in moving people, rather than just cars, back and forth between American Tobacco and parts in-the-loop. The combination of Pettigrew, the tracks, the Loop, and this deck is a huge gulf of dead space that dissuades people from making The Crossing. Demolishing the eastern 1/4 of this deck and replacing that with a building that had active, usable street frontage would be progress.
Find this spot on a Google Map.
35.995306,-78.90225