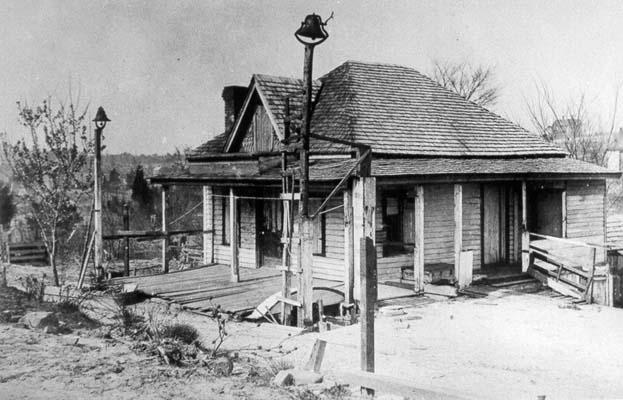 (Photo courtesy of the North Carolina Collection)
The two structures at 1119 and 1121 West Pettigrew were home to the Reverend Moses Hester, a former slave, and a church he ran out of the basement called Berea Christian. (His story was new to me, but he was apparently well known in his day). The house was part of the primarily African American community of Brookstown, across the railroad tracks from Duke (then still Trinity College). The buildings sat near where the present day East Campus Steam Plant is. 
Early records for West Durham are spotty, as it was not technically annexed until later, but I believe Hester ran the church from around 1893 until his death in 1908.
Hester never passed a collection plate, although some of Durham's wealthier citizens seemed to have helped out (see story below). I did see in more than one old document that he was listed as a carpenter, and in the 1903 City Directory (CD) he is listed as a grocer, but like I said earlier, records in this neighborhood were often inconsistent and/or incorrect, so who knows? Regardless of how he financially stayed afloat, this building served as a simple neighborhood church for a little over a decade around the turn of the century. 
In CD's from that time period, the church is only listed in the 1905 and 1907 issues, and the residence number flip flops in records between being at 1119 or 1121. I am unsure if the two addresses/buildings were actually connected by a breezeway or anything. It's hard to even tell from the photo that there were two buildings but it is the only photo that exists. In looking at the below Sanborn map from 1913, they were at the very least butted right up next to each other, and indeed both existed after Hester's death.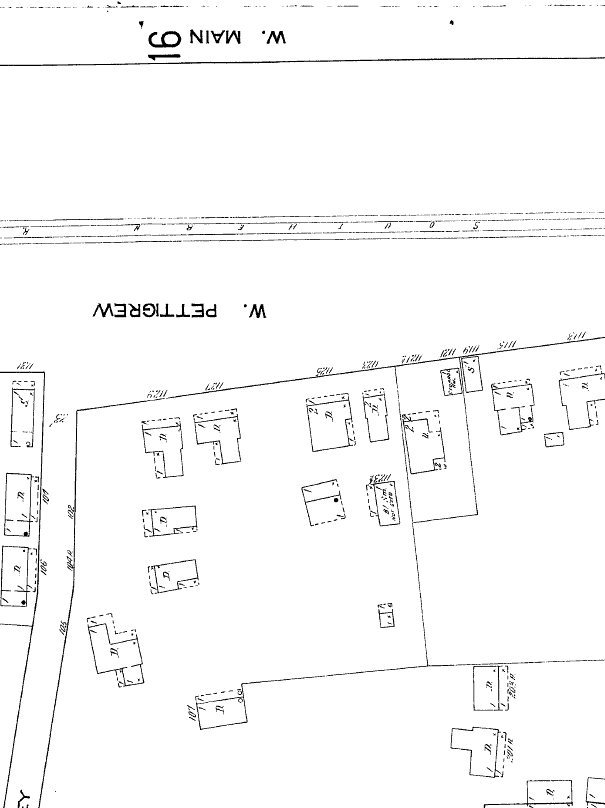 Because this area was not part of Durham proper, it was not included in earlier maps, so I am unsure when it was built. The building itself, according to Jean Bradley Anderson's book "Durham County: A History of Durham County, North Carolina", had green and red striped doors and window frames, while the rest of the house was whitewashed. 
Reverend Hester held services out of a room in the basement of 1121, which sat on a sloped hill. Services were held on Sundays at 3PM. Two large bells sat above his porch, one for Sundays, and the other which rang for factory shift changess, as most of his neighbors worked at one of the nearby factories or mills. He was known to everyone in Brookstown as Uncle Mose. 
Interestingly enough, the church had a mixed-race congregation, partly because of the working class factory neighborhood, and partly due to Hester's sermon style and personality, which was the stuff of legend.  People visiting Durham would often go to services to see him in action. Jerome Dowd, who was a visiting professor of Political Economy and Sociology at Trinity College in 1899-1900, wrote about Hester's sermons.  His favorite line? 
          "The mountains were God's thoughts piled up and the seas were his thoughts imbedded". 
Dowd also printed the full text of a Christmas sermon from the turn of the century which has been re-printed in the book  "The Southern Workman" (Volume 30). In the sermon he compared Jesus' swaddling to that of the material they were making across the railroad tracks and down a few blocks at Erwin Cotton Mill. Moses also talked about how he worried people in Durham were losing sight of what was important. He thought people had moved too far from humility, stating that neighborhood people who used to worship at his simple church now go to the church with the choirs and fancy red windows, wearing their "store clothes".  Professor Dowd noted that numerous white people were present at the Christmas sermon, including someone he described as a millionaire many times over (Carr? Duke?) who had paid for a new bell out front and for a new wood floor in the basement. My money is on Julian Shakespeare Carr.  It totally seems like something he'd do. If you are interested in reading the entire sermon it can be found here on pages 655-658. 
Moses was married to a woman named Mary according to cemetery records. Other Hester family members living in the home include Janie Hester and Martha M. Hester, who was a teacher at the original West End Graded School at 1123 Ferrell, sometimes referred to as the Fitzgerald School (named after Richard Fitzgerald, Pauli Murray's uncle, of brickyard fame). 
Uncle Mose passed away on 07.08.08 and is buried in New Bethel Memorial Gardens.  The cemetery is near Hickstown.  Over 1000 graves, including Hester's, were moved to make way for Hwy 147/Durham Freeway).  The graves used to sit on the north side of Crest St. After Moses' death, Mary and Martha continued to live in the home through 1916. At that point, they moved a few houses down to 1113 W. Pettigrew and a family named Bailey moved in.  Booker, Amy and Corinna Bailey lived here until the house was demolished in 1925 or early 1926 to make way for Duke's East Campus Steam Plant. The below photos from 1926 show the building progress of the steam plant and the demolition of houses along Pettigrew, although a few houses along this block still remain in spite of the construction. In the bottom photo you can actually see workers on the roof of one of the remaining homes, removing boards piece by piece to (I hope) salvage.