In tours
Last updated
Wed, 07/06/2011 - 10:30pm by gary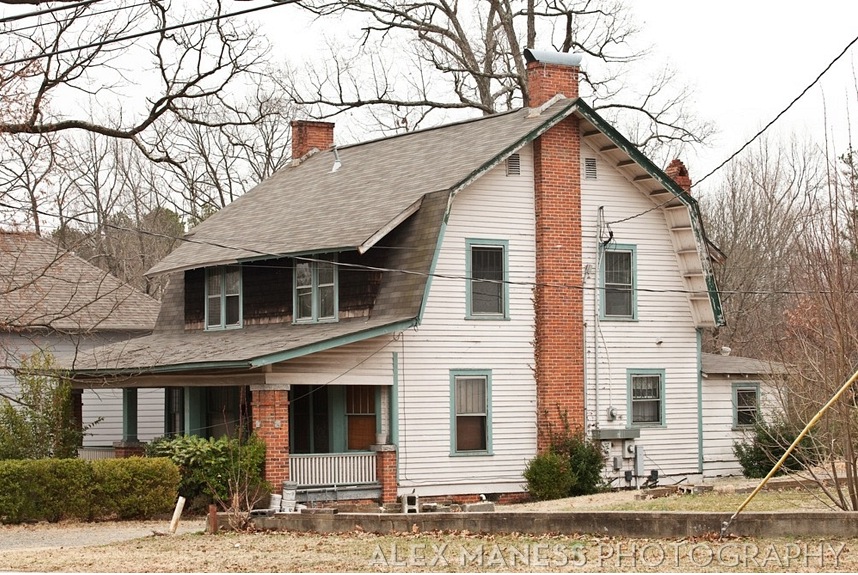 106 East Markham Avenue, 2011
(Courtesy Alex Maness)
Ernest T. Rogers House, c. 1920
106 East Markham Avenue
The Dutch Colonial Revival house at 106 East Markham Avenue stands as a testament to a time when fine architecture, the use of quality materials, and good, solid craftsmanship were commonplace in Durham's newly developing neighborhoods. This beautifully constructed house began its life in Durham's early-1920s heyday. It has seen dozens of occupants over the years, and yet it retains an integrity that is palpable. [...]
Sited on the west portion of lots 1, 2, and 3 of block 43 of the B. L. Duke property, which was laid out in 1901, these lots originally fronted Patra Street (now Roxboro Street), which was on their east side, and were bordered on the north by Park Avenue (now East Markham Avenue), the west by an alley (since covered over), and the south by lot 4. The three lots in their entirety were sold by the Duke Land and Improvement Company in 1920 to William A. Barbee for $3000. Barbee then divided them not into individual lots 1, 2, and 3, but rather divided them vertically so that the lots fronted Park Avenue instead of Patra Street. The western portion of this divided property was sold by Barbee to Martin R. New in April 1920 for $1100. (Both men were near neighbors living on Holloway Street at the time.) New then sold the property to Ernest T. Rogers in September 1921 for $1825, earning a fairly sizable return on his investment.
Sometime soon after this, Rogers commissioned the house we see today on this lot at 106 East Markham Avenue. Distinguished chiefly by its gambrel roof and flaring eaves (often thought of as barn-like in appearance), the Dutch Colonial Revival style is also reflected in the large shed dormer, gable-end chimneys, and multi-light windows (here, five vertical panes over one). As in Colonial Revival houses, of which the Dutch Colonial Revival is a subtype, one finds an emphasis on a symmetrical facade, an accented front entrance (here with sidelights), and symmetrical windows hung in combination (here double central bays on either side of the front entrance and paired windows in the dormer). Along with these elements, however, one finds strong Craftsman characteristics featured in the house as well. The eclecticism hints that the house was designed by an architect rather than built strictly from a published plan book. The porch, running the full length of the house, is supported by thick brick piers on either end and box posts on brick piers in the center. Inside is a Craftsman-style brick fireplace, and much of the interior woodwork retains its beautiful, unadorned dark richness.
As originally configured, the home's front door opened into a handsome foyer. A large dining room is found beyond French doors to the right. Behind this would have been the original butler's pantry and kitchen. Off the back of the kitchen was a porch (now an enclosed room). To the left of the entryway is the front parlor with fireplace, and behind this is another large room, perhaps a downstairs bedroom or a music room. Immediately beyond the foyer, a long staircase leads to the second floor. While it is difficult to imagine the original layout upstairs, it appears there would have been four large bedrooms and one or two baths.
It cannot be confirmed that Ernest T. Rogers and his wife Alice Veasey Rogers ever lived in the house they had built. By 1919, city directories show them living on the north end of Mangum Street, but no number is given to their house. By 1925, they had moved to a small tobacco farm in Bahama. It is certainly conceivable that after Rogers purchased the property in September 1921, he had the house built soon thereafter and occupied it until the family moved to Bahama.
The house first appears for certain as 106 E. Markham in Durham city directories in 1926, when Marvin A. Roycroft and his wife Lyda reside there. Roycroft was a partner, along with his father and brother, in Roycroft's tobacco warehouse, and lived with his wife in the house through 1933 when they moved to 916 Green Street in Trinity Park. The home's next resident was Ernest T. Rogers's mother, Lucy B. Rogers, who lived at 106 E. Markham until her death in 1936. After this time, the house went through a variety of residents year after year. Ministers, servicemen, office secretaries, and cabinet makers, a steady stream of everyday Durham heroes made this their home.
Ernest T. Rogers, who owned the house, died in 1931, and his wife Alice continued renting the house to others. She remained on the tobacco farm in Bahama and eventually remarried a man named Timothy N. Young. At some point (City directories suggest the 1960s.), the house was split into three apartments, and one can see today how a wall was added in the middle of the house, separating the large downstairs living space into two separate areas, with the upstairs becoming another apartment. After her second husband's death in 1971, Alice Rogers Young returned to live out her final years in the house that she and her former husband had owned for so long.
Alice Rogers Young died in 1980, and the house passed to her only surviving son, James E. Rogers. He sold the house in 1982 to the current owner's parents, who transferred the property to their son in 1994. While the number of residents in this house has been many, only two families have ever owned it. [...]
Find this spot on a Google Map.
36.009497,-78.892374