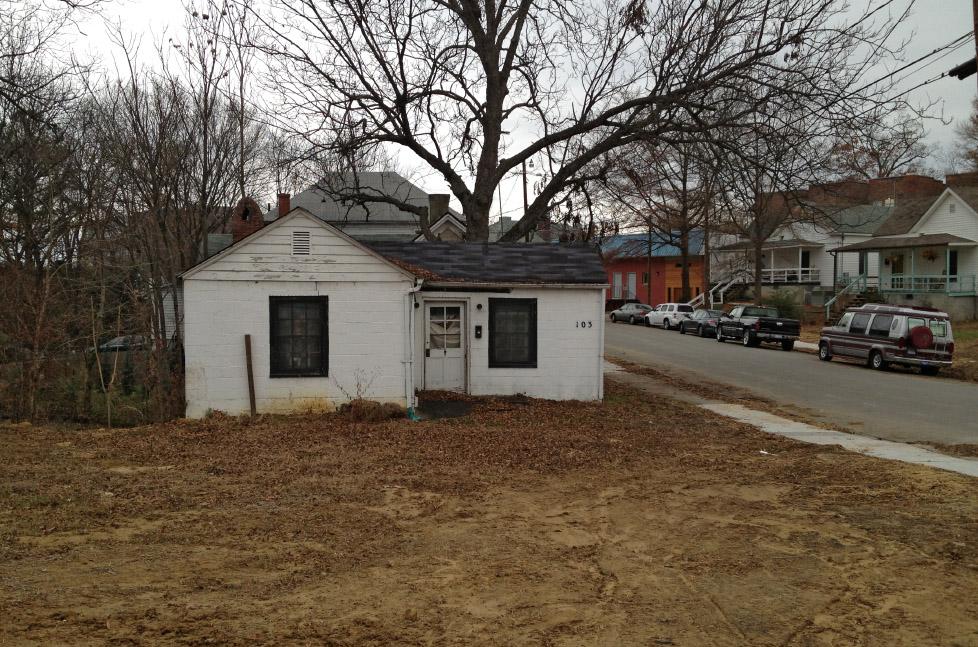 12.03.13
This small, t-shaped cinder block house was apparently built in the late 1940s on the back half of the lot of a house facing Mangum Street - with residents first appearing in the 1947 city directory and the structure depicted on the 1950 Sanborn Fire Insurance map.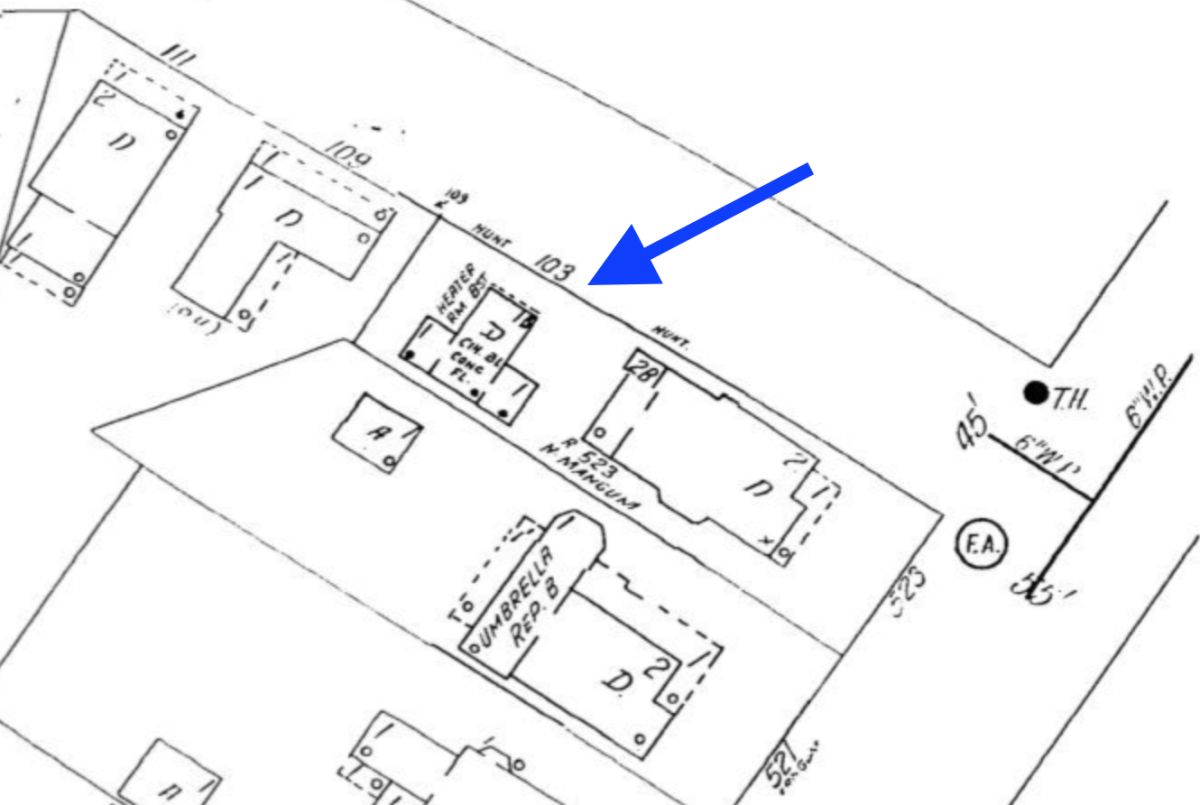 Fragment of 1950 Sanborn Fire Insurance map - available via ProQuest/NClive.org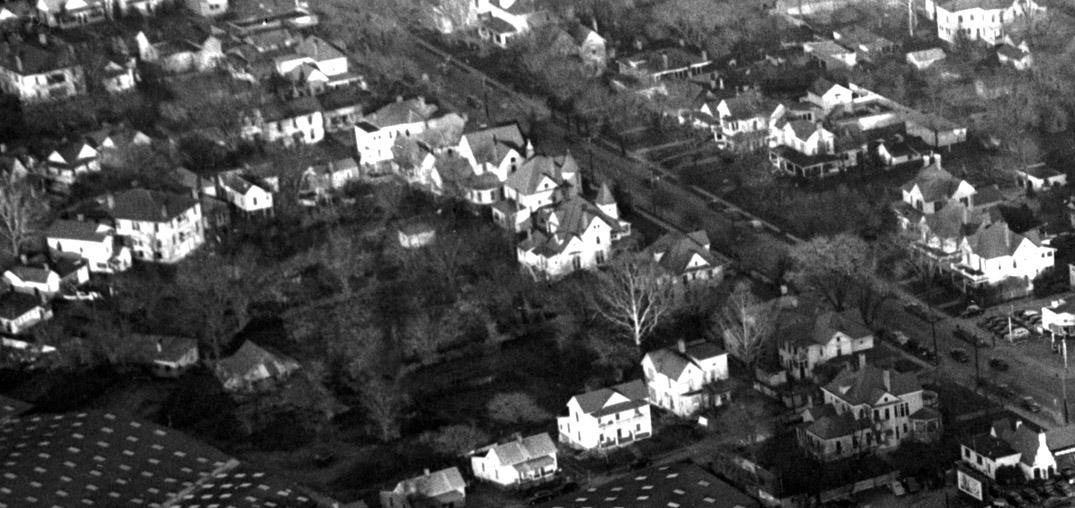 Bird's-Eye View, c.1948, looking northeast at the 500-600 blocks of Mangum. Hunt Street curves in from the center-left, with 103 Hunt visible behind the larger house at the corner.
Subsequent directories suggest frequent turnover of occupants from the earliest years - mostly a series of married couples.  Their surnames were:
1947 - Barco 1948 - Westwood 1949 - Davis 1950 - Brock 1955 - Mrs. Irene P. Walker 1960 - Overman 1963 - Duke  
Despite the close proximity of the tobacco warehouse district (note the rooftops visible at the bottom edge of the photo above), that industry does not seem to have been a primary employer of those who lived at 103 Hunt.  The residents named above included multiple students and employees of other businesses - still within easy walking distance - such as Baldwin's, Ellis Stone, Doug's Restaurant, Adcocks Cafe, Woolworth's, and Walton Roofing.
The spread of development outward from the downtown commercial area gradually claimed many of the residential structures in this vicinity.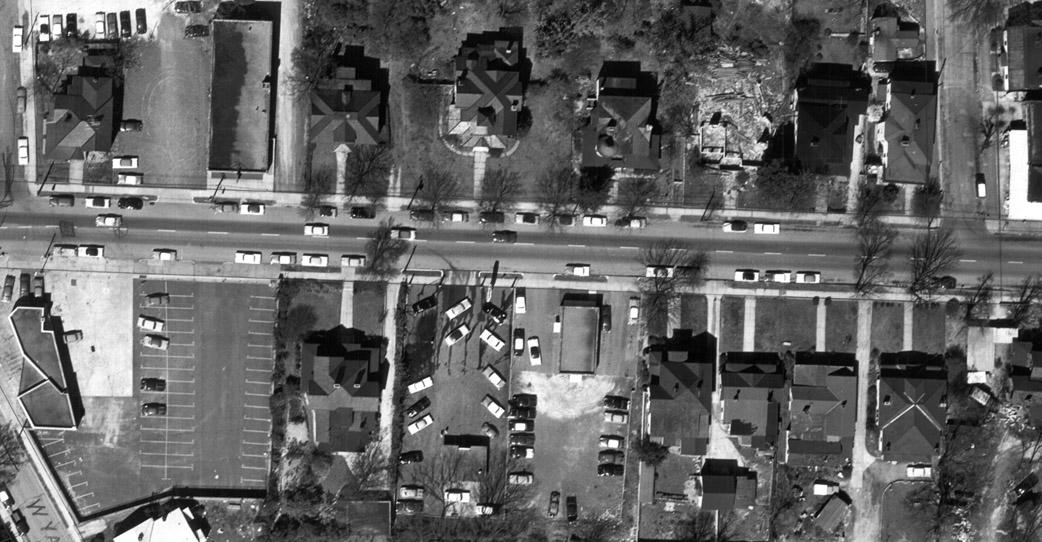 1959 aerial photo of the 500 block of Mangum St. - the service station at the corner of Wyatt (far left) had begun the trend as early as 1930. By this point, 503 and 505 have been torn down, with 519 N. Mangum shown recently dismantled. 103 Hunt Street is visible near the top right corner.
With Durham's industrial decline and the hollowing out of many neighborhoods near downtown in the era of Urban Renewal and suburbanization, the larger houses in this area were divided into apartments, abandoned, or razed.
Since 2009, the building has belonged to Nehemiah Christian Center.  With the demolition in the years that followed of the last houses on the west side of the 500 block of Mangum Street, 103 Hunt Street has become more visible from the southbound thoroughfare.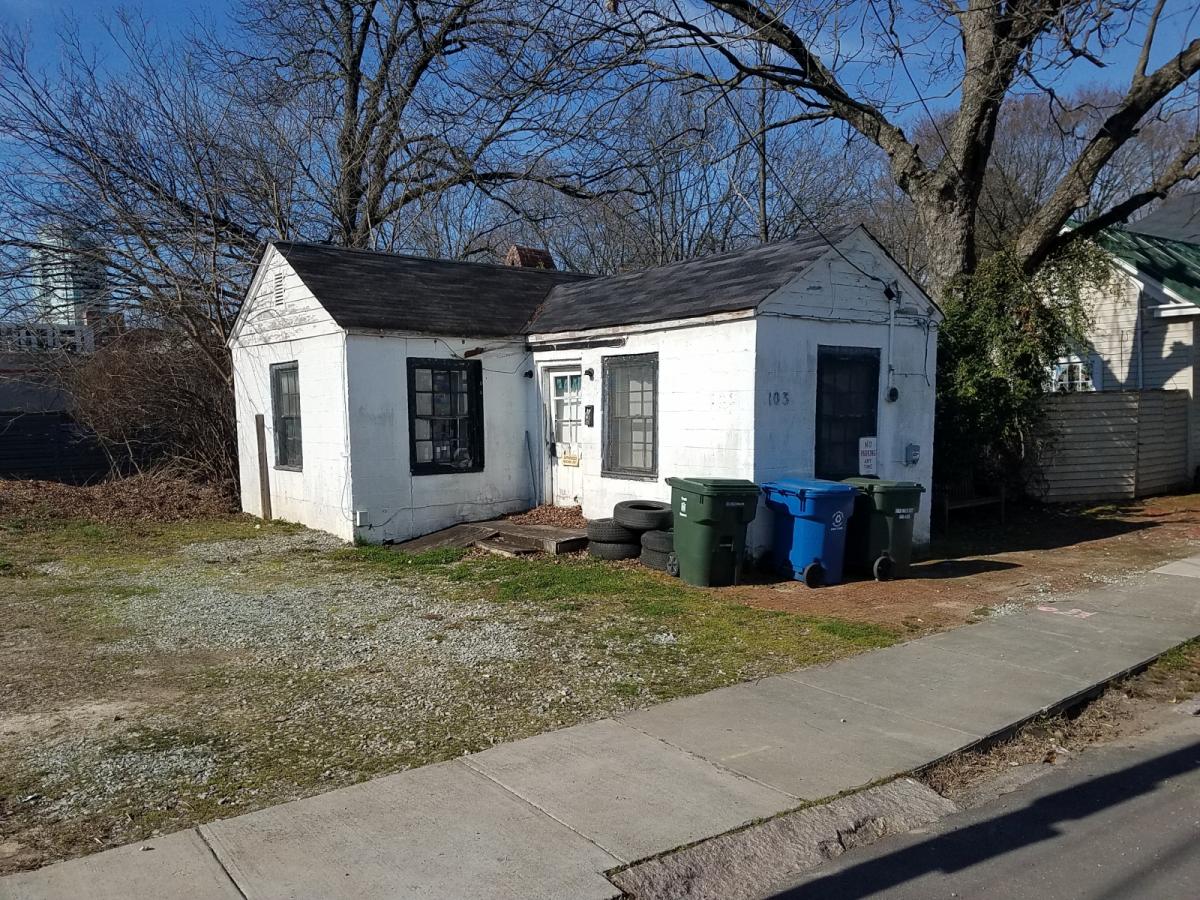 N. Levy, 03.02.2020
This building was the subject of a What's It Wednesday?! post on Open Durham's social media accounts (Facebook and Instagram), the week of April 22, 2020.  Follow us and stay tuned for more finds!