In tours
This building does not appear in any tours yet.
Last updated
Sat, 09/22/2012 - 4:15pm by Karen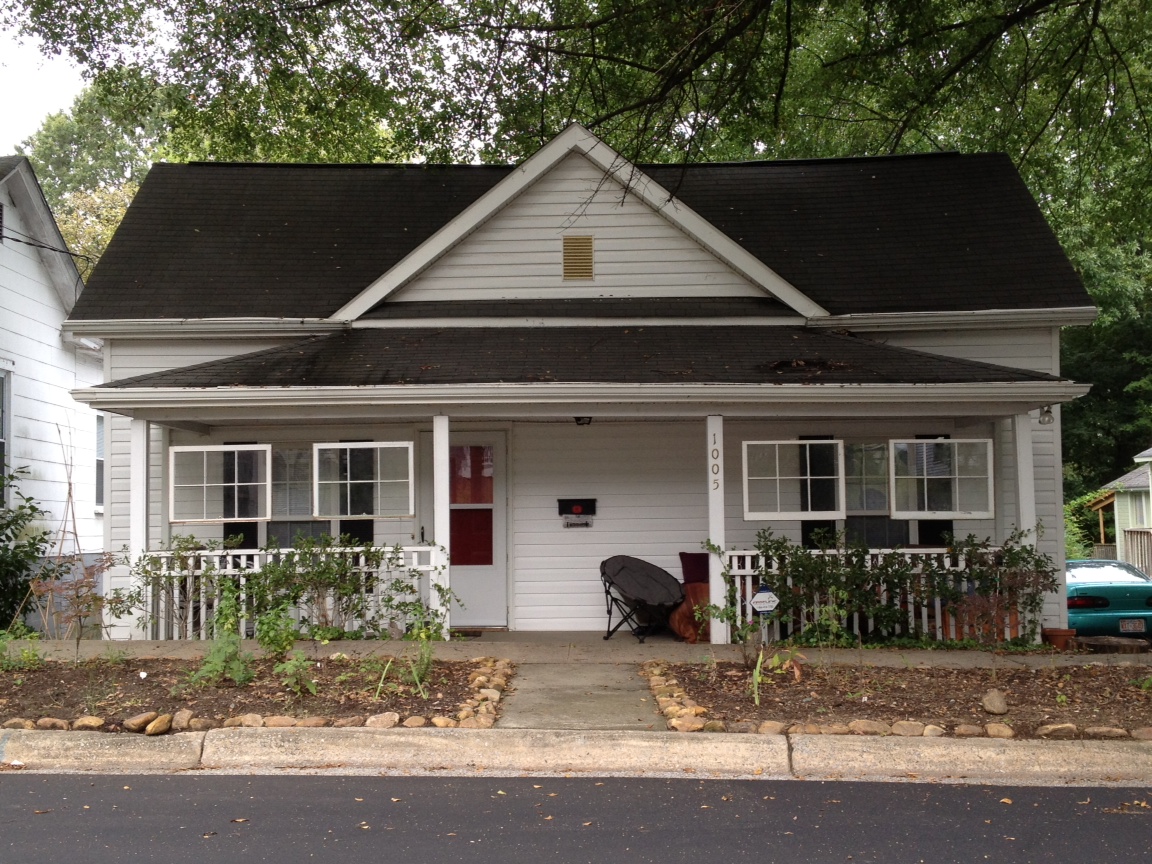 The Triple A home at 1005 Onslow Street was built in 1917, on what was then called 3rd Street.  The house doesn't show up in city directories though until 1925. 
From 1925-1932, Hill's City Directory lists janitor Archibald Mc Cullers as the resident of 1005 3rd Street.  He went by Archie or sometimes Leroy. 
From 1933-1943 Vernon Capps, a tobacco worker, and wife Lessie lived here. According to the 1940 Census, Vernon and Lessie lived here with their children Lenite, Kathryn and Vernon Jr, as well as two grandchildren, Julia and Clitus. . 
City Directories in the late 1940s list Aaron Moore (laborer) and his wife Dorothy Mae Mc Kinnon as residents.  They were newlyweds when they moved into the home, and moved to a different house as their family grew larger.
Now, bear in mind this is not Durham's  FAMOUS Dr. Aaron Moore (<----click anything red)) that was involved with the creation of Lincoln Hospital (<-----click), NC Mutual/Mechanics and Farmers, White Rock Baptist and Durham's Colored Library. .  There seems to be no connection, merely a coincidence.  The Aaron Moore that lived in this home  was this man: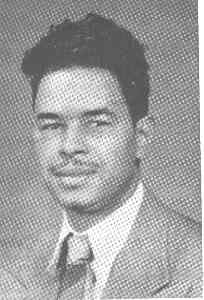 Aaron Joseph Moore, Jr (b. 05.21.29, d. 06.13.59) was the son of: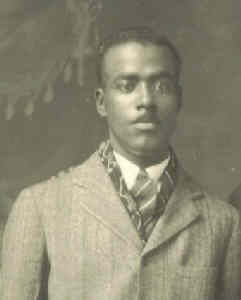 Aaron Joseph Moore, Sr (b. 08.01.06, d. 05.31.89)
His father's name? Aaron Moore (no middle name).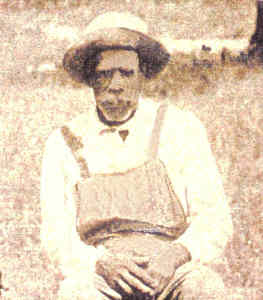 Now, back to 1005 Onslow.....
From 1949-1952 the Reverend Walter W. Allen and his wife Nellie lived here. I haven't dug deep or anything, but there seems to be a lack of info about the reverend and where it is that he preached. He was also listed as an employee at that time of Boyce Supply at 704 Ramsuer.  Boyce was a building supply company, on a fairly industrial block SE of downtown.  The building was formerly a brick company. One of my FAVORITE Durham buildings  is 2 doors down from Rev. Allen's place of work at 215 Hood Street.
Walltown was named after George Wall, whose home is down the block from this house at 1015 Onslow Street. Wall was a janitor (or possibly a porter, depending on what records you're viewing) at Trinity College before it was called Duke University.  The neighborhood is also sometimes called Trinity Heights. 
Here is a look at the neighborhood prior to this home being built, keeping in mind that Onslow is called Third Street at this time and that the left side of this map=north):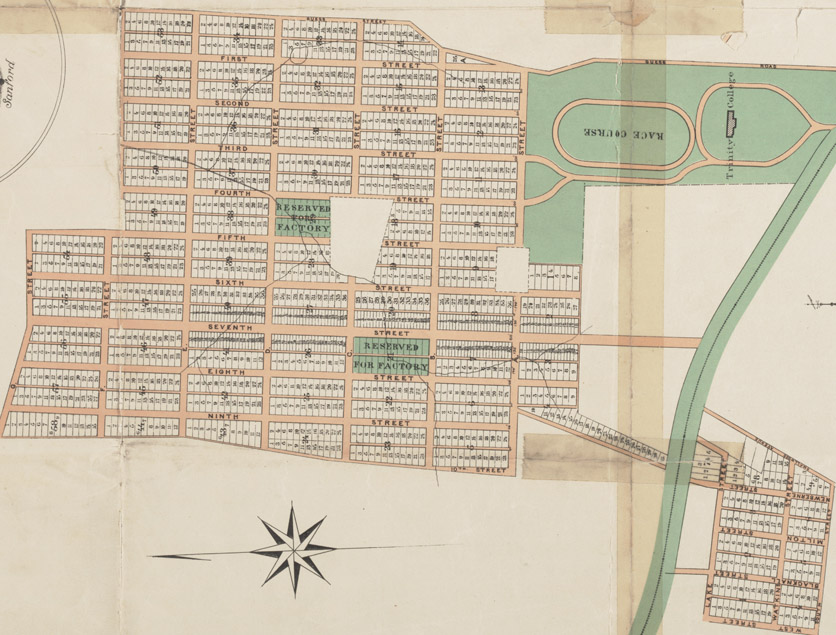 The November 1890 development map has this to say about Walltown neighborhood:
 "The West End or Trinity College portion of the above Company's property, shown by this map, contains 286 acres lying adjacent to the Trinity College Grounds. The Main building-cut of which find elsewhere on this map-is now under way, and the walls will most likely be completed and covered in by the time this map issues, as it is being pushed forward with all possible dispatch. Other fine, large buildings will be added next spring as well as many fine residences for the faculty. The lots offered for sale by this Company are beautifully situated for residences, and the advantages they afford to parents desiring to educate their sons are manifest. The lots set apart for residences are 50 x 140, with an alley 20 feet wide in rear and fronting streets 60 feet wide. They command fine views, are high and dry, with excellent natural drainage and easy of access to the centre of Durham by the Dummy Street Railway which the Company expect to build through this property, having already secured the exclusive street car franchise for the entire town of Durham. The Company propose to erect two or more manufactories on some suitable sites, on this property employing a capital of not less than $200,000.00, as soon as the first 800 lots offered shall have been sold, and others will follow in rapid succession, thus creating a large demand for lots for operatives, and offering a fine field for speculation. The lots set apart for business purposes will be 25 x 135. with an alley 5 feet wide in rear fronting an 80 foot street."
Walltown was predominantly an African-American community,as you can see from this City Directory from 1951, which added a (c) next to names to denote skin color. Onslow/3rd is in the right hand column: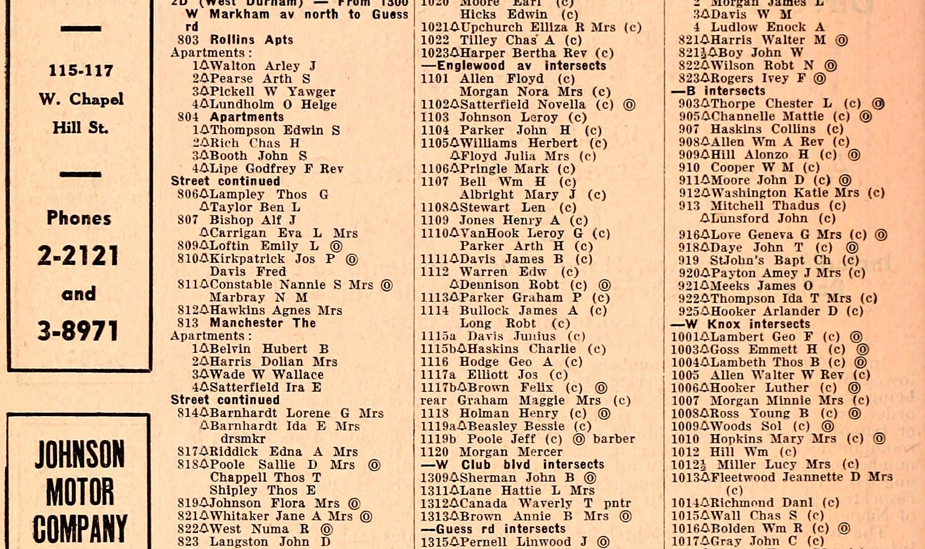 By the 1970s and 1980s, the neighborhood had seen it's better days. Homes began to be abandoned and boarded up and churches and businesses followed suit.  Even Walltown School closed down.  
In the past few years, Self Help organization has helped move a lot of homeowners back into the neighborhood. A healthy restaurant and bar scene mere blocks away has improved ownership rates in the neighborhood, which has seen a lot of renovations occur on their blocks as of late.