Another house in Trinity Park prepares to meet the landfill this week - at 930 West Markham Avenue. It becomes ever clearer that Trinity Park is suffering from the type of neighborhood destruction that has been relatively uncommon in Durham until recently - people who have the cash to pay $230,000 + demolition costs for a vacant lot to build their new house. Just gotta get rid of that pesky bungalow.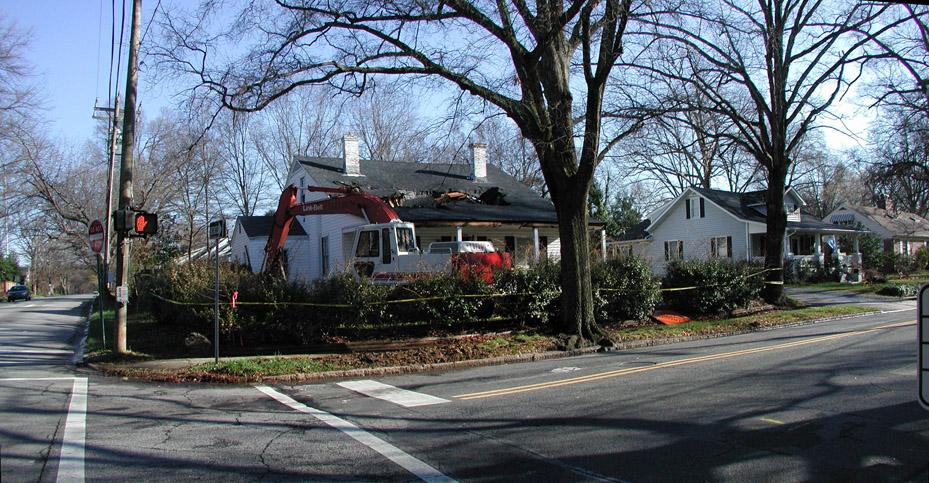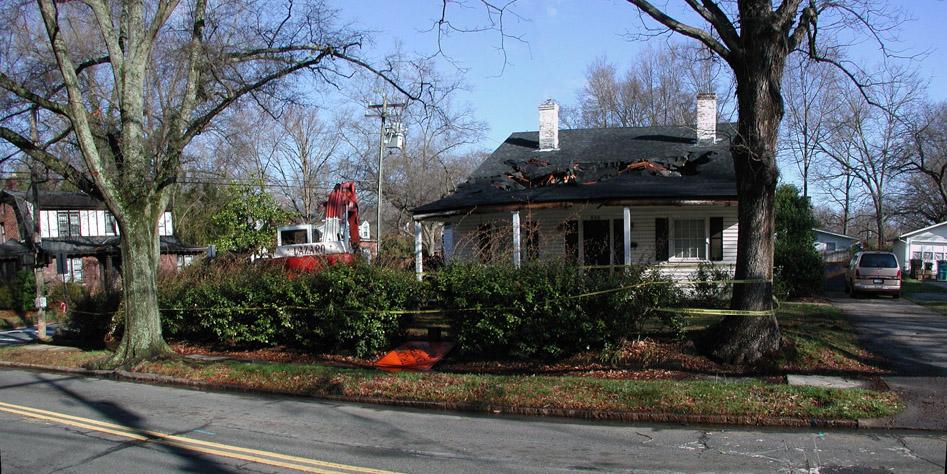 Looks like it was a hellhole inside.




Every few months I get in a rhetorical jab at Trinity Park for the ongoing resistance to Local Historic District status, and in that vein, I have a new slogan for TP:

Durham's Lil' Slice O' Raleigh
(with insincere apologies to Chapel Hill)

Raleigh, for those who don't know, has been undergoing a feverish teardown-and-replace spree - where primarily mid-century houses are replaced with McMansions. A very good website to check out to catch up on what our eastward neighbors are dealing with is Over the top/Inside the Beltline.

It's only been a few months since TP lost the apartment building at 403 Watts St., torn down for the next door neighbor's garden expansion.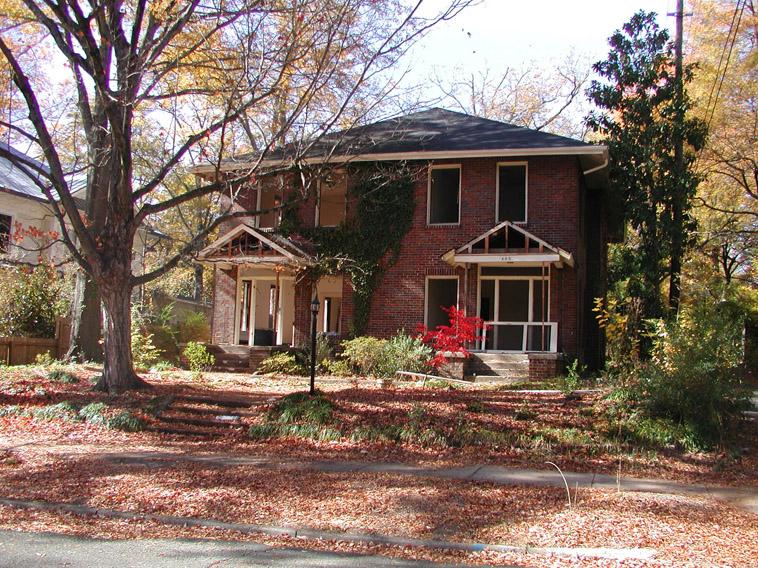 403 Watts before.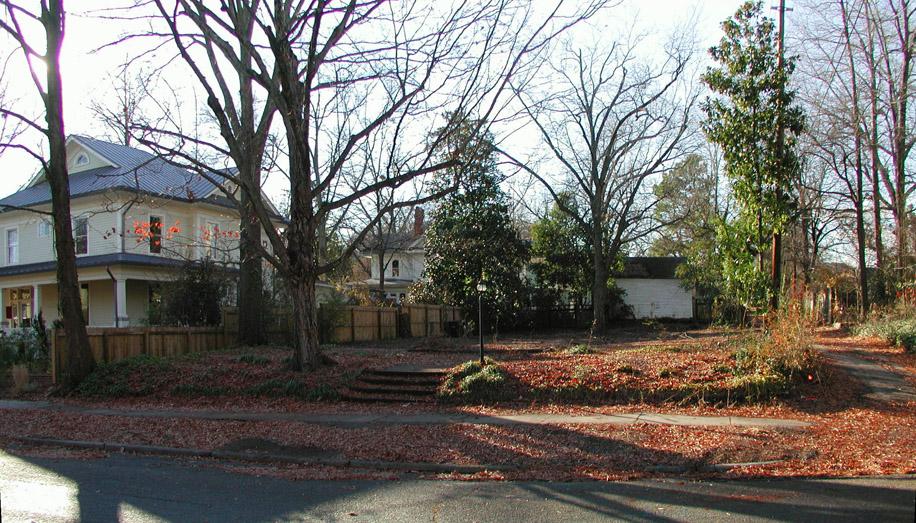 403 Watts, potting soil.

It's been a few years since the wonderful old Queen Anne house of DC May (see DC May's business downtown here.) on West Club was torn down for several new houses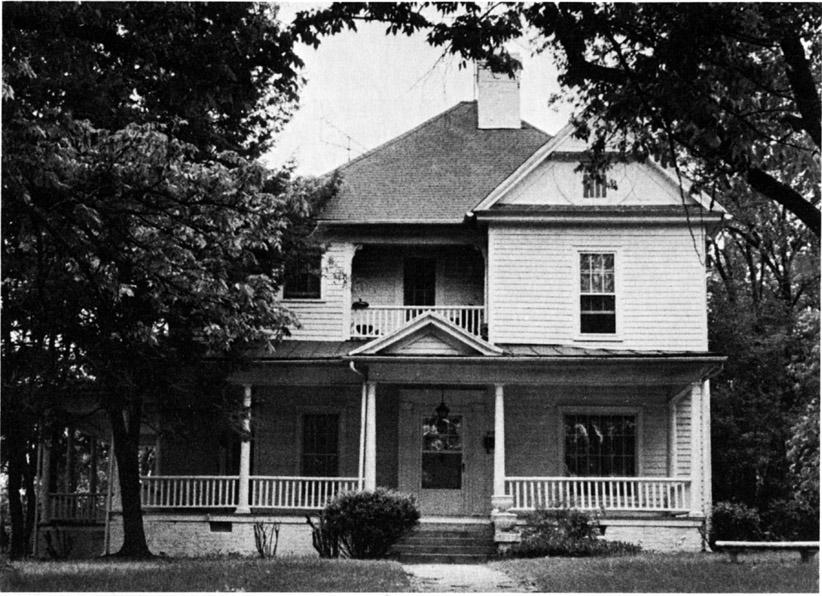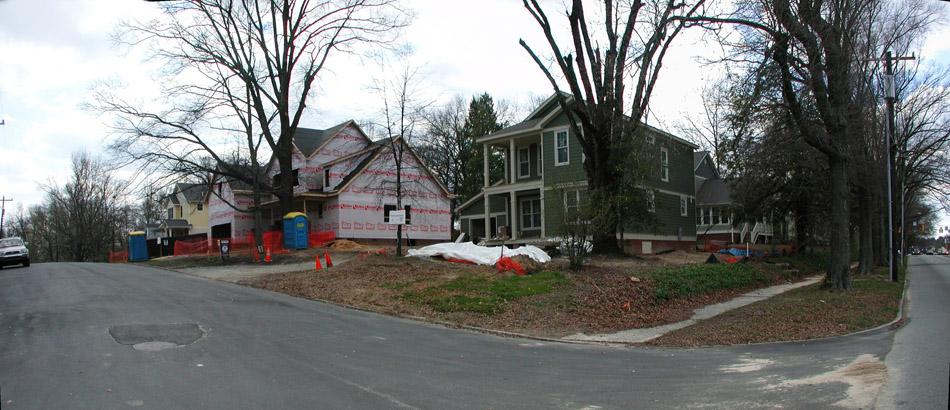 And the old farmhouse Victorian on the southeast corner of North Duke and West Club was torn down to be supplanted with townhouses.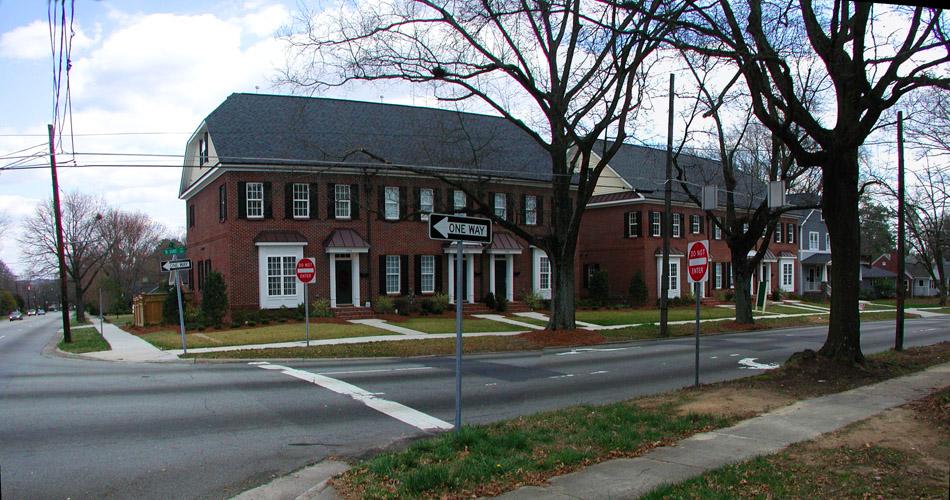 I don't hesitate to give TP a hard time - simply because, unlike East Durham, I don't need to convince anyone that it has beautiful architecture and great tree-lined streets that help make it a desirable place to live. But that success and desirability can be a neighborhood's undoing - as people moving in want the positive externalities of the neighborhood and their suburban-style house. The arguments are typically along the lines of "it wasn't really in very good shape/about to fall down" or "it wasn't one of the nice houses in the neighborhood" or "it's just one house".

Except where, as a community, do you draw the line? At 1 house x 10, 1 house x 20, 30, 40? If the neighborhood becomes pockmarked with Garage Mahals, when does Trinity Park begin to lose its essential character?

I'd argue that it may have already started.

I'm not going to offer a local historic district as a panacea. I'll write again later this week about just how weak our local historic ordinances are. But it's something - at least a potential opportunity for public input and dialogue rather than bulldozers-in-the-night.

The question is, do TP'ers care about their historic buildings enough to get out in front of the bulldozers and preserve their neighborhood? I would argue that it is far more globally threatened by this trend than it was by a 7-story condo tower on a parking lot at Lamond and Watts. Will they bring that level of passion to the table, or accept the slow attrition of historic structures with a lie-still-and-think-of-Great-Rooms stoicism?