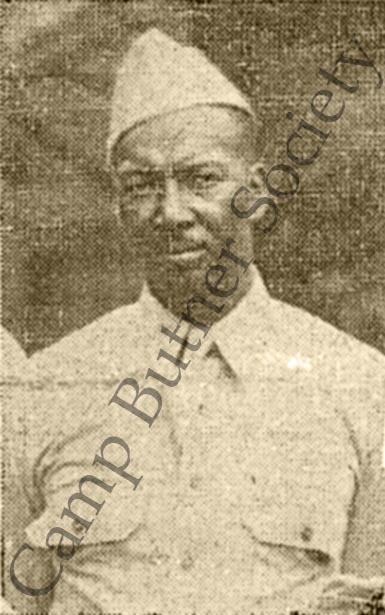 Born: 12.01.09
Died: 07.08.44
Booker T. Spicely was born in Blackstone, Virginia, to Lazarus and Alberta Spicely. He attended two years of high school. He apparently worked as an assistant business manager at the Tuskegee Institute in Alabama before volunteering for the United States Army on December 31, 1943 in Philadelphia, Pennsylvania. His serial number was 33809308, and he was trained as a cook.
In 1944, Private Spicely was stationed at Camp Butner. Many soldiers from Camp Butner came into Durham on passes or leave. Spicely came to town on July 8, 1944.
He boarded a Durham City bus in the company of another black soldier and a young woman and her little boy he'd just met at the bus stop. They all took seats right behind the driver, a breach of segregation protocol. When a couple of white soldiers boarded the bus shortly after the driver - a hot tempered man with an apparently well earned reputation for drinking on the job named Herman Council - told Spicely and his companions to move to the back of the bus.
Spicely's companions moved immeediately to the back of the bus, while Spicely stayed. Spicely appealed to the white soldiers - they all fought together for the same country, why should he be moved? The white soldiers agreed with Spicely and, surprisingly, themselves went to the back of the bus. Council continued to insist that Spicely move, and Spicely told him that he wasn't going to be told what to do by someone who was driving the bus because 'he was 4-F'. The insult engraged Council, who told Spicely 'he had something that would cool him off.' A short time later, Spicely tried to apologize for the insult, but Council would have none of it.
Spicely disembarked on West Club Boulevard - some sources say that it was at the corner of West Club and Broad.
Council exited the bus through the front door with a .38 pistol in hand. He shot Spicely twice in the at close range. The private was not long in dying. His cause of death is listed as homicide ("shot by bus driver"), with sudden death occurring due to a "pistol shot wound through heart" with a secondary cause of "pistol shot through liver"
The driver, Herman Lee Council, was tried for the second-degree murder of Spicely but was acquitted. An all white jury, deliberated for 28 minutes before finding that Council killed Spicely in self-defense. Chief Counsel for the NAACP Thurgood Marshall was involved in the case. 
The War Department conducted an investigation of Spicely's death titled "Subject: Racial Incident, Shooting of Negro Soldier, Durham, N.C. on 8 July 1944 at about 1940," dated July 12, 1944. His cause of death during World War II is listed as DNB, or "Died, Non-Battle."
Spicely's body was returned to his home in Blackstone, Virginia, for burial; Herman Lee Council died in a nursing home in 1982.
See also:
http://www.wikitree.com/index.php?title=Spicely-1&public=1