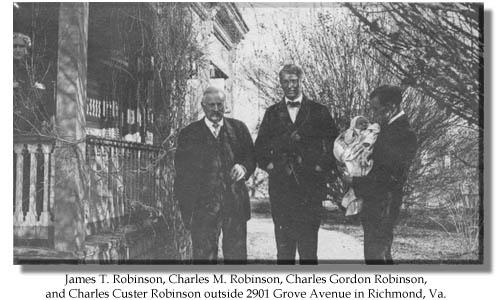 Charles M. Robinson was born on March 3, 1867 in Hamilton, Virginia. He was the first child of James and Elizabeth Crockett Robinson. James Robinson had worked as an architect.
While Charles was still very young, his father moved his family to Canada, where Charles would receive his elementary education.
His formal study of architecture began under the direction of D. S. Hopkinds in Grand Rapids, Michigan. His education was pursued even further at Pittsburgh, Pennsylvania, under the direction of the architect John K. Peebles.
In 1889, when he formed his first architectural partnership with G. T. Smith. Their firm became known as Smith & Robinson of Attoona, Pennsylvania.
It was during the duration of this partnership that Charles married Annie Custer of Altoona in 1891. In 1893, his son Charles Custer Robinson was born.
In 1901, Charles M. Robinson wanted to establish himself independently. He moved his family fro Altoona to Pittsburgh. He soon returned to his native state, Virginia, where in 1906, he set up his professional offices in Richmond. His first office in Richmond was located at Ninth and Main, a site now occupied by United Virginia Bank.
He competed for bids on the new State Normal School (teacher's college) that was to be built in Harrisonburg. Now known as James Madison University, Charles M. designed all of the campus' buildings in the period of 1908-1928.
Charles focused mainly on the designing of normal schools in the early beginnings of Charles M. Robinson, Architect. He also designed Mary Washington in Fredericksburg, Va and Radford University in Radford, Va.. In 1918 he started work on twenty-one major pieces of work at Virginia State College in Petersburg.
Also in 1918, he designed for the Virginia State Board of Health. The Department of Health was then realizing that sanitariums were beneficial to patients and the community and were just as necessary as hospitals. The Board accepted bids, and Charles was chosen to build new sanitariums at Catawba, Burkeville, and Charlottesville. The sanitariums were called Catawba, Piedmont, and Blue Ridge, respectively.
In the 1920s, Charles M. Robinson, Architects had moved into a new office located in the Times-Dispatch Building which the firm had designed. A partnership was formed of the primary members of the firm. The partners were Charles M. Robinson, Charles Custer Robinson, Benjamin A. Ruffin, and J. Banford Wallord.
Still, the college and university orders came pouring into the office. The University of Richmond needed to have buildings designed and erected. Charles M. designed the campus' science buildings (Maryland Hall, Puryer Hall, and Richmond Hall), Milhiser Gymnasium, Jenkins Outdoor Theatre, an Cannon Memorial Chapel, as a monument to Gothic architecture.
Many other colleges asked for Charles' services. These included:
Bridgewater College, 1920
Eastern College, 1909-1910
Richmond Professional Institute now
Virginia Commonwealth University, 1926-1930
Saint Paul Normal and Industrial Institute, 1928-1930
Washington and Lee University, 1922
Charles became the College Architect for the College of William and Mary where he designed over sixty different pieces of work for 1921-1931. These included: The George Preston Blow Gymnasium, Jefferson Hall, Barrett Hall, Chandler Hall, Monroe Hall, Old Dominion Hall, Roger's Science Hall, Washington Hall, the old Phi Beta Kappa all, and Sorority and Fraternity Courts.
Charles did not only design public works, but he also created many beautiful private structures in the twenties. Most of these were in his home of Richmond. This category included: The Sunday School at Ginter Park Methodist Church, the old Miller and Rhodes building, Ruger's Hotel (now the Raleigh), and The Times-Dispatch Building (now the Insurance Building). His biggest job in Richmond was as an associate architect with Marcellus Wright, Sr. in the construction of the Mosque. Stuart Circle Hospital, Grace Hospital, and St. Elizabeth's Hospital were also designed by Charles M. Robinson.
Outside Richmond he designed private structures too. Among these are the Rockingham Memorial Hospital in Harrisonburg, the Medical Arts Building in Newport News, the Charles H. Taylor Memorial Library in Hampton, and Masonic Lodge Number Six in Williamsburg, which Charles M. gave to the Masons.
In 1926, Charles retired to his farm, Mirebeth, in Hampton, Virginia. He remained active in his partnership, designing plans at his home, and traveling to inspect the buildings while they were under construction.
In 1929, the stock market crashed and the economy suffered. Charles M. Robinson, Architects remained active, however until the early part of 1932 when the depression was at its peak. Because no one could afford to buy more land or a more expensive home, construction was at its lowest point in decades.
Charles M.'s health was failing, and in August 1932, he entered a Norfolk hospital. On Saturday, August 20, 1932, Charles M. Robinson, on the most prominent architects of the South, died after an operation.
On Sunday, August 21, 1932, the firm of Charles M. Robinson, Architects was terminated.