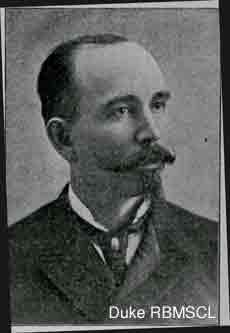 (Courtesy Duke Rare Book and Manuscript Collection, via Museum of Durham History)
Samuel Tate Morgan (1857-1919), son of a Flat River planter Samuel Davidson Morgan, established the Durham Fertilizer Co. with partners Eugene Morehead and L.A. Carr in 1881. The company capitalized on tobacco stems, waste to smoking-tobacco manufacturers but a rich source of the nutrient phosphorus. Quickly successful, Durham Fertilizer opened branches in Virginia and South Carolina and in 1895 Morgan combined all fertilizer manufacturing in North Carolina and Virginia the Virginia-Carolina Chemical Co. The company became the largest industrial firm in the South, with headquarters in Richmond.

Morgan lived out his later years in Richmond, but had an avid interest in his former hometown and its history. He bought the former James and Nancy Bennett farm from Brodie Duke (a Bennett relative by marriage) and wanted to see it preserved as a historic site. Morgan died before he saw it happen, but his heirs joined others with the same interest to establish the site as a public preserve and erect its Unity Monument in 1923.