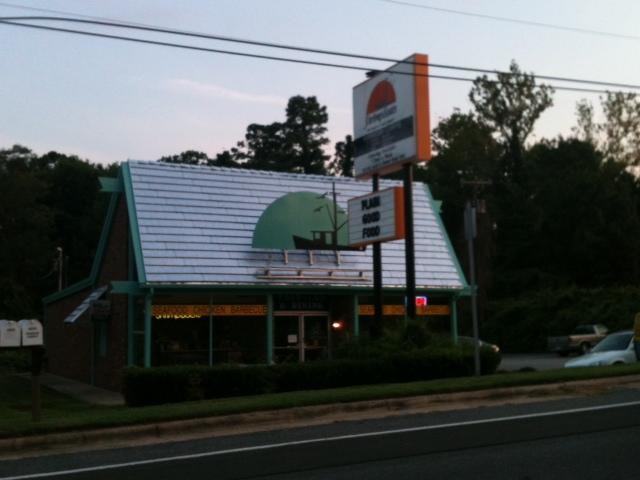 Taken 08.18.12
What's old is new again apparently. Opened in 1969, Shrimp Boats serves fried fish and Southern sides, but ironically, they are known for their fried chicken. Shrimp Boats has always been a building you can't miss driving down Durham-Chapel Hill Boulevard.  It was painted seventies-esque red and yellow until recently, when it was repainted for the first time in decades to the current aqua/orange combo, which I kind of dig. In an attempt to find out more about their history I went to their website, which is under construction. And I know that they've been trying out new, healthier items.  This would all normally point to new ownership, but according to tax records it has been the same owner since at least 2006, which is as far back as a quick internet search will get me. 
As a former restaurant consultant and manager (including at Foster's right across the street), I applaud the owners for making smart moves at the perfect time. I live in Rockwood, and encounter a traffic jam of people and cars all converging on Nana's, Q Shack, Nano Taco, and Thai Cafe nightly. Families walk in from every direction and cars pull of the road into the ditch to park. Shrimp Boats could easily be getting some of that traffic. And closer still to their location is Guglhupf and Foster's Market,  which both (somewhat) recently went through big renovations of their own. It's a great opportunity for them to retain the downhome goodness of Shrimp Boats while making a more modern attempt to the decor and menu, which, frankly, needed it. 
 Here's a photo of what the building looked llike until recently.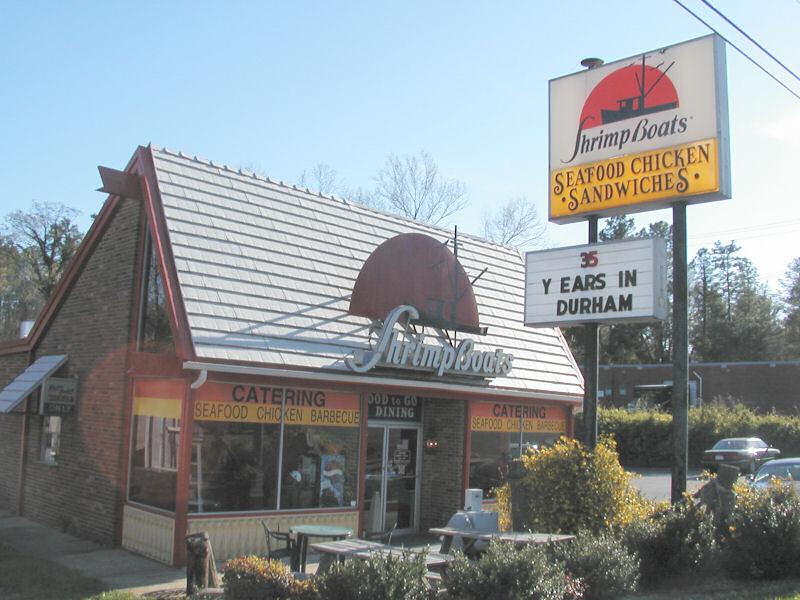 For such a food-centric town,  there is quite a lack of what I'll call "institutions" still around.  I am having trouble coming up with any restaurant that's been around longer than the 1960's in Durham. Dillard's, may it rest in peace, was on the list of oldest continually operating restaurants until its demise in the last 2 years.  Paschalls (1960's), Wimpy's(1970) , Honey's (1960), Bullocks (1970 in that location, 1950's elsewhere), Chicken Hut (1968) and Shrimp Boats (1969) are the only one's that come to mind, none of which are THAT old.   I wish that Durham had something like the Mecca in Raleigh, where time stops when you walk inside. The state of the Paschall's building frightens me (although time has stopped there, I'll give it that), and Honey's property is listed as owned by a gas station company, which cannot be good. If Shrimp Boats plays their cards right they just may be able to hold the title of Durham's oldest resturant if those other food institutions falter.