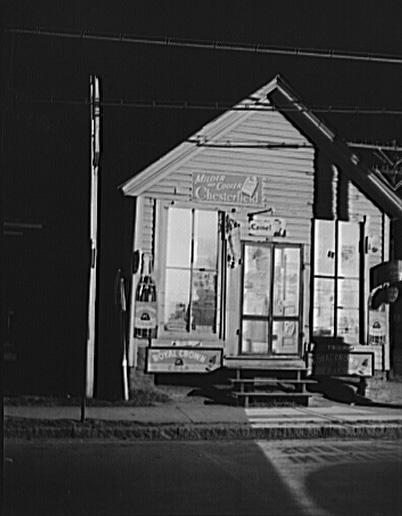 "Corner store at 11pm, Durham NC" - May, 1940.
From the Library of Congress - Farm Service Administration photo by Jack Delano.

As a side note, there are some great Durham photographs in the Library of Congress, particularly revolving around the tobacco auctions in downtown Durham, but also some wonderful shots of downtown 1936-1940. The digital quality of these available online is miserable, as you can see above. Unfortunately, the Library of Congress seems to charge $22 per scan if you'd like to order something better. If anyone has experience with a cheaper solution worked out with the LOC / knows how to fund such an endeavor (there are probably about 300 photos in total) let me know.

And a good opportunity to repeat my digitization mantra - if you have the rare opportunity to access your Great Aunt Lizzie's picture of the family homestead in 1893, crank up the dpi!! I can never understand why people (including libraries) are scanning photos at 300 dpi or worse in these days of $150 1.5 terabyte hard drives. The hard part is getting access to the photo - scan high, scan often.