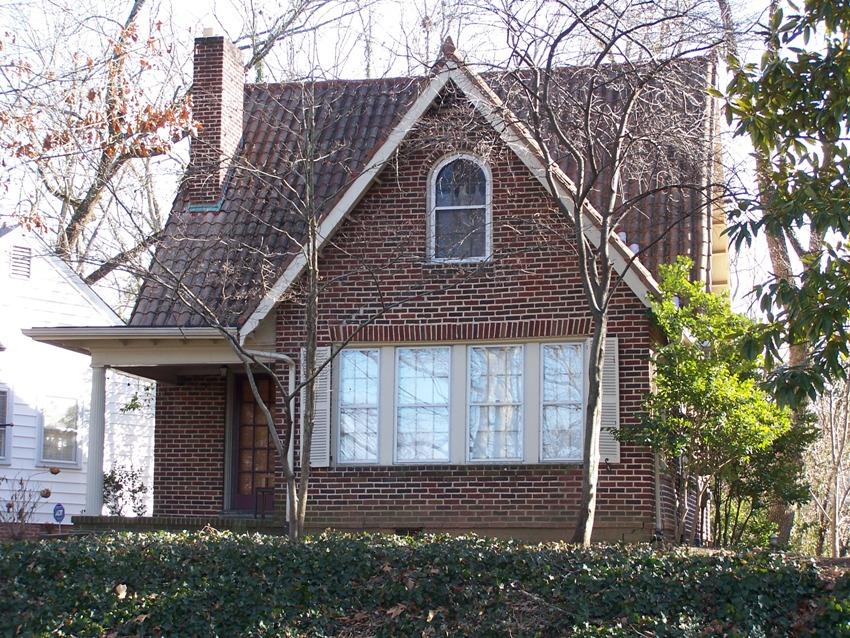 From the National Register nomination form of 2005, completed by M. Ruth Little
1 ½-story brick Tudor Cottage with an L-plan, interior end chimney, and a steep gable terra-cotta tile roof. The entrance is a French door beneath a corner porch with a classical column and decorative cornice brackets. Windows are 6-over-1 sashes, with a round-headed sash in the front gable. This is said to be a spec house built by New Hope Realty Co. Walter M. Browning Jr., a solicitor at Continental Life Insurance Co., was the occupant in 1930. [Carr interview, 1930 CD]
Robby Poore, whose families lived in 426 and 421 Carolina Circle, has posted some fabulous mid-century photos of Carolina Circle, and Durham in general, on his personal Flickr page.  There are several albums (
1948
, 
1949
, 
1950
, 
1950-1954
, 
1957
, 
1968
, 
1969
, and 
1970
).  Individual images of 418 Carolina Circle include two 1969 pictures of the rear of the house from the alley (here and here) and a portion of the side of the house from 1951
.
The following information comes from the City Directories and general web searching:
Year
Occupant(s)
Occupation(s)
Other information
1930
Walter M. Browning
 
agent
 
Walter worked at Continental Life Insurance Co., located at 128 E Chapel Hill St.
1931
(vacant)
 
 
 
 
1932
Agnes A. Hamblen
Dr. Edwin C. Hamblen
 
associate professor
Edwin worked in the Duke University Obstetrics & Gynecololgy Department from 1931-1963.
1933
(vacant)
 
 
 
 
1934
Florence B. Fuller
Warner Fuller
 
assistant professor
Warner taught classes in business and corporation law in the Duke University Law School from 1932-1936.
1935
Anne S. Hasbrouck
Francis M. Hasbrouck
 
assistant professor
Francis worked in the Duke University French & Spanish Department and later became a special assistant to the US Embassador to Uruguay in 1942. 
1940
Joan P. Beverly
George W. Beverly
 
manager
George worked at the Occidental Life Insurance Co.
1941
Nell R. Sykes +
Richard O. Sykes +
 
branch manager, agent
Richard worked at A&P Food Stores and the Met Life Insurance Co.
1945
Fannie M. Couch
Vance Couch
 
 
Vance worked at the Independent Oil Co.
1947
Evelyn Johnson
J. Paul Johnson
 
branch manager
Paul worked at a Rose's Department store.
1954
Dora C. Casteen
Willie J. Casteen
 
manager
Willie worked at Swift & Co. Wholesale Meats, located at 205 Blackwell St.
1958
Marjorie D. Bloomfield
Jason B. Bloomfield
 
employee
Jason worked at the Veteran's Administration.
1961
Fae W. Davis
Clyde G. Davis
 
engineer
 
1962
(vacant)
 
 
 
 
1963
Evelyn B. Taylor
Orville W. Taylor
 
employee
Orville worked at Duke University.
1965
Helen Mau
James Mau
 
student
The city directory may be inaccurate, as he is elsewhere described as the first Administrator of the Duke Physician Assistant program.
1966
(vacant)
 
 
 
 
1967
Janet B. Doyle
Roger W. Doyle
 
assistant professor
Roger worked in the Duke University Zoology Department.  Roger and Janet were close friends with Anne (Van Arsdall) and Ray Poore, who lived at 426 Carolina Cir.
1970
Evelyn S. Johnson
James P. Johnson
 
salesman
James worked for Style Craft Interiors.
1980
Evelyn S. Johnson
 
 
 
 
1981
(vacant)
 
 
 
 
1985
Catherine C. Black
R. Perry Black
 
salesman
Perry worked for the WPTF radio station.
1992
(vacant)
 
 
 
 
1993
Anne S. Smith
Jason M. Smith
attorney
 
 
1995
Jason Widener
Brett Quigley
 
 
 
1996
Ada Gregory
 
 
 
 
1997
Katrina L. Kelly
M.E. Neal
 
 
 
1998
(unknown)
 
 
 
 
1999
Tanya Kalich
 
 
 
 
2000
Scott Fowler
 
 
 
 
2002
Elizabeth A. Bartlett
 
 
 
 
2003
Courtney T. Griffin
Timothy M. Griffin
 
 
 
2009
Kim Stern
Phil J. Stern
professor
professor
Kim taught at Longwood University (VA), while Phil teaches in the Duke University History Department. 
+ The 1940 US Census shows that Richard (age 27) and Nell (age 29) Sykes had a daughter Jane (age 3).  All of them were native North Carolinians, though the parents had lived in Charlotte in 1935.