UNIVERSITY TOWER / 'THE PICKLE' / 'THE GREEN *&%#@'
Standing erect, proudly verdigris amongst the trees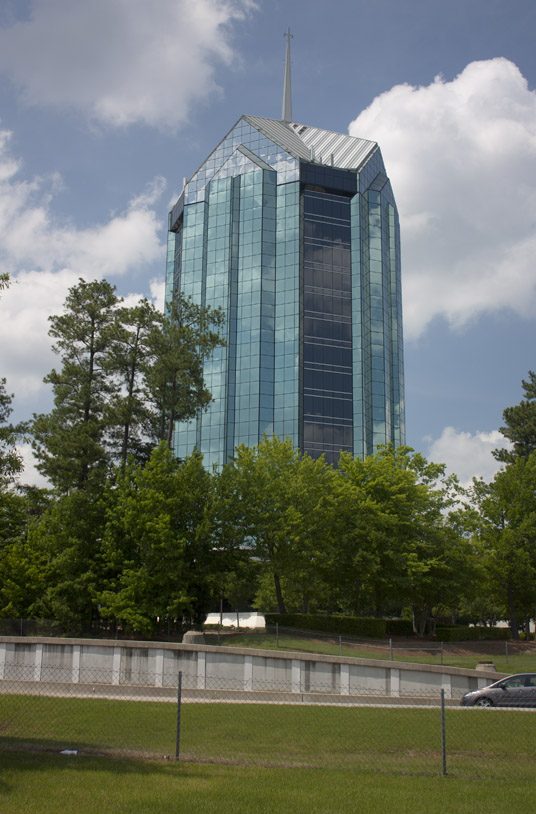 05.29.11
Texas developer Tommy F. Stone built University Tower in 1985. Aside from the typical 1980s postmodern ugliness ("when architects lost their minds" is a quote I heard in a documentary recently about postmodernism,) the tower became a sustained object of derision for its green tumescence, arising alone from the forest below. The story goes that Stone's son was a soccer player at Duke in the mid-1980s, which is what drew his Dallas Does Durham style of development to the South Square area.
I don't know whether Stone envisioned future towers along 15-501, a core around South Square, or simply wanted to build his big green building where he pleased. Interesting how downtown and this area have fared in the interim. Downtown has burgeoned with new activity, and the gravitational pull of young people has moved away from the apartment complexes around South Square and towards downtown. The primary retail center of the county has shifted dramatically to the south - to the area around Southpoint, while strip shopping centers have proliferated along the misery that is 15-501. 
While the sprawling mess of single story chains will continue to sprawl between Durham and Chapel Hill, this area hardly feels like it competes with downtown as the, or even a center of Durham anymore.