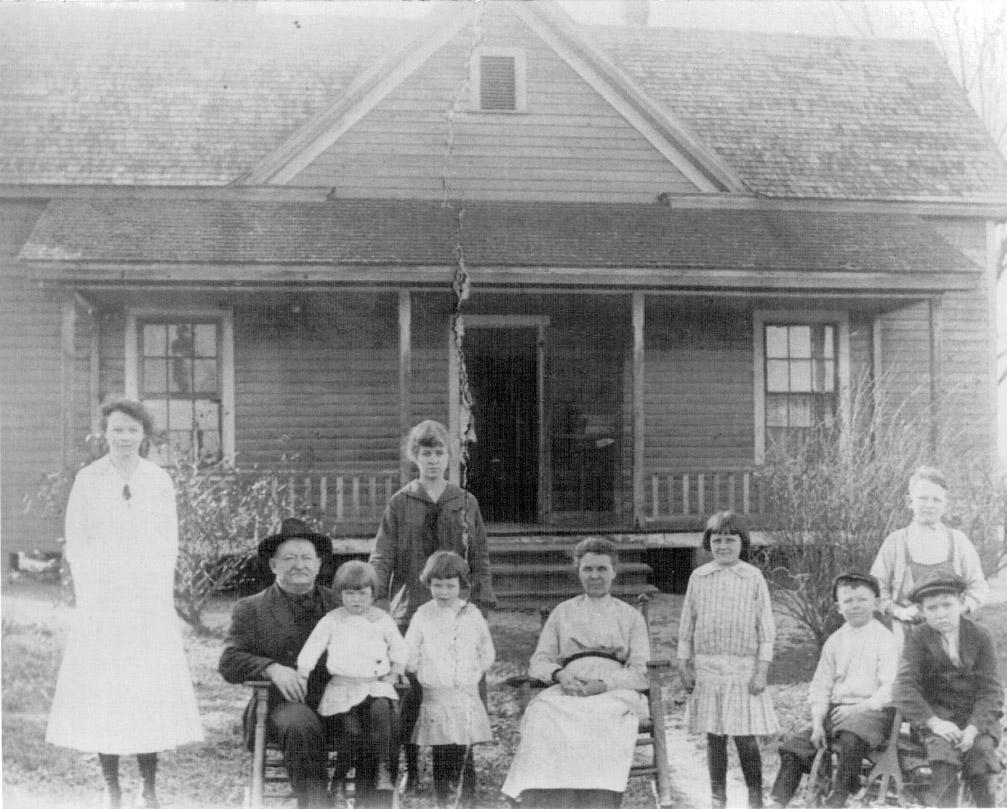 Rigsbee House, 1912 (Courtesy Keith Bowden)   Pictured, left-to-right: 1 Mary Tom Rigsbee; 2 Jesse Albert Rigsbee; 3 Carrie Rigsbee (in lap of Jesse); 4 Nellie Brogden (niece of Jenny Rigsbee); 5 Mabel Rigsbee; 6 Eugenia 'Jenny' Blalock Rigsbee; 7 Faye Rigsbee; 8 Norman Rigsbee (seated); 9 Jack Rigsbee (standing); 10 Boyd George Brogden (seated -- nephew of Jenny Rigsbee)    
Rigsbee Barn, 1912 (Courtesy Keith Bowden)   Pictured, left-to-right: 1 Mabel Rigsbee; 2 Eugenia 'Jenny' Blalock Rigsbee; 3 Carrie Rigsbee; 4 Nancy Rigsbee; 5 Faye Rigsbee; 6 Nellie Brogden (niece of Jenny Rigsbee); 7 Mary Tom Rigsbee; 8 Boy on horseback; 9 Norman Rigsbee; 10 Jesse Albert Rigsbee; 11 Boyd George Brogden (nephew of Jenny Rigsbee); 12 Jack Rigsbee   Collectively, the Rigsbee family owned a huge amount of what would become Durham. Atlas Monroe Rigsbee, who owned much of
Morehead HIll
prior to selling it off to William Vickers, lived on the
northwest corner
of what is now East Chapel Hill Street and the eponymous Rigsbee Avenue. His farmstead stretched to the northeast, taking in much of Mangum St. and Cleveland Holloway. His brother, Thomas J Rigsbee (5/20/1846 - 3/23/1917), owned large tracts of land west of Durham. Both were sons of Jesse Rigsbee (6/22/1808 - 2/1/1881) and Mary Vickers Rigsbee. Given that there was another Jesse Rigsbee in eastern Orange County that served in the Revolutionary War, the Rigsbees have a very long tenure in these parts.   At what is now the intersection of Anderson Street and Duke University Road,
Rigsbee Road
continued westward along a path cutting diagonally across the current Duke University West Campus, intersecting with 751 at the current cross country trail and continuing westward. The TJ Rigsbee (Sr.) farmhouse and barn stood near the Duke football stadium on the present-day campus.   TJ Rigsbee had three wives, and only the third was still living when Murray Jones came calling as an agent of James B. Duke in 1924. I've written previously about the failed attempt to buy land between Trinity College and Watts Hospital to build Duke University, and William Preston Few's familiarity with the Rigsbee land.    Jones paid $200,771 for 399.68 acres of land from the TJ Rigsbee estate. Rigsbee's estate made up the bulk of the original West Campus, but it was hardly the only land purchased by the Dukes for the university; Jones' many transactions stretch throughout 1925, and the original Duke University plat makes clear the number of parcels combined. I've overlaid this plat on Google Earth imagery - you can see the course of Rigsbee Road on this map.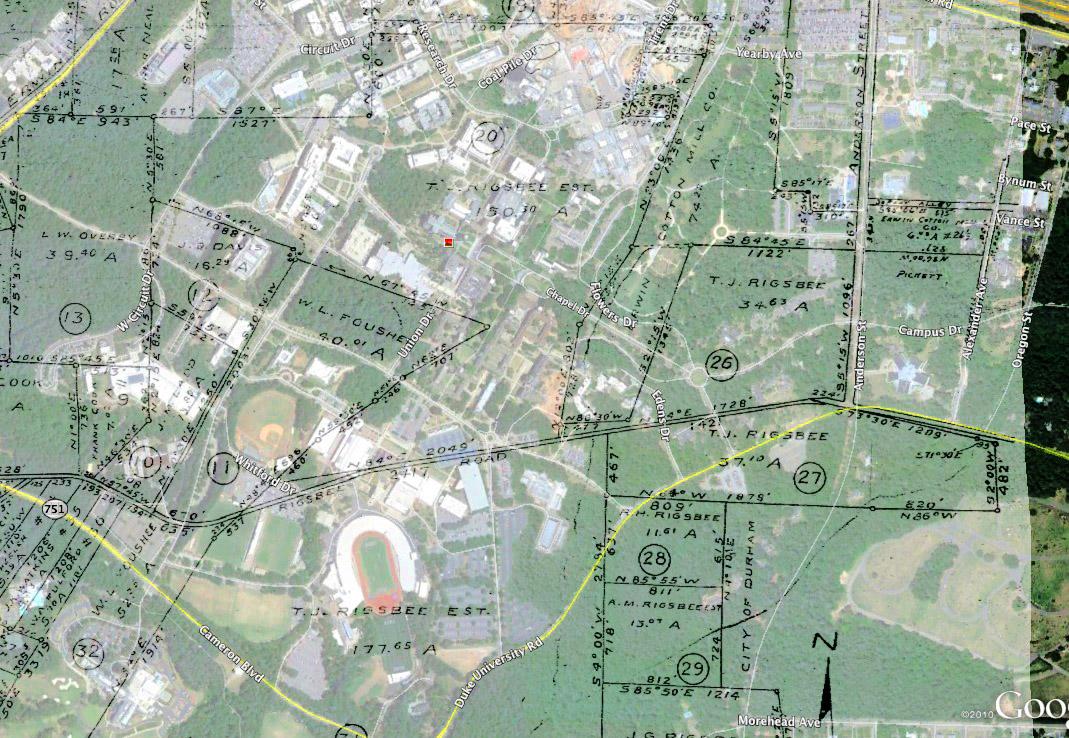 Duke University plat, February 1925.     I wish the picture below was higher resolution. The 1929 photo shows the new west campus under construction in 1929 to the left. Rigsbee Road ~bisects the picture, and you can see the new course of Duke University Road snaking into the right foreground. The stadium area is evident near Rigsbee Road. This natural ravine was where the Rigsbee family kept their pigs. Although not sharp enough to be distinguishable, the buildings and roads of the old farmstead are visible just past the stadium.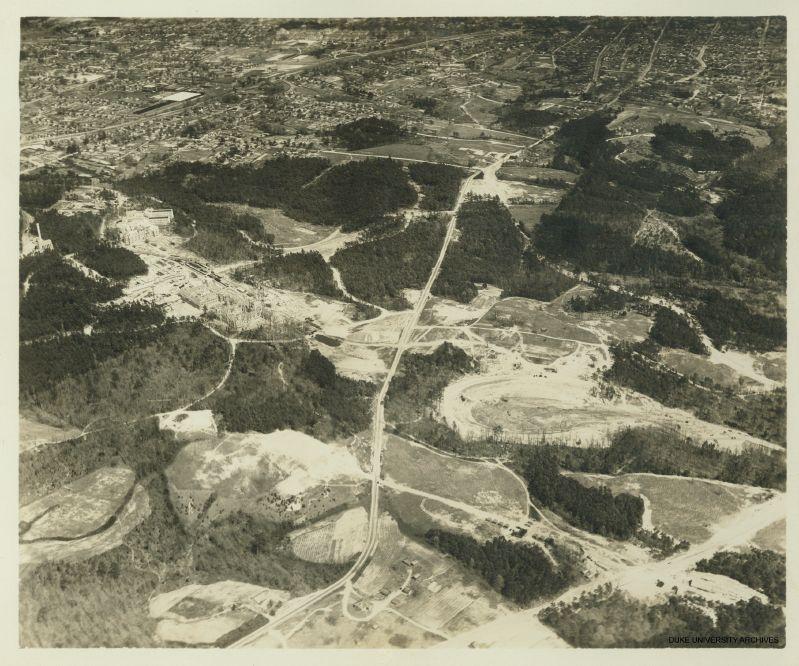 1929 aerial, looking northeast.   (Courtesy Duke Rare Book and Manuscript Collection)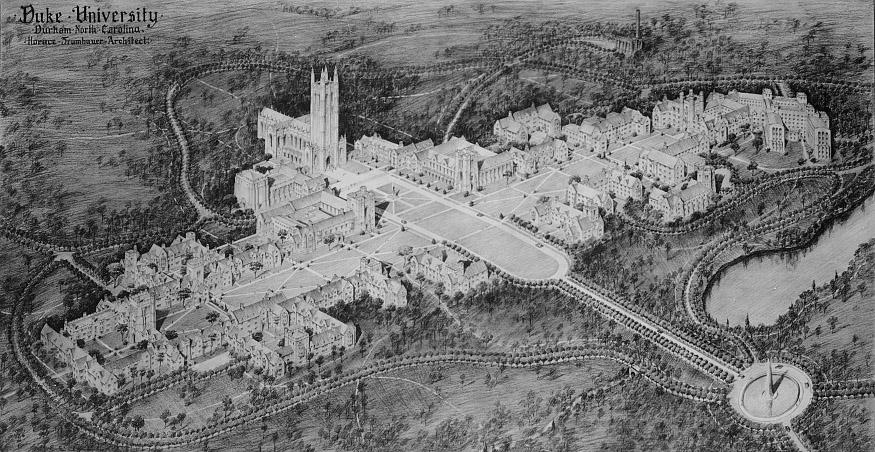 Trumbauer/Abele's rendering of Duke's West Campus.   (Courtesy Duke Rare Book and Manuscript Collection)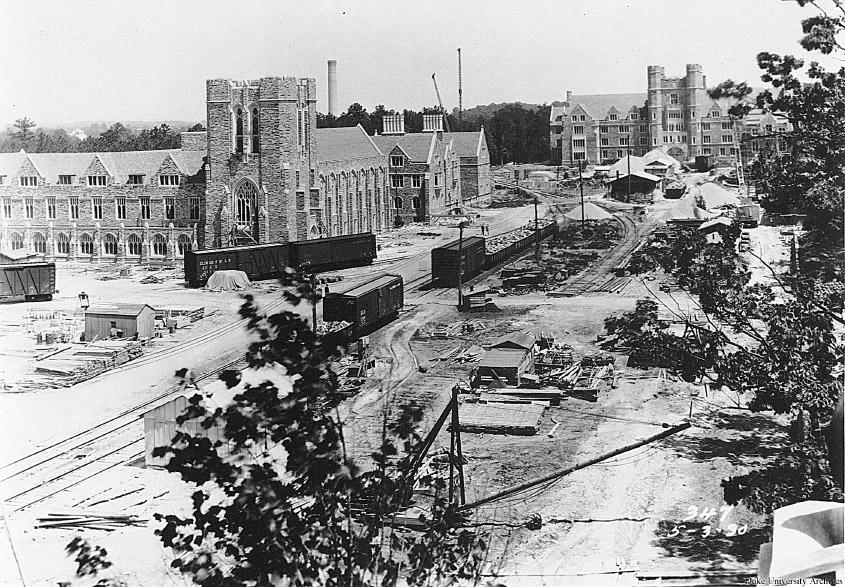 West Campus under construction.   (Courtesy Duke Rare Book and Manuscript Collection)   The site of the farmstead is now parking lot for the university.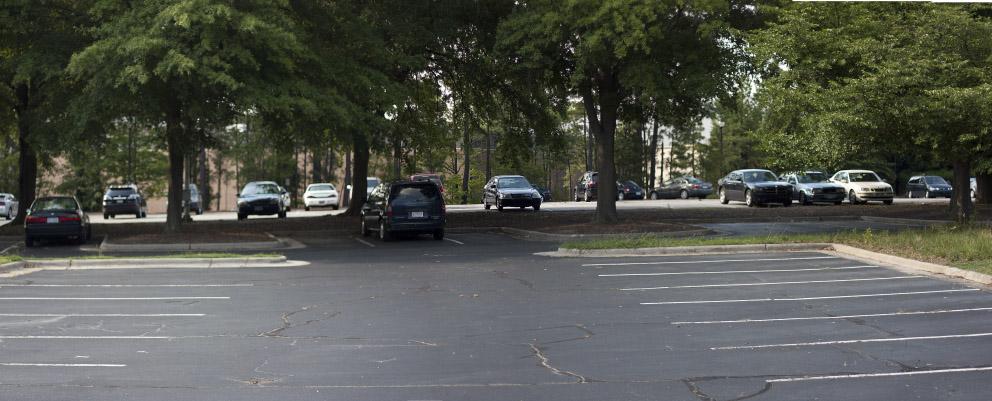 Approximate site of the TJ Rigsbee House, 06.14.11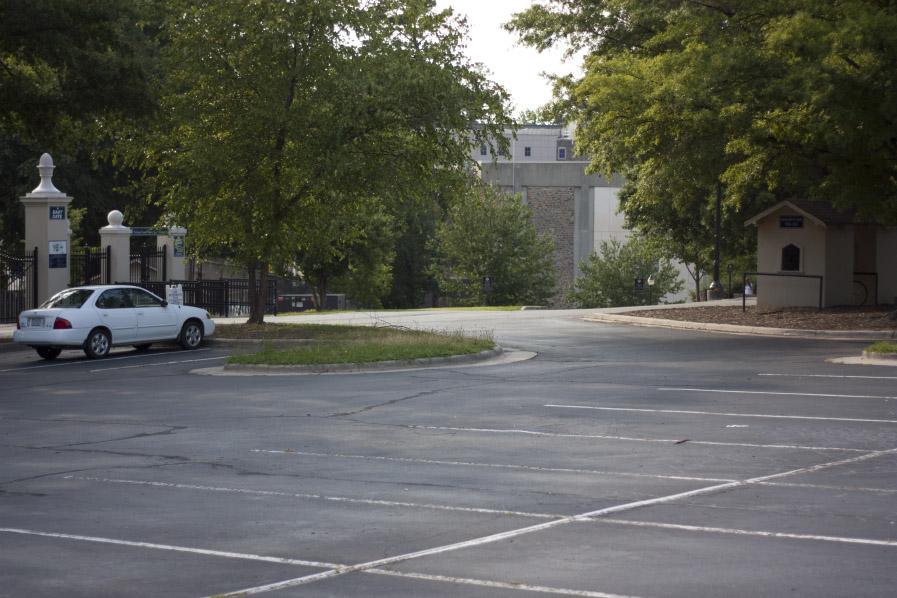 Approximate site of the TJ Rigsbee Farm, 06.14.11     The only remnant of the Rigsbee farm is the family cemetery, which sits on the southern side of one of the surface parking lots.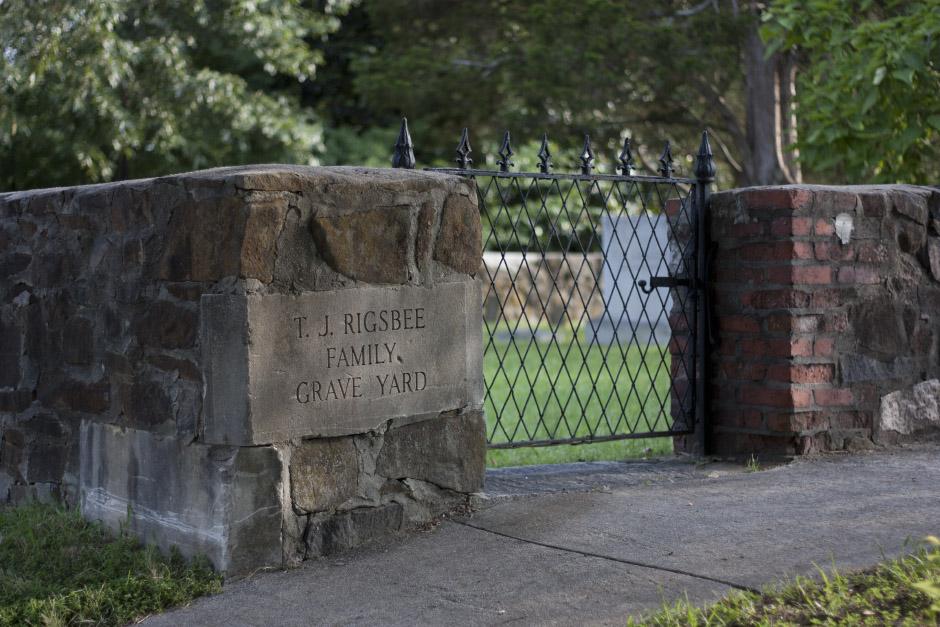 Graveyard entrance, 06.14.11     The family retained ownership of the graveyard when the Dukes/Trinity College purchased the site. It remains in the family (and maintained by the family) today.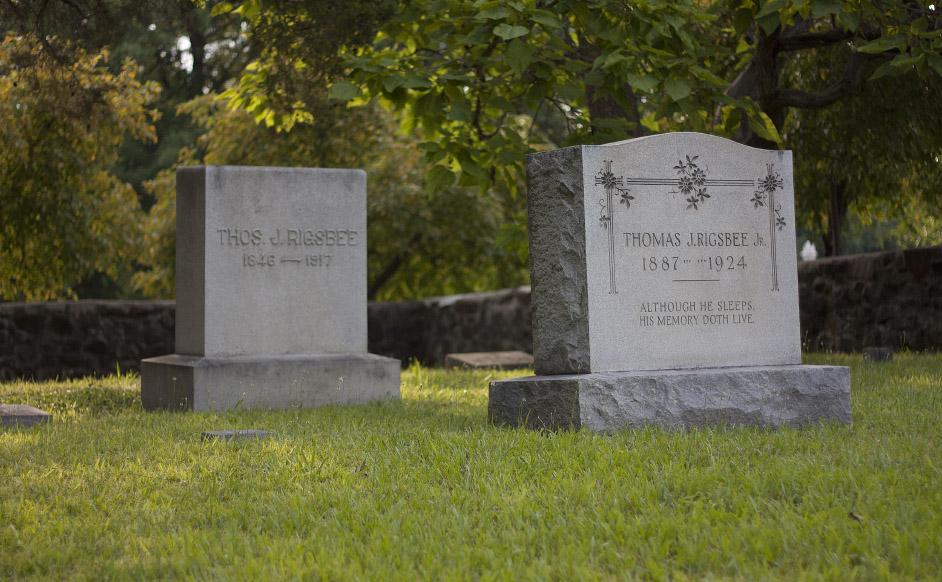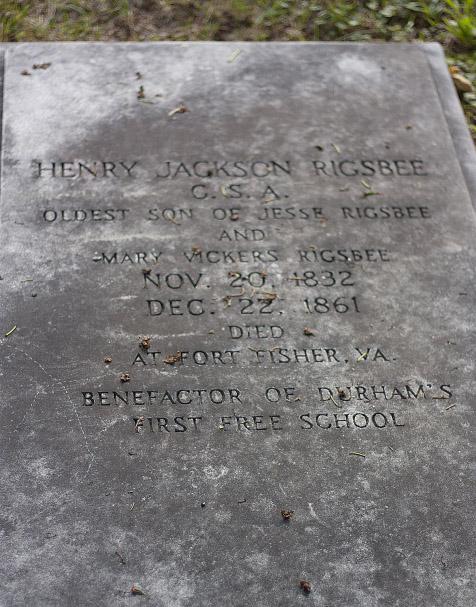 06.14.11     There are four rough stones in the cemetery which are, per family history, linked to the unidentified bodies of Confederate soldiers.   A Rigsbee relative remembered that it was here that three Confederate soldiers were buried, their bodies having been found following one of the last skirmishes in the area. Only their soiled uniforms indicated they were soldiers. The Rigsbees washed the uniforms, redressed the bodies, and buried them in this family cemetery, saying, 'Hopefully, someone will do the same for our folks.'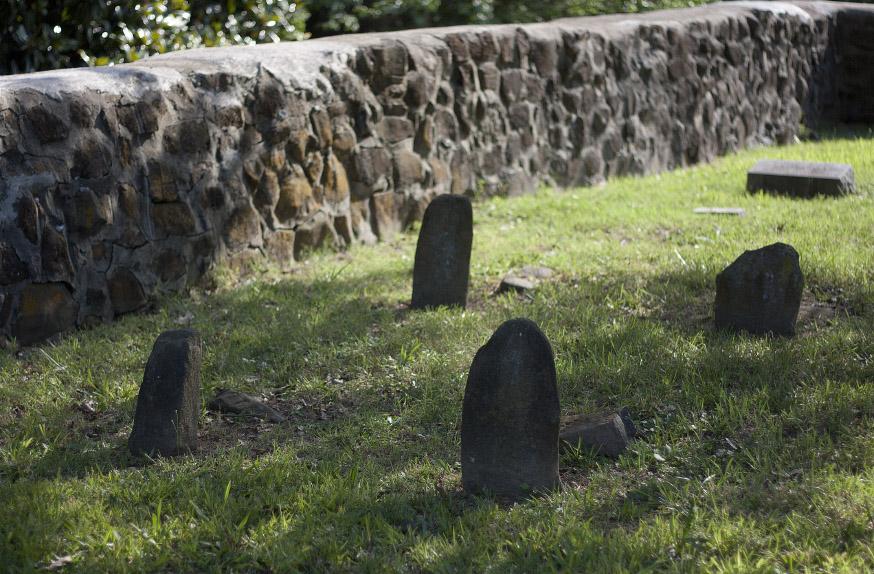 Confederate burials, 06.14.11      

Rigsbee Cemetery, 06.14.11     Many thanks to Rigsbee descendants Johnny Rigsbee and Keith Bowden for educating me on the history of the site and their family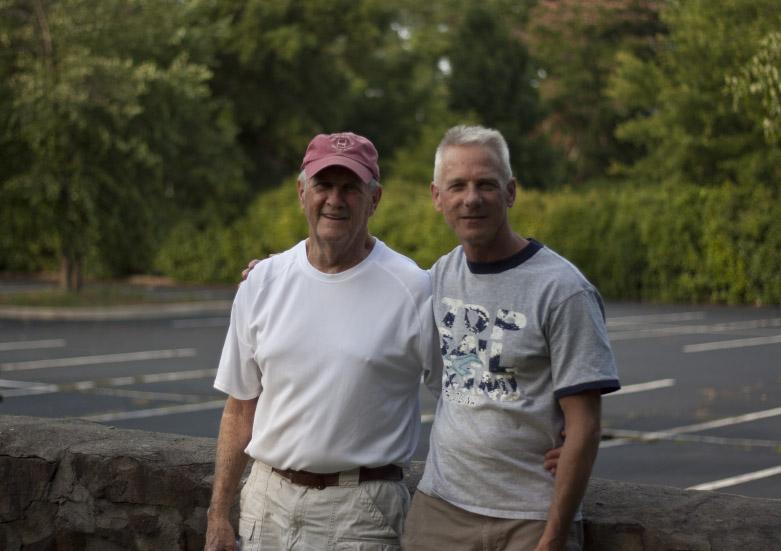 TJ Rigsbee's great-grandson, Johnny Rigsbee and great-great grandson, Keith Bowden