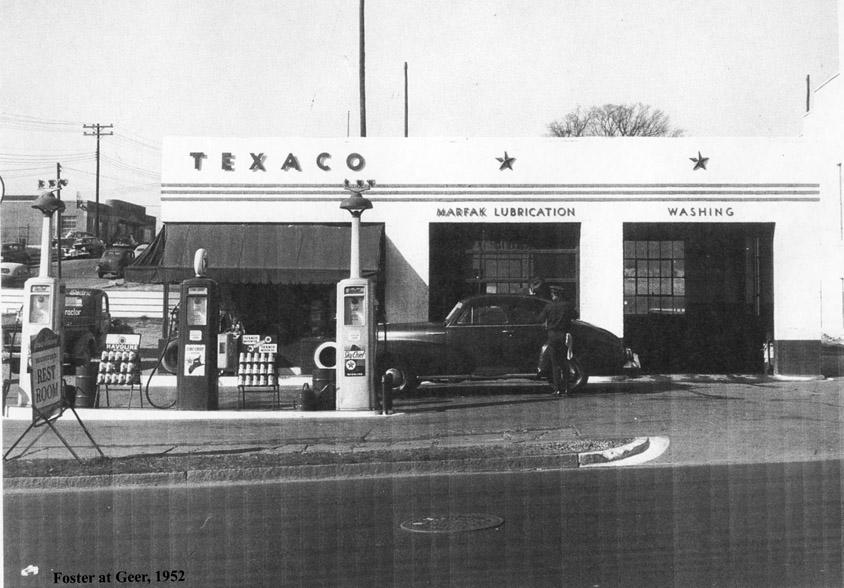 Looking north at the Texaco Station. , 1952. The Scott and Roberts Cleaners is in the left background on Foster St.
(Courtesy Wayne Henderson)

The Texaco station at the northeast corner of W. Geer and Foster Sts. appears to have originally been built in the 1940s. By the 1960s, it had become a Sinclair Station.




Looking northeast, a partial view of the Sinclair station at Geer and Foster St., 08.31.61.
(Courtesy The Herald-Sun Newspaper)

It was one of three service stations located at this intersection. I'm not sure when it went out of business as a gas station, but it has seemed fairly abandoned over the last ~10 years.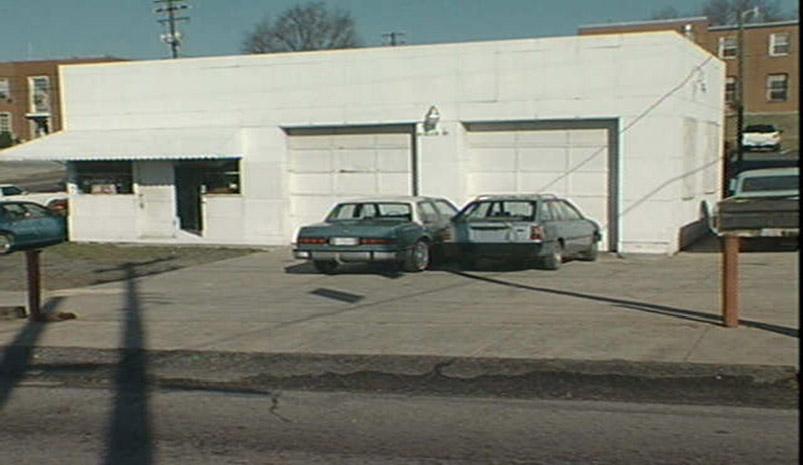 Above, former Texaco/Sinclair Station sometime in the 1990s.

Recently however, it has undergone significant renovation and is really wonderfully transformed. My understanding is that will become some sort of fitness studio (I may not be right about that.) But this kind of renovation shows the possibilities inherent in well-constructed and interesting small buildings.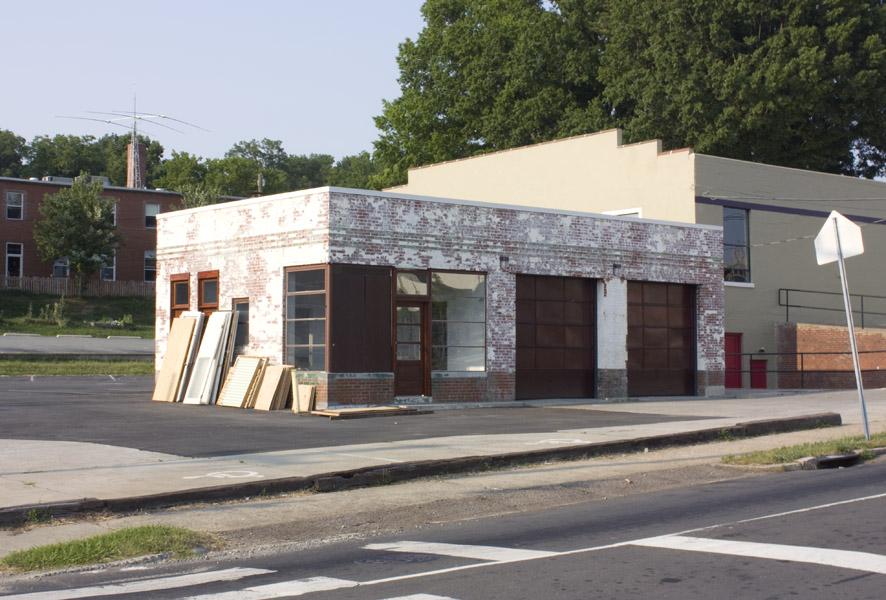 Looking northeast, 06.08.08

The building became home to Gyrotonic Studio; in 2012, it was announced that Gyrotonic was closing, and that the building would house a coffeeshop called Cocoa Cinnamon.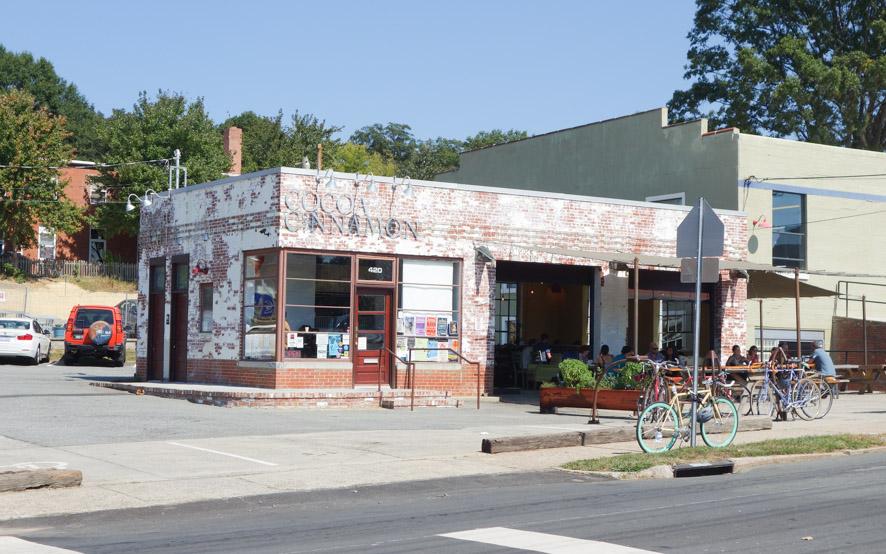 Looking northeast, 09.30.13
Cocoa Cinnamon after ~8 months of being open.
Photo by Andrius Benokraitis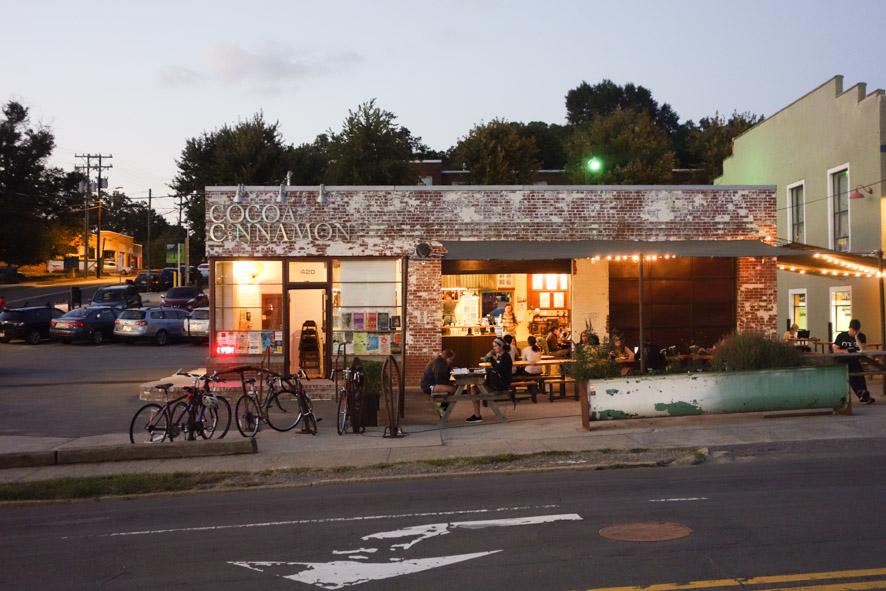 Looking north, 10.1.13 at sunset
Photo by Andrius Benokraitis
From the National Register listing:
This one-story, flat-roof, load-bearing brick gas station was constructed as a Texaco Service Station. The 1944-1947 Durham City Directory (a one-volume directory), does not list a building at 420 W. Geer Street, although the "Jos. A. Stewart filling station" is listed at the corner of Foster and W. Geer streets with no street number. The 1950 to 1960 directories list the "Texaco Service Station" at 420 W. Geer Street, and in 1960 it is identified as "Lee Texaco Service Station." The three-bay-wide and one-bay-deep building is nearly unaltered. The one-to-five common bond brick walls are painted white, although most of the paint has been sanded off. A triple brick string course extends around the upper walls as a decorative cornice. The western façade bay contains the original glazed and paneled door with transom and flanking wide metal multi-pane fixed windows. An identical window in the west elevation meets the front window at the corner, illuminating the station office. The east two façade bays contain the original wooden retractable garage doors. The east side elevation contains two twenty-pane metal awning windows (the center six panes are operable). Across the rear elevation are one identical window and an opening, now enclosed, that may have contained a window or a door. The rear of the west elevation contains two original five-panel wood doors with transoms for men's and ladies' restrooms, with a small window beside the southernmost door.