STANFORD WARREN HOUSE
Built in
1930
/ Modified in
2003
In tours
This building does not appear in any tours yet.
Last updated
Sat, 08/27/2011 - 10:18pm by gary
Comments
Built in
1930
/ Modified in
2003
The 400 block of Brant Street was developed in the 1920s and 1930s with single family houses - many built by residents affiliated with the North Carolina College (Central.)
At 406 Brant St., Dr. Stanford L. Warren built his house. Dr. Warren was born in Caswell County in 1863 and moved to Durham at age two. He attended Kitrell College and the Leonard Medical School at Shaw before returning to Durham to practice medicine at Lincoln Hospital.
Dr. Warren served as a member of the board of Mechanics and Farmers bank as well as that of the Durham Colored Library. He began serving on the latter board in 1923.
In 1930, he built his Tudor-style home at 406 Brant St., reportedly to be near his daughter Selena Warren Wheeler. Dr. Warren lived at 406 Brant St. until his death on January 31, 1940. He gave land that he owned to the Durham Colored Library for a new facility; that new library was named the Stanford Warren Library in his honor.
The house was also home to Albert Turner, the Dean of the North Carolina College School of Law, and the Harrison family, who lived in the house at 409 Brant Street for 42 years. Mr. Harrison was an executive with Mechanics and Farmers Bank from 1953-1990.
In the early 2000s, North Carolina Central University decided to expand westward, demolishing multiple historic houses in the two blocks between Formosa Ave., East Lawson St., Concord St., and Fayetteville St. - as well as Hillside High School. These houses were demolished in 2003 - including such houses as the RN Harris house at 409 Formosa - RN Harris was the first African-American to serve on the city council (1953), the first African-American appointed to the board of education, one for the founders of the Committee on Negro affairs, and a trustee of Lincoln Hospital. The R. N. Harris Elementary School was named in his honor.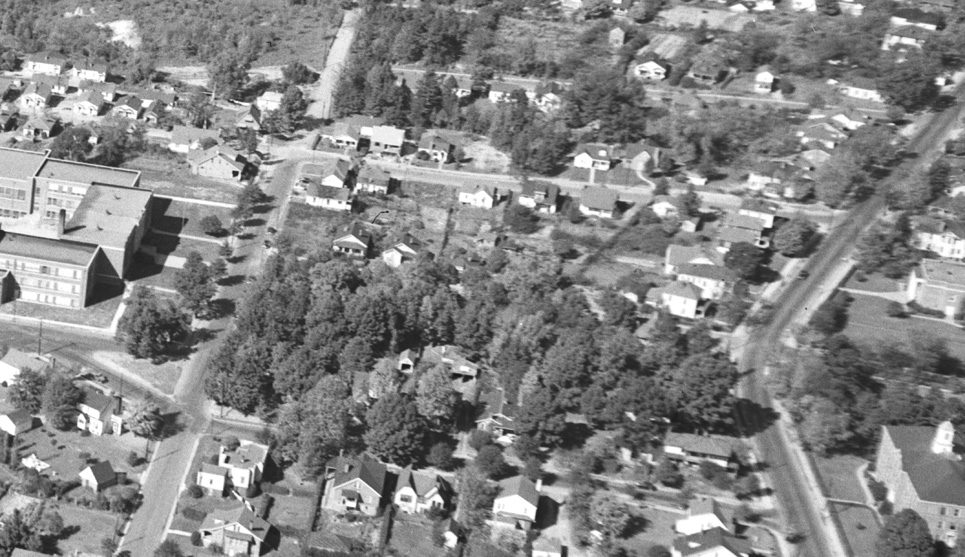 The blocks, 1950s
(Courtesy The Herald-Sun)
Through no particular assistance from North Carolina Central, the Stanford Warren House was saved. Back in 2003, when I chaired the Endangered Properties program for Preservation Durham, we moved the house, at PD's expense, from Brant St. to Pekoe St. in order to save it from demolition. This involved a rather frustrating, but slightly humorous (in retrospect) episode in which we had to move the house to a triangle of land in the middle of the intersection of Pekoe, Formosa, and Concord temporarily to get it out of the way of Central's bulldozers, but before the new lot was ready. Eventually, it made it to its new home, and it was eventually sold and renovated.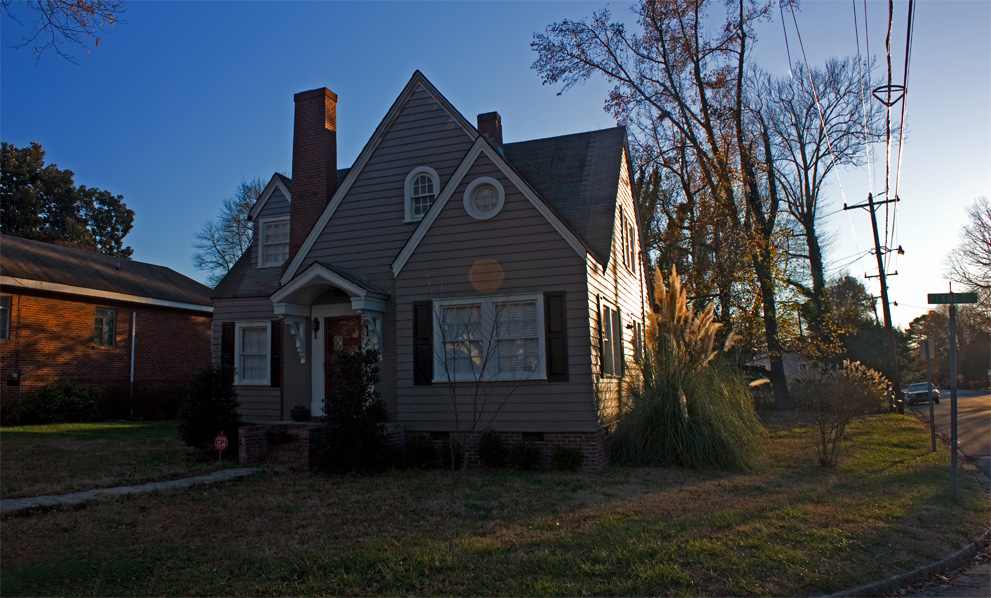 Stanford Warren house, formerly of 409 Brant, now of 302 Pekoe St., 12.07.08
The Brant St. site became the location of a large - I believe - dormitory building for NC Central.

Former site of the Stanford Warren house, 12.07.08
Find the original location on a Google Map.
Find the new location on a Google Map.
35.975326,-78.901885