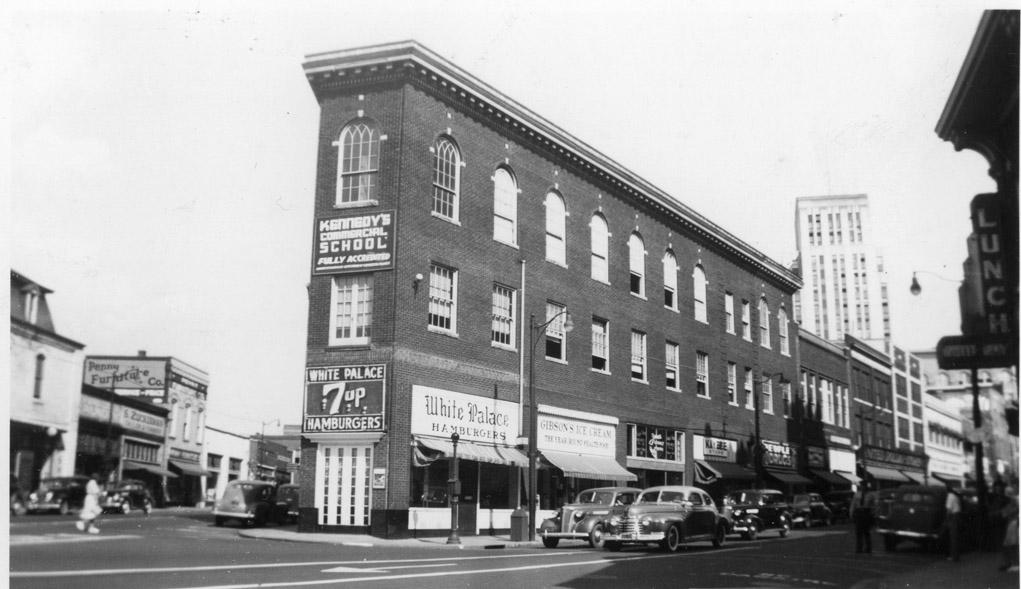 Piedmont Building, 1940s

The Piedmont Building occupied the most prominent location in Durham for over 40 years - the eastern point of Five Points. But prior to that, this prominent spot had been the site of the first public library in Durham, which was housed in a small wood-frame building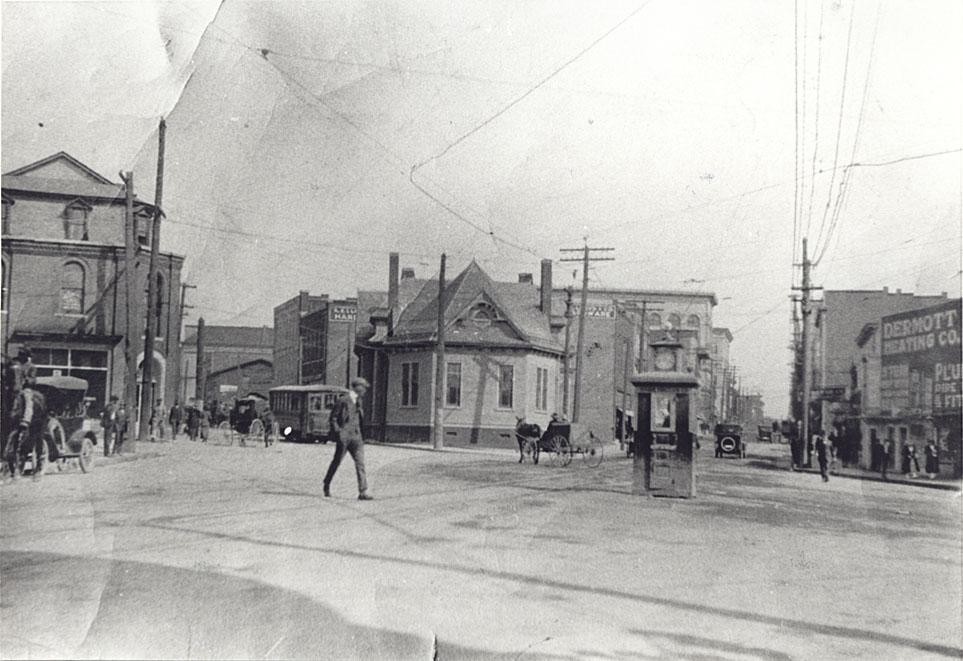 Courtesy Durham County Library, circa 1910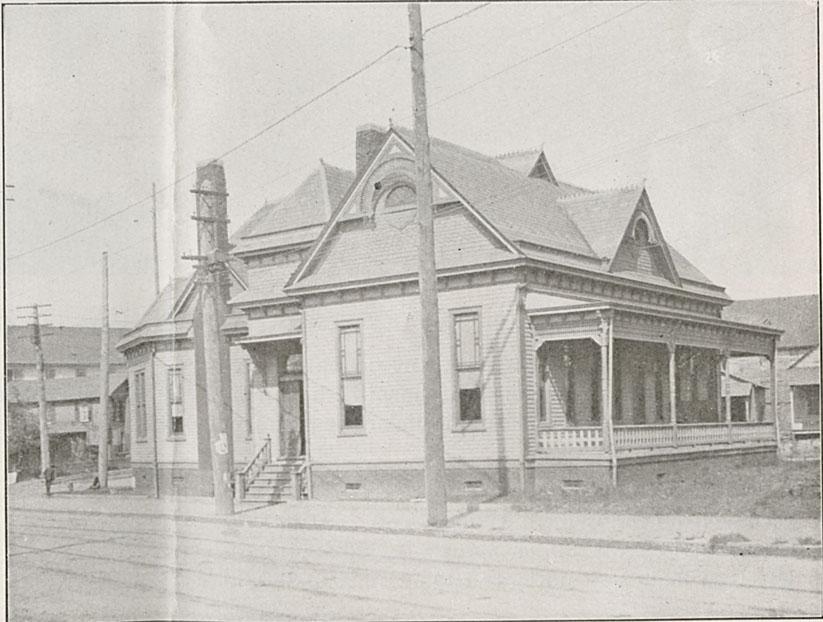 Looking northwest (towards Five Points) from West Main St.
(Courtesy Duke Archives)

The main public library was established in 1897 as the first public, non-subscription library in North Carolina. The "Canterbury Club" - a women's social group - began fundraising and enlisting support from other groups to build a library for Durham. Ms. Lalla Ruth Carr donated the land at the eastern point of Five Points, said to be worth $2500, as a location for the library, which opened in 1898.

When the library moved to its building on East Main Street in 1921 (still standing!), the wood frame structure was torn down and replaced with a flatiron building, called the Piedmont Building that same year. This building had a flat face, unlike the rounded front on the opposite point. (Which you can see the shadow of in this, evidently, late afternoon picture.) The building was built by the Piedmont Club, a newly organized 'men's club' that intended to build a structure that would provide facilities for their club (as well as retail space on the first floor - much like the Temple Buildng and Masonic Temple building further east on Main St. The building contained a ballroom and kitchen area on the third (top) floor. Judge Sykes was the president of the Piedmont Club, Foy Robertson the vice-president and JM Markham was secretary-treasurer.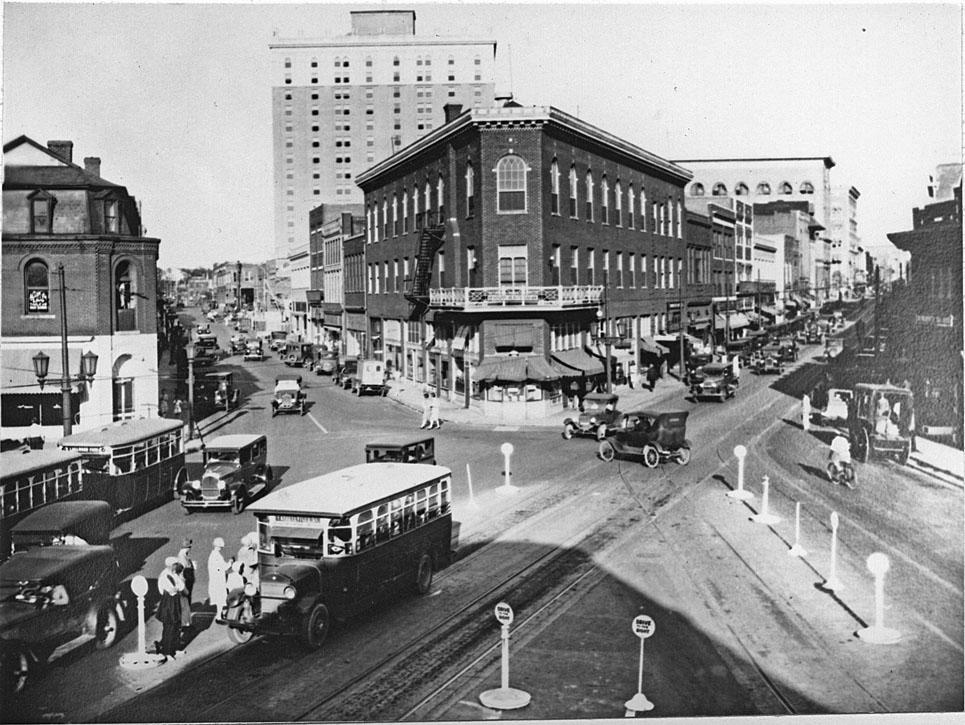 Looking east, circa 1925
(Courtesy Durham County Library)
Aerial view, looking east.
Courtesy Duke Archives

Parade at Five Points, looking east
Courtesy Durham County Library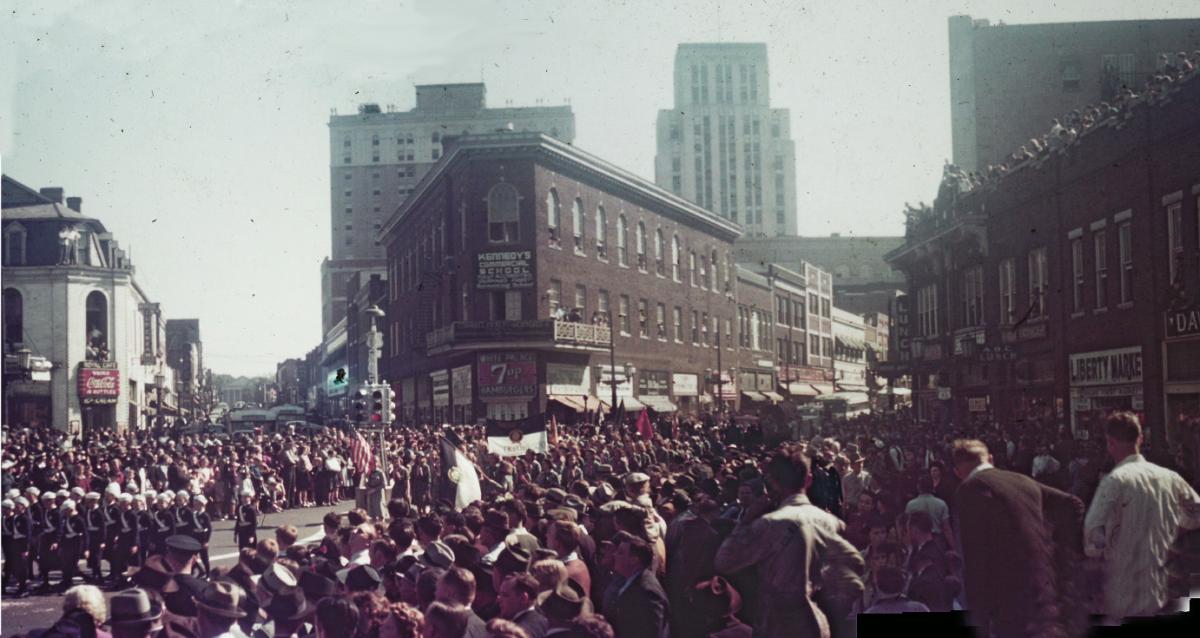 A great early color shot (actually two that I've combined) purportedly from 1939's Duke Homecoming parade. (Retrochrome.net)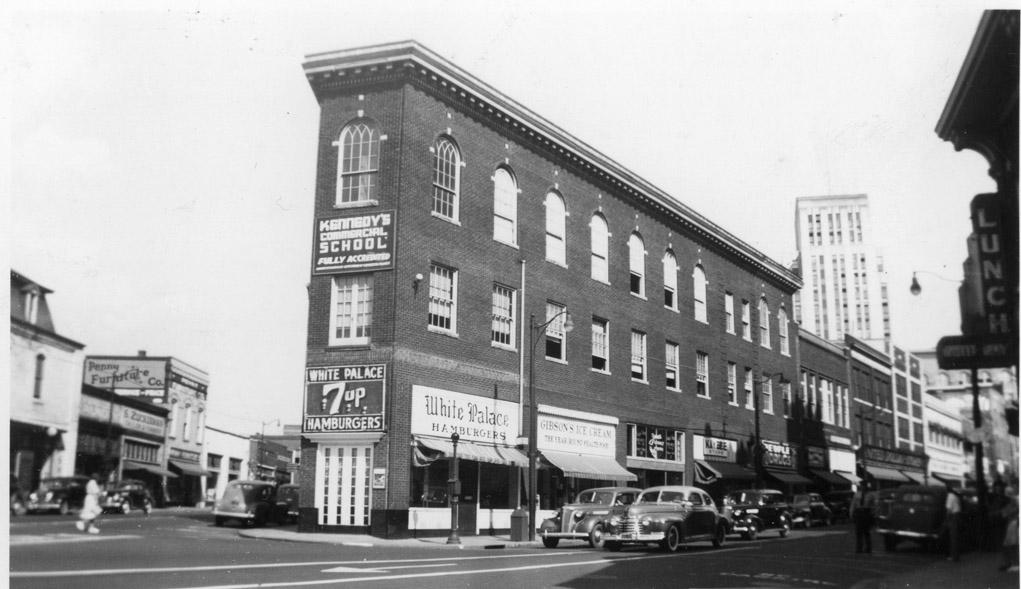 Piedmont Building, 1940s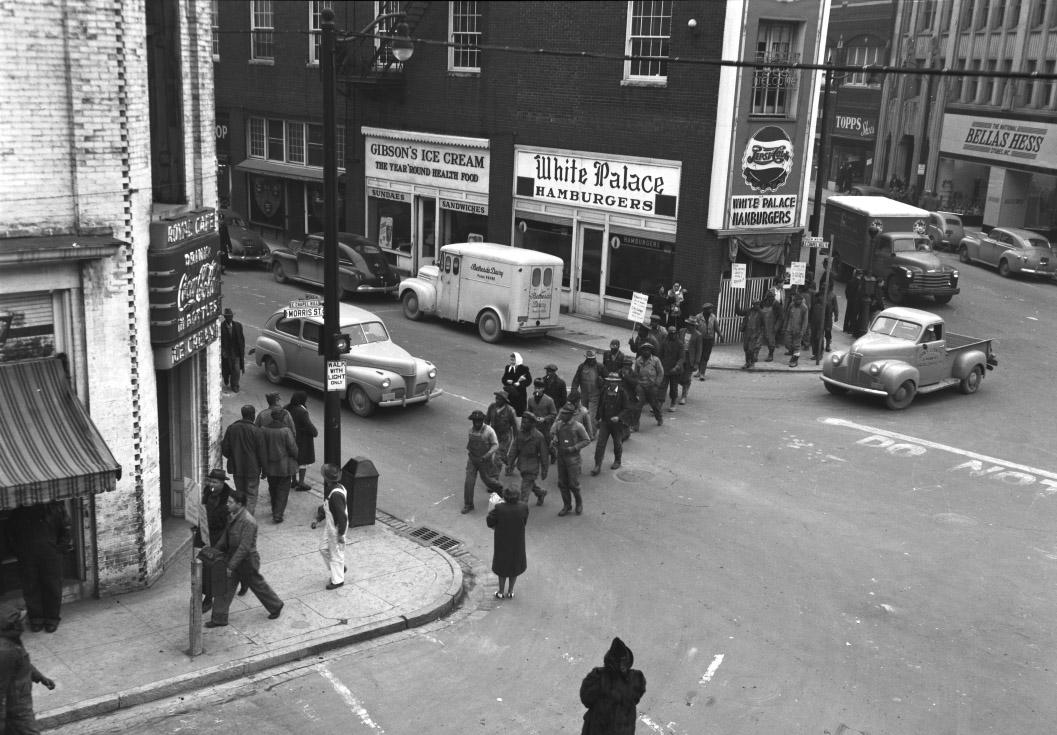 City Worker strike (heading to city hall) - 02.16.48

By the 1950s, the flat front of the building was a place for advertisements and a clock. (Notice the Washington Duke Hotel in the background - large brick building to the left, as well as the exterior cladding that has been placed over the three mid-block buildings that were Belk Department Store - the way to 'modernize' in the 1950s. I'll come back to these buildings later.)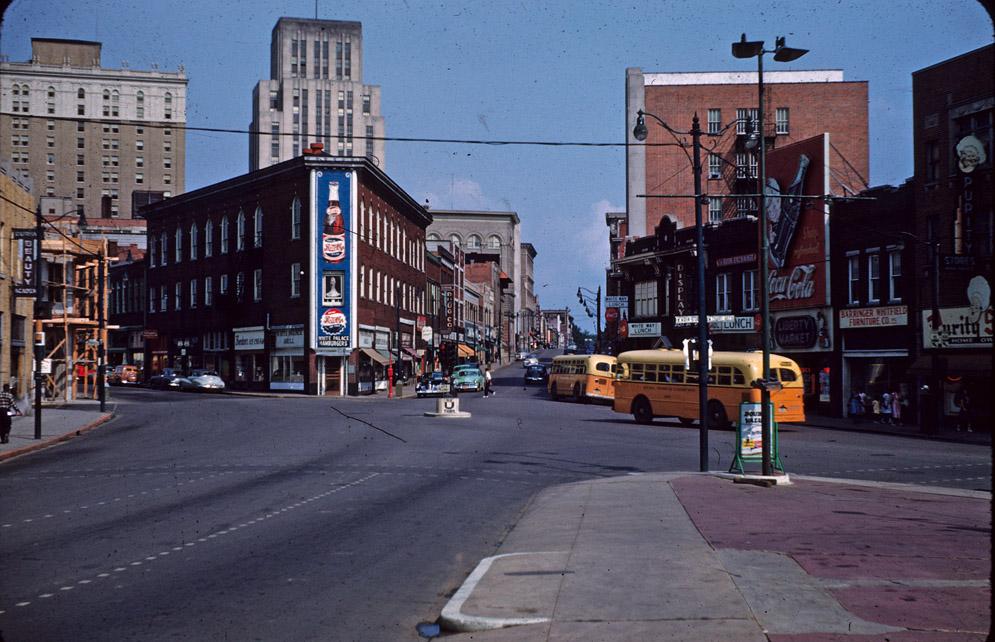 Piedmont Building, looking east, 1954
(Courtesy Duke University)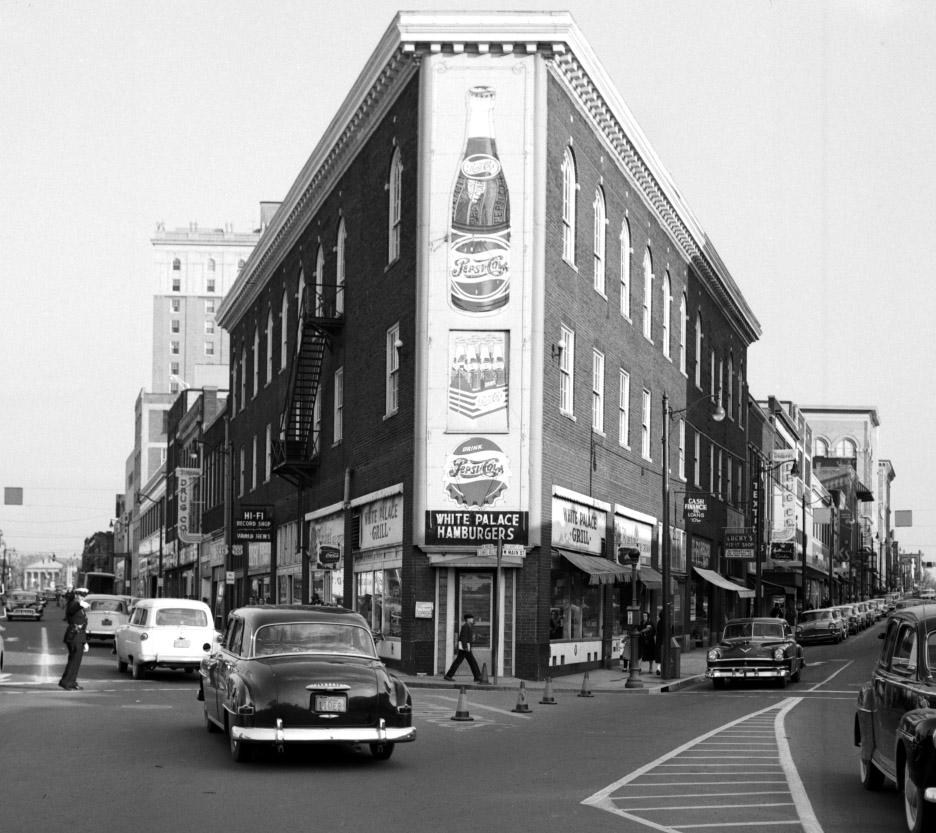 01.28.58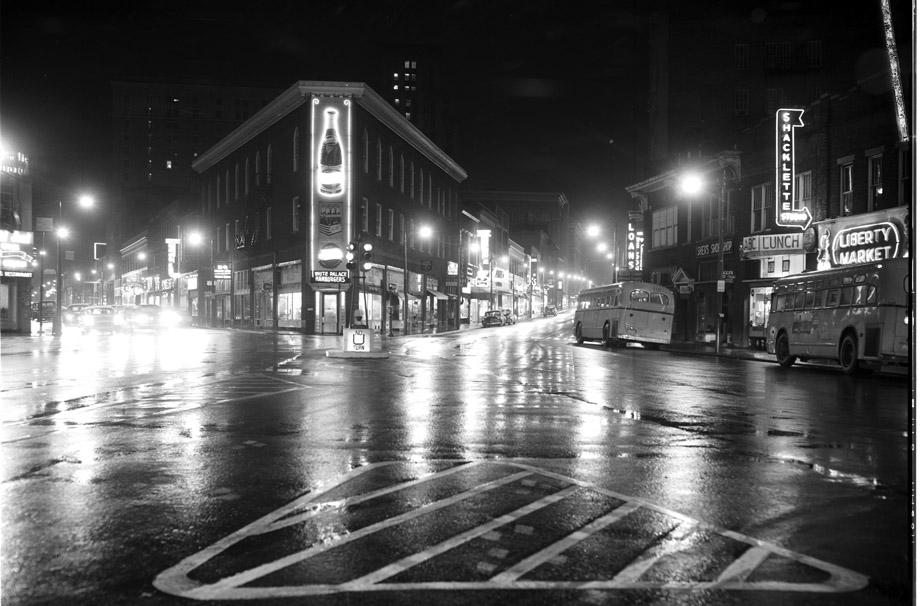 Looking east at night, 02.01.58
(Courtesy Herald-Sun)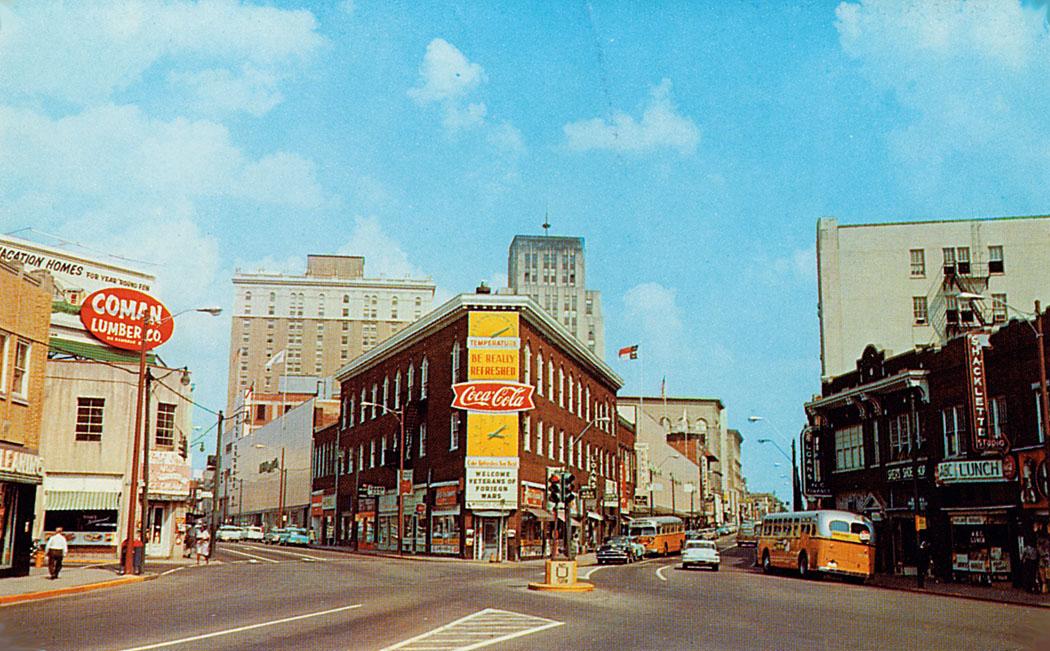 Piedmont building, looking east, ~1960
(Courtesy John Schelp)

Unfortunately, in November of 1965, this building burned.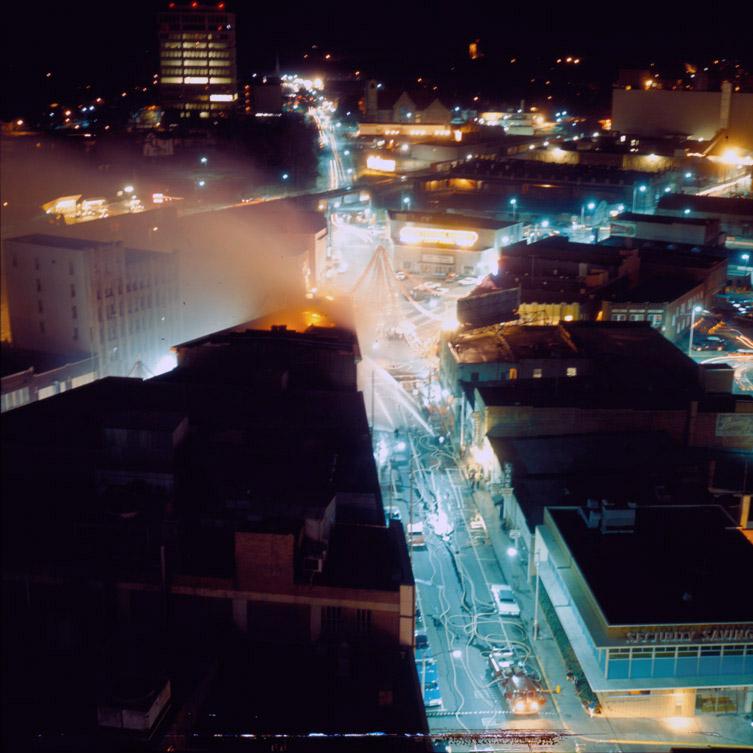 Looking west from the Washington Duke Hotel, November 13, 1965.
(Courtesy Herald Sun)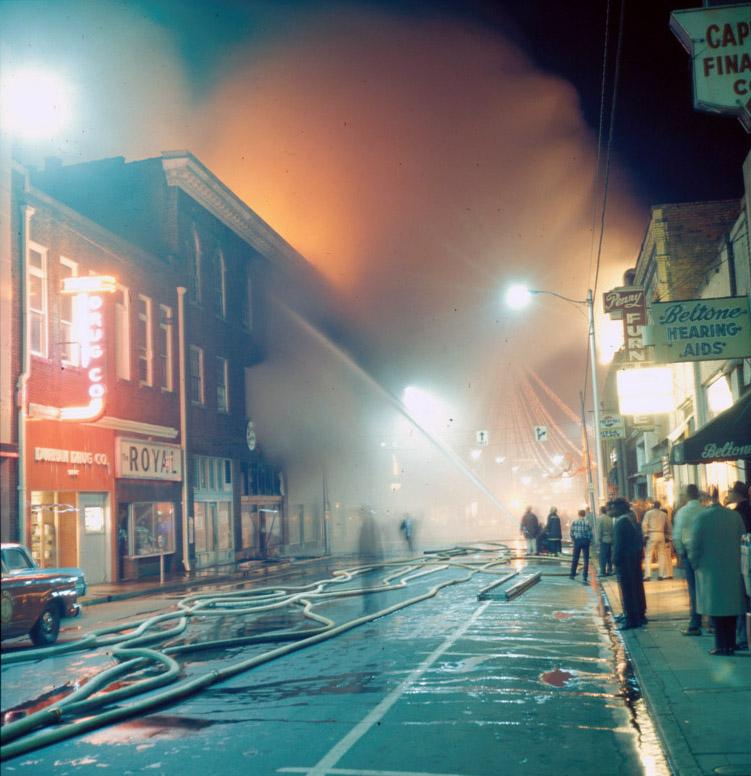 Looking west-southwest from East Chapel Hill St., November 13, 1965.
(Courtesy Herald Sun)

This 1966 shot shows the building - which frankly looks salvageable in this photo - after the fire. It appears that the city may have planned to demolish it through urban renewal anyway, as it was appraised in 1964 by the urban renewal folks - before the fire.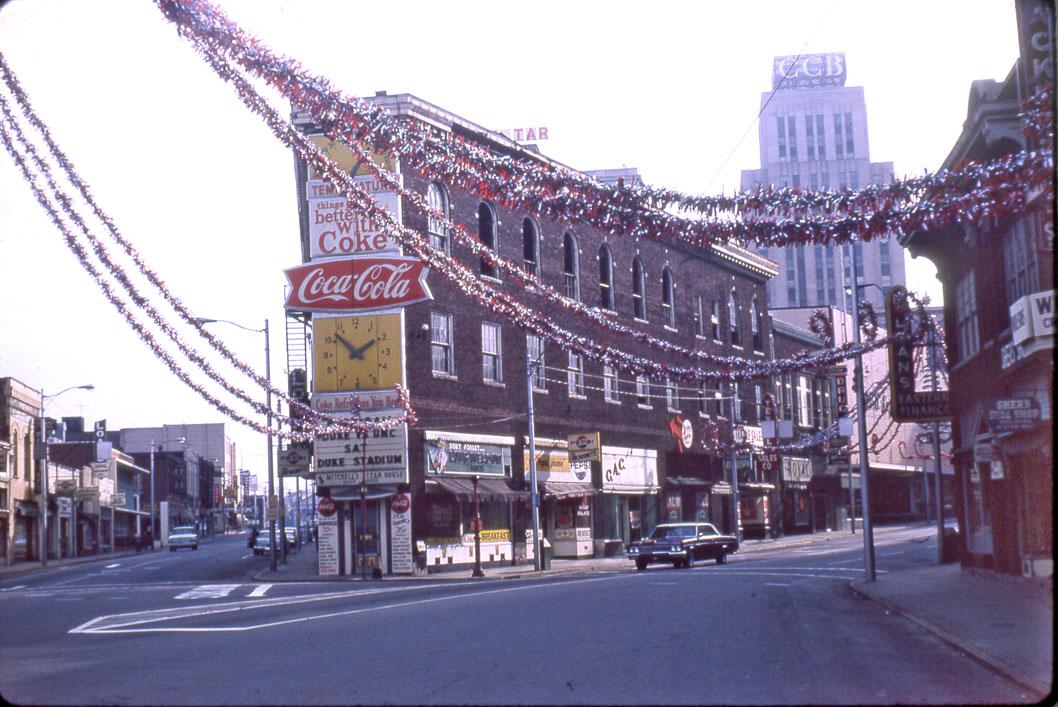 Courtesy Durham County Library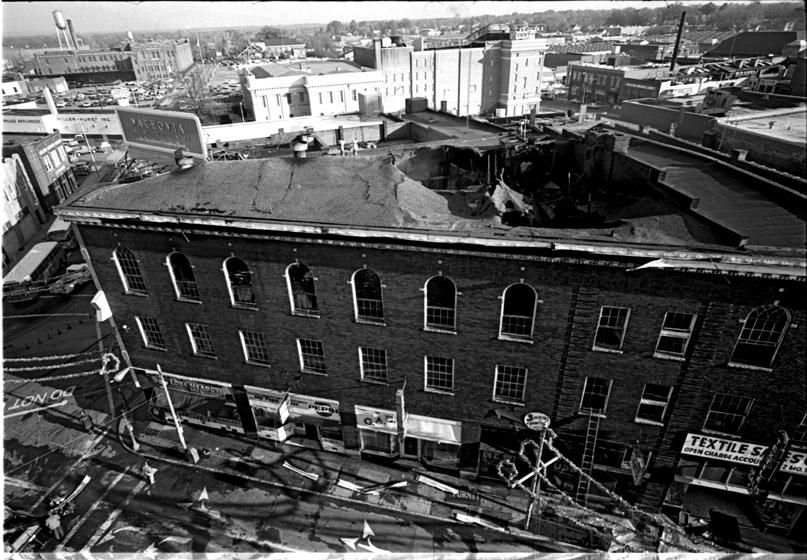 View of the fire damage from the Snow Building, 11.15.65
(Courtesy Herald Sun)

In September, 1966, the building was torn down.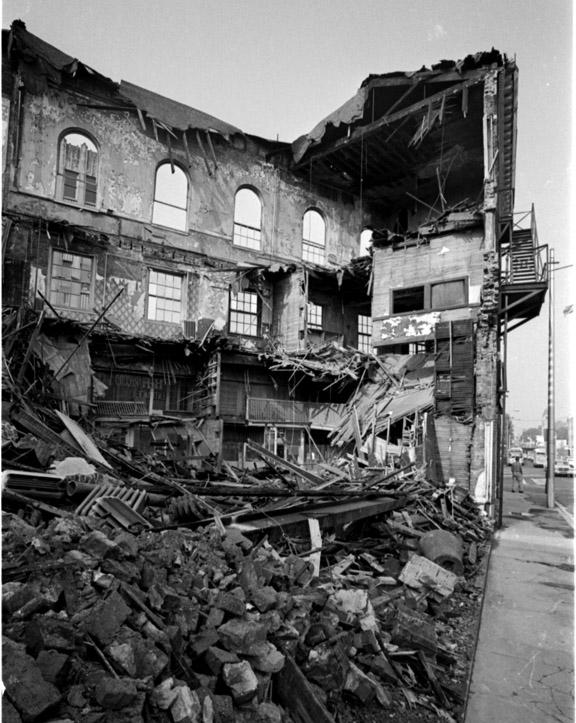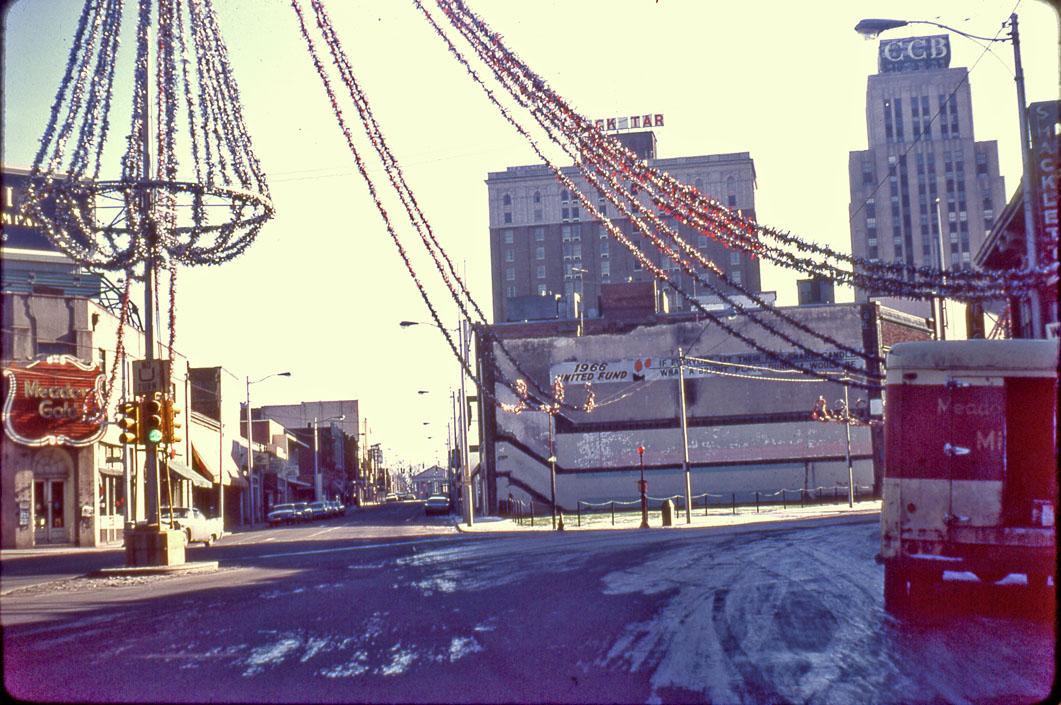 Courtesy Durham County Library

And thus attempt number one commenced to turn this focal point into a viable public space: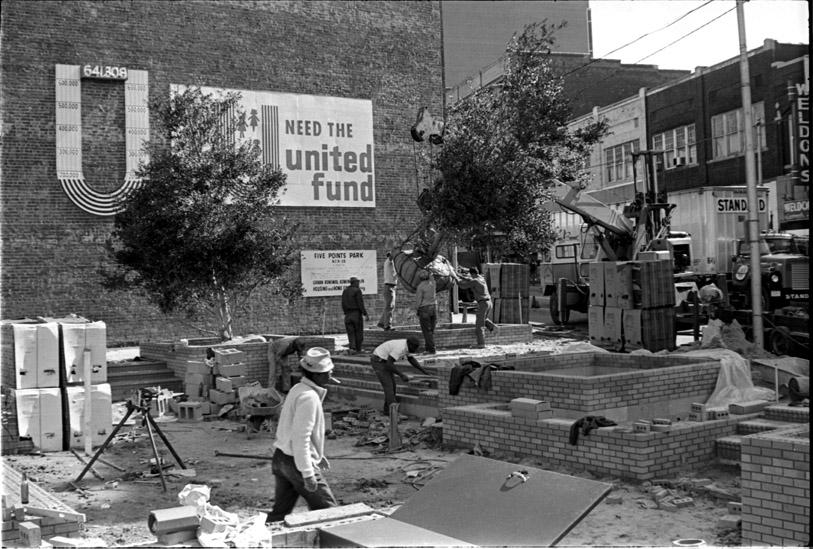 Creating "Five Points Park" - 10.19.67
(Courtesy Herald Sun)

And it became a bastion of peace and loveliness, frequented by folks out of the Chamber of Commerce brochures...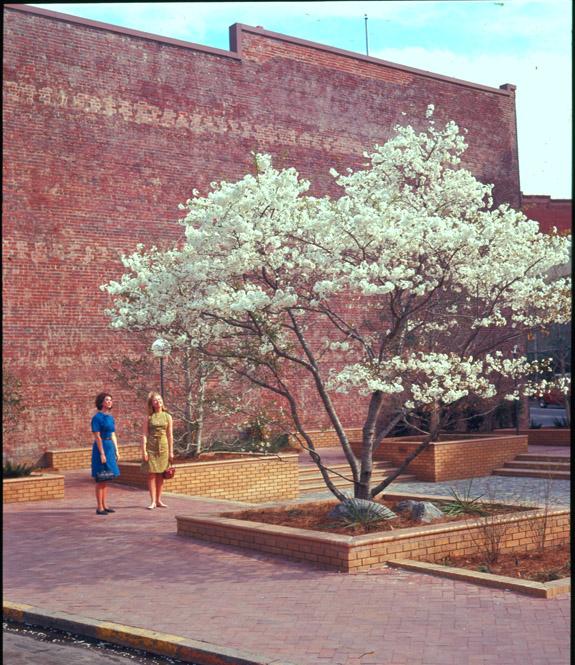 "Look Maude, it's a beautiful tree.....did you take the picture yet?" (03.30.68)
(Courtesy Herald Sun)

Wait, this isn't what we boostery folk planned on...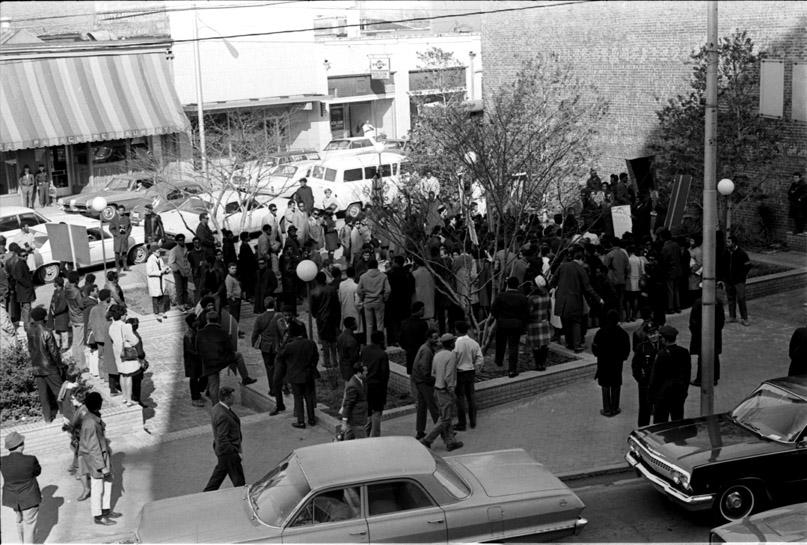 "Malcolm X demonstration, 02.21.69"
(Courtesy Herald Sun)

This may have been one of a handful of times that this plaza hosted this many people.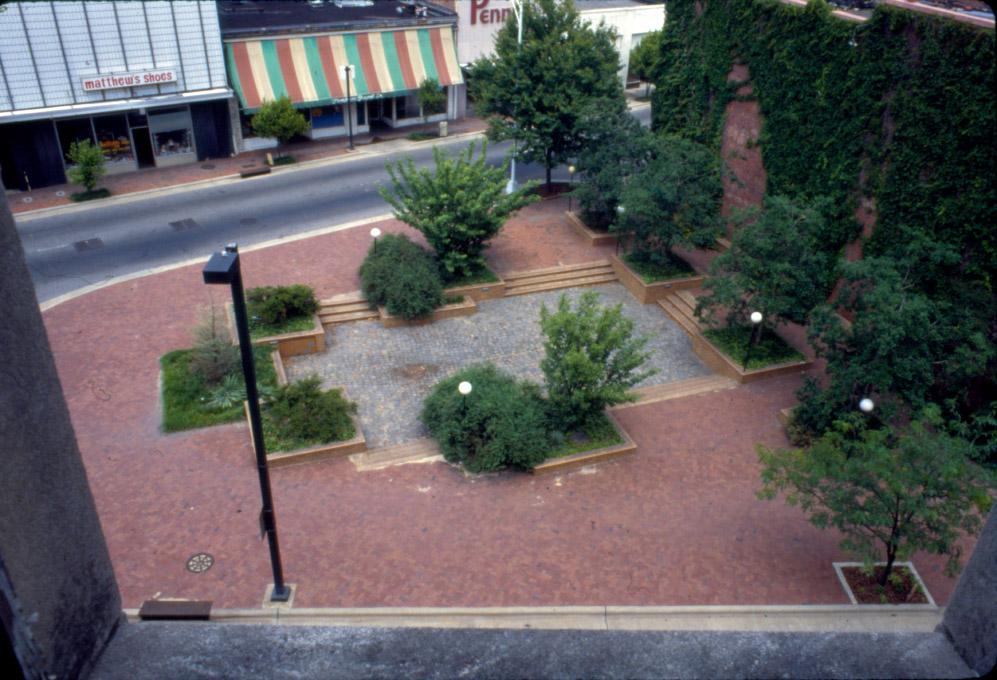 "I can't understand, we built such a lovely plaza in place of the building - why doesn't anyone use it?"
(Photo by George Pyne, courtesy Milo Pyne)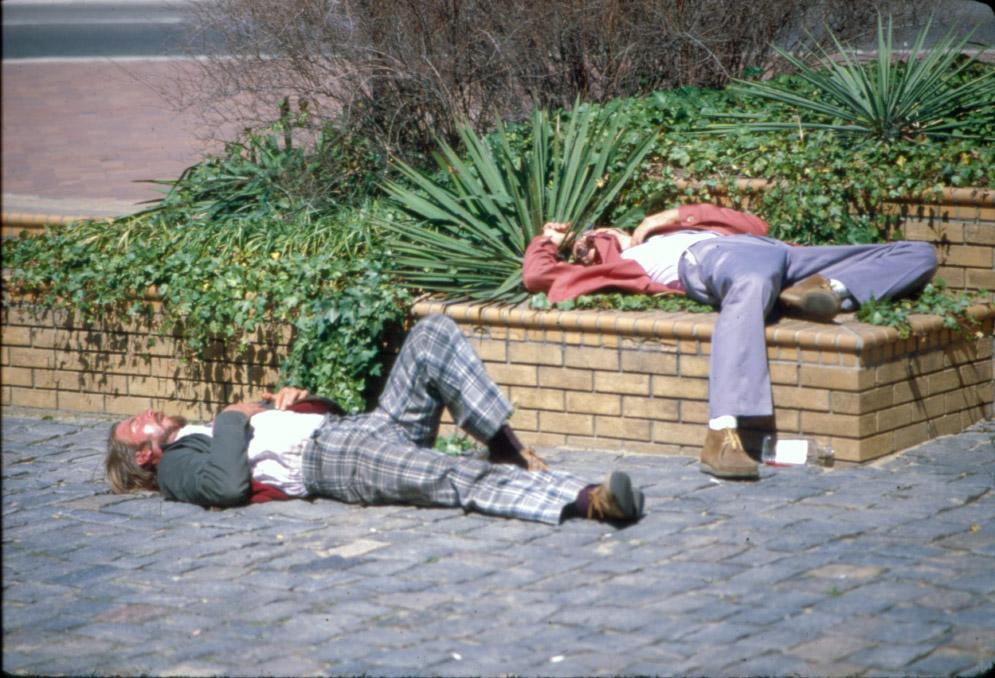 "That's better. Look how relaxed these young men are."
(Photo by George Pyne, courtesy Milo Pyne)

With the demolition of Durham Drug and Belk-Leggett, the 'plaza' has a large parking lot behind it. We're currently in the midst of remaking it as public space.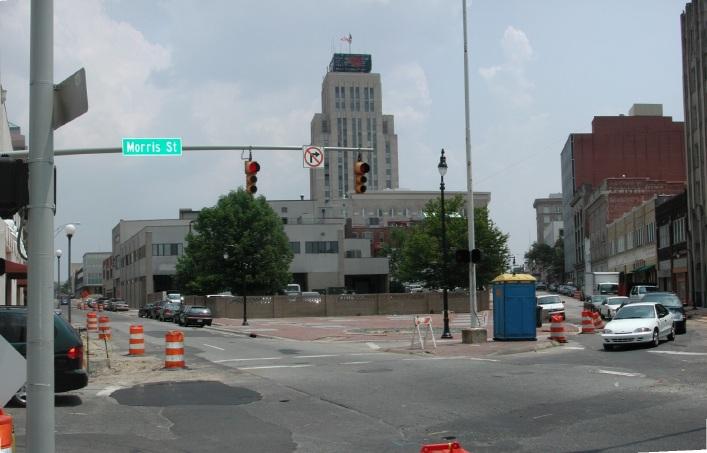 Five Points, looking east, Fall 2006 (Gary Kueber)

Multiple buildings behind (to the east) of this building have been demolished as well, which is why this very, very important space seems so empty. It is truly unfortunate that the city is rebuilding a 'plaza' at this point. The last thing downtown Durham needs is more open space. This space desperately needs buildings to give the necessary definition to make it feel like city instead of emptiness. That's what happens when you have economic development people doing urban design. This plaza will likely be as empty as the 1970s "Muirhead Plaza" version it replaced.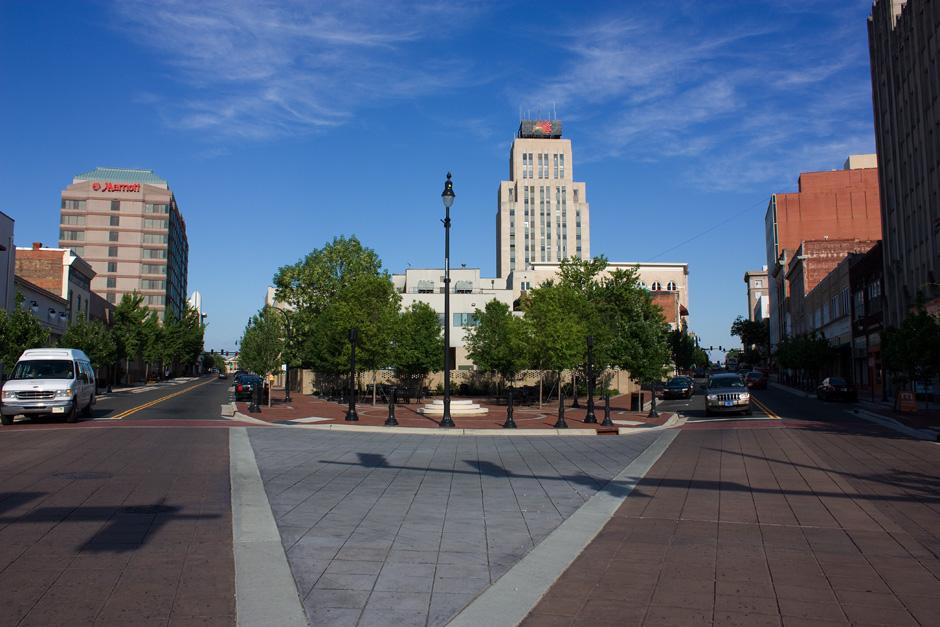 Five Points, looking east, 07.24.08
(Gary Kueber)