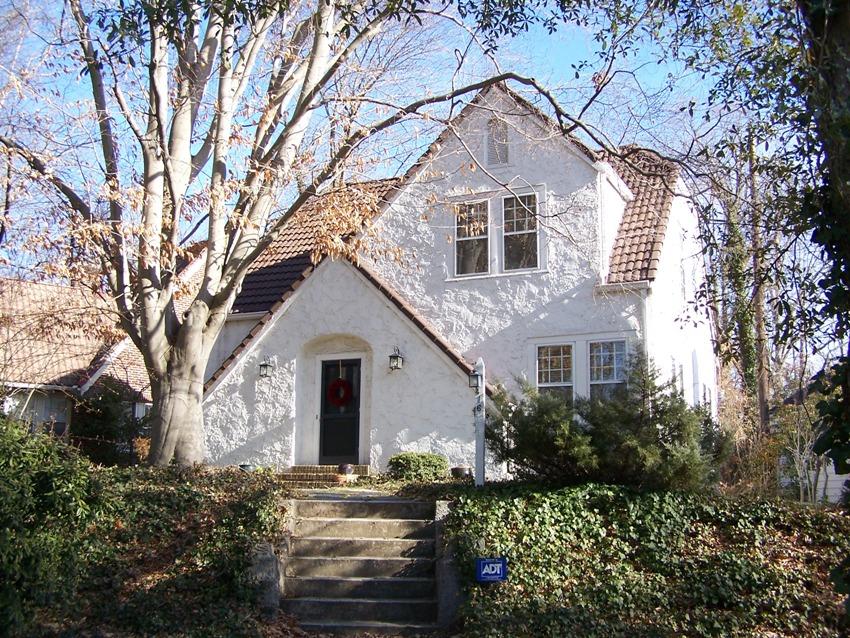 From the National Register nomination form of 2005, completed by M. Ruth Little
1 ½-story side-gabled Tudor Cottage with clipped gables, a terra-cotta tile roof, stuccoed walls, and 9-over-1 sash windows. The shallow gabled entrance bay has an arched batten door. Interior chimney. This is said to be a spec house built by New Hope Realty Co. Wallace W. Umplette, a traveling salesman, was the occupant in 1930. [Carr interview, 1930 CD]
The following information comes from the City Directories and general web searching:
Year
Occupant(s)
Occupation(s)
Other information
1930
Mattie M. Umphlette*
Wallace W. Umphlette *
 
solicitor
Wallace worked at Continental Life Insurance. as a salesman.
1931
Melvin M. Kuhn
 
 
manager
Melvin managed the Durham Bowling Alleys, located at 316 E Chapel Hill St.
1932
Anna A. Zener +
Karl E. Zener +
 
associate professor
Karl worked at the Psychology Department at Duke University, later becoming its chairman in 1958.  He developed the Zener cards, which were used to conduct tests for clairvoyance and extrasensory perception.
1941
Gertrude Strong
Frank R. Strong
 
 
Frank worked at Duke University.
1942
Edith M. Harton
Roman A. Harton
 
physician and county coroner
 
1943
Irene R. Byrd
Clyde R. Byrd
 
real estate
 
1945
Gretchen F. Everiss
Walter H. Everiss
 
manager
Walter worked at the Met Life Insurance Company.
1947
Ronald Brunson
 
 
 
 
1950
Ruth H. Cousins
James F. Cousins
 
auditor
James worked at Duke University.
1952
Frances D. Bryant
Victor S. Bryant, Jr.
 
associate lawyer
Victor worked at his father's law firm, VS Bryant Lawyers, located at 111 North Corcoran Street. He lived in the house built for him at 1002 Vickers Avenue before living on Carolina Circle, and appears to have moved back to that address in 1960.
1960
Joyce A. Tischendorf
Alfred P. Tischendorf
 
instructor
Alfred worked in the Department of History at Duke University as an assistant professor of Latin American History, but died while on sabbatical in Argentina in 1962.
1965
Pat A. Wynn
James O. Wynn
 
physician
James worked at Duke University Medical Center. and had a private practice in Durham from 1978-2005.
1967
Elizabeth D. Nelson
 
saleswoman
 
Elizabeth worked at Southland Associates
1970
Gail A. Malin
Joseph M. Malin, Jr.
 
physician
Joseph worked at Duke University Hospital as a urologist.
1973
Meredith K. Thrall
Jesse Thrall
instructor
 
Meredith worked at Duke University Hospital.
1981
Allen P. Duffer, Jr.
 
employee
 
Allen worked at IBM.
1988
Ann M Christensen
Allen P. Duffer, Jr.
sales associate
 
Ann worked at Coldwell Banker
1993
Penny H. Bridgers
 
 
 
 
2003
Matthew Cohen
 
 
 
 
2006
Bridget K. Finn
Megan M. Walsh
 
 
 
2008
Matthew Cohen
 
 
 
 
2009
Erin Valentine
Jason C. Valentine
 
 
 
2011
Jocelyn Arem
Kate Kyle
 
 
 
2014
Molly Draney
Brandon Draney
 
illustrator
 
* The 1930 US Census shows that W.W. Umplet (age 31) was the head of household with Mattie M. (age 28) as his wife; other occupants included William Jr., son (age 6); and brothers Clyde V. (age 26) and Hoyle M. (age 28), both of whom were agents for, presumabkly, rthe same insurance company at which William worked..  The 1931 City Directory lists these family members with the surname of Umphlett.
+ The 1940 US Census shows that Karl (age 37) and Anna (age 30s) lived with their three sons, Karl (age 7), Wilfred (age 5), and Julian (age 2).  The elder Karl was born in Indiana, his wife and first two sons were born in Pennsylvania, and the youngest son was born in North Carolina.  This does not quite align with the City Directories, which indicate that the Zener family had occupied the house for eight years at the time of the Census, but perhaps the first two sons were born outside Karl's academic calendar year - or intentionally delivered near Anna's family.