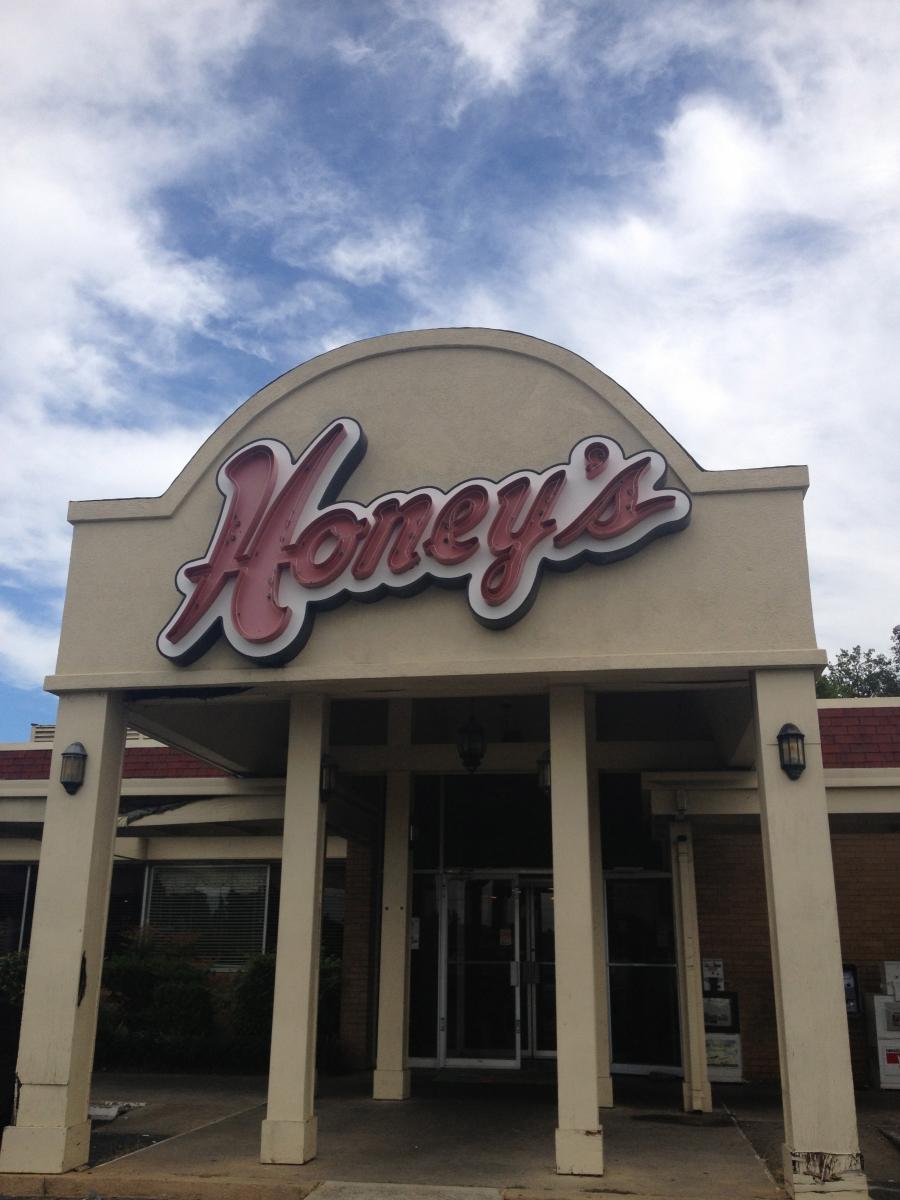 Honey's Resaturant opened it's doors on Guess Road in 1961.  Originally it was one of the nicer diners in the area as you can see from photos below. It was a Durham institution, packed to the brim with families on Sundays after church but also home to drunken late night conversations over Country Ham with Red Eye Gravy. 
Honey's was named for its owner, Yates Louis (YL) Honey, a Charlotte entreprenuer who owned various businesses throughout the Carolinas. Honey attended RJ Reynolds HS in Winston Salem, graduating in 1930 and opening his first ice cream stand that same year. Every few years he would open up a new, different business, from ice cream stands to hotels, and everything in between.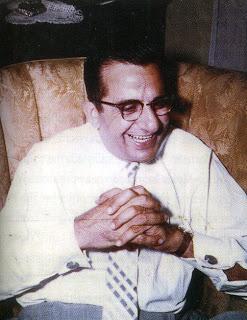 Honey's Restaurant was a chain of diners which had locations in the Charlotte area, Greensboro, Chapel Hill near Glen Lenox, and this location in Durham in addition to others in SC. The original restaurant in the chain was called the Minute Grill, and it changed it's name to Honey's in the 1950s. According to an advertisement for a Charlotte location, Honey's was endorsed by none other than.....Duncan Hines. The original celebrity chef. The original Yelper. 
The Durham location was one of the last to open of the chain, and was the last remaining. Here is a photo, hanging in the entry of the Durham Honey's, that shows what it looked like when it opened in 1961.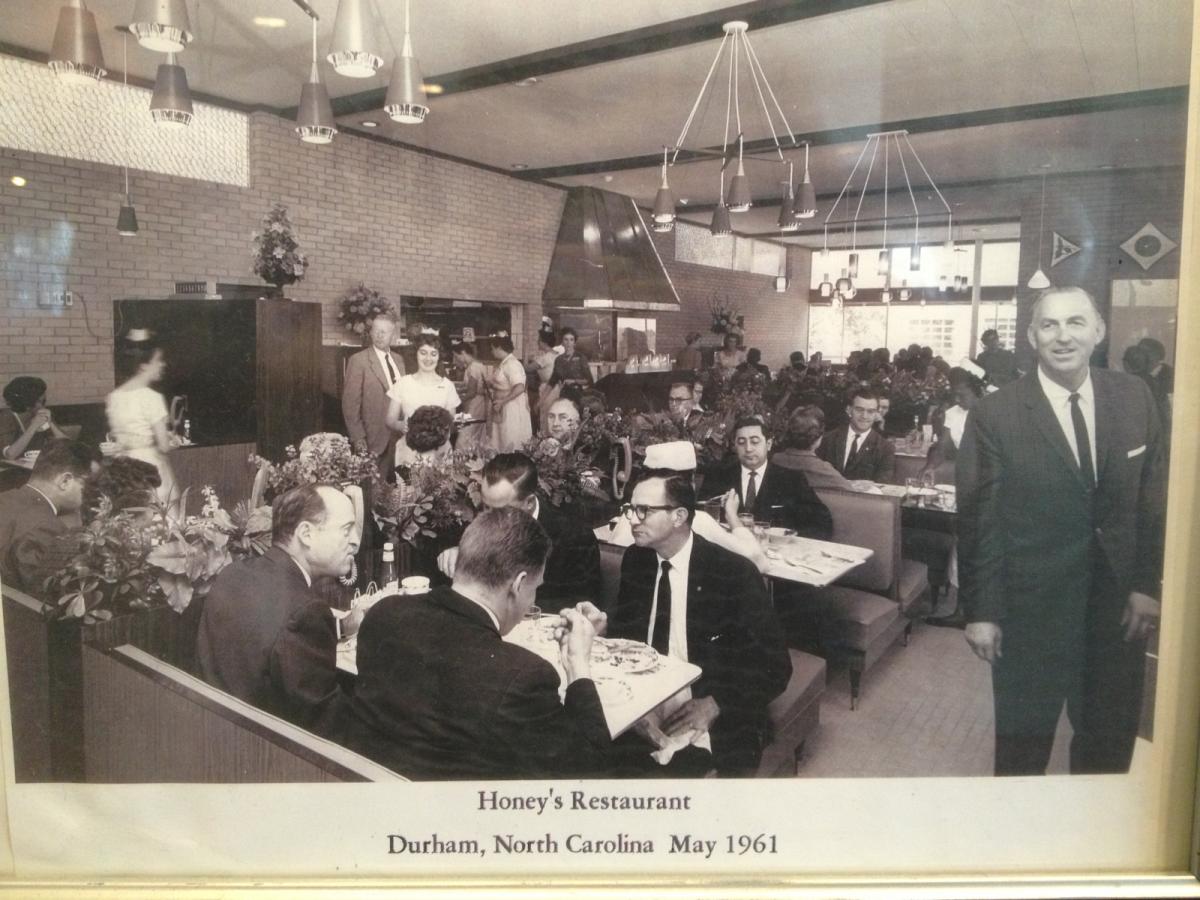 A menu from a different Honey's location from 1962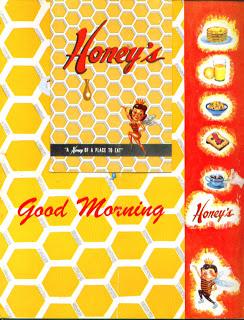 Here is what the restaurant looks like today. There are always regulars lining the counter. This is the half of the restaurant that still had a smoking section up until the state ban.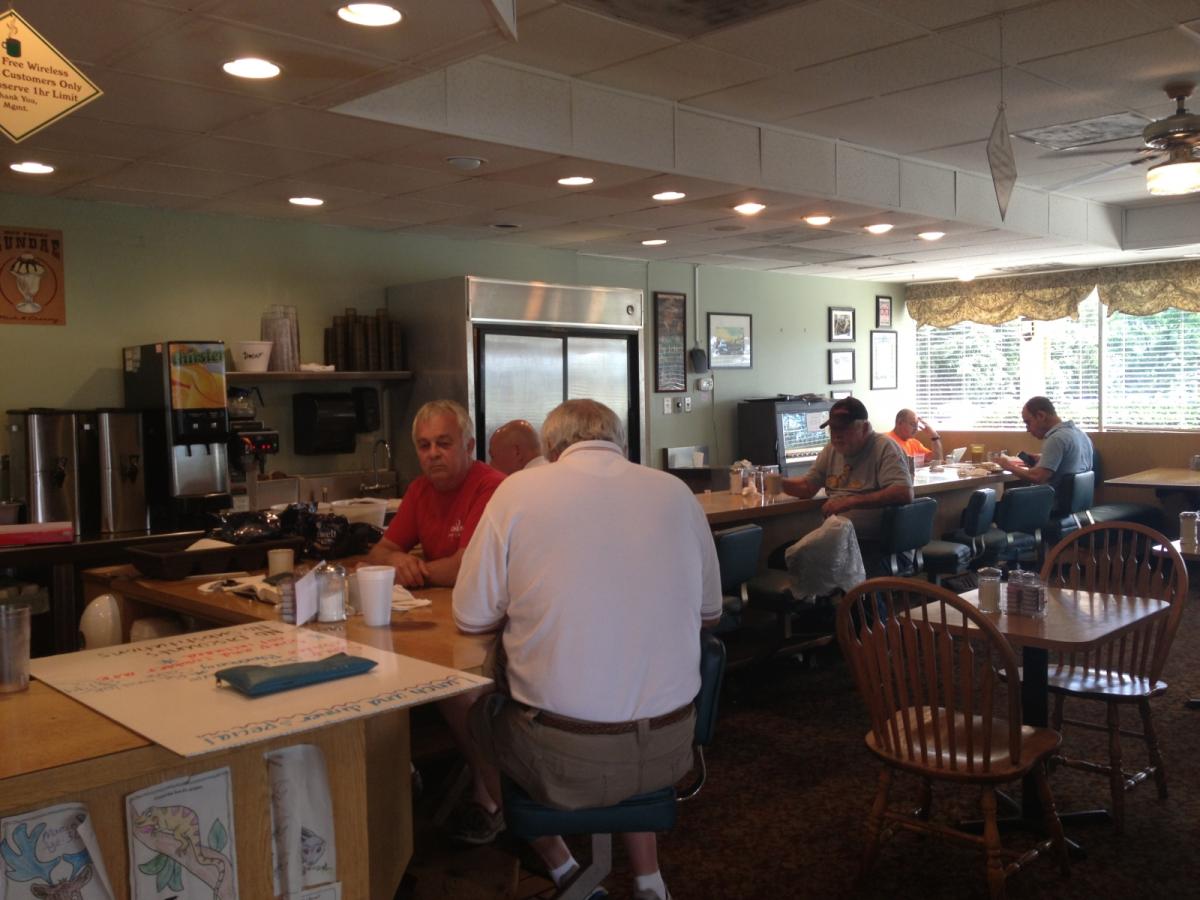 The restaurant went through a slight renovation about 5 years back but has still seen better days. Quite a few of the booth seat cushions slid right off of the platforms or were covered in tape. 
My FAVORITE thing about Honey's was the fantastic music always playing, but I also love the counter area, as it reminds me of what a diner counter should be. Regulars lining the stools, coloring book drawings, dry erase menu boards, stacks of hand written tickets, March of Dimes donation boxes, toothpicks, mints.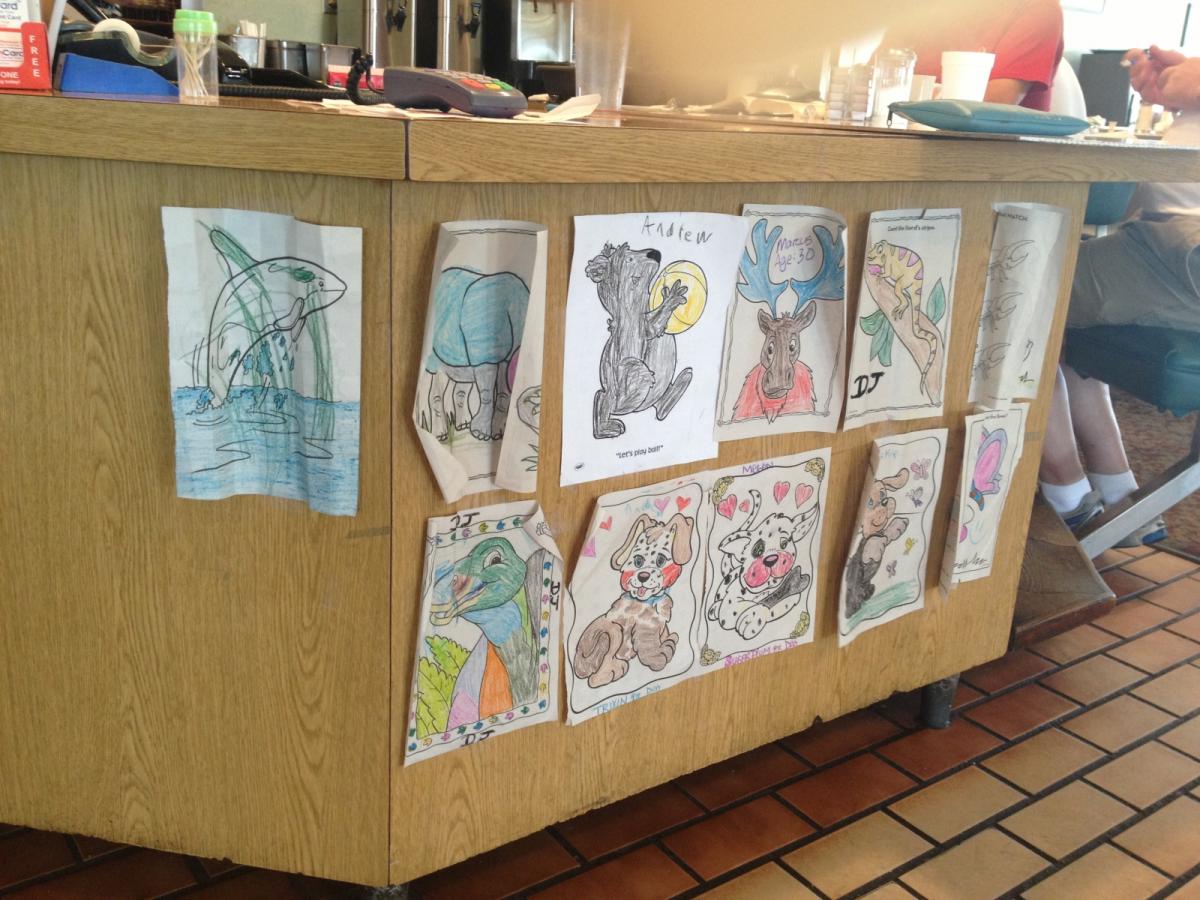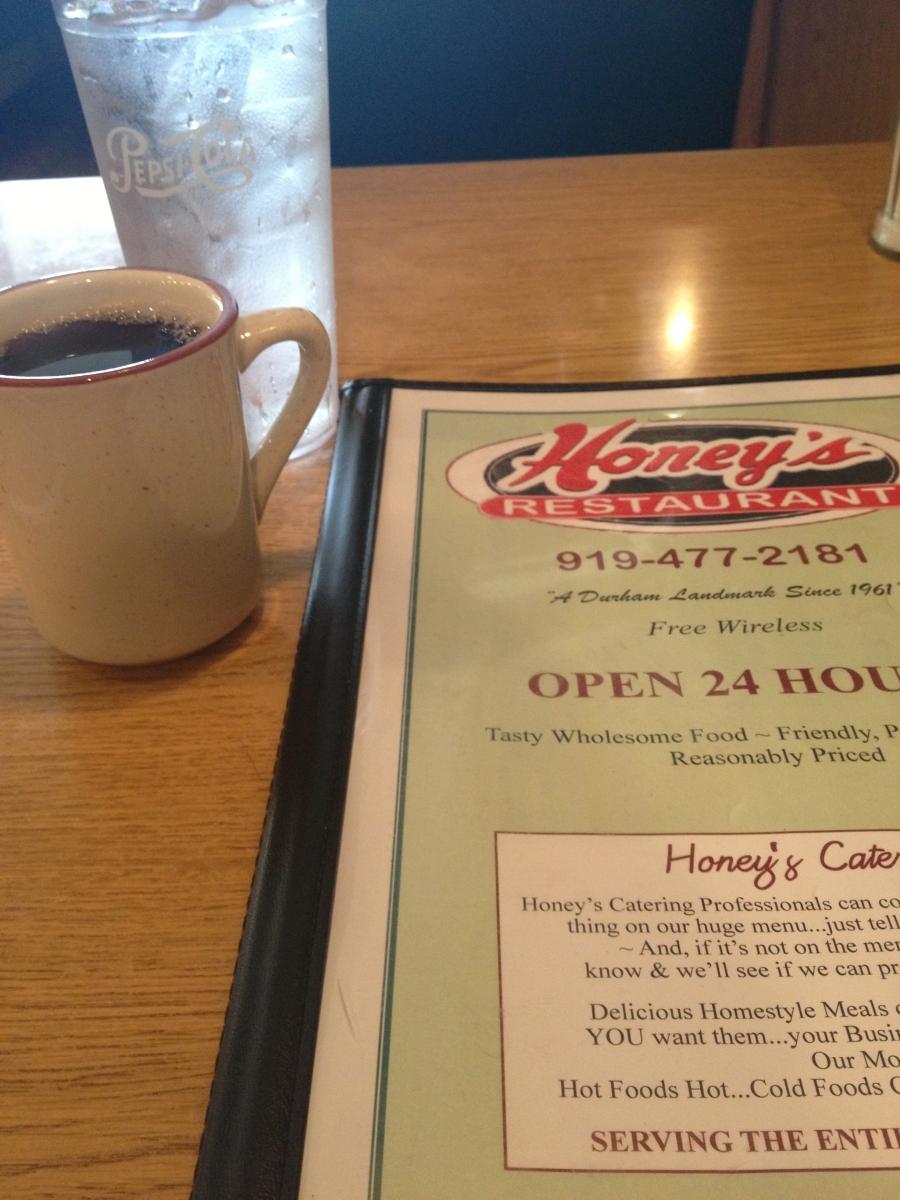 The bee theme was carried on throughout the restaurant until the recent renovation. In the 1990s and 2000s they sold some sort of bee supplement. I remember there always being advertisements all over the place, on the tables, on the windows, hanging from the ceiling, again at the register, just in case you missed it. This rug is the only bee to be found anymore.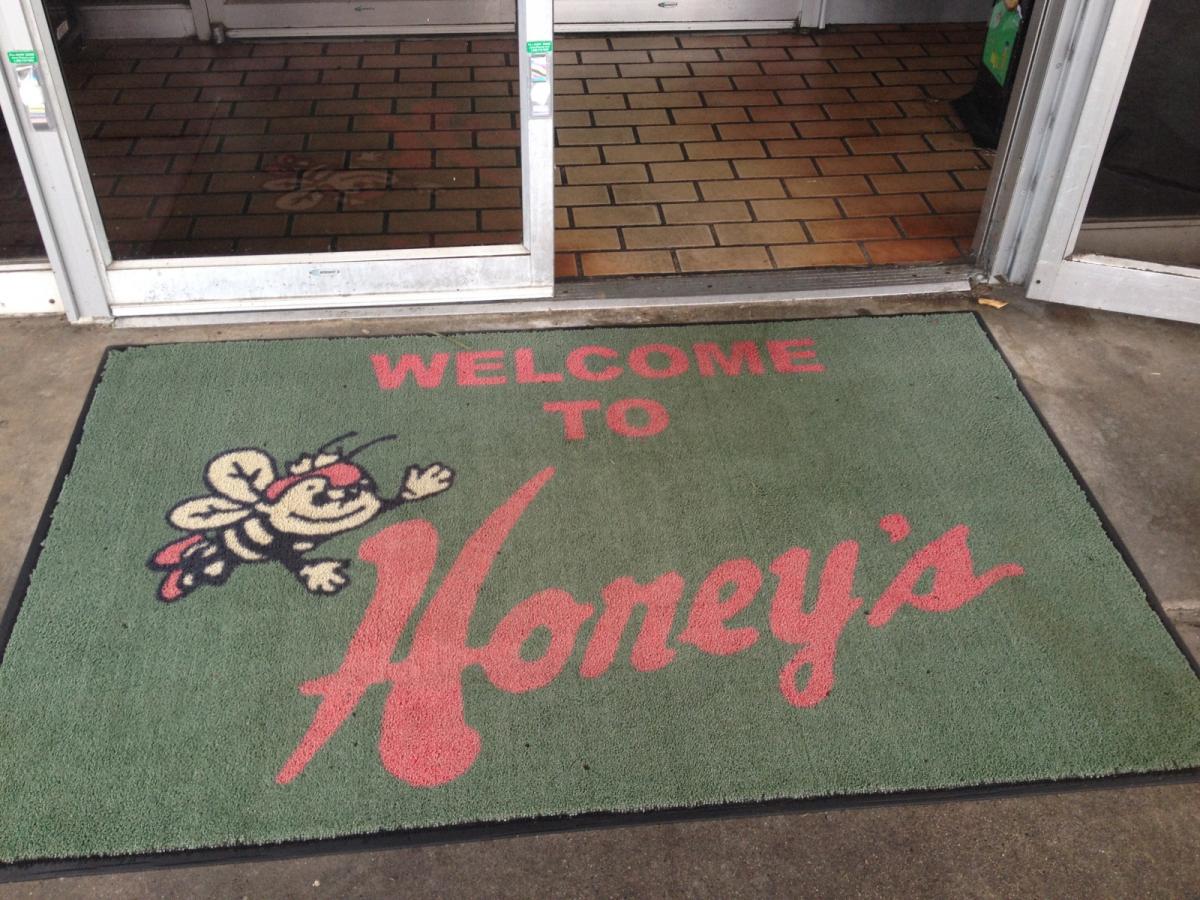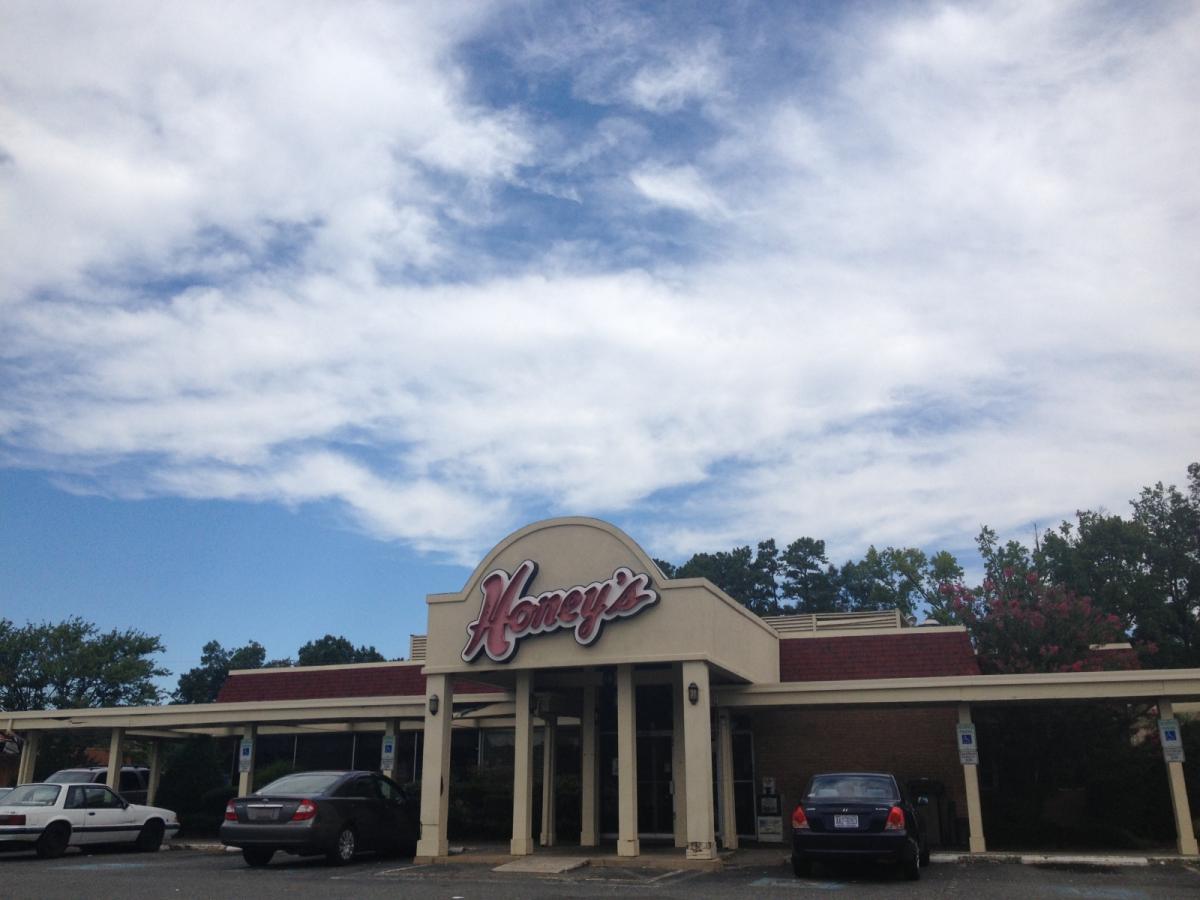 This last remaining Honey's will close it's doors for good Sunday, August 18, 2013. 
Holmes Oil Company owns the land, so I imagine it will become a Cruizers gas staion, but who knows? In recent articles the owner of Honey's, former manager turned owner Buck Dickerson, has said that they were looking into other locations in North Durham. It will be interesting to see what happens with this. Make sure you head on over to Honey's one last time for some famous hash brown casserole before it closes this location.