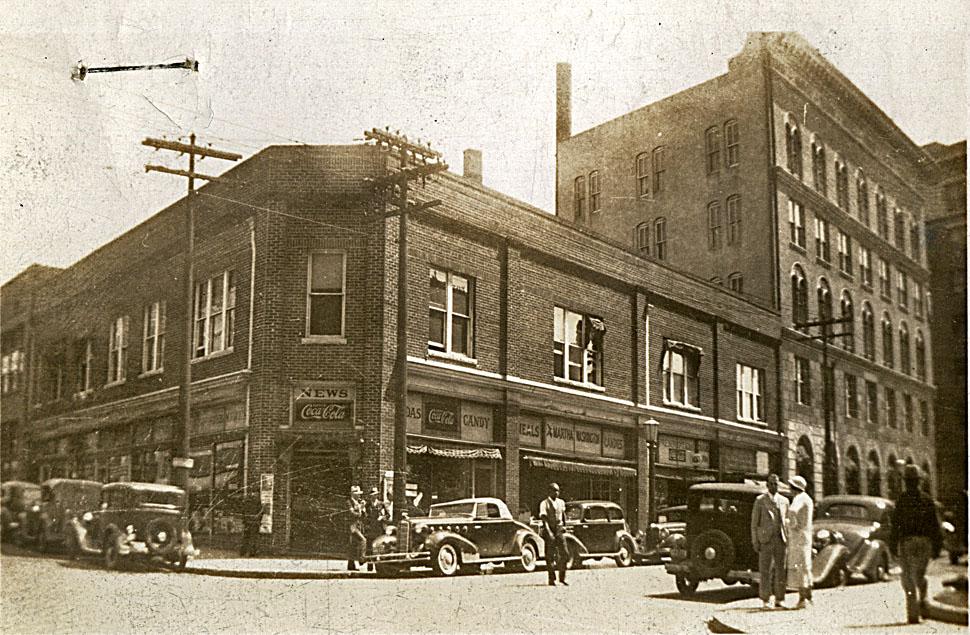 The building at the southeast corner of Parrish St. and Corcoran St. was one of a seeming endless series of homes for the Holland Bros. Furniture Company prior to 1914. This shot from 1905 shows their painted sign below the cornice line, looking northeast from the newly-built Trust Building.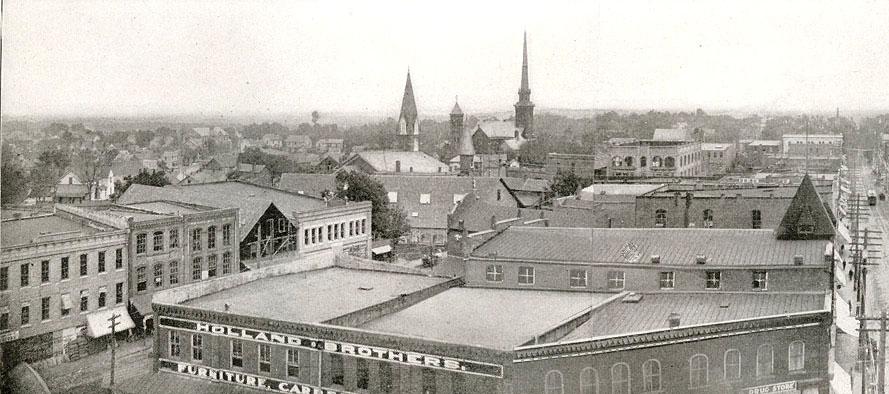 When a huge fire destroyed the entire 100 block of West Main St. in 1914, at least the walls of the building appear to have survived.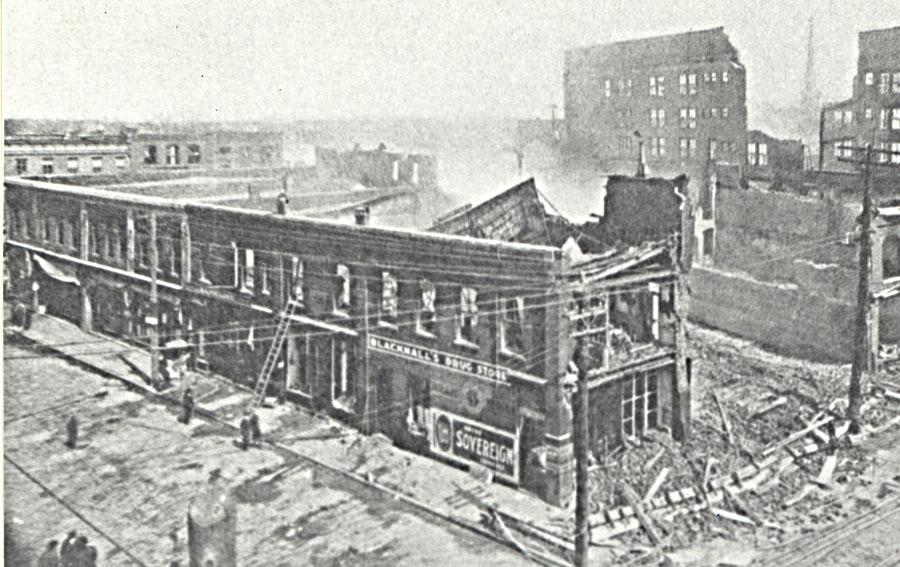 Looking northeast from Main and Corcoran at the remnants of Blacknall's drugstore. The building at Parrish and Corcoran is at the left edge of the frame.
(Courtesy Durham County Library)

Below, the same vantage point a few years later, showing the Geer Building and the aforementioned building to its left.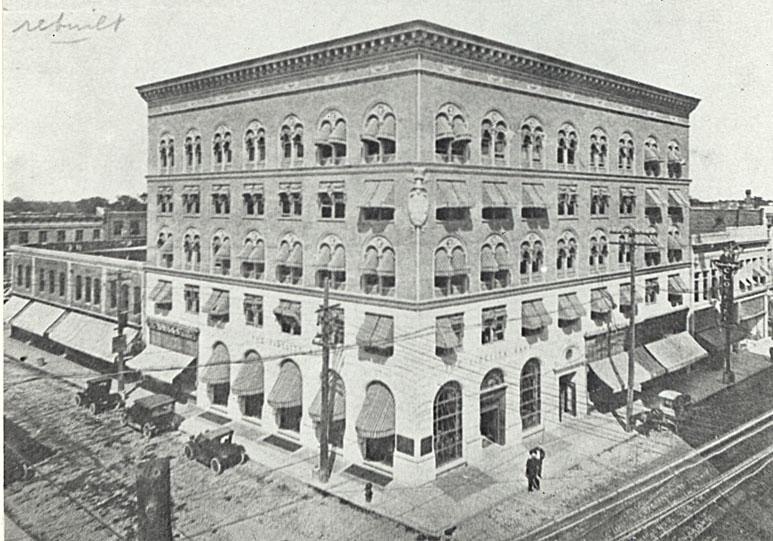 (Courtesy Durham County Library)

During the late 1910s/1920s, this building was the "Nancy Grocery"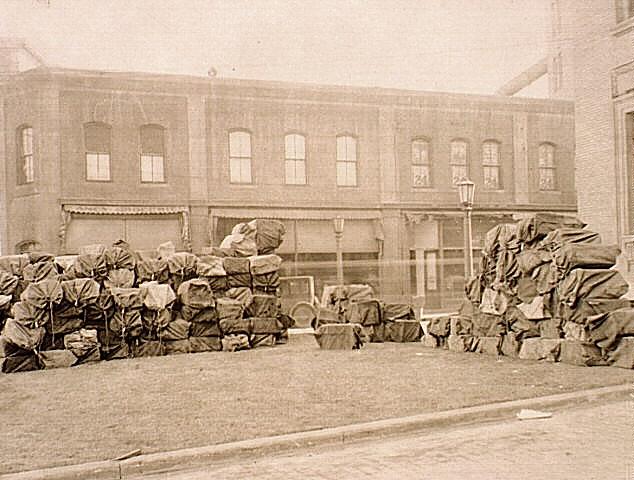 View from the back of the old post office located at Main and Corcoran (bags of mail are piled up) looking east across Corcoran.
(Courtesy Duke Archives)

By the 1940s, this has become what appears to be a kind of newsstand/convenience store. I do see the name "Martha Washington" on the side. I looked this up in an old city directory and found "Martha Washington Tea Room."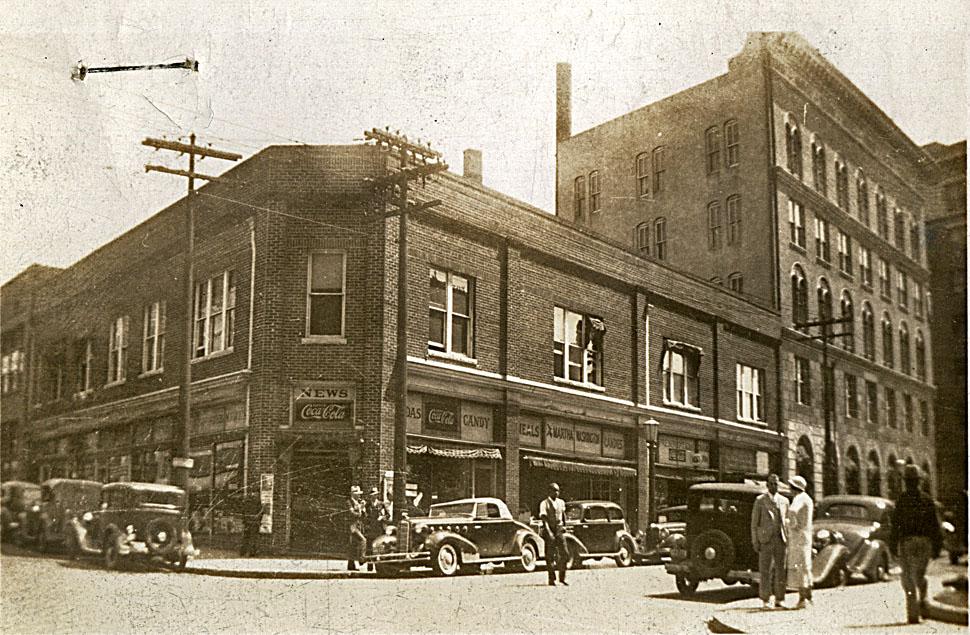 Looking southeast from Parrish and Corcoran. The Geer Building is in the background (to the south).
(Courtesy Duke Archives; Wyatt Dixon Collection)

Not much of the building is visible in the below picture, taken from Parrish and Corcoran looking northeast at the construction of the Washington Duke Motel in 1960, but an overhang above the entrance has been added.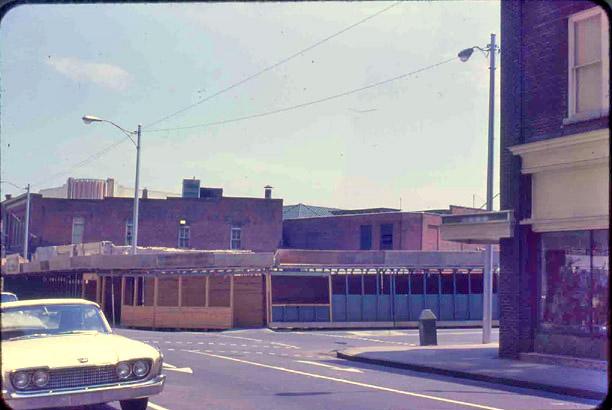 (Courtesy Durham County Library)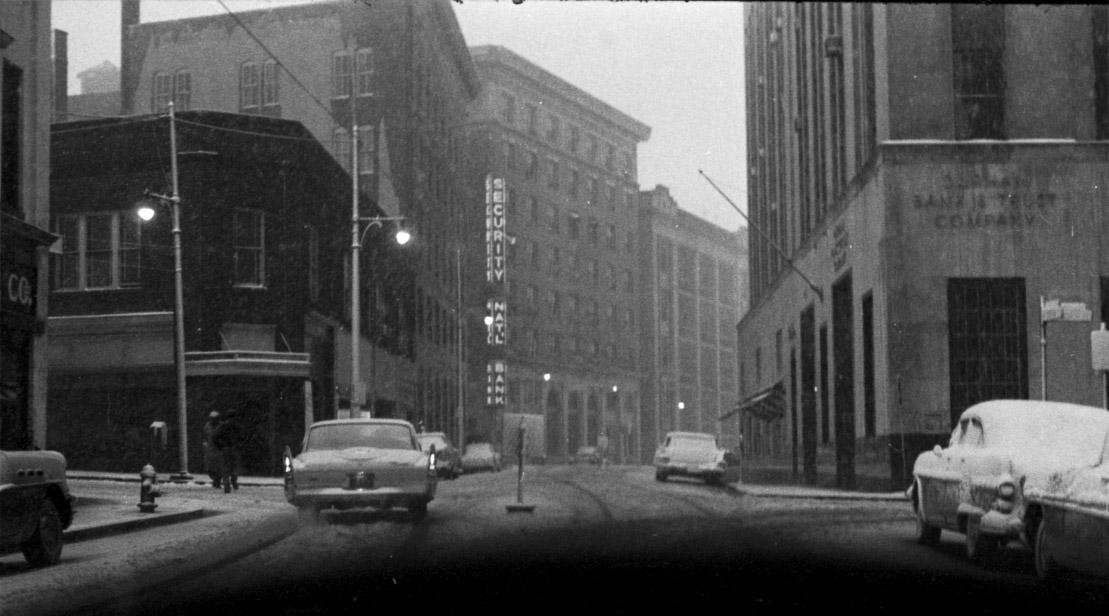 Snow, 02.03.60 (Courtesy Herald-Sun)
Below, a good view of the entire corner, Corcoran, and West Parrish Streets, looking southeast from the Washington Duke Hotel, 02.20.61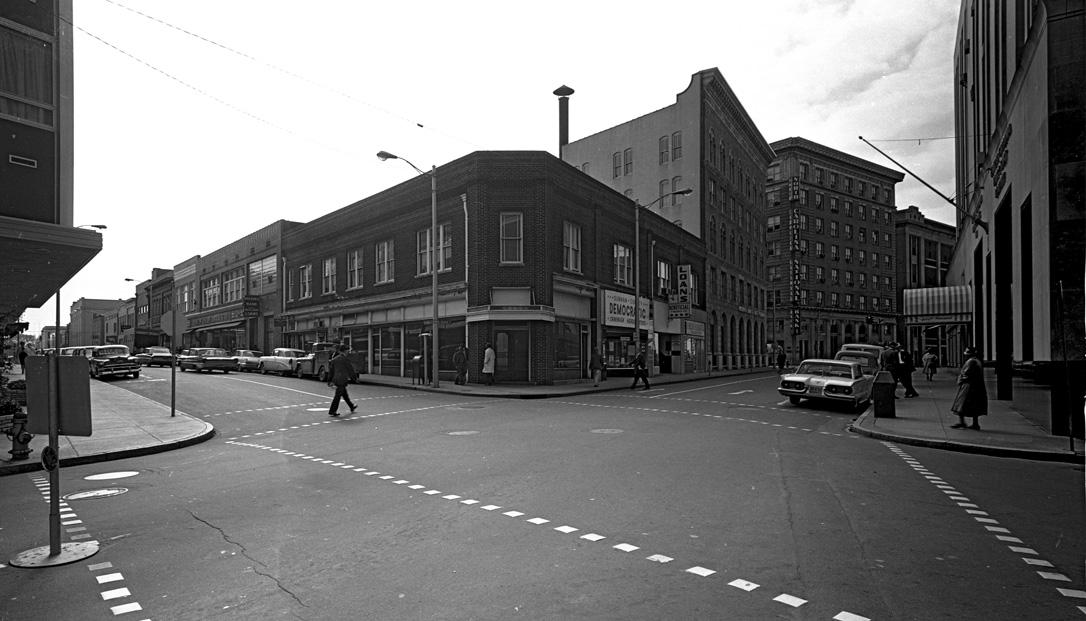 (Courtesy The Herald Sun)

In this shot of the Geer building during its last days in 1971, part of the building is visible to the left (north).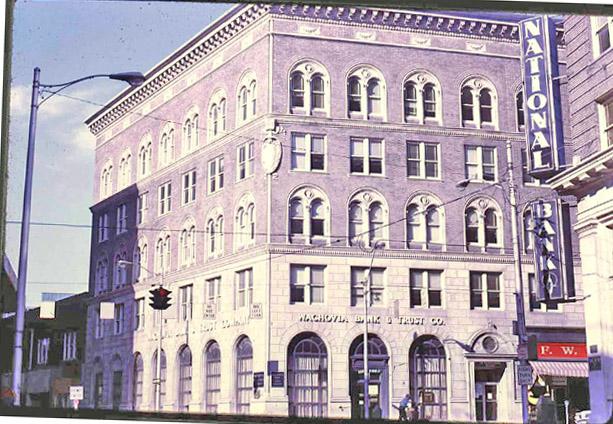 (Courtesy Durham County Library)

Presumably, this building was demolished around the same time as the Geer building, as they are both gone by the 1980s (except for the piece of the Geer building that was Woolworth's.)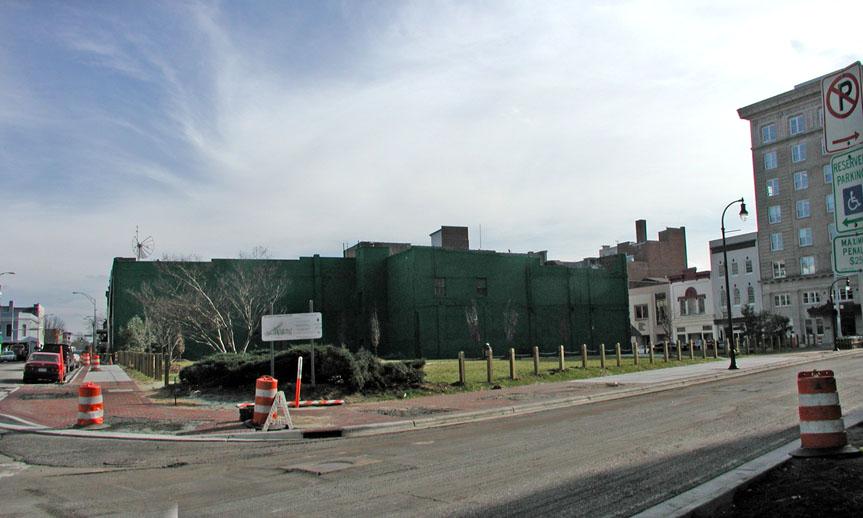 Looking southeast from Parrish and Corcoran, 2007.

As detailed in the post about the Geer Building, this lot is the site of city/DDI machinations and lots of vague talk about a shiny tower (the same one that Bill Kalkhof would like to recruit the main library to.) This was to be a project of Webb, Zaploski, and Rudd, but now Carl Webb has joined Greenfire, and Greenfire owns the two buildings next door (to be profiled soon.) So who knows where it stands at this point - perhaps it will be part of the Greenfire 'master plan.'
As of June, 2009, Greenfire released renderings showing what their proposed structure would look like - an improvement over previous iterations that would have demolished much of the remaining structures in the block.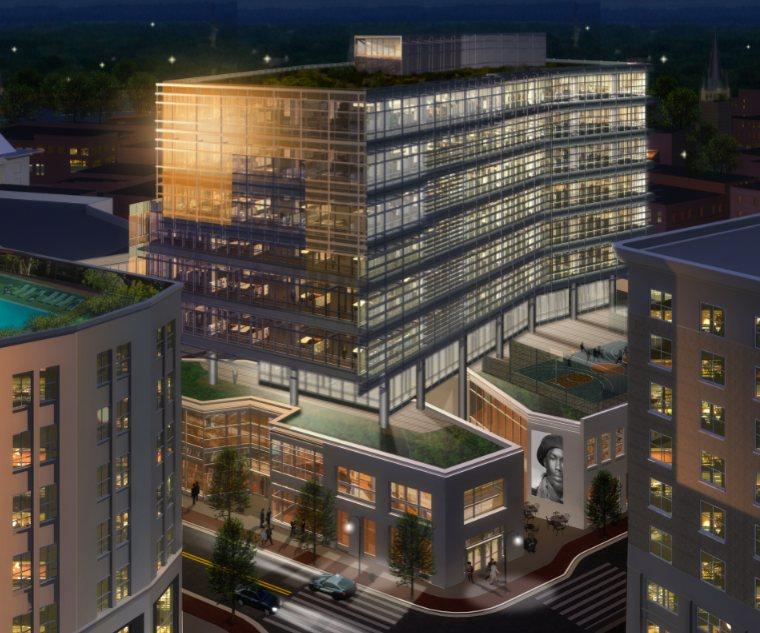 Looking northeast from Corcoran and West Main.
(Courtesy Bob Bistry / Built Form Architecture)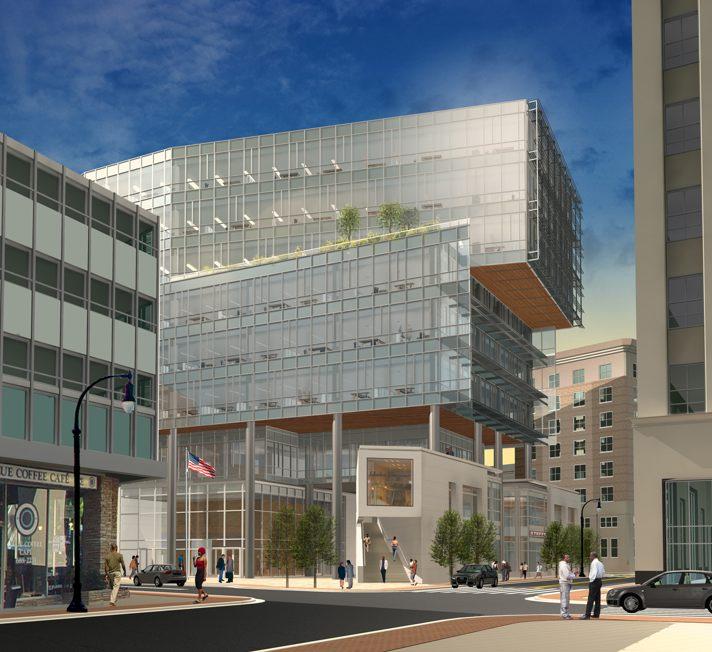 Looking southeast from Corcoran between W. Parrish and E Chapel Hill.
(Courtesy Bob Bistry / Built Form Architecture)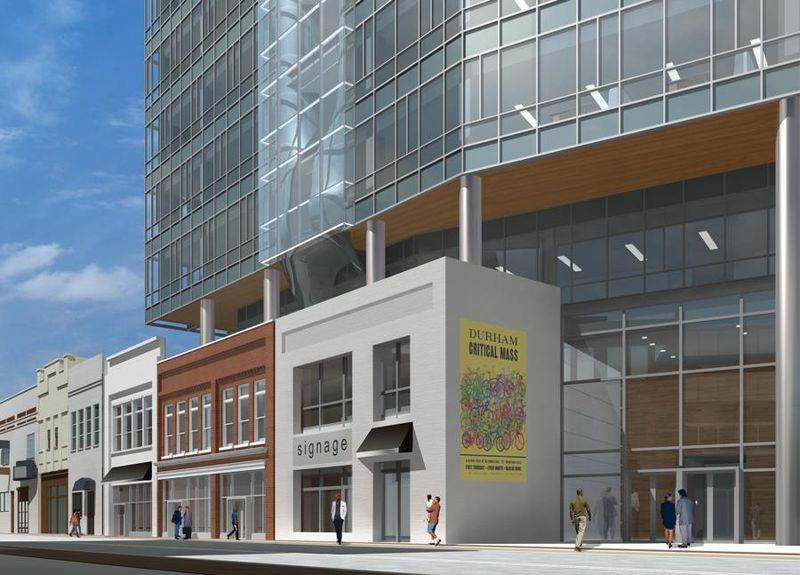 Looking southeast at the 100 West Parrish St. storefronts from W. Parrish and Corcoran.
(Courtesy Bob Bistry / Built Form Architecture)
By 2012, the site had once again entered the rumor mill as the site of a new tower.
On 11.15.12, the Herald-Sun reported that the property and adjacent storefronts had sold:
  A Colorado-based developer with Duke University ties has bought vacant land and several vacant buildings downtown, and is planning a development that could transform the city's skyline.

The properties sold for $3 million Thursday to a limited liability company connected to Aspen, Colo.,-based Austin Lawrence Partners. Greg Hills, the real estate firm's managing partner, said the plans are not final, but they envision a development with up to 26 stories including ground-floor shops and restaurants with office space and apartments above.

The project would also incorporate the renovated facades of several existing buildings on West Main and West Parrish streets, Hills said.

Hills is a Duke University alumnus and a father of Duke graduate and a university sophomore. He said his wife and a partner in the firm, Jane Hills, is a member of the Duke Athletic Leadership Board.

He said firm officials believe the redevelopment project will help transform the city's downtown core.

The firm's purchase included a vacant building at 117 W. Parrish St. that has interior damage as the result of a fire in 2001.

It also included vacant buildings with storefronts at 113 W. Parrish St., and at 118, 120, and 122 W. Main St.

In addition, the purchase included a neighboring a half-acre vacant lot that had housed a building with a F.W. Woolworth Co. store. The building was demolished by the city in 2003. A sit-in demonstration was held there during the Civil Rights era.

The firm's vision for the properties that Hills described is similar to what was proposed by the properties' former owner, Durham-based Greenfire Development.

Greenfire, which amassed a large chunk of downtown Durham real estate, particularly in the City Center, had hoped to break ground in the fall of 2008 on a mixed-use tower on the Woolworth site. That didn't happen.

Last year, Greenfire hit several development obstacles. That list included the collapse of part of the roof at one of Greenfire's properties, the historic Liberty Warehouse, following heavy rains.

The property at 117 W. Parrish St. came under scrutiny by city officials for its condition.

In addition, city officials urged forward momentum on a Greenfire proposal to redevelop another downtown building the firm owned, the SunTrust tower at 111 N. Corcoran St., into a boutique hotel.

Greenfire is planning to transfer ownership of the SunTrust building to a Kentucky-based hotel developer.

Paul Smith, managing partner of Greenfire Development, said in an emailed statement that Greenfire will continue as an investor in the Woolworth site project, and looks "forward to seeing the plans come to fruition."

Hills said he believes that Greenfire was a victim of circumstance.

"I do believe they had a great vision for downtown, but I believe the world changed in 2008 before they could execute on that vision," he said. "So I think, quite honestly, to their credit, they've been able to hold on to their properties and put them in the hands of people (that) can execute their plans," he added.

Austin Lawrence Partners has done real estate development projects around the country, Hills said.

"We've done it, we've always been able to do it, we're confident that we can do it here, but it's not always an easy thing to do," he said.

The company has several different scenarios for the development, Hills said. They recently started conversations with city officials about their plans, he said, and have not submitted formal plans.

"They're all very similar in terms of programming," Hills said.

On the ground floor, they envision retail uses such as a coffee shop or small market, and restaurants. They also want a community room or other use to pay tribute to Parrish Street's historic significance as Black Wall Street.

The schemes vary in the amount of office space in the building, Hills said. He said there is a need for residential development downtown that isn't met now.

"So ideally, we'd like to have it be a building that brings enough density to downtown, so we are probably in that 25, 26-story range," Hills said.

Hills said the firm hopes to have the project under construction by the first quarter of 2014. They're still working on the financing, but Hills was confident they can put together a plan to pay for the project.

"We're in discussions – the lenders don't really want to discuss too much in detail other than just a sit-down as to what we're thinking," he said. "(You) need to dot your Is, and cross your Ts, before you really talk to a lender in earnest."

To address city concern about 117 W. Parrish St., damaged by the 2001 fire, Hills said they have a contractor looking at the building to see what can be done to it safe.

City officials had the building inspected and an engineer's report deemed it "unsafe for use of any kind." Hills said the firm plans to present a plan to the city for what to do with the building on Dec. 3.

"What we want to do is show a good faith that a new owner's taken over the property, and we will be dealing with that building sooner, but we also don't want to demolish the building and create additional expenses for the project by something we might do," Hills said.

Bonfield said there haven't been any discussions about city incentives to help pay for the project. He said city officials also plan to discuss parking with the developer.

The city has a downtown parking study under way. Bonfield said preliminary work for that study is due to him by the end of November. In some conceptual plans for the new development, on-site parking is included, he said.

Bonfield said he has confidence in the new developer.

Bill Kalkhof, president of Downtown Durham Inc., also said the fact that the firm bought the properties with "quite a bit of work left to be done on the project" was a show of confidence.

"They have moved ahead with the purchase of the property, so they have great confidence, as do we, in them," Kalkhof said.
The group released a rendering of their proposed structure in March of 2013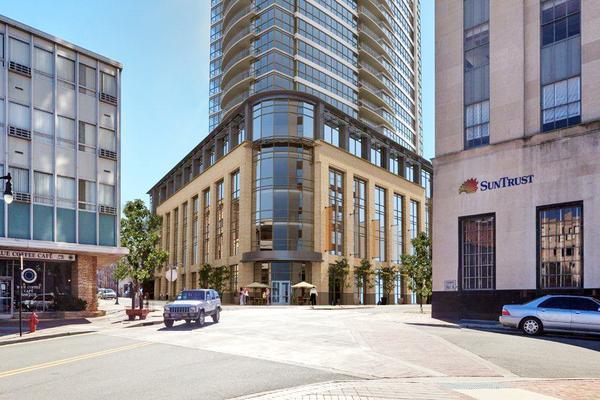 That's a pretty intensely boring building. Given what they paid for the land and what they must be trying to project for rents in their pro forma to make this work, I'm sure they are going as off-the-shelf as they can.