36.097279817576, -78.824200731049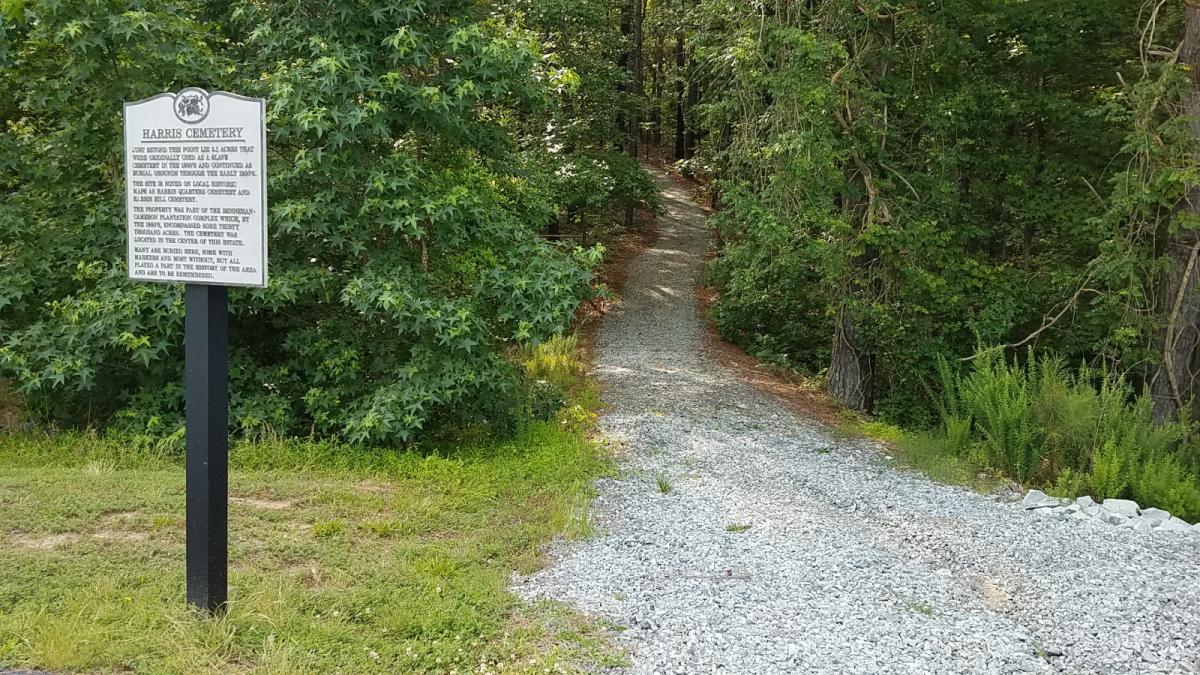 In a wooded area between an office complex and the confluence of the Flat and Eno Rivers to the east of Red Mill Road, this began as a burial ground for African Americans enslaved on surrounding lands.  Sometimes referred to as Harris or Harris Quarter Cemetery, the name appears to come from a family that owned over 300 acres in this vicinity prior to its incorporation into the Bennehan-Cameron family's massive Stagville plantation.  It remains to be determined whether this cemetery was in use prior to Duncan Cameron's acquisition of the property from the heirs of Richmond Harris in 1817.  Estate files indicate that nine individuals were enslaved by the Harris family on this land.  Their names were given as Charles, Frank, Cate, Mark, Jacob, Hannah & her child, Siller, and Lydda.
The Harris name remained associated with this area well after ownership passed to the Camerons.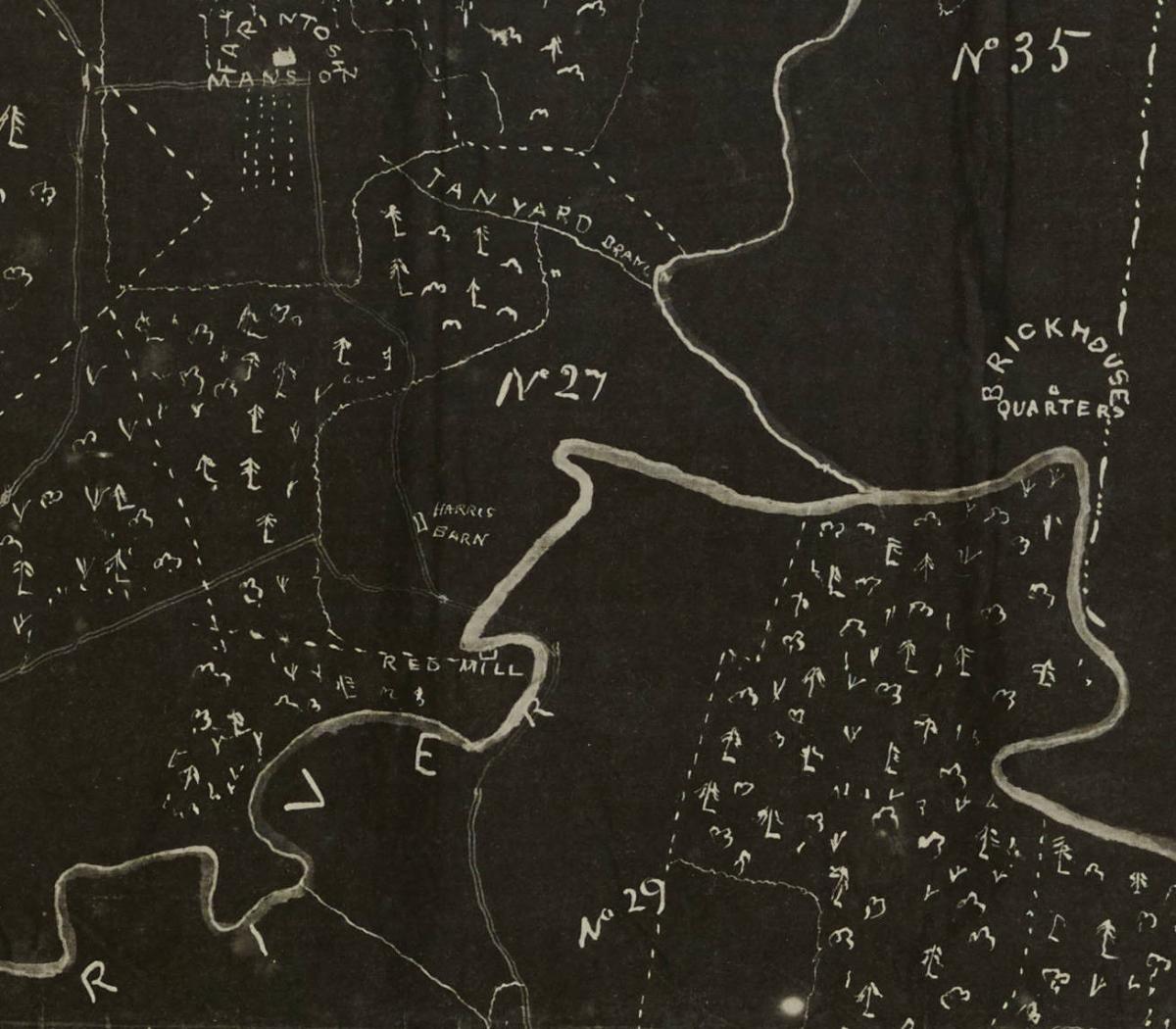 The cemetery continued to be used by descendants and other African Americans residing in the area for many years after emancipation.  A mid-1980s survey by Kenneth McFarland - then site manager at Stagville - recorded the latest death date among a handful of legible markers as 1944.  Citing that canvas in her book Piedmont Plantation from around the same time, Jean Bradley Anderson described Harris Hill as "situated on a knoll over the Eno River east of Red Mill Road.  Now badly overgrown and almost impenetrable, its extent cannot be determined...."
At least on paper, however, the developers of Treyburn do seem to have determined the extent of the historic burial ground as they began courting companies to build facilities on this former farmland in 1985-1986.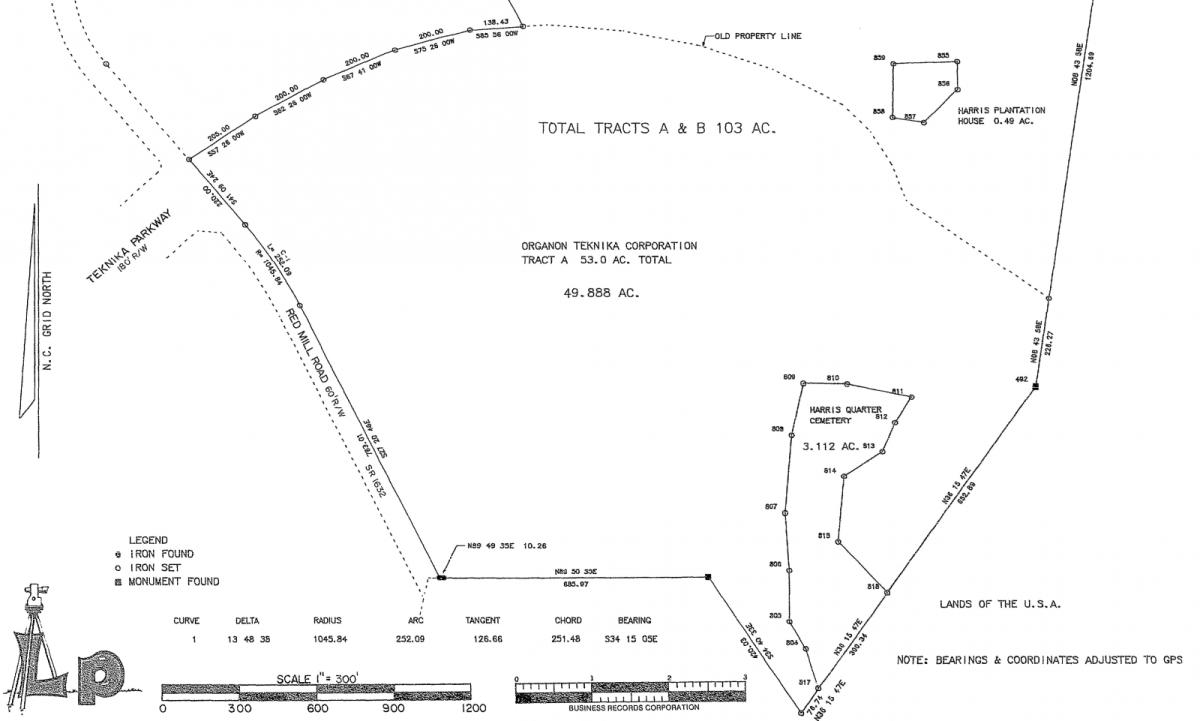 Both the cemetery - reaching across more than three acres towards the Eno (which lies beyond the southeastern property boundary established by the Army Corps of Engineers in the creation of nearby Falls Lake) - and a half-acre parcel said to be the site of the former Harris plantation home were delineated by surveyors.  The deed transferring the land to its new corporate residents included a preservation easement that requires the maintenance of access to the graveyard.  Still, as Stagville itself has begun to foreground research and reflection on the lives of those enslaved on one of the South's largest plantations, the separation between this important space and the state-funded interpretive center has proven a difficult barrier to overcome.
Visiting on Juneteenth 2021, we found that the property owners have placed signage for it along a trail that rings the campus at its wooded edges.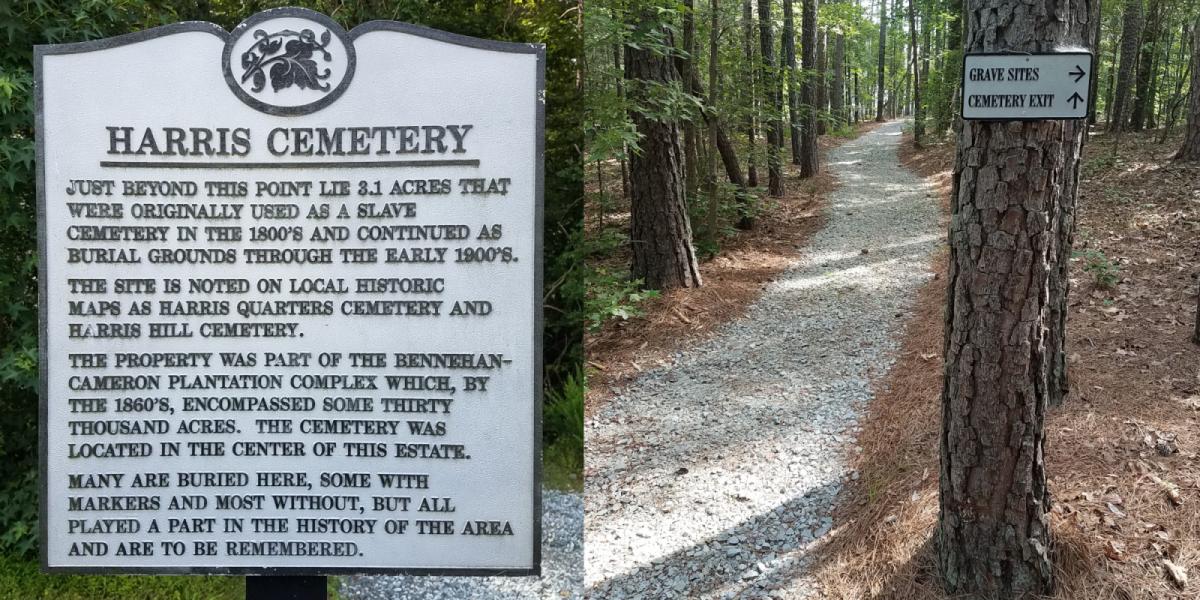 While only nine legible markers were located, that number is several more than recorded in the mid-1980s survey.  These indicated death dates from 1899 to 1936, and generally seem to be clustered nearer the northern end of the site.  This could suggest that the entire cemetery expanded from the south, or that the northern section filled in more during later years. 
There were dozens more visible grave depressions - a frequent occurence in older cemeteries prior to or foregoing the use of vaulting - forming rows that appeared to run roughly north-south.  Many of these were marked with field stones, in most cases further marked with flags indicating some form of documentation work has been done recently.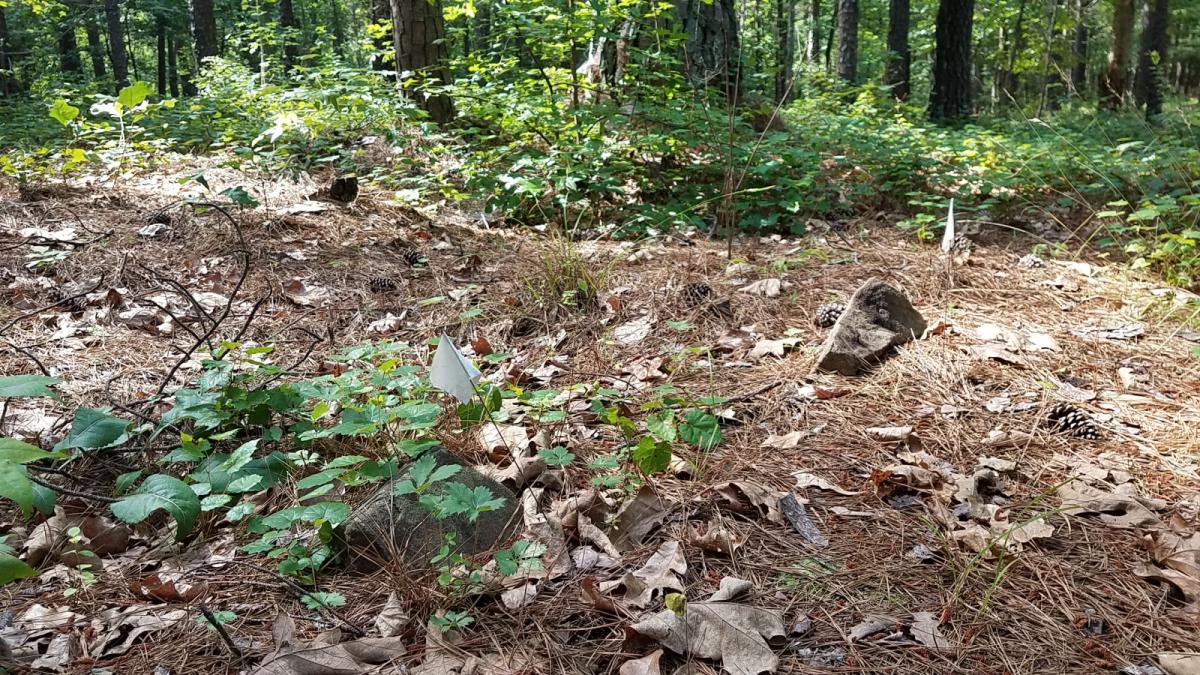 No fewer than thirteen graves had metal courtesy markers - small displays issued by funeral homes.  While sometimes temporary placeholders until a stone could be purchased and engraved, these often stood as the sole identifier of those buried alongside until the elements disintegrated the paper inserts.  Among these, it was still possible to make out the names of several prominent Black-owned funeral directors and - in one case - enough of the name of the person memorialized to confirm with digitized death certificates.

By and large, as indicated by the signage, grave sites appear to be on the east side of the trail - itself maintained as part of the loop around the corporate campus.  There were, however, signs that the rows cut across the path in a few places, with burials on west side of the trail generally not flagged.
Overall, it appears likely that several hundred individuals were buried at Harris Hill over a century or more.  These were hundreds of mothers and fathers (now ancestors), children who died too young, workers whose sweat built enslavers' fortunes, community members that struggled for dignity in the face of dehumanization and discrimination. 
Though it bears the far too familiar marks of structural neglect, this remains a peaceful place.  Its preservation - as a place of honor and memory, as an archive of Black history and family networks, as a link across generations to complicated stories of enslavement and liberation - is an absolute imperative.  As the stewards of this sacred space, it would be wonderful to see the present property owners engage the public - and particularly descendants of those buried at Harris Hill - in a continued conversation around that shared goal.
For more information and images, see the page for Harris Hill Cemetery on Find A Grave.