GULF / MANGUM'S AUTO
Built in
1930s
/ Demolished in
1960s
Comments
Built in
1930s
/ Demolished in
1960s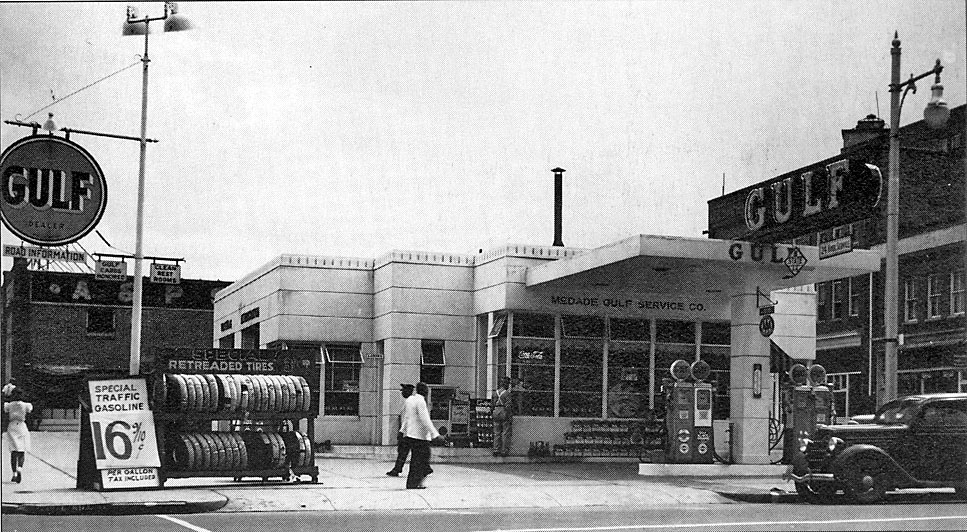 Like the Harris Service Station/Hotel Gas and Storage across the street, the tiny 'block' between Orange St. and N. Rigsbee skipped the 1910s-1920s mercantile commercialization and went straight to the car culture. Prior to the late 1920s/early 1930s, this spot was a boarding house.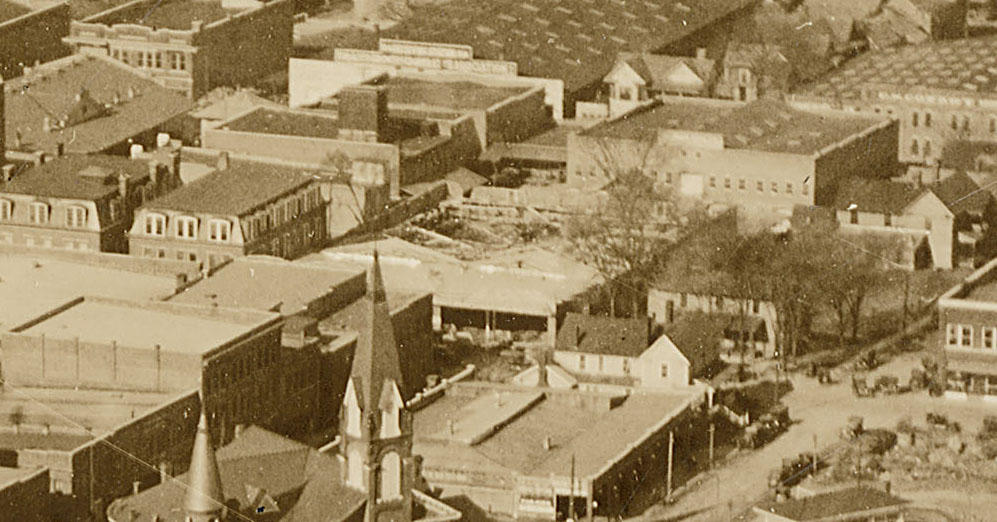 (Courtesy Duke Archives)
Looking north-northwest, 1924. The First Baptist Church is in the foreground, with the eastern-facing facades on Orange St. immediately behind it. Rigsbee runs parallel to Orange, to the right. 111 N. Rigsbee faces the Willie Mangum house and the Harris Garage.
Soon after that, it was torn down, and replaced with a Gulf Service Station.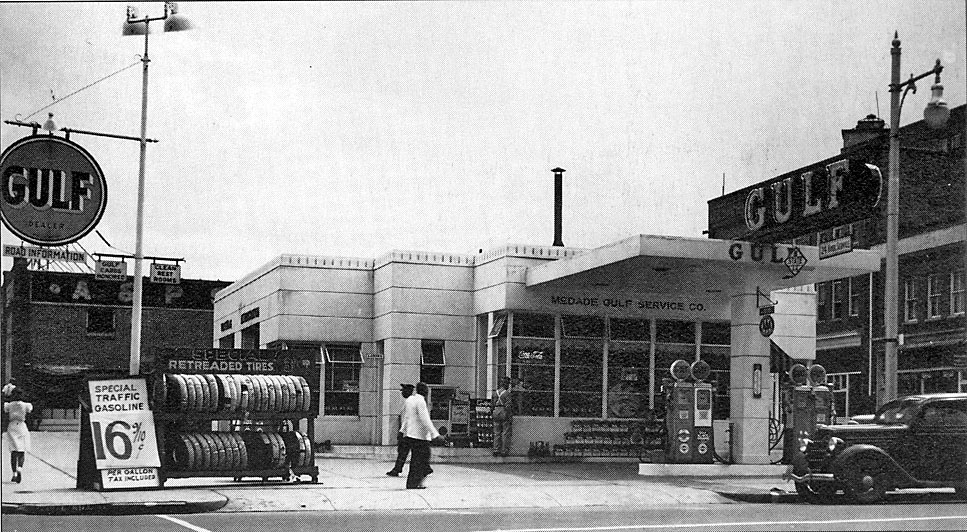 Looking south from East Chapel Hill St. (the east-facing facades of Orange St. are visible on the right)
(From "Images of America" by Stephen Massengill.)
Which later morphed to Mangum's Auto Sales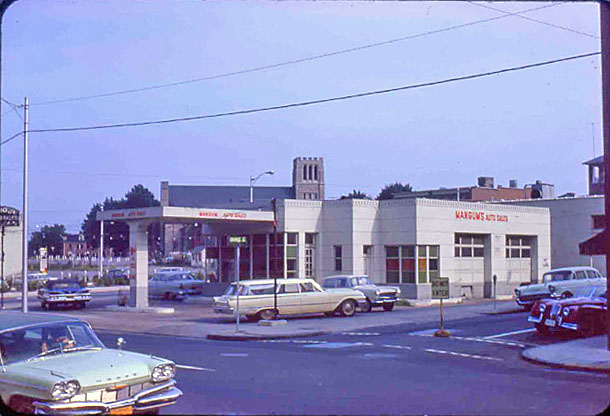 Looking southeast from the Post Office, 1962
(Courtesy Durham County Library)
And looking west from the intersection of N. Mangum and E. Chapel Hill St. The triangle of land east of Rigsbee (bounded by Rigsbee, East Chapel Hill, and Mangum) was razed a few years earlier.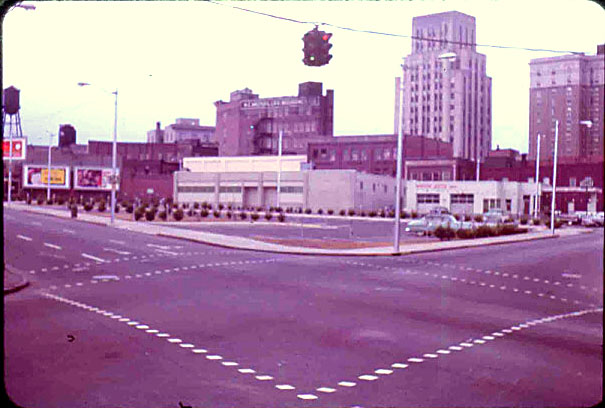 (Courtesy Durham County Library)
Not long after, this service station was razed. Rigsbee was closed south of East Chapel Hill St., and a glorious parking structure was built, circa 1970.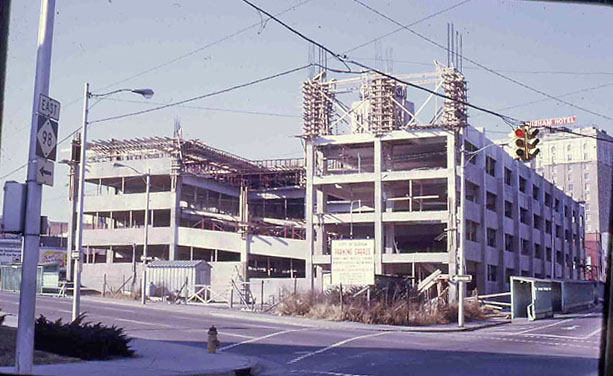 (Courtesy Durham County Library)
Below, a view of the completed parking structure in 1978, looking southeast.


(Courtesy Durham County Library)
And today, a slightly more multicolored version, looking south where Rigsbee once continued one more block to obliquely intersect with N. Mangum.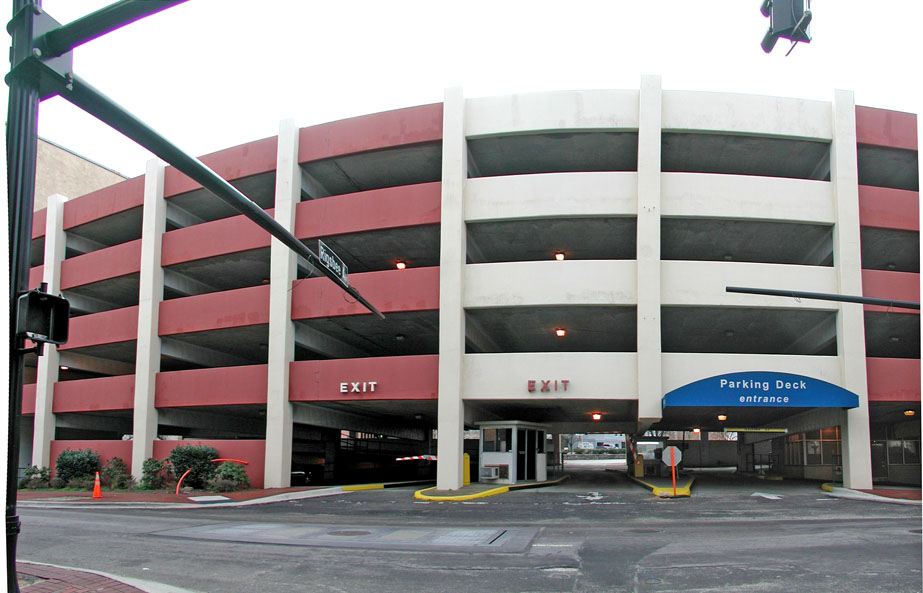 I hope someday this parking structure will go away. If you really wanted to create some effective open space downtown, this area has the elements to make it effective - with the fairly intact facades along Orange St. and East Chapel Hill St., City Hall, and the density of structures around Parrish and Mangum & Main and Mangum - it would work well. (Particularly with improvements to the Loop and a two-way Mangum St.)
If we really need this parking, build structured parking behind the post office and behind the 400 block of East Chapel Hill, with liner buildngs on Rigsbee and Morgan to create a streetscape.