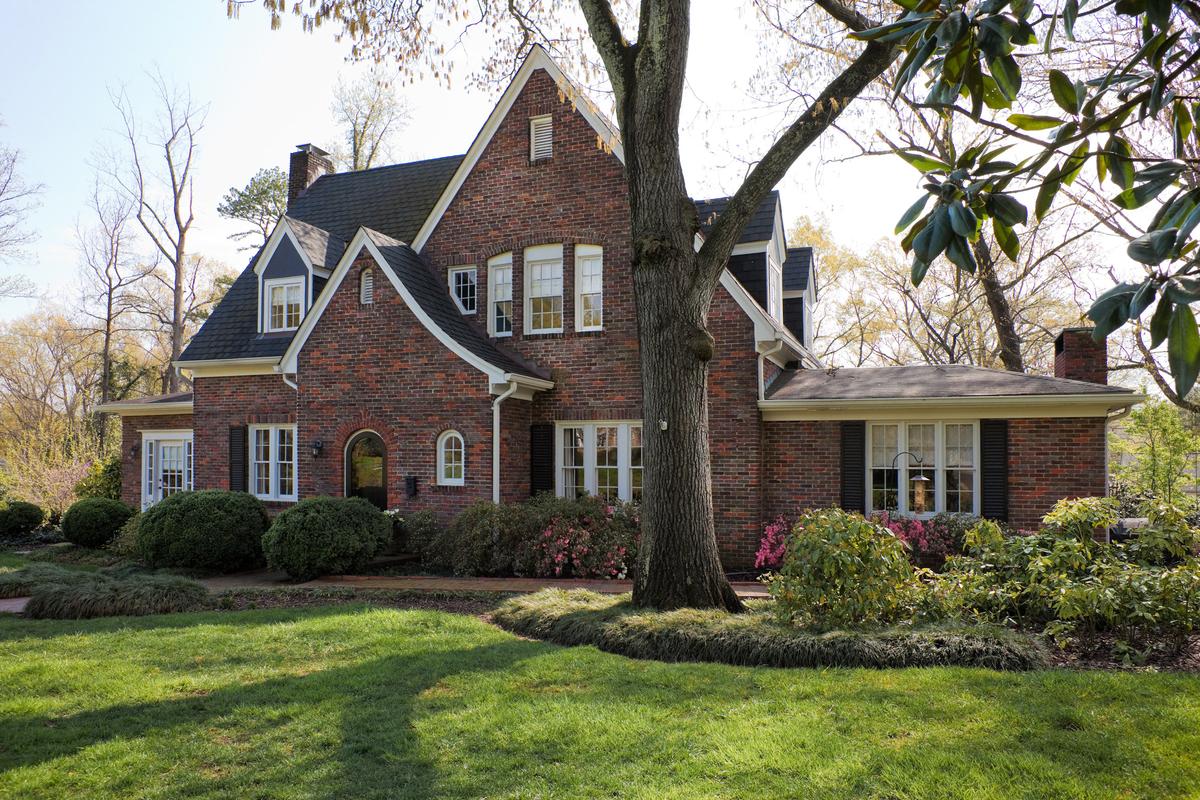 (photograph courtesy of Alex Maness)
From the 2012 Preservation Durham Old Home Tour booklet:
This steep-roofed Tudor Revival house is an excellent example both of the style – which was based on idealized English Elizabethan cottages – and of the development of Forest Hills as a premier suburb.  Its first residents, Eugene and Mattie Hellen, moved to the house from North Mangum Street in 1929 after Eugene's promotion from bookkeeper to secretary of the Golden Belt Manufacturing Company.  Signifying Hellen's elevated professional status, the couple moved into a brand-new house in the most fashionable neighborhood in town.
After 10 years, the Hellens left the house, renting it for a couple of years and finally selling to George and Irene Whitley in 1943. George Whitley owned GP Whitley & Son – a wholesale grocer – and Purity Stores, a six-location chain of grocery stores. The Whitleys were in the house until 1954, when they sold to Dr. Edwin and Isabelle Robertson, who were the longest inhabitants of the house. Edwin Robertson was a surgeon with an office on Main Street and an assistant physician at UNC-CH. Isabelle Robertson remained in the house until her death in 1994, after which it was sold and passed through several owners. The current family moved in a few years ago.
The sloped roof on the front-entrance gable is called a cat-slide roof and brings attention to the rounded doorway and small casement window beside it.  Much simpler than the high-style Tudors with their half-timbering, overhanging bays, and decorative brickwork, this type of house was built all over Durham through the 1920s and 1930s.  The small, one-story wing on the north end was originally an open porch, now enclosed with a bay window on the end, and the south end of the house has a large, one-story addition that provides a large kitchen.  The distinctive colorful brickwork allows a careful observer to chart the changes to the rear side of the house, as windows were expanded or bricked up and wings added.
Inside, the original foyer, stair, living and dining rooms show the tall, thin windows typical of a Tudor, high ceilings, and simple decorative moldings.  The original butler's pantry and kitchen have been converted into a guest room; a new kitchen – possibly added in the 1980s and recently remodeled – lets the southern light in. Upstairs, where a single hall bath once stood is a beautiful master bath in which closets have been cleverly added along each wall in the eaves, and the two kids' rooms share a bathroom cut out of their closet area by an earlier renovation.