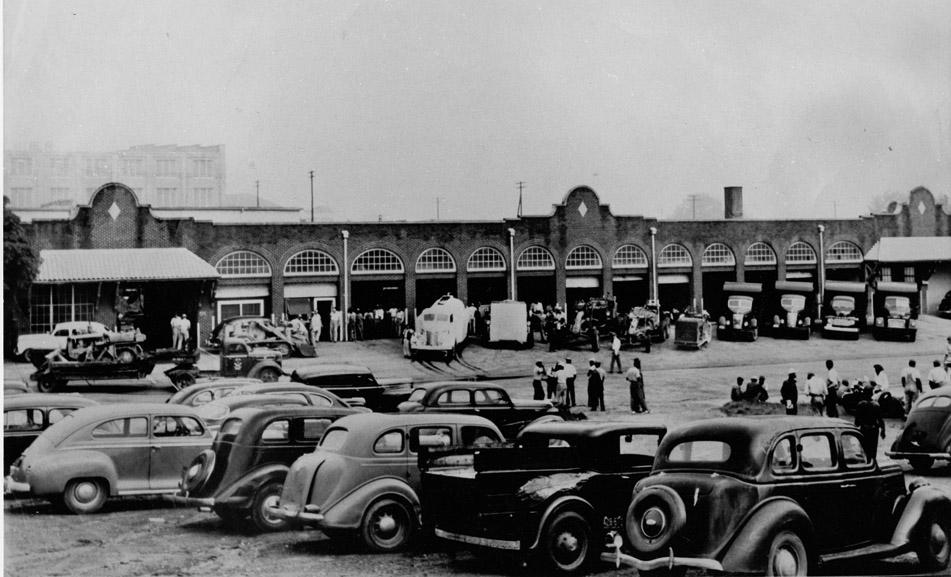 City Garage, looking northwest, 1940s.
(Courtesy Durham County Library / North Carolina Collection)

The Durham City Garage was built in 1930 to house a burgeoning fleet of non horse-powered city vehicles. In 1931, the city Sanitation department was the primary user of the space. The long brick facade held at least 13 bays that could be used for vehicle storage and maintenance.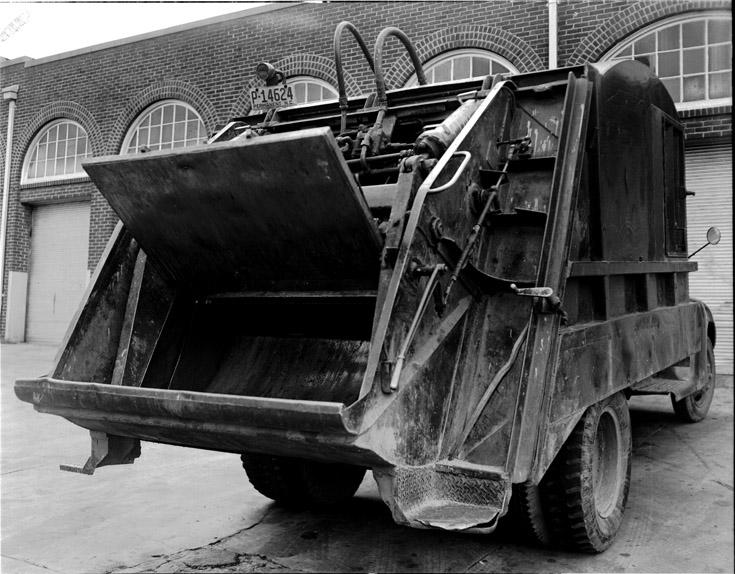 City Sanitation truck, likely late 1940s.
(Courtesy Barry Norman)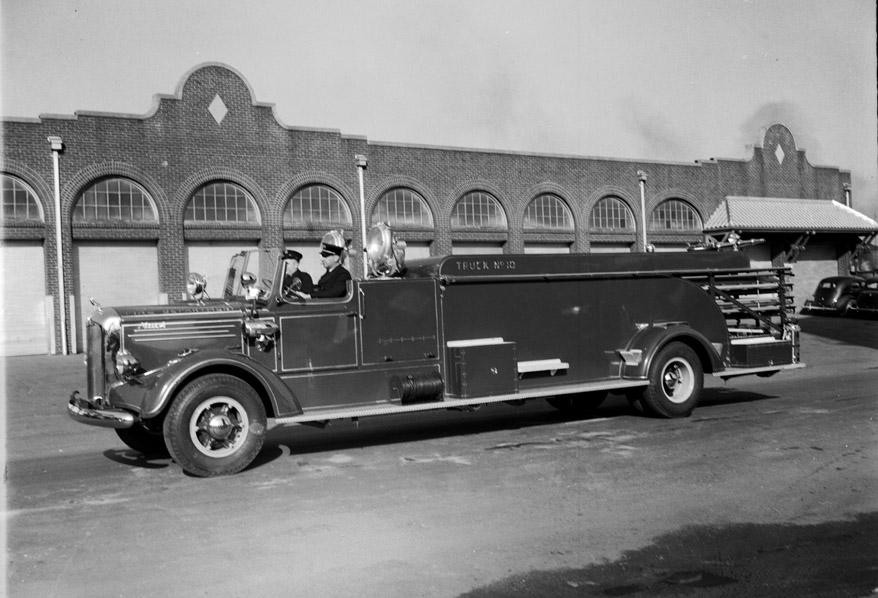 Fire Truck, 01.15.49.
(Courtesy The Herald-Sun Newspaper)

In 1950, the sanitation department established headquarters elsewhere, and the city garage was devoted solely to fleet maintenance.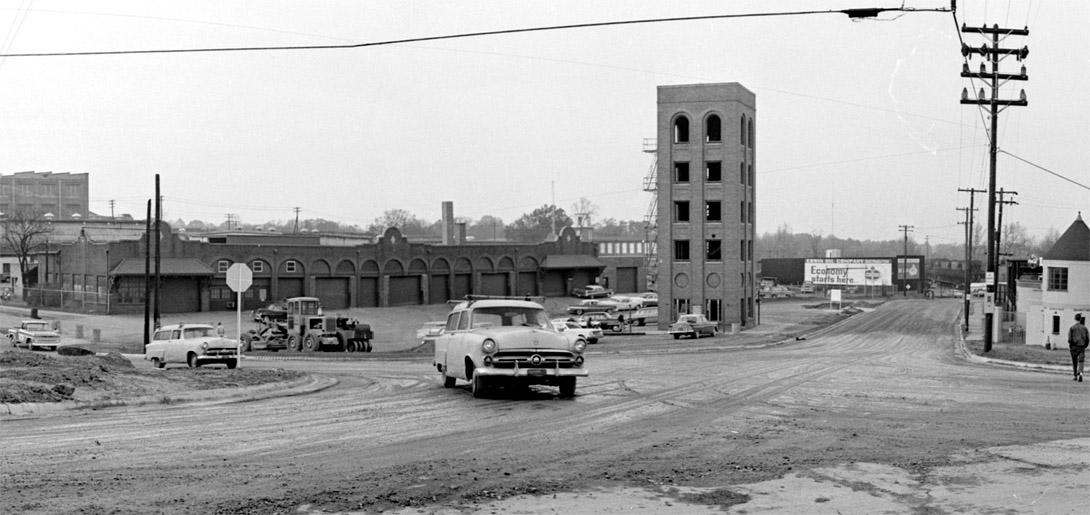 City Garage from across Washington and Corporation Sts., 11.20.63.
(Courtesy The Herald-Sun Newspaper)

Of note, Washington St. once ran directly in front of the city garage (between the garage and the fire tower.) The above picture documents the roadwork to close that portion of the street and realign Corporation, Washington, and Morris.

In 1980, three city departments moved into the garage: parks and recreation, asset management, and transportation. The garage housed 100 city vehicles at that point.

In 1997, a group first proposed renovating the garage, but the deal fell through. In 1998, Todd Zapolski (and his firm Zapolski + Rudd) purchased the building from the city; the city agreed in the deal to move the three city departments to other buildings. Zapolski and Rudd renovated the building into office space, renaming it City Place. The building opened in 1999.

I returned to Durham in 1997, and, this, to me, is what I remember as the first comer in the still-ongoing wave of downtown renovation in Durham. Zapolski and Rudd seem to have split up at this point. Although his name was mentioned in connection with the old Geer Building site downtown, Zapolski seems to have moved on to various suburban developments in the Triangle - and historic developments elsewhere. But I believe that his office is still located in City Place.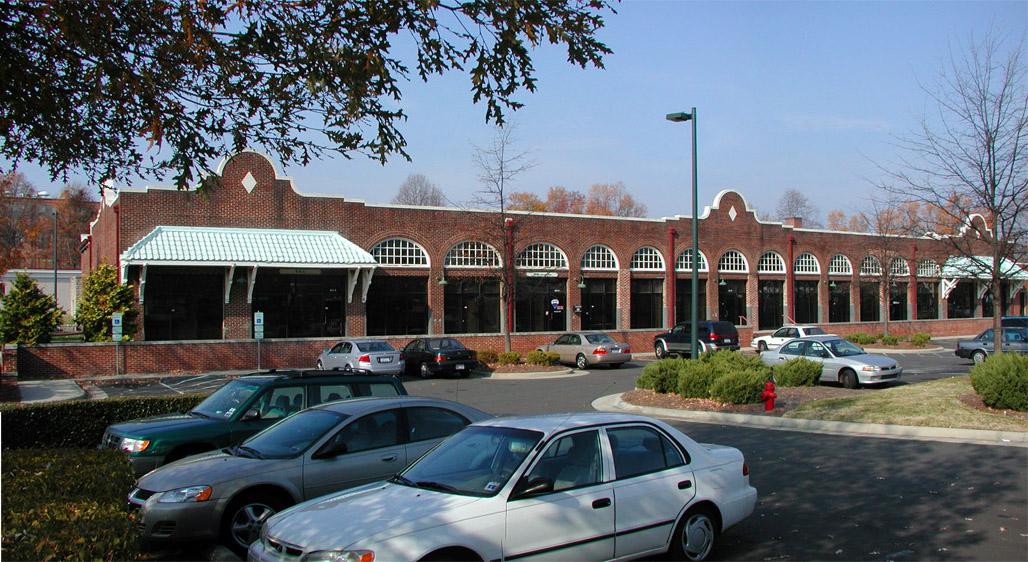 Looking northwest, November 2007.


36.002812,-78.903999