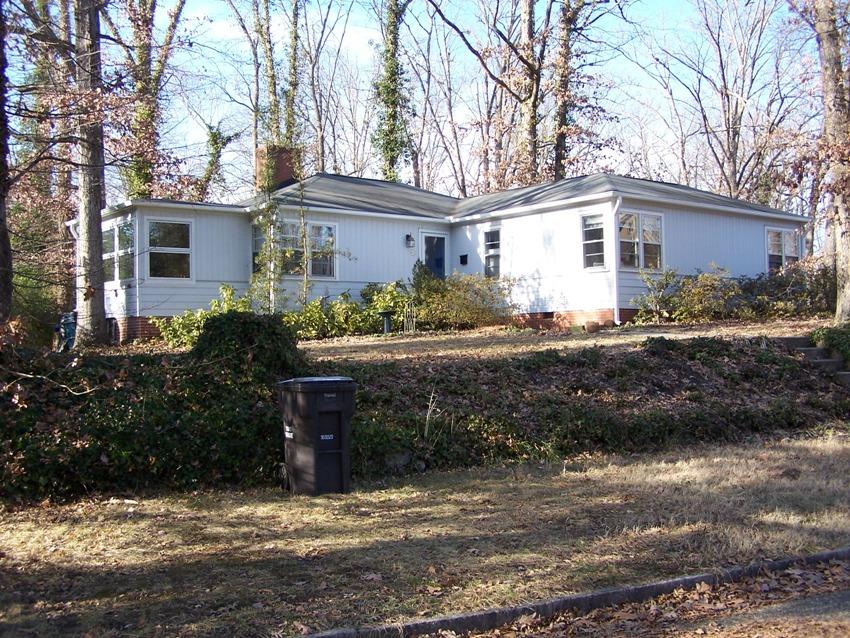 From the National Register nomination form of 2005, completed by M. Ruth Little
One-story hip roof Ranch house with German siding below window sills and flush beaded sheathing above. Paired 2-over-2 horizontal sash windows are set at the corners. Entrance has a brick stoop with metal railing. Interior chimney. At right front is a projecting bedroom wing; at left is a sunroom with original jalousie windows. Archie Ogden, a student, was the owner-occupant in 1950. [1950 CD]
Robby Poore, son of Anne and Ray Poore - and grandson of the Van Arsdalls, who lived at 421 Carolina Circle - has posted some fabulous mid-century photos of Carolina Circle, and Durham in general, on his personal Flickr page.  There are several albums (
1948
, 
1949
, 
1950
, 
1950-1954
, 
1957
, 
1967
, 
1968
, 
1969
, and 
1970
), many of which contain a multitude of interior and exterior shots of 426 and 421 Carolina Circle.  A few of them include: the front facade, a side exterior, the living room space, the rear alley, and a view front the front door of the now-demolished Apex Street Bridge.  
The following information comes from the City Directories and general web searching:
Year
Occupant(s)
Occupation(s)
Other information
1950
Ann C. Ogden
Archie Ogden
 
student
 
1952
Camilla Bittle
Claude Bittle
 
lawyer
Claude's office was located at 319 E Chapel Hill St.
1960
Ankie O. Pontious
Richard B. Pontious
area supervisor
 
Ankie worked for the Welcome Wagon.
1967
Anne (Van Arsdall) Poore
Ray V. Poore
 
assistant professor
Ray worked in the Duke Department of Physics and later at the Los Alamos Scientific Lab.
1971
(unknown)
 
 
 
 
1973
Eleanor M. Bradsher
 
employee
 
Eleanor worked at the Duke Hotel, presumably the Washington Duke Hotel, which was imploded in 1975.
1976
Carol Hyman
Robert E. Hyman, Jr.
salesman
 
Robert worked at Alex Jones Interiors.
1984
Pamela H. Tashjian
David N. Tashjian
 
house staff
David worked at Duke University Hospital as a dermatologist.