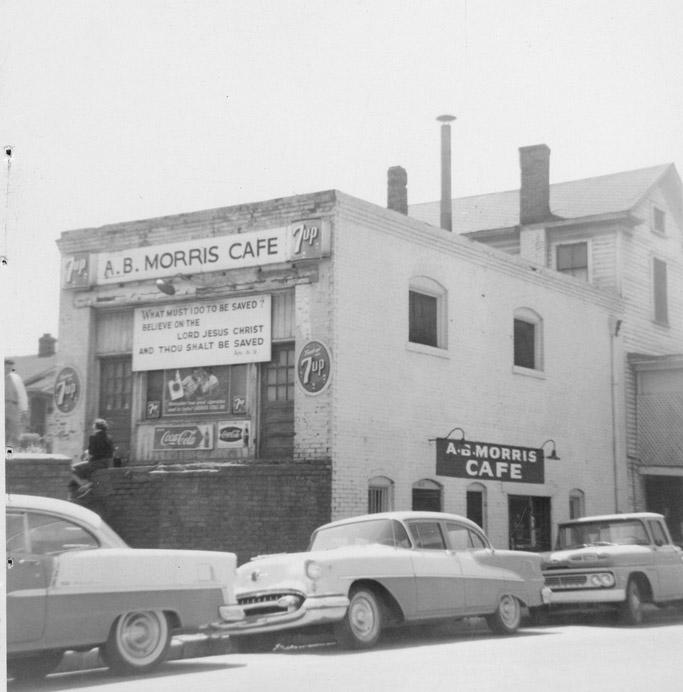 Looking southeast at the 'point' of Matthews St. and Blackwell St., 1964.
(Courtesy Durham County Library / North Carolina Collection)

The terse writeup of the AB Morris cafe in 1951's "Durham and her People" says only that the cafe at 416 Blackwell St. "cater[ed] especially to the employees of the American Tobacco Company."

By at least the 1960s, though, the cafe had attracted a strong following from a wide variety of sources. It was popular enough with Duke students that, evidently (haven't seen it myself,) on page 30 of the 1967 Chanticleer there's a short writeup of A.B.'s, with a photograph of the interior, mostly showing Duke students.

Andy Moursund and Greg Bowcott, Duke alums from the late 1960s, sent me their reminisces about A.B.'s.

Greg called A.B.'s

"one of the watershed memories of any Midwest kid like [him] eating 'real' southern food for the first time. The other thing about A.B.'s was the combination of students, businessmen/lawyers and tobacco workers all eating lunch in the same place."

Andy wrote:

"I haven't lived in the South for years, but to this day the greatest restaurant I ever went to was a cafe in Durham, across from the old American Tobacco factory on Blackwell Street, that featured an 85 cent lunch special of 2 pieces of fried chicken, 3 vegetables (and Brunswick Stew counted as a vegetable), all the cornbread balls you could eat, all the side butter you wanted, and a bottomless pitcher of presweetened iced tea. And for an extra nickel they'd throw in a 12 ounce bottle of Pepsi. I can't even imagine what a steady diet like that would do to me now, but for only 5 meals a week for a few years, it was heaven on earth.

It really was kind of a cultish place to be, and I've still never seen anything quite like it at those prices. Even in 1967 it was much cheaper than any of the other restaurants serving a comparable cuisine. A lot of us speculated that it was being subsidized by the tobacco companies themselves, as a way of keeping their employees close by during their lunch hour.

Second, the original cafe was segregated (as were nearly all Durham restaurants up through 1963, when they were mostly opened up as part of a broad citywide agreement that preceded the 1964 federal law), and even in 1967 there was a separate entrance and a separate serving line for Blacks that was just north of the White entrance.

That said, I used to go there fairly often with Black friends, and we never had any problems sitting together, no matter which door we entered and which line we went through. And at least by that point, the conditions were identical (food quality and price), although needless to say, 99% of the other Duke students reflexively sat in the "white" section. And I'm fairly sure as well that there wasn't any formal delineation between the two seating sections---it was more like a less rigid version of the old Jim Crow buses, where the Whites filled up the seats from one direction and the Blacks from the other direction, but the two sections never intermingled without any conscious effort on the part of some of us to do so.

Also, they were only open for breakfast and lunch (or 'dinner', as they used to call it) at the old place, but the new place served dinner (or 'supper') as well. Funny how that old time nomenclature comes back when you reminisce."
Duke students at A.B. Morris, 1967. Caption reads:
"Any weekday at noon the line of people outside A.B.'s waits in anticipation of the meal within. A.B. and his family scurry busily behind the counter serving up Brunswick stew, chicken livers, and slice barbeque. Carrying the plate, coke, and glass of iced tea to a table of green linoleum, one jostles overalled tobacco workers, a buyer, and other college students.  The greasy pie tin sitting on the vinegar bottles is periodically refilled with crisp hush puppies. The conversations overheard are common talk. It's the weather, the Durham Bulls, or the new Fords and it's friendly. The men in blue jeans and the boys in Gants lean their elbows on the same table, and for ten minutes they're in the same world, relaxing for lunch in a crowded southern cafe."
From the Duke Chanticleer, 1967.

A.B.'s was torn down by urban renewal by 1970. A new building, placed on the northeast corner of Blackwell St. and the newly-created West Dillard St., housed the 'new' A.B.'s, which, by the mid-1970s had changed its name to "Nance Cafeteria."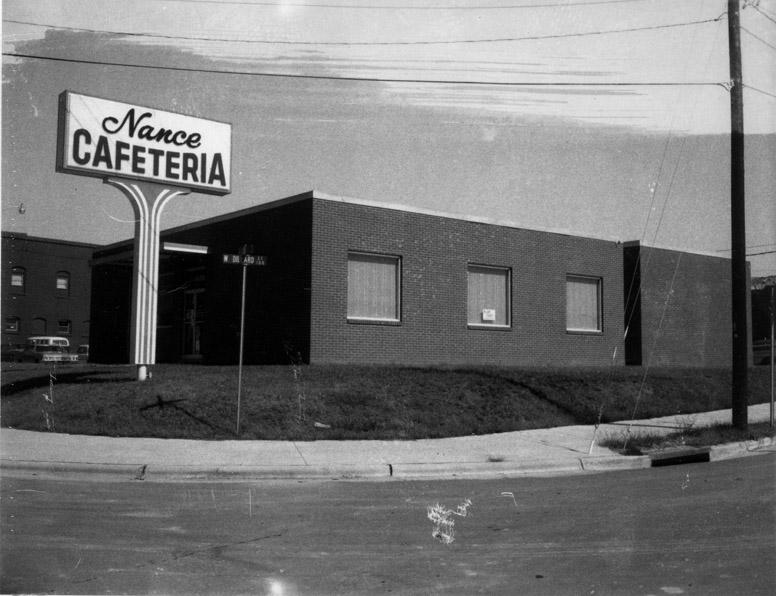 Looking northeast at the corner of West Dillard and Blackwell Sts., 1970s.
(Courtesy Durham County Library / North Carolina Collection)

I'm not sure when this closed and was torn down. West Dillard was also closed sometime later, such that, moving east to west, Dillard ends at S. Mangum St.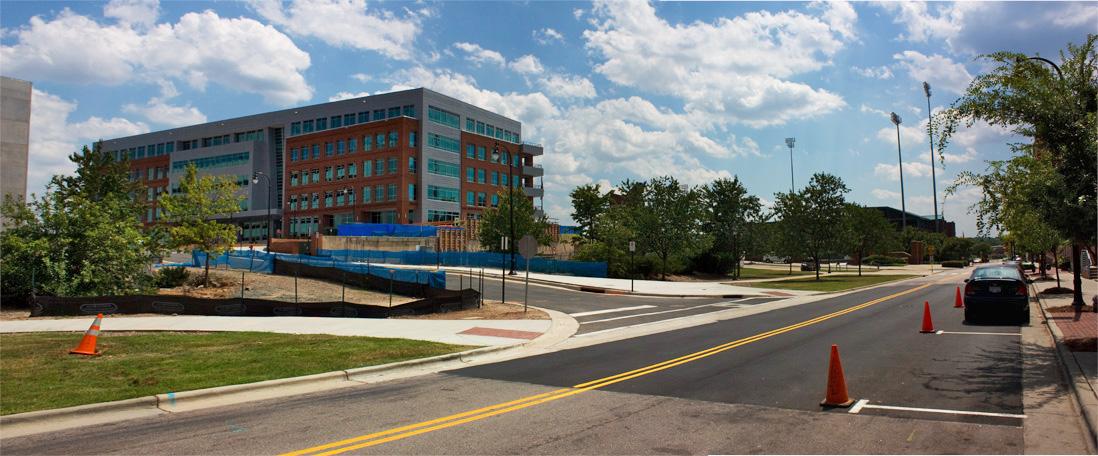 Looking southeast at the former corner of Matthews and Blackwell, 08.10.08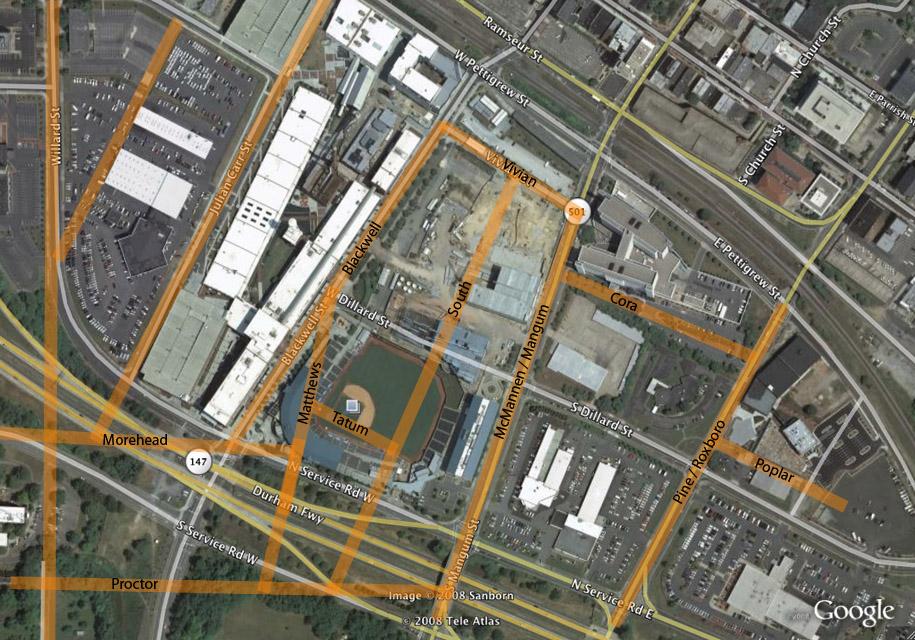 Original street grid overlaid on 2007 satellite imagery.


35.993201,-78.903841