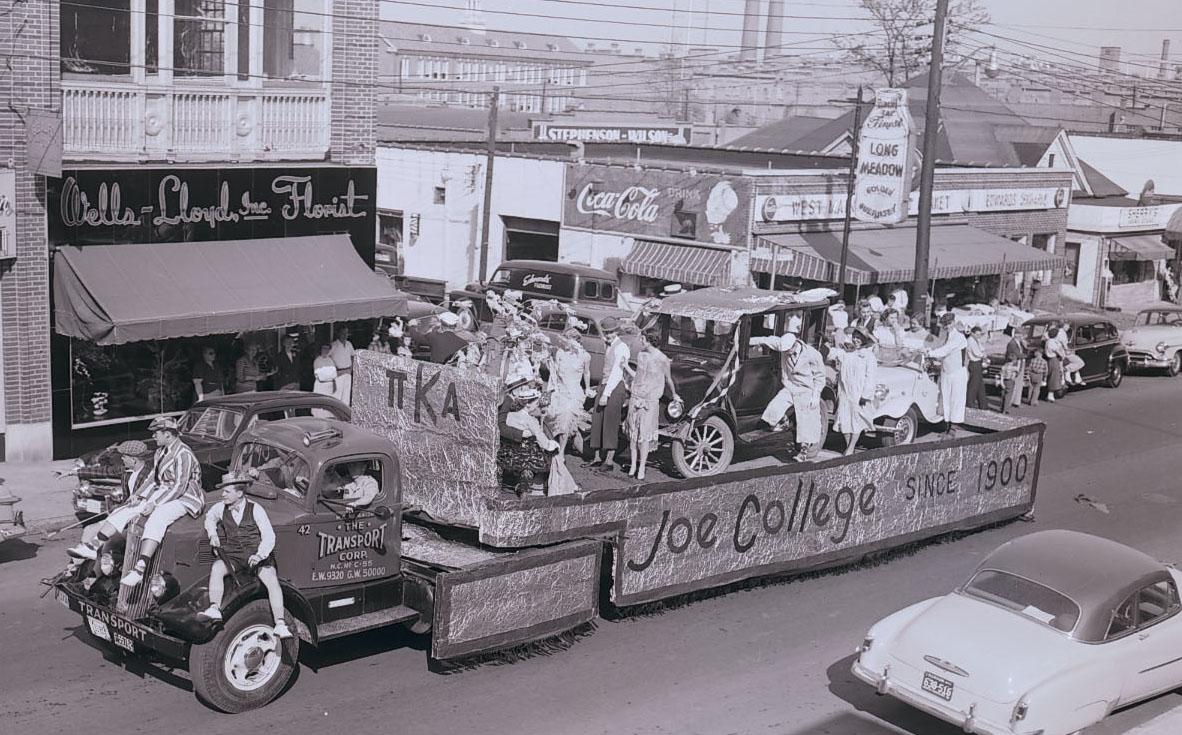 During Duke's "Joe College" parade, 1950s. (Duke Yearlook)
Replacing residential structures built in the 1910s-1920s, the commercial structures at 910-912 West Main Street were built in the late 1930s or early 1940s. 912 appears to have been built first, and originally contained "Son's Fruit and Produce"; by 1955, the western portion (912) contained the "West Main Fruit Market" and 910 contained "Edward's Florist."

The building housed 3 businesses, with one opening onto Albemarle Street.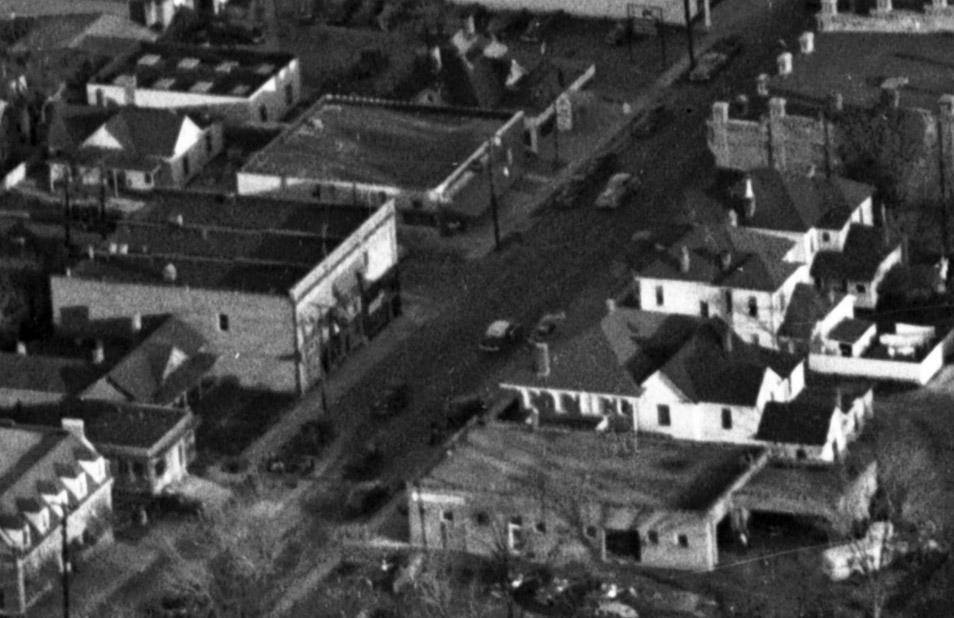 A blurred view from an aerial, 1948.
(Courtesy The Herald-Sun Newspaper

I have only some minimally-revealing mid-century shots taken at street level - all three below are from the once-regular Duke student parade from downtown to Duke - the "Joe College Parade" - 0n 04.26.57. You can catch pieces of "West Main Fruit Market" in the background.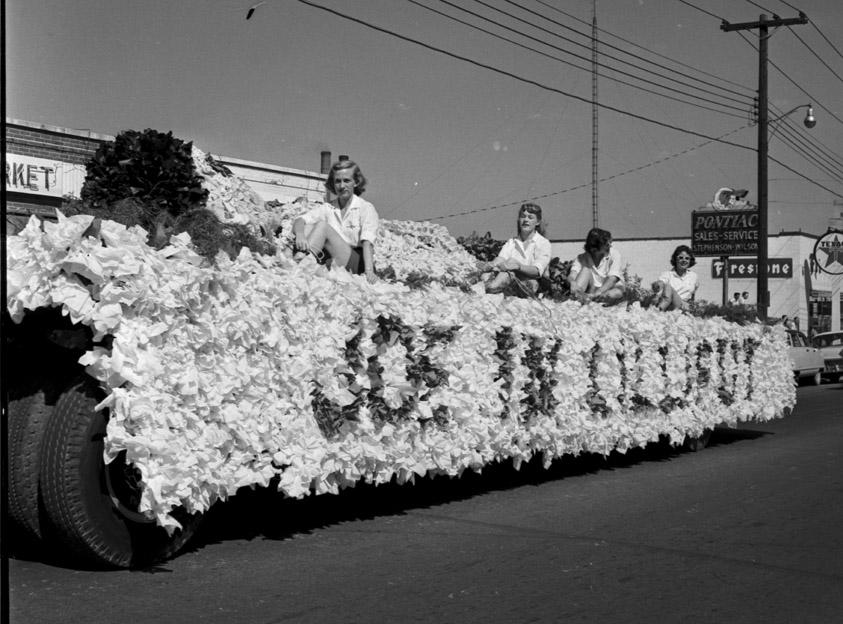 (Courtesy The Herald-Sun Newspaper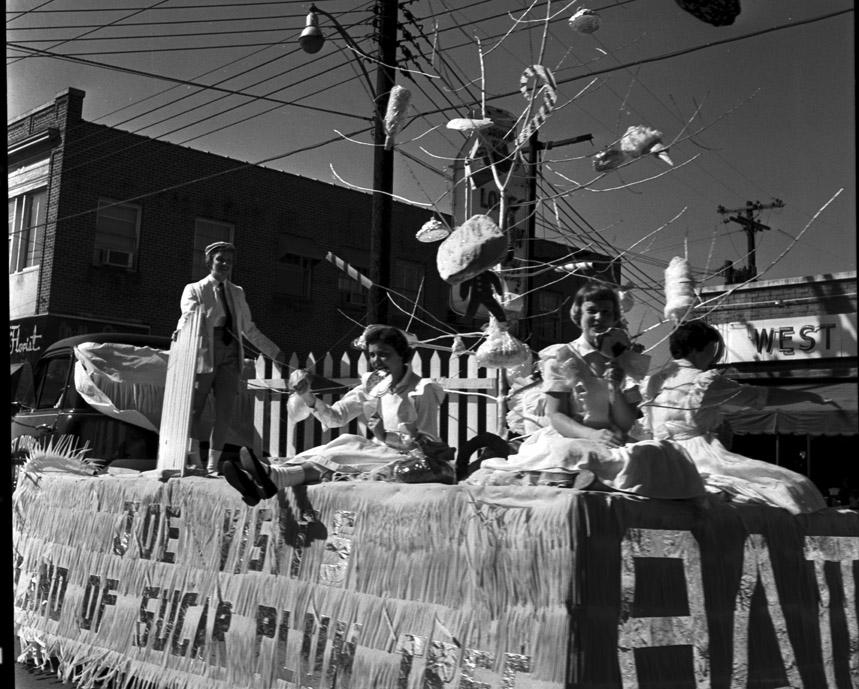 (Courtesy The Herald-Sun Newspaper

By 1975, 914 West Main had become a sandwich place known as "Subway." The Subway was opened recent UNC graduates.

Per a source:

"It was the first sub shop to come to Durham and was hugely popular with the Duke students and the workers at RTP. (I had been told that it was so unique that carloads of RTP employees would come in for lunch each day during the early years.) The shop eventually expanded into the space that opened on Main Street (914 W. Main) and no longer used the Albemarle address. The Subway tenants put up the wood plank siding over the concrete block - stylish at the time. (It's since been removed as you know.)"

This name would keep the national retailer from using the name "Subway" in Durham for several years (they would call themselves "BMT Subway Deli" - although eventually, in the 1988, the national retailer paid the store at 914 West Main to change its name to "Bull City Subs". 912 West Main was "The Bullpen" - a regular hangout for Duke students.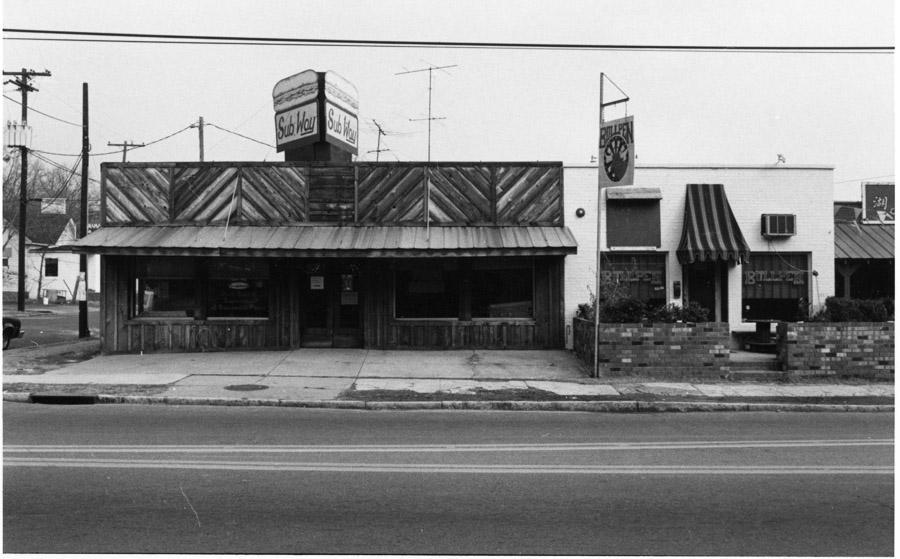 (Courtesy Durham County Library / North Carolina Collection)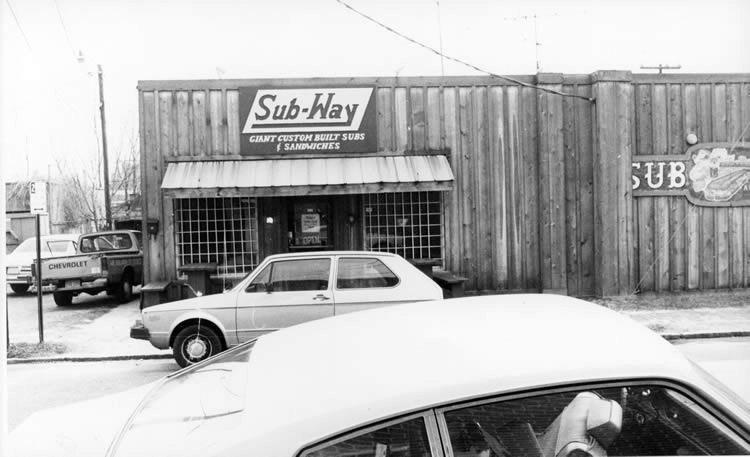 Ablemarle entrance. Per a source, the Ablemarle storefront had been a barber shop, a leather shop (late 60's), a snack bar (though we always heard that was a cover for a bookmaker), and then the Subway.
(Courtesy Durham County Library / North Carolina Collection)
In the mid-1990s, Suman's restaurant was at 912. In 1997, Fergus Bradley took over the space and in 1998, Fergus Bradley opened James Joyce pub in 912 West Main; I remember being relieved at its opening. It was one of the first places in Durham that, to me, felt like a bar-for-bar's-sake, rather than a sports bar or is-it-a-restaurant-is-it-a-bar places. Now I know James Joyce is a restaurant as well, but it felt, to me, like a bar first.

In 2003, Bull City Subs closed. In 2004 the Federal opened in its place and, again, felt like a real bar, despite the fact that it is decidedly a restaurant.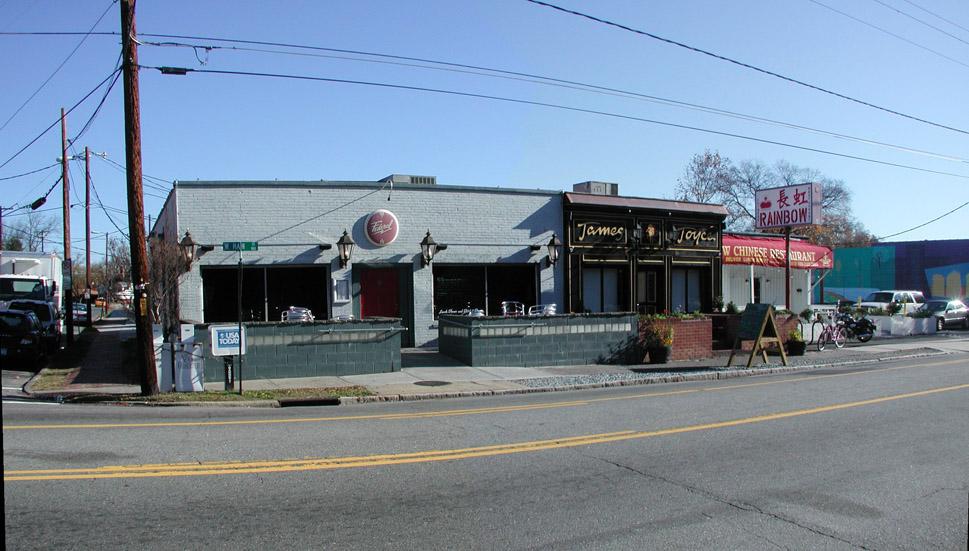 Looking north, 11.15.06 (Photo by Gary Kueber)

I'm not sure what it is about these places (and the dearly departed Joe and Jo's) that seem to provide that degree of public conviviality that Durham still needs more of; the front porches of these spots are great places to just hang out, beverage of choice in hand.

And we're doing better - with these two and Alivia's. But we need more people-on-the-front-porch, whether really a porch, or street dining/imbibing. I think the new courtyard at Brightleaf is great - but I'd like some Brightleaf energy on Main as well (Nikos? Hello?) Perhaps with a brighter future for the old Ivy Room across the side street, we'll begin to break the dullness extending from Federal to East Campus.