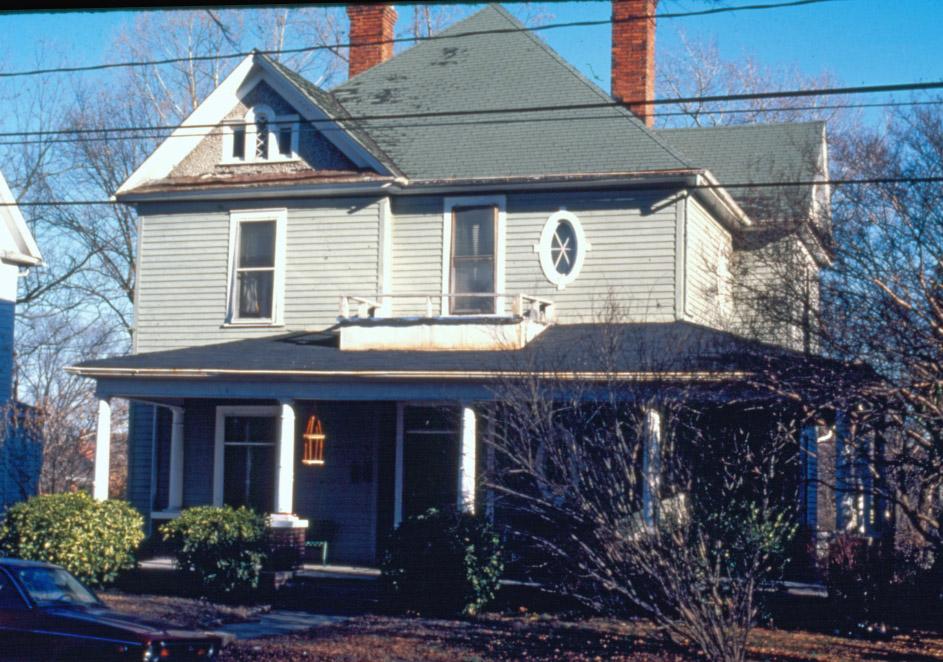 1982 (Old North Durham Architecture Slides, Durham County Library)
(Below in italics is from the 1984 National Register listing; not verified for accuracy by this author.)
Attorney J.A. Giles had this two story frame house built early in the 20th century. A subsequent owner, for whom the house is
popularly named; was Benjamin c. Woodall, who lived here for many years until his death in 1933. In 1894, Mr. Woodall es- tablished a harness and saddlery business at 218 West Parrish Street. His business grew to be one of the leading saddlery houses in the city. Mr. Woodall adapted to the changing times by expanding his business to include the sale of buggies and then
bicycles, and eventually sporting goods when his store moved to Main Street. The house has a square shape with a steep hip roof
topped with two symmetrically arranged chimneys. Projecting pavilion on one side with pedimented gable roof. Stuccoed gable with Palladian window. Large ve.randa with Tuscan porch columns and unusual oval windows on both first and second story.

910 North Mangum St., 11.07.09

Find this spot on a Google Map.

36.004437,-78.894204