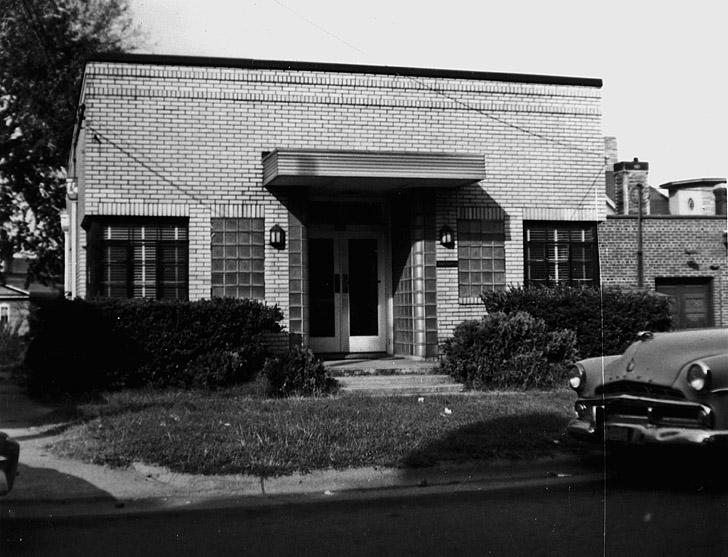 October 1962
(Courtesy Durham County Library / North Carolina Collection / Durham Urban Renewal Records, Box 3 - online at DigitalNC)
Built and opened in 1947, this was the office of physician Clemuel Durham Grandy, Sr.  Trained at Meharry Medical College in Nashville, Tennessee - which had been the first school in the south for African-American doctors - Dr. Grandy worked at Lincoln Hospital and in private practice in Durham for more than thirty years.
Like so many other aspects of business and daily life in this time period, medical services were subject to segregation in Durham.  A potential patient would know from the phone book whether they were welcome at a particular practice.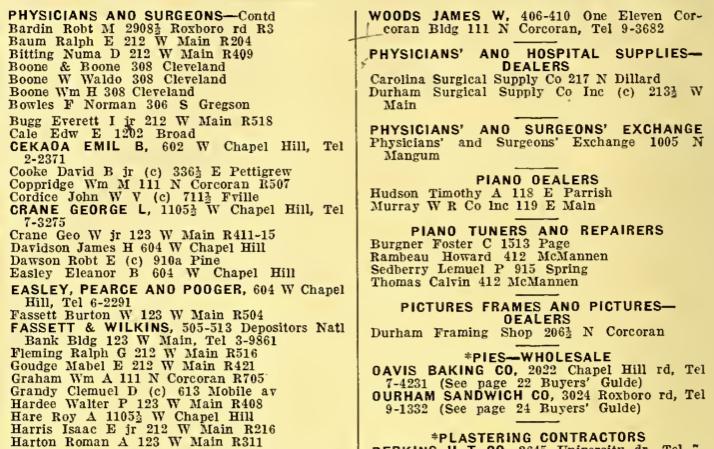 (Excerpt from Hill's Durham City Directory, 1951 - online at DigitalNC)
Note the use of the annotation "(c)" to indicate "colored" providers - including Dr. Grandy near the bottom left - and even suppliers of medical equipment.
The property appraisal filed with the above picture in early 1963, when all of Mobile Avenue was slated for demolition as part of the related Durham Freeway and Hayti-Elizabeth Street Renewal Area projects, acknowledged that this was no flimsy or outdated structure:

Indeed, the condition of the facility was given as "excellent," and its estimated remaining useful life was projected into the early 2000s.  Appraisers' remarks further highlighted the convenient location of the office just off the busy Fayetteville Street corridor and within view of the White Rock Baptist Church - no doubt considerations Dr. Grandy had in mind when selecting the site.
County records indicate that Dr. Grandy contested the valuation and demolition of his office, and indeed was awarded significantly more in a late 1966 ruling than the initial 1963 estimate.  That did not stop the bulldozers from claiming the building, however.
Evicted from his Mobile Avenue quarters, Dr. Grandy appears to have relocated his practice to a home office.  It was there - at 1005 Crete Street down Highway 55 - that he passed away unexpectedly one morning in December 1975, as he prepared for another in a lifetime of days treating Durham's sick.
Find this spot on a Google Map.

35.987536,-78.897155
-----
This building was the subject of a What's It Wednesday?! post on Open Durham's social media accounts (Facebook and Instagram), the week of January 23, 2019.  Follow us and stay tuned for more finds!