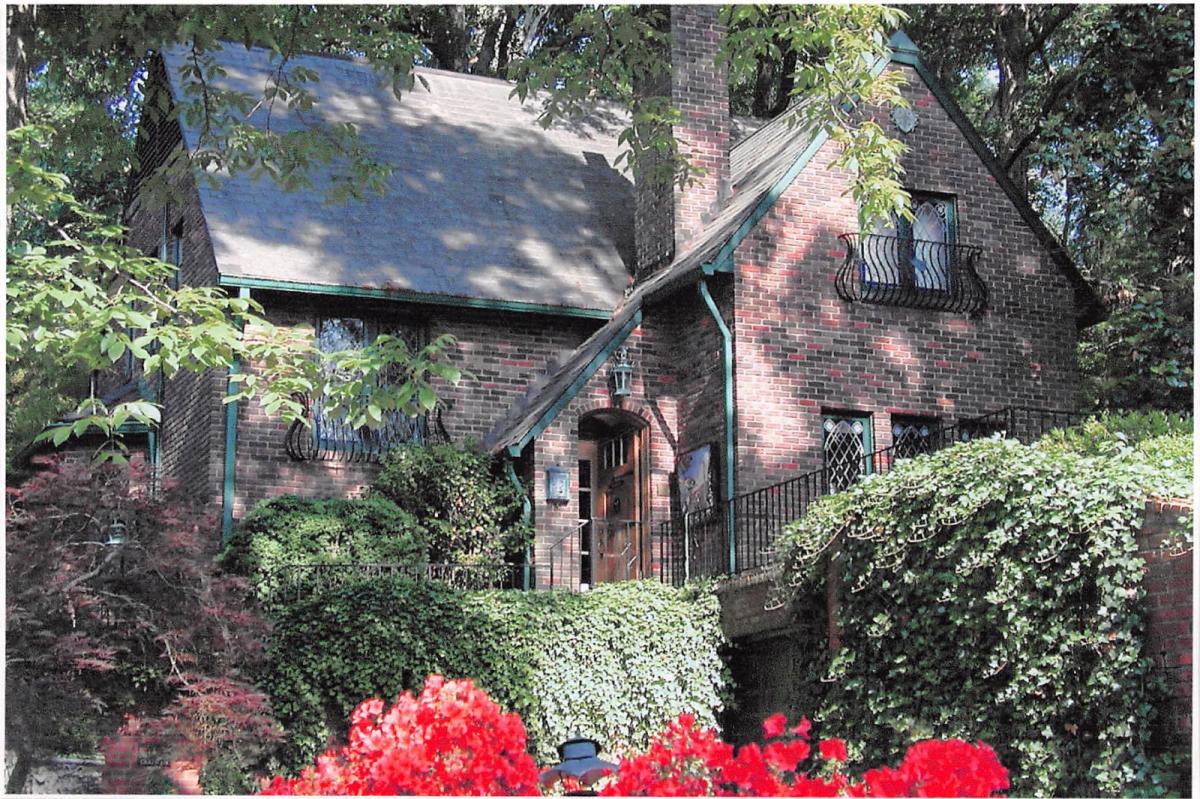 This home received a historical plaque from Preservation Durham. The following information comes from the plaque application.
This house is a 1.5 story side-gabled brick Tudor Cottage features a slate roof, a gabled front wing, paired leaded glass windows with decorative iron balconies in the upper façade, a left side bay window with diamond panes, and an arched batten door in the shed entrance bay. Muirhead Construction Company built the house for W. Page Harris who seemed to have had a number of financial interests in and around Durham. Harris is variously listed as agent with Mutual Benefit Life Insurance Company, secretary/treasurer, First National Company, as well as the treasurer for Bankers Securities Corporation. The property was attained through New Hope Realty and financed through First National Corporation.
Page Harris apparently lived with his new wife, Virginia, at the James Cobb (Virginia's parents) residence at 914 Vickers Avenue until occupying 504 E. Forest Hills Blvd. in 1928 where he was then listed as treasurer of Bankers Securities Corporation.
In 1929, the house at 504 Forest Hills was vacant and apparently rented from around 1930-34, first to Arthur H. London, Jr. London is shown in 1930 as an instructor at Duke, but in 1931 is shown as a physician with an office at 123 W. Main Street. He and wife, Jeanette lived at 504, while Page Harris is listed as a district manager for Mutual Benefit Life Insurance Company and living in Hope Valley.
Thomas H. Byrnes then rented the house from 1932-1934. Byrnes was a pathologist at Watts Hospital.
In 1935, Page Harris and wife Virginia sold 504 Forest Hills for the sum of ten dollars and consideration to James E. Thompson, Jr., a purchasing agent and director of dining halls for Duke University.
James and his wife, Elizabeth, occupied the house (along with three children (?)) until 1947 when it was sold to Edward M. Denbo and wife, Dorothy, for ten dollars and consideration.
The Denbos occupied 504 the longest. Edward Denbo was president of Durham Excavating and vice president/treasurer of Crain and Denbo, a construction company, doing commercial and industrial buildings and systems.