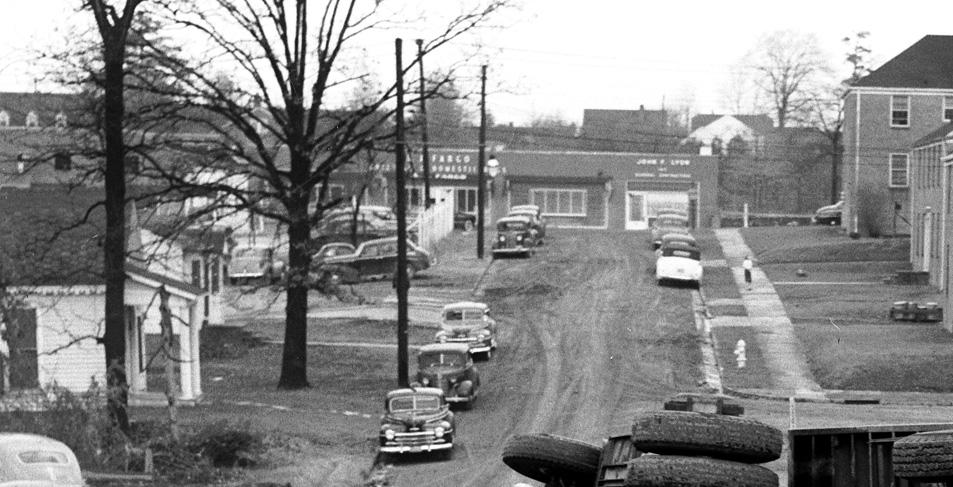 View looking north on Madison Street towards 316-320 West Geer, 11.25.49.
(Courtesy The Herald-Sun Newspaper)

The buildings at 320-324 West Geer Street were constructed in 1949, likely intended as multi-tenant rental space from the outset. By 1955, the tenants were:

320: NC State Auto Association, CT Wilson Construction Co., Garrard Realty, and Hilco Co.
324: JA Fargo Carpets and Rugs

By 1960

320: NC State Motor Association
324: Durham Art Shop Carpets

By 1975:

320: NC State Motor Club
324: Fargo-Hanna Oriental and Domestic Rugs


The buildings currently house an array of interesting businesses. These include El Kilombo, a self-described "community space and radical bookstore" and the Vivala Raza Market.

Would that we had such a diversity of interesting businesses/tenants at such density through much more of downtown, but I suspect that rents are typically too high or buildings too absent to allow this to occur on a wider scale.



Looking northwest from West Geer, 07.12.08 (G. Kueber)
From the NR listing, in italics below:

This one-story flat-roof load-bearing brick commercial building was historically a single storefront, but is now divided into two commercial spaces numbered 324A and 324B. Walls have one-to-six common bond brick, perhaps a veneer on concrete block. The brick is painted yellow. The lot slopes to the rear, allowing a raised basement level. The three south façade bays to the west now contain La Costena Market while the east bay contains Kilombo Community Center. All façade windows appear to be original and consist of concrete sills and a glass brick border enclosing plate-glass windows. The market door is a double metal-and-plate-glass door in the central bay of the storefront. The community center door is a wooden one set into the side of the window. The west side elevation contains five windows at the street level and two at the lower level, all infilled with concrete block. The east side elevation is partially below ground level and contains no windows. The rear elevation contains four windows at the street level, all infilled with concrete block. The raised basement level has a service entrance and small windows that are also infilled with block. A tall brick chimney rises from the east side wall. Across the rear property line is a stone retaining wall.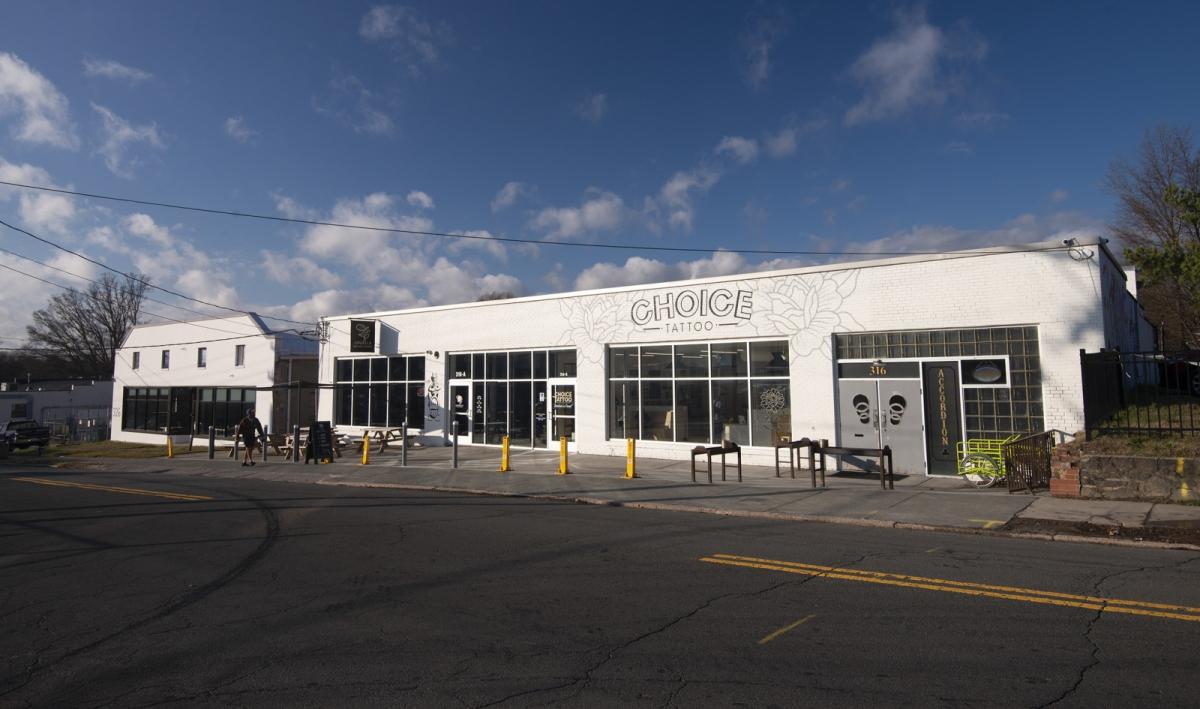 12.14.19 (G. Kueber)