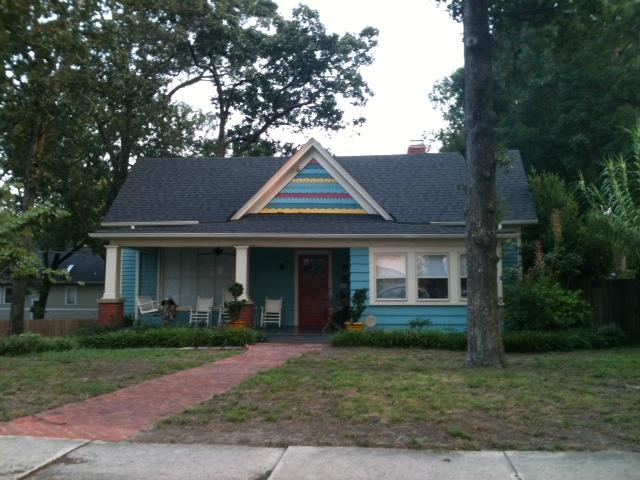 (Below in italics is from the 2008 Lakewood Park National Register listing; not verified for accuracy by this author.)
William S. Carrington House. Tri-gable 1-story house of modest Queen Anne-style with a front cross-gable decorated with sawtooth and staggered wood shingles, and a hipped porch with replacement Craftsman posts. One bay of the porch is enclosed. Windows include some original 2/2 sash and some replacement fixed windows. A flat-roofed garage addition stands at the rear. William S. Carrington, here by 1906, is the earliest known owner-occupant. His widow Chtistie was the occupant in 1930. [1925, 1930 CDs, interview, 1906 Perdue Subdivision Plat] 
This house was renovated around 2009-2010 if my memory serves me correctly. I used to live within a block of here, and the turquoise and red combo is far greater than the soft salmon color that this home (and oddly NUMEROUS others on the block) had been painted previously. The home backs up to the old Roll's Florist Shop and greenhouse, which has been fixed up a bit in the last year by neighborhood volunteers. I've seen armies of people planting in the greenhouse. I believe that land behind 1907 West Lakewood is still owned by the Roll family, but I may be wrong. 
The house itself, while cute as a button and of course historically significant, isn't remarkably unique. What IS unique is it's location.  Not every house can boast they are mere FEET away from a "Wonderland" of sorts. Directly across Chapel Hill Road, where the 2/3 abandoned Food Lion shopping center now stands (and it's parking lot and all of it's asphalt glory) was the Lakewood Amusement Park.  
The park was built in 1902 as an attempt to bolster trolley ridership, creating a destination for Durhamites to go to other than work, church, shopping and home.  While there was plenty of fun going on after dark downtown in bars and clubs, this was the first form of amusement that could be enjoyed by junior as well. There was a casino, baseball field, revival tents, merry go round, soda shop,  shooting gallery, skating rink and dance hall. Did I mention the bowling alley? How about the roller coaster? Keep in mind this was at the turn of the century!
The park area was also used for events, so anytime the circus came to town, or for fireworks on the 4th of July, Lakewood Park was the venue. I can't imagine a more exciting place to live than on Lakewood or Bivins or Jersey or Palmer or somewhere near there. The park was only open in the Summer, and trollies would run all day filled to the brim with people. Or did residents consider thae location annoying? The ding ding of the trolley, and music and bells and laughter all day?
Residents of 1907 Lakewood also had the opportunity to go anywhere in town by hopping on that same trolley (steps from their door) to go downtown or to numerous other destinations throughout Durham. 
Today, there is no trolley. There is no bowling alley. No merry-go-round.   There is a Food Lion.  Some pretty decent Chinese take-out. Abandoned storefronts and even abandoned storefront churches. Barbershops that are neighborhood meeting places. There is the recent grave of Durham's only truly great thrift store, Thrift World.  But there is no swimming pool, and definitely no dance hall. There is however a crack head who rides a bicycle with a boom box duct taped to the side, blasting Foxy 107.   I almost bought that bike off of him numerous times. 
The neighborhood is full of passionate people though, and many houses like 1907 West Lakewood Avenue have been renovated in the past 10 years. It's hard to remember sometimes that neighborhoods go through cycles often, and this neighborhood is well on it's way to a good stretch again.  I've lived in numerous Durham neighborhoods, and this was my favorite by far.